Talk to the Bird
JUICE—The image says it all. Rep. Stephanie Murphy expresses how she really feels towards a GOP staffer that caught up to her on Capitol Hill. READ MORE
The Bug Keeps Spreading
The COVID-19 virus continues to spread in Florida at an alarming rate, and Gov. Ron DeSantis has said that he will not force Floridians to wear masks, nor will he shut down the state.
Many Republicans, including Rep. Byron Donalds, are supporting Gov. DeSantis' 'No-Mask Mandate' position. READ MORE OH, WAIT, so does State Senator Debbie Mayfield. READ MORE
The Marxists in Your Bed
According to Sen. Marco Rubio, President Joe Biden has a big problem in his administration. The problem is "The Squad" and other like-minded Marxists he says are controlling the Biden administrations. Is Rubio right? READ MORE


Rick Scott [email protected]schumer just dropped part one of his $5.5 TRILLION reckless tax & spending spree…the 2,700 page, $1.2 TRILLION "infrastructure" bill. He expects the Senate to start voting on it ASAP.
Marco Rubio-We have media hysteria over Covid "cases" because "bad news" sells But what matters isn't how many people have Covid, what matters is how many people are seriously ill The real story here is how for the fully vaccinated the risk of serious illness appears to be near zero
Rep. Val Demings-Speaker Pelosi used her courage and moral compass to lead us to pass the Violence Against Woman Act. Kevin McCarthy thinks joking about hitting a woman is funny. When someone shows you who they are, believe them.
Rep. Carlos G Smith-Florida is officially #1 in daily per capita hospitalizations of CHILDREN in America. We're not really sure what counties are worst cuz @GovRonDeSantis refuses to reinstate detailed daily COVID reporting + threatens to DEFUND schools with mask mandates.
Perry Thurston-As COVID cases surge @RonDeSantisFL is choosing to stand against School Boards like @broward_schools trying to safely open. The governor's executive order will DEFUND schools for enacting COMMON SENSE health regulations. This EO helps no one and hurts everyone!
Congressman Greg Steube-Violent attacks on officers have increased dramatically, and we must support them more than ever during this time. I recently supported legislation to maintain their qualified immunity protections and ensure that they are not punished for doing their jobs.
COVID-19 'Vaccine Works,' but Many Americans Still Refuse the Shot," by The Floridian's Javier Manjarres—Contrary to what "Anti-Vaxxers" or individuals who subscribe to the thought process that the COVID-19 vaccine does not work, and is just a way for the federal government to control Americans, "the vaccine works and is our best defense against COVID-19," says Florida Senator Rick Scott (R).
Biden has 'Active, Vibrant Marxists Inside of his Base' [VIDEO]," by The Floridian's Javier Manjarres—Just as President Joe Biden announced the second round of sanctions against the Cuban regime for cracking down on dissidents and protestors over the past several weeks, more and more Progressive Democrats are calling for the lifting of the U.S. embargo and sanctions against the oppressive regime. Marxists are on the march in Washington.
'Rubio, GOP Congressmen Warn Army Corps Against Limiting Water Supply to South Florida," by The Floridian's Javier Manjarres—In response to the U.S. Army Corps of Engineers' recently-unveiled Lake Okeechobee water management plan (Alternative CC) that could jeopardize water supply levels for all of South Florida, Senior Florida Senator Marco Rubio (R) said that the plan ultimately adopted by the Corps must have "balance" and consider the "economic and human" impacts.
[GRAPHIC VIDEO] Stephanie Murphy Called To Resign After Making Offensive Gesture," by The Floridian's Jim McCool—Between mask mandates, a border crisis, and a January 6th Committee, it's no secret that there is tension on Capitol Hill right now. However, Florida's own US Rep. Stephanie Murphy (D-FL) apparently had enough this week and may have let the pressure get to her. Rep.Murphy appears to have directed an offensive gesture (flipped the bird) to a National Republican Congressional Committee (NRCC) staffer who was trying to ask her a question as Murphy walked toward the congressional office buildings.
Hunter Biden Responds To Critics Of His Artwork: 'F**k 'em' by The Floridian's Mona Salama
Sen. Mayfield Backs DeSantis' Masks in Schools Policy," by The Floridian's Jim McCool
Biden Ignoring COVID Treatment Drug as Virus Surges," by The Floridian's Javier Manjarres—With the highly contagious COVID-19 Delta variant spreading across Texas and around the U.S., President Joe Biden is urging Americans to get vaccinated but is ignoring a request by Texas Rep. Pete Sessions (R) to review and consider a new COVID treatment drug that would dramatically improve the health of those infected with milder cases of the virus.
U.S. Faces 'Big Problems' in Western Hemisphere With Rise of Marxist," by The Floridian's Javier Manjarres—With the country of Peru having elected a Marxist president in Pedro Castillo (pictured), and with other countries like Cuba and Venezuela serving as a launching pad, if you would, for the Axis of Repression countries of Cuba, China, Russia, and Iran, the entire Western Hemisphere is at risk of falling behind the new "Iron Curtain" that the Chinese and Russians are trying to build.
Carlos Gimenez Literally Steps Across Pelosi's Mask Mandate," by The Floridian's Javier Manjarres
"New Poll: 51% of Americans Disapprove of President Biden," by The Floridian's Jim McCool—While President Biden (D) may have characterized himself as a unifier literally moments after his inauguration, a new poll has shown that the new president has not yet lived up to that promise. The breaking poll reports that 51% of Americans so far, disapprove of Joe Biden's job as president.
"Capitol Police To Arrest House Staff And Vistors Who Defy Pelosi Mask Mandate," by The Floridian's Mona Salama—US Capitol Police officers are ordered to arrest Congressional aides and visitors on the House side of the Capitol complex who refuse to comply with House Speaker Nancy Pelosi (D-CA) reimpose mask mandate, according to a police memo issued by the new Capitol Police Chief Thomas Manger and obtained by Rep. Kat Cammack (R-FL).
"Rubio Says Trump had Plan to Get Internet Into Cuba [Video]," by The Floridian's Javier Manjarres—WASHINGTON— As the debate to assist the Cuban protests with internet access continues to persist, all eyes have been on the Biden administration apparent unwillingness to act against the Cuban regime, Florida Senator Marco Rubio (R) has told The Floridian that he and President Donald Trump had a plan in the works to send in a signal that would give the Cuban people internet access.
"Biden Administration Release 'Root Causes' Strategy On Migration After 5 Months Of Crisis," by The Floridian's Mona Salama—The Biden Administration unveiled its strategy to address the root causes of migration amid a surge of migrant crossings into the U.S.-Mexico border, hitting a 10-year high with over a million encounters in just five short months.
"Shevrin Jones Wants State-Wide Mask Mandate," by The Floridian's Jim McCool—Florida State Senator Shevrin Jones (D-35) made remarks on the state's alarming rise in COVID-19 cases as Florida reports one in every five new cases in the United States. Senator Jones has made the bold call for a state-wide mask mandate.
"Waltz Introduces the PAINTER Act Because of Hunter Biden," by The Floridian's Daniel Molina
"DeSantis: 'Fauci Needs to be Fired' by The Floridian's Daniel Molina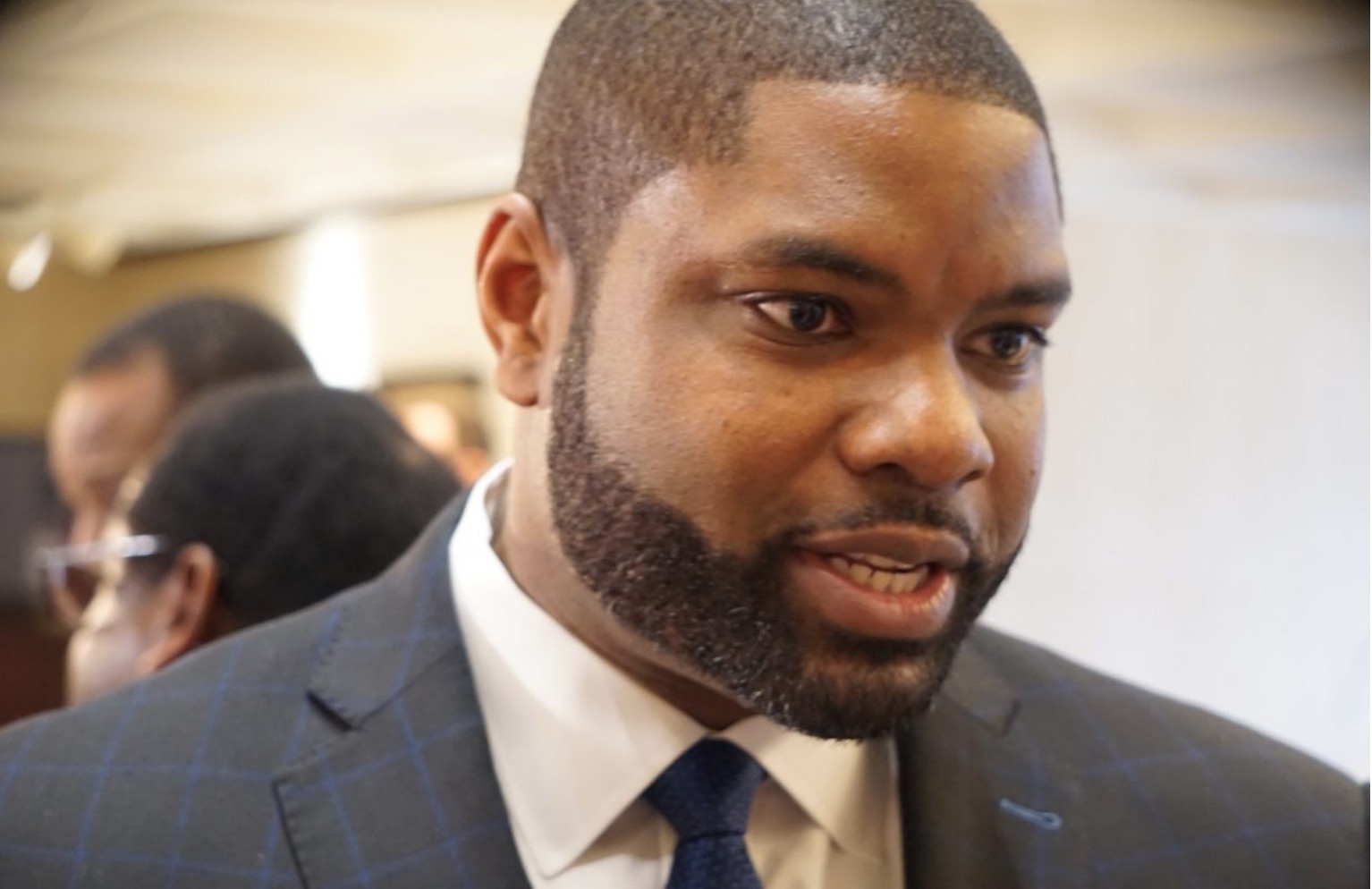 "Donalds Gets Into Heated Shouting Match Over the Mask Mandate," by The Floridian's Javier Manjarres
"Nancy Pelosi Snaps at Reporter: 'Let's not Waste your Time or Mine' [Video]," by The Floridian's Javier Manjarres—Washington—Moments after addressing the media at a 'Climate Change Now' press conference at the U.S. Capitol, Speaker Nancy Pelosi took issue with a reporter trying to ask her to respond to House Minority Leader Mark McCarthy and Republican leadership.
"Sabatini Blasts 'Shameless' Murphy and January 6th Committee," by The Floridian's Jim McCool—Now almost 7 months after the January 6th attacks, the partisan January 6th Congressional Select Committee has convened. While Democrats have called the hearing a necessity, the GOP has bashed the committee as political theatre, especially Rep. Anthony Sabatini (R-32) who has called the committee, and Rep. Stephanie Murphy (D-FL) "shameless."
"Donalds: 'Chairman Joe Biden has Gone Full Communist' by The Floridian's DanielMolina—Days after the Department of Veterans Affairs announced it was requiring a vaccine requirement for medical facility employees, President Joe Biden (D) is expected to announce on Thursday that federal employees and contractors are mandated to either get the COVID-19 vaccine or to be regularly tested. In response, a number of lawmakers have commented on the news, and Florida Rep. Byron Donalds (R) has vehemently opposed the decision. Arguing that the President has "gone full communist," Donalds criticized the President for his decision.
"Gaetz Praises AOC's Psychedelics Research Amendment," by The Floridian's Daniel Molina—After a previous unsuccessful attempt, New York Rep. Alexandria Ocasio Cortez (D) is once again promoting the study of the therapeutic potential of psychedelics such as psilocybin, MDMA and ibogaine. In a recent vote, 7 Republicans have jumped on board, and Florida Rep. Matt Gaetz (R) shared on Twitter that "Alex deserves a TON of credit" for not only promoting the study but also rallying support for the initiative.
"Cruz: Biden is 'Weak' and 'Mealy Mouthed' on Cuba," by The Floridian's Jim McCool—Washington D.C.– Today, as the American Conservative Union "Cuba Libre" event showcased some high profile federally elected officials, President Biden's (D) leadership against the Communist regime has been challenged after many Cuban-Americans, such as Mercedes Schlapp, who feels the president is not doing enough. Texas Senator Ted Cruz (R-TX) added to the 'Biden is weak' narrative, calling the president "weak" and "mealy-mouthed" on Cuba.
"Biden Insults Unvaccinated Americans Says They Aren't As 'Smart' As He Thought," by The Floridian's Mona Salama—President Biden insulted the intelligence of Americans who are not vaccinated, saying those who have yet to get inoculated are "not nearly as smart while sought to cast the blame solely on the unvaccinated for the rising levels of infection caused by the rampant Delta variant.
"Cammack Says Biden Lacks 'Moral Compass' to act on Cuba," by The Floridian's Javier Manjarres—The Cuba Libre rally put on by The American Conservative Union, saw several key members of Congress, including Sens. Ted Cruz and Rick Scott, and Reps. Pat Fallon (R), Carlos Gimenez (R), Mario Diaz-Balart (R), a very pregnant Elise Stefanik (R), Roger Williams (R), and Kat Cammack (R), who questioned Biden's ability to lead and his "moral compass."
"Republicans Slams Pelosi Over Assembling 'Partisan' Jan. 6 Panel Ahead Of First Hearing," by The Floridian's Mona Salama—House Republicans slammed Speaker Nancy Pelosi (D-CA) for assembling a partisan committee after blocking two of House Minority Leader Kevin McCarthy (R-CA) five picks to serve on the committee in order to push her narrative of how the events transpired during the Capitol riots as means to cover up her role for the security lapses.
"Mercedes Schlapp Doesn't Think Biden is Doing Enough for Cuba," by The Floridian's Javier Manjarres—While Matt Schlapp might be the chairman of CPAC, his wife, Mercedes Schlapp, also has a lot to say about politics, especially as a Cuban-American who is advocating for the Cuban protests and has insisted that Biden isn't doing enough.
Biden Speaks to his Dead Mother During Press Event [Video]," by The Floridian's Javier Manjarres—When Rep. Ronny Jackson (R-TX), a former White House physician, first called on President Joe Biden to take a cognitive test to see if he was mentally fit to be Commander-In-Chief, Democrats and Media outlets scoffed at him for doing some, but now after President Biden appears to call out to his dead mother as if she was alive in a recent speech, the case to question the president's mental stability cannot be dismissed after Biden speaks to his dead mother during a press conference.
"Florida Republicans Move to Codify Oil Drilling Moratorium," by The Floridian's Daniel Molina—The Republican Florida Congressional Delegation began the week by introducing the American Shores Protection Act. Led by Florida Rep. Michael Waltz (R), the legislation would "codify the moratorium on oil and gas drilling off the coast of Florida that was put in place by a September 8, 2020 Executive Order by then-President Trump." The moratorium would extend to the South Atlantic, the Eastern Gulf, and Straits of Florida planning areas, and Waltz argued that this environmental moratorium would allow the state to focus "on water quality and reducing red tide."
"Biden Scolds NBC Reporter As 'Pain In The Neck' For Asking Off-Topic Question," by The Floridian's Mona Salama—President Biden snapped at an NBC reporter Monday, calling her "such a pain in the neck" for disobeying his request for not asking questions "about Iraq," losing his temper once again with members of the White House press corps for pressing questions that he considers off-topic or unfair, despite receiving such friendly coverage compare to his predecessor, former President Trump from the media.
"Biden Administration Spent Over $2 Billion In Taxpayer Money To Suspend Border Wall Construction," by The Floridian's Mona Salama—President Biden is reportedly wasting at least $3 million per day of taxpayers funds in paying contractors to "guard steel, concrete, and other materials in the desert" in an effort to "not construct" former President Trump's planned border wall along the southern US border, despite overseeing in the last six month since taking office one of the "worst border crisis in the last 20 years."
"Trump Discourages Infrastructure Bill, Says 'Radical Left' is Playing GOP," by The Floridian's Jim McCool—While America may be more divided than ever, infrastructure has remained an issue that Republicans and Democrats alike have been wanting to get done for years. Now, there seems to be a real potential to get the deal done under President Biden (D), however former-President Trump (R) who failed to strike a bipartisan deal is now calling on the GOP to back out of it, claiming that "the Radical Left" is playing the GOP for "weak fools and losers!"
"Cuomo Off Biden's DOJ Hook After Dropping Nursing Home COVID Probe," by The Floridians' Mona Salama
"COVID Testing Backlogged in Florida Counties," by The Floridian's Javier Manjarres
"Rubio Remains Optimistic for Cuba, Calls for End to Regime [Video]," by The Floridian's Jim McCool
"Anti-Trump Rep. Kinzinger 'Humbly' Accepts Pelosi Invitation To Join Jan. 6 Select Committee," by The Floridian's Mona Salama
"Murphy: 'Congress Needs to be Made Aware' of Foreign Influence," by The Floridian's Daniel Molina—After the controversy surrounding the 2016 Presidential election, combatting the threat of foreign influence has been a top priority for lawmakers across the country. A new bipartisan effort aims to address the concern as both Florida Rep. Stephanie Murphy (D) and Florida Rep. Maria Elvira Salazar (R) are joining forces to lead the charge. In response to the legislation, Murphy asserted that "Congress needs to be made aware" of any foreign influence.
Launches Veiled Political Swipe at Rubio Over 'Free and Fair Elections'" by The Floridian's Javier Manjarres —Rep. Valdez "Val" Demings (D) is arguably one of the most outspoken critics of former President Donald Trump, and of the effort by congressional Republicans to challenge the 306 electors President Joe Biden received on election night 2020, may have taken a swing at Senator Marco Rubio over "free and fair elections."
"Rubio Calls Biden's Sanctions on Cuban Regime 'Meaningless' and Mojito-Driven," by The Floridian's Javier Manjarres —While both Republican and Democratic members of Congress acknowledged President Joe Biden's recent sanctioning of elements within the Cuban regime for the abuses they committed during the recent Cuban protests on the island, some legislators with more in-depth knowledge of the regime's decades-long human rights violations, and who have a bit more skin in the game than most, call Biden's sanctions against Cuba as "meaningless."
"Hardy Blames Republicans for COVID Inmate Deathsby The Floridian's Javier Manjarres —Progressive State Rep. Omari Hardy (D), aka " Troublemaker Extraordinaire" as he likes to refer to himself, is in full campaign mode in his endeavor to replace former Rep. Alcee Hastings (D) and is blaming Republicans statewide for the COVID deaths of inmates since the pandemic began.
"Vaccine Conspiracy Theorists are Getting Infected With COVID," by The Floridian's Javier Manjarres —Mask and vaccine conspiracy theorists, or "anti-Vaxxers," who are out in full force pushing their narrative that "Big Brother" is somehow tracking Americans who take one of the COVID-19 and refuse to get vaccinated, are the individuals who are getting infected with the virus in the recent surge of the mutating virus.