The Hypocrisy of Florida's 'Fake News' Media
The term "Pay-for-Play" is a phrase the legacy media (Fake News) likes to throw around to discredit smaller, independent, and competitive news outlets.
Advertising fuels newsrooms and newspapers.
This is an undeniable fact.
But, who really funds media outlets like the Miami Herald, Orlando Sentinel, and the Tampa Bay Times?
After the recent FPL "scandal" that broke in Tallahassee, where the energy giant was accused of coopting a local news website to go after their detractors and spin news stories to favor their needs, the focus on who is funding media outlets came to the forefront.
Would you believe that businesses interested could be running many of these media companies? MUST-READ

Because it's all DeSantis's Fault?
Florida Democrats like to blame Gov. Ron DeSantis for all the ills of the state, or at least everything they perceive as being a detriment to Floridians.
If the sky was falling in Florida, you can bet your bottom "Breakfast Taco" dollar that Democrats would be blaming DeSantis for causing it.
It's campaign season, so expect the unexpected. It's all DeSantis's fault! READ MORE

Rick Scott
-Since July 11, 2021, the Cuban people's fight for 'patria y vida' & democracy has only grown stronger. We won't stop fighting until we see an end to the brutal Castro/Díaz-Canel regime.
Marco Rubio
-The impact on inflation of new climate bill would be "statistically indistinguishable from zero"
But democrats still named it the Inflation Reduction Act b/c they see everyday people as simpletons they can trick & they know the media will try to help them
U.S. Rep. Stephanie Murphy-My thoughts are with the victims, their friends and families, and the entire Orlando community after the shooting last night. We must do more to stop the gun violence that continues to plague our communities.


"The Hypocrisy Behind the Miami Herald, Orlando Sentinel, and Florida's Entire Press Corps," OPINION—When the Miami Herald devotes its entire front page to a photo of the CEO of Florida Power and Light with the headline "How Florida Power & Light executives surreptitiously took over and used it to bash its opponents," we can only assume this is going to be a blockbuster of a story.
"American Lawmakers Praised Targeted Killing of 9/11 Terrorist Ayman al-Zawahiri," by The Floridian's Daniel Molina—With the announcement that Ayman al-Zawahiri had been killed in a CIA drone strike over the weekend, lawmakers immediately took to social media to comment on the news. Florida Rep. Michael Waltz (R) released a statement, praising the strike that ensured "Ayman al-Zawahiri has met a deserved justice."
"DeSantis Targeting Drag Clubs Over Legislative Opposition?," by The Floridian's Jim McCool Florida Governor Ron DeSantis (R-FL) has recently criticized drag queen clubs for patronizing children. Now, certain political commentators are starting to think drag clubs are being, "targeted," for their owners' opposition to DeSantis' latest bills, like the Parental Rights in Education bill.
"Progressive Lawmaker Blames DeSantis, Republicans for Unaffordable Housing in Florida," by The Floridian's Jim McCool—Florida, by some measures, has now become the most expensive state to live in the country. However, politicians in Tallahassee are at a loss on who to blame.  State Rep. Carlos G. Smith (D-49) has blamed the Florida Republican Party and Gov. Ron DeSantis for the unaffordable housing market.
"Rubio, Senate Republicans Introduce Bill Banning Energy Imports from Iran, Venezuela," by The Floridian's Jackson Bakich—With the Biden administration's hesitancy to give the nod of approval for renewed American oil production, conservatives have called out the President for going to international energy in order to satiate the nation's demands. Conservatives like Sen. Marco Rubio (R-FL) and other Republican lawmakers have just introduced a bill that would ban oil and natural gas from authoritarian regimes such as Iran and Venezuela.
"Fox: Senate Republicans Introduce Lend-Lease Program with Taiwan," by The Floridian's Grayson Bakich
"Wasserman Schultz Chides Gun Manufacturers for 'Targeting Youngsters," by The Floridian's Daniel Molina—Florida Democrats are committed to ensuring that President Joe Biden (D) sign stricter gun control legislation, which has only increased tensions between Republicans and Democrats. Over the weekend, Florida Rep. Debbie Wasserman Schultz (D), a staunch gun control supporter, shared an exchange with a gun manufacturer, commenting that "gun companies target youngsters" and that the Federal Government should do more to stop this.
"Crist Calls DeSantis 'Dictator of the Universe' and Argues Florida Isn't "Deep red," by The Floridian's Javier Manjarres—Appearing this past weekend on MSNBC's "Politics Nation" with Rev. Al Sharpton, Rep. Charlie Crist, who is running for governor of Florida, stated that Gov. Ron DeSantis wants to be "Dictator of the Universe" and is intoxicated with running for President.
"Bilirakis' Cybersecurity and Ransomware Bill Passes House," by The Floridian's Grayson Bakich
"Miami Herald Editorial Board Endorses Crist," by The Floridian's Daniel Molina
"Joe Harding Flexes Sponsorship of Parental Rights Bill in Re-election Bid," by The Floridian's Jim McCool—As Florida Republicans gear up for the 2022 midterms, plenty of state lawmakers are ready to use their former legislative agendas to keep their seats.  State Rep. Joe Harding (R-22) is flexing his sponsorship of the Parental Rights in Education bill for his re-election hopes.
"Biden's Approval Ratings Continue to Tank as U.S. Enters Recession," by The Floridian's Grayson Bakich—The United States is officially in a recession. The past two economic quarters have experienced negative growth, fulfilling the technical definition of what qualifies as a recession. Rather than offer words of encouragement, President Joe Biden (D) has chosen a different route: deny the U.S. is in a recession altogether, and some in the media are doing their best to run with it. Unfortunately for Biden, this comes at the cost of approval ratings.
"Rubio Questions Inclusion of Gender ID Under Title IX in Letter to Secretary of Education," by The Floridian's Grayson Bakich—Even as Americans worry more about recession and inflation, the Biden Administration and Democrats continue to push woke policies. The latest is a proposed inclusion of "gender identity" under Title IX, the statute protecting against discrimination of women in education.
"Waltz on Fox: China's Threats to Pelosi Visiting Taiwan "Unacceptable" by The Floridian's Grayson Bakich—Appearing on Fox News' The Story , Representative Michael Waltz (R-FL) calls for a stronger response to recent threats from China over Speaker of the House Nancy Pelosi (D-CA) potentially visiting Taiwan. Earlier this week, China claims it will take "forceful measures" should the visit take place. The former editor of the Chinese Communist Party's newspaper has gone so far as to suggest shooting down Pelosi's plane.
"D.C. Mayor Bowser Calls for National Guard Help Due to Influx in Illegal Immigration; Cammack Opines," by The Floridian's Jackson Bakich—The same day that President Joe Biden (D) swore to the American people that the economy is not in a recession, Mayor of Washington, D.C., Muriel Bowser (D) announced that she would be requesting 150 troops from the National Guard to assist with the influx of illegal immigrants from states such as Texas and Arizona despite declaring the district a sanctuary city for years.
"Rubio Responds to International Antisemitism," by The Floridian's Jackson Bakich
"Scott and Rubio Secure WRDA Provisions for Florida," by The Floridian's Grayson Bakich
"Gaetz Grills Olsen on Biden Family Corruption," by The Floridian's Grayson Bakich—As more and more evidence of Hunter Biden's corruption, and of his father President Joe Biden's (D) possible involvement, becomes apparent, few Americans have been as vocal in demanding a deeper investigation into the Biden family's foreign business dealings than Representative Matt Gaetz (R-FL).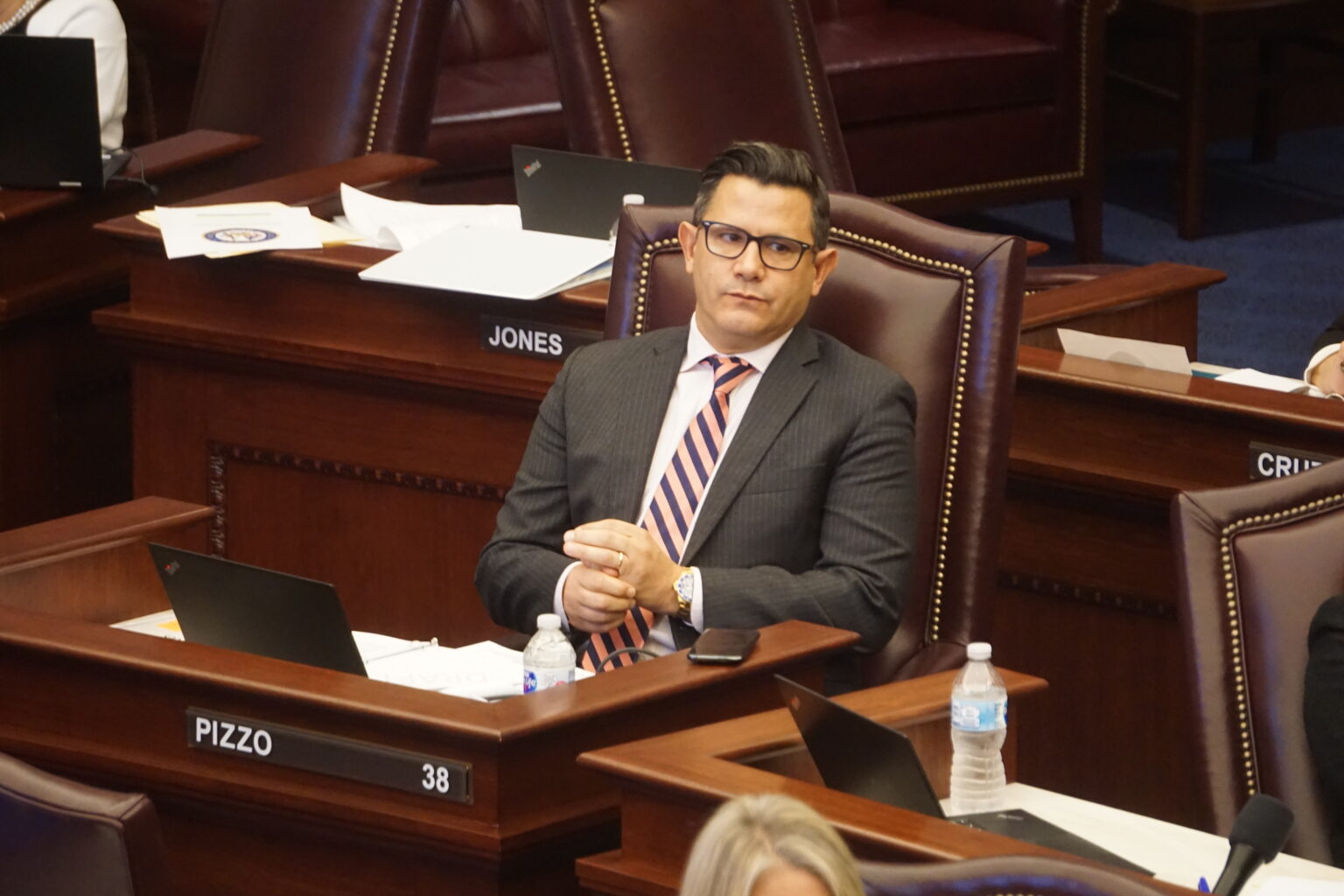 "Florida Democrats Mobilize to Push Moderate or 'DINOs' Out of Party," by The Floridian's Jim McCool—Recent years have shown the all but moderate colors of Florida's political parties. Now, Florida Democrat lawmakers are jumping ship on moderate Democrats for more progressive candidates, and have coined the new phrase, "DINO."
"Bilirakis: Democrats 'Double Down on a Radical Green Agenda' OPINION by Rep. Gus Bilirakis
"Forward Party Wants to be a 'Viable' Third Party," by The Floridian's Daniel Molina—Voters have long argued for a third party that would more accurately reflect their political opinions, and former presidential candidate Andrew Yang is looking to continue pressing that narrative and lead the charge. Comprised of dismayed Democrats, Republicans, and Independents, the Forward party has officially announced itself as a "viable" national political third party.
"U.S. Faces Second Quarter of Shrinking GDP," by The Floridian's Daniel Molina—The United States has faced two quarters with a shrinking GDP, which has incited arguments that we're in a recession. Republicans are calling it the Biden recession, and Florida Governor Ron DeSantis (R) has taken to social media to comment on the announcement.
"Debbie Wasserman-Schultz Falsely Claims Rubio Voted Against PACT Act," by The Floridian's Grayson Bakich—Ahead of the midterms, the cutthroat nature of politics rears its ugly head once more. On July 28th, Representative Debbie Wasserman-Schultz (D-FL) engaged in a bit of mudslinging against Senator Marco Rubio (R-FL). In a tweet published Thursday afternoon, Rep. Wasserman Schultz alleged that Rubio voted against the PACT Act, a bill expanding healthcare to veterans exposed to toxins.
"Rubio Demands Transparency from McKinsey & Co Must Answer Over Chinese Clients," by The Floridian's Grayson Bakich
"Florida Retail Federation Endorses AG Ashley Moody," by The Floridian's Jim McCool
"Sexualization of Children in Florida at Drag Queen Clubs is Widespread," by The Floridian's Javier Manjarres—Florida First Lady Casey DeSantis usually stays out of the political fray, but this week after her husband Gov. Ron DeSantis condemned the sexualization of children by a "woke society" that allows for individuals to "drag" their underage children into a sexually-charged dinner show at a Drag queen club, Mrs. DeSantis weighed in.
"DeSantis Calls For Legislation Against Woke ESG Practices," by The Floridian's Grayson Bakich—As the culture wars in America rage on, many conflicts have extended into the realm of policy. "Woke" ideals worm their way into legislation, business practices, and education. Conservatives have fought against the tide, and Governor Ron DeSantis (R-FL) has announced his latest counterattack. In a press release issued July 27th, DeSantis outlined proposals against environmental, social, and corporate governance (ESG) regulations.
"Republican Lawmaker Gimenez Says 'Mexico Isn't Our Friend'" by The Floridian's Jackson Bakich—Conservatives have continuously attacked President Joe Biden (D) for the flow of illegal immigrants crossing the U.S. southern border since the beginning of his presidency. Rep. Brian Mast (R-FL) even went as far as to call the border situation a "national security crisis and a public safety crisis." Is Mexico to blame?
"Gaetz Votes Against Anti-Human Trafficking Bill," by The Floridian's Daniel Molina—Florida Rep. Matt Gaetz (R) continues to himself in the public spotlight time and time again. The reason for the media's scrutiny is that the Florida Republican is allegedly under investigation by the Department of Justice for sex trafficking allegations involving a minor. While the lawmaker has refuted the allegations, Rep. Gaetz is now being questioned over his vote against an anti-Human Trafficking bill.
"Carolina Amesty Targets Socialism in Latest Ad," by The Floridian's Jim McCool
"Soto and Other Florida Democrats Seek Obamacare Expansion," by The Floridian's Grayson Bakich—The expansion of the Affordable Care Act (ACA) or "Obamacare" remains a goal of Democratic leaders and elected officials. Several of Florida's own Democrats have taken charge on this issue. On July 15th, a letter crossed the desks of Senate Majority Leader Chuck Schumer (D-NY) and Speaker of the House Nancy Pelosi (D-CA) spelling out this objective.  Representative Darren Soto (D-FL) tweeted the letter, of which he was one of its signers.

The JUICE is squeezed by Javier Manjarres, Jim McCool, and Daniel Molina