Florida GOP Could Own The State After Redistricting
Florida Democrats are well aware and scared of what the new congressional maps are going to look like after the Republican-led state legislature finally puts down its political Etch-a-Sketch later on this year.
With Florida is expected to garner 2-3 new congressional seats, politicos from all walks of life are expecting to see existing Democratic-held districts become redder. This is why Reps. Stephanie Murphy and Val Demings are mulling over a statewide run for office.
Why not? If there is a real possibility they lose their congressional seats, why not lose big and run for a bigger office like U.S. Senate?
Laura Loomer Is Running Again
This is exactly why Laura Loomer, a Conservative Journalist, said during her announcement that she is running for congress again in 2022. Loomer is running against Rep. Lois Frankel but reserves the right to run in another congressional district if a better opportunity arises. Guess who showed up to her event? MUST-READ
COVID LIABILITY INSURANCE
Well, it is time for the 2021 legislative session to begin again. That means that all of the backroom posturings for the last several months will move from the conference room and smoky rooms over at the governor's office to outright lobbying combat. And that means that the age-old cage match between the trial attorneys and the business lobby will be on full display for the next 9 weeks, even when it comes down to COVID Liability Protection.
On the issue of lawsuit reform…READ MORE
You're Hired! —The Klein/Johnson firm has announced that seasoned political operative Ian J. Rayder, the former Deputy Chief of Staff to Rep. Debbie Wasserman Schultz, has recently joined the group.
Rayder is bringing his knowledge and expertise in the congressional appropriations process, the burgeoning technology sector, and the aerospace and aviation industries to Klein/Johnson and their client base.
The Center of the Conservative Republican Universe Descends On Orlando
Yep, CPAC is here. And Gov. Ron DeSantis, Sens. Rick Scott and Marco Rubio, Reps. Byron Donalds, Matt Gaetz, and Greg Steube will be joining former President Donald Trump this weekend to address the Conservative base of the GOP. The Floridian will have three reporters on the ground to cover all of the festivities.'
Stay tuned for all kinds of interviews and possible breaking news.
Schools Will Fully Reopen Soon?
Well, that's what we all hope for. Unions don't seem to consider the damage these school shutdowns are doing to our kids. Ed Pozzuoli of Tripp/Scott opined on this. READ MORE
Debbie Wasserman Schultz @DWStweets–The GOP State Legislature will do anything to take power away from Florida voters.
Rep. Val Demings @RepValDemings–America has experienced white supremacy and right-wing extremism since its founding. Aren't we, as a nation, exhausted? Haven't we had enough? My remarks in today's hearing on domestic terrorism in
Rep. Ted Deutch @RepTedDeutch–Considering the fact that Republicans failed to achieve anything meaningful on climate change, even when they controlled Congress + White House, I don't think President Biden will be taking any cues from them on protecting our planet.
Rep. Matt Gaetz @RepMattGaetz–"Sleepy Joe" wasn't just a political nickname…It appears to be the Biden admin's governing strategy.
Congressman Scott Franklin @RepFranklin–Last night I joined my colleagues for a moment of silence to honor the lives of those we have lost to COVID-19. We must work together to overcome this pandemic.
Rep. Brian Mast @RepBrianMast–President @JoeBiden asked what we would have him cut from the Democrats' $1.9 TRILLION covid "relief" bill.
Here are just a few of the things
-The $220 BILLION bailout for Blue states.
-The $86 BILLION for a pension bailout.
-The $800 MILLION for foreign governments.
Javier Manjarres @JavManjarres -BREAKING NEWS >>> Laura Loomer Announces 2022 Congressional Run via @Floridianpress
.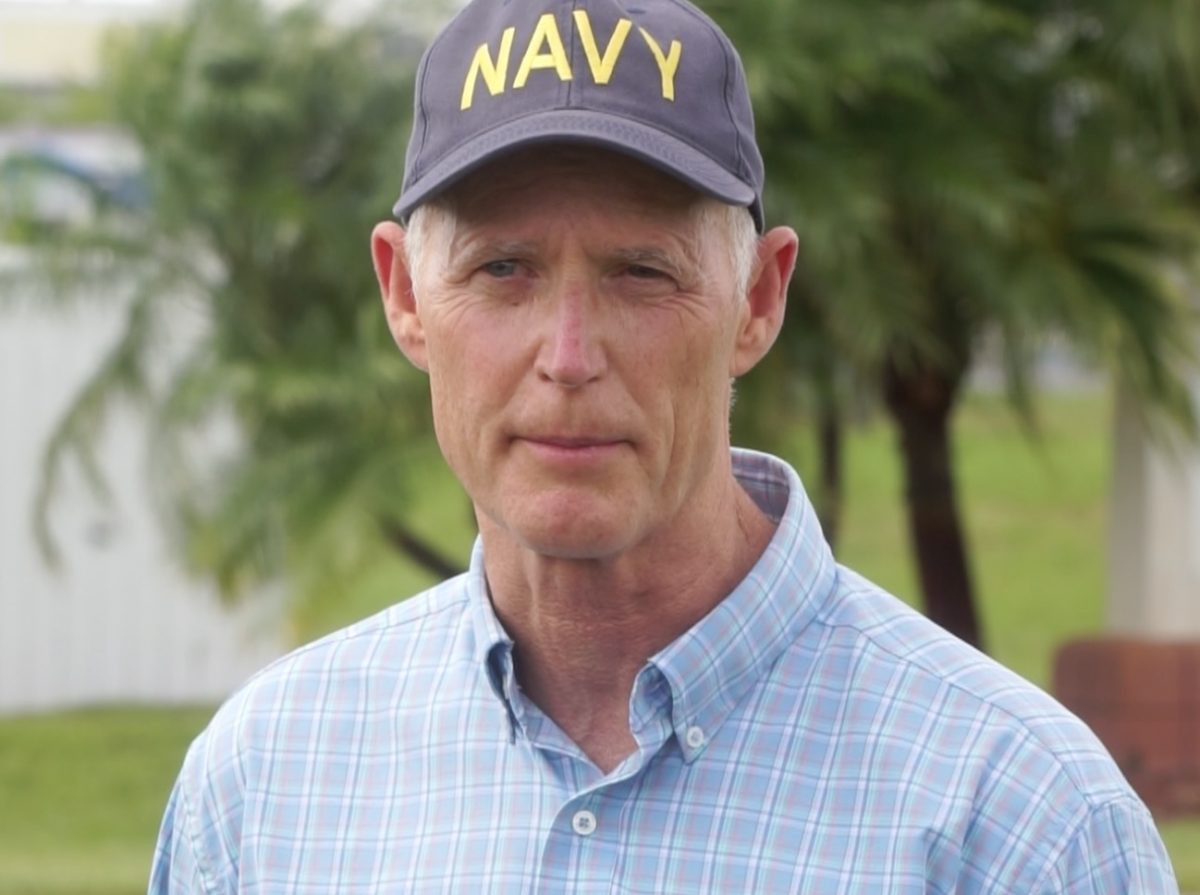 Exclusive —'Laura Loomer Announces 2022 Congressional Run' by The Floridian's Javier Manjarres
'Sullivan Land Services Questionable Border Wall Work Should Wall Them Off from Taxpayer-Funded Projects' by The Floridian's Javier Manjarres — One of President Donald Trump's legacies, for better or worse, is the border wall between the U.S. and Mexico that he promised to build during his 2016 campaign. There are so many outrages about the border wall – some of them old and some of them quite new. Of course, what you consider to be an outrage probably depends a lot on whether you thought President Trump was right to start building the wall or President Joe Biden was right to halt construction. Most Americans support the border security wall, which is working, but in some cases, it's not.
'Donalds: Raising Minimum Wage is not 'COVID Relief' by The Floridian's Daniel Molina —Across the United States, there's been an ongoing national conversation regarding raising the minimum wage. Floridians overwhelmingly approved raising the minimum wage in the 2020 general election. However, the conversation continues regarding whether or not it will have any negative implications on the economy and on Americans while the country continues to combat the COVID-19 pandemic.
'AG Moody Advocates for More Senior Protections' by The Floridian's Jim McCool — During this trying time for seniors, COVID-19 is not exactly the only thing our older demographic has to worry about. Scammers infamously target senior populations over various avenues, like technology. Nevertheless, Attorney General Ashley Moody (R-FL) hopes to keep Florida a retirement-friendly place by establishing more protections for seniors.
'Murphy: U.S. Must Be "Vigilant Against Terrorism" and Chinese Threat' by The Floridian's Daniel Molina — During his 2020 presidential campaign, President Joe Biden (D) argued that China was "not competition for us," and he repeatedly noted that they were not an economic threat. However, this week, the president noted the threat that China poses on the United States, and earlier this month he vowed that China would "eat our lunch" after having spoken to Chinese President Xi Jinping, saying that "it was a good conversation."
'Fried Calls Limbaugh a Bigot, Says She's 'Not There Yet' in Running Against DeSantis' by The Floridian's Javier Manjarres Appearing on CNN's "New Day" morning program, Agriculture Commissioner Nikki Fried doubled-down on her assertion that the late Conservative Radio Show host Rush Limbaugh was a bigot and conspiracy theorist, and told host John Berman that she was "not their yet" in announcing her run against Florida Gov. Ron DeSantis.
Commissioner Fried restated that "the American flag should not be used and cannot be used as a political profit by Governor DeSantis," adding that Gov. DeSantis "bending over backwards to honor a radio host who spent his entire career talking hate speech and talking bigotry and division and conspiracy theories."
'Rubio: Biden is 'Failing' the Iran Test' by The Floridian's Jim McCool —As President Joe Biden (D) took office earlier this year, we have seen the so-called "Return to Normalcy" narrative return the Middle East back to its normal chaotic state, in contrast to President Donald Trump's (R) isolationist-styled policy with terror states such as Iran. According to the AP, over the weekend the Iraqi Military has confirmed that at least four rockets struck an Iraqi airbase. Other officials have confirmed that in the midst of the action, only one man was wounded where an American defense company is stationed to service combat aircraft.
'Sabatini Calls Florida a "Second Amendment Sanctuary"' by The Floridian's Daniel Molina — Last week, Florida Rep. Anthony Sabatini (R) introduced legislation that would ban taxpayer funded lobbying. Over the weekend, the staunch conservative shifted his focus to the national conversation regarding the 2nd amendment, a move that will likely cause a stir in the Florida legislature as Sabatini is pursuing the case of hav Florida recognized as a "Second Amendment Sanctuary."
'COVID-19 Cases Declining in the Sunshine State' by The Floridian's Daniel Molina —In recent weeks, Florida Governor Ron DeSantis (R) has highlighted the Sunshine State's partnership with various companies like Publix and Wal-Mart in order to provide the COVID-19 vaccine to residents. As more vaccines become readily available to older residents, the state is also experiencing declining COVID-19 cases after a number of weeks of an alarming rise across the state.
'Fried to disobey DeSantis' order to lower flag to half-staff for Rush Limbaugh' by The Floridian's Javier Manjarres —Florida Agriculture Commissioner Nikki Fried says that she will direct state offices "under her purview" to ignore Gov. Ron DeSantis' upcoming order to lower all flags to half-staff in recognition of Rush Limbaugh, who recently passed away from lung cancer. In a statement, Commissioner Fried, who is expected to announce a gubernatorial run against Gov. DeSantis later this year, stated that the lowering of the flag should not be used as a "partisan political tool" and called Limbaugh a bigot who sewed division with his "hate speech."
'Trump Slams Supreme Court On 'Fishing Expedition' Tax Return Ruling' by The Floridian's Mona Salama — Former President Trump blasted the Supreme Court order on Monday for allowing the "fishing expedition" to happen after declining to block a New York prosecutor from obtaining his personal and corporate tax returns, calling the investigation "a continuation of the greatest political Witch Hunt in the history of our Country," and vowed to "fight on."
In a lengthy statement, Trump slammed past investigations that had plagued his presidency, mentioning former Special Counsel Robert Mueller's probe in what he called a "never-ending $32 million Mueller hoax," and the "two ridiculous 'Crazy Nancy' inspired impeachment attempts," before noting the ongoing inquiry from the New York grand jury into his tax records.
Kriseman, Fried push back on DeSantis call to lower flags for Rush Limbaugh by Tampa Bay Times' Josh Solomon—St. Petersburg Mayor Rick Kriseman and Florida Agriculture Commissioner Nikki Fried intend to defy a call by Gov. Ron DeSantis to lower flags to half-staff to honor conservative radio host…
Florida wants to stop these reptiles from becoming the next python. Breeders call it overreach by Miami Herald's Adriana Brasileiro—Wildlife managers in Florida are finally moving to address an existential question: If the state is like an all-you-can eat buffet for invasive reptiles originally introduced as exotic pets, then why are some of those species still imported and sold by breeders and pet stores?
Florida's vaccine-registration website draws millions of people to sign up by the Sun-Sentinel's Wells Dusenberry — The state's new COVID-19 vaccine registration website is in big demand — drawing more than 2.4 million people to sign up for notifications on appointments.The state's website myvaccine.fl.gov kicked off last month, giving the public updates on when appointments are available at state-run COVID-19 vaccine sites near them. South Florida, one of the state's most populous regions, accounts for more than 20% of the state's total signups, with over 491,000 people registering in the tri-county area as of last week, according to the latest figures made available by the state. About 266,000 people have signed up in Broward, 135,000 have registered in Miami-Dade, and 90,000 have signed up in Palm Beach County.
Trump, DeSantis headline an Orlando CPAC event heavy on election conspiracies by Orlando Sentinel's STEVEN LEMONGELLO—This weekend's CPAC conference in Orlando will have a decidedly Florida feel, with Gov. Ron DeSantis kicking off the event and Palm Beach resident Donald Trump closing it. But in between, the tone of the country's largest conservative event, and possibly the next four years of Republican politics, will be set by several panels indulging in Trump's unfounded conspiracy theories of election fraud."It shows Trump's enormous sway, even though he lost," said Aubrey Jewett, a professor of political science at the University of Central Florida.
"House Democrats Demand Millions for Orlando Airports" by The Floridian's Jim McCool – One of Central Florida's most prominent voices, Rep. Stephanie Murphy (D-FL), has been joined by her Democrat colleagues, Rep. Val Demmings (D-FL) and Rep. Darren Soto (D-FL), in unveiling even more government spending, in response to COVID-19. The three announced today that Florida airports and Florida airport businesses will receive $200 million from the Federal Aviation Administration (FAA), to compensate for the potential income lost due to the Pandemic. In particular, the Orlando International Airport, which is in Murphy's district, will be entitled to $41.5 million, whereas the Orlando Sanford International Airport will be given just over $5.5 million in federal support. These funds are being allocated from the Coronavirus Response and Relief Supplemental Appropriations Act that was passed late last year and contained nearly $2 billion of funds to be used for economic relief during the COVID-19 Pandemic. Air travel has been one of the most damaged industries within the past year. Passenger traffic at Orlando International Airport has decreased by 57%, which in turn means less economic revenue for airlines. As for Orlando Sanford International Airport, passenger traffic in 2019 was an all-time high at 3.2 million passengers. This decreased drastically in 2020 to 1.5 million passengers – that's a 53% decrease in air travel.
"In trying to Bash Ron DeSantis, Nikki Fried humiliates herself" by The Floridian's Javier Manjarres – Probable 2022 gubernatorial candidate, Agriculture Commissioner Nikki Fried, may want to start reading up on her history before she continues to bash Florida Gov. Ron DeSantis in the months leading up to her expected candidacy. Fried's latest tweet is so wrong, that there are "no words" for her ignorance. "Governor Ron DeSantis is lowering Florida's flags to half-staff for Rush Limbaugh," tweeted Fried. "But he had no words for Congressman John Lewis. Priorities." Well, guess what? Wait for it….Wait for it… Gov. Ron DeSantis did have have "words" to acknowledge the passing of civil rights leader and Rep. John Lewis (D). Remember, DeSantis runs Florida and does things that pertain to Florida and its citizens. Rush Limbaugh was a resident of Palm Beach, Florida, Rep. Lewis was a resident of Georgia. "Our state and nation mourn the loss of Congressman John Lewis, a civil rights icon whom I was honored to serve alongside in Congress. @FLCaseyDeSantis and I are keeping his family in our thoughts and prayers," tweeted DeSantis back July, 18, 2020. Fried's reckless and desperate attacks against DeSantis need to be filtered before they go out. We like the fire in her belly, just wished that she would be smart enough to get her facts straight before opening up her big mouth.
"ACLU Slams Biden For Supporting Trump's Immigration Policies" by The Floridian's Daniel Molina – During the 2020 presidential campaing, President Joe Biden (D) made a distinction between himself and President Donald Trump (R) regarding Trump's immigration policies. In the days leading up to the election, Democrats vowed to undo President Trump's hardline immigration efforts, but now the Biden administration is receiving criticism from the ACLU over a newly released memo that outlines the DHS' new immigration plans. Naureen Shah, the senior advocacy and policy counsel for the American Civil Liberties Union, released a statement this week concerning a memo on interior enforcement in the Department of Homeland Security. The memo discussed the government policy that will be in effect during the next 90 days, and it addresses the scope of who the Department considers a priority for interior immigration enforcement and deportation. In the statement, Shah expresses that "the memo is a disappointing step backward from the Biden administration's earlier commitments to fully break from the harmful deportation policies of both the Trump and Obama presidencies." She added that "while the Biden administration rightly acknowledges that immigrants are our family members, our coworkers, and our neighbors, for now it has chosen to continue giving ICE officers significant discretion to conduct operations that harm our communities and tear families apart."
"DeSantis to push legislation preventing 'mass mailing' of ballots in Florida" by Javier Manjarres – During an official press conference that felt more like a campaign rally in Palm Beach County, Florida Gov. Ron DeSantis announced that he would be lower the flags at half mast after the passing of Conservative Radio show legend Rush Limbaugh, and would be tackling potential voter fraud by pushing for legislation to prevent "mass mailing" of ballots. "We will be lowering the flags to half staff," said Gov. DeSantis. James Golden, Aka Bo Snerdley, who was Limbaugh's long-time friend and associate on the show, summed up who "El Rushbo" was. "Rush is a second generation Founding Father," said Golden. "So I think it's important to point that out I think Floridians of all stripes can rest assured that in this state your vote counts your vote matters your vote will be counted." said Gov. DeSantis."It's going to be transparent, it's going to be aboveboard, it's going to be a confidence inspiring process and don't let anyone tell you otherwise. Don't let anyone point to any other state and try to act like that is how Florida conducts elections because that is not true." Republican measure protects against potential. DeSantis also said that he was going to ask the Florida legislature to put forth legislation to address potential voter fraud, to include mail-in ballot fraud, and possible ballot harvesting.
"Taylor Greene Urges Supreme Court to Review Loomer's De-Platforming Case" by The Floridian's Daniel Molina – Rep. Marjorie Taylor Greene (R) has faced backlash since the beginning of the year because of controversial views shared in the past. She also received criticism from both Republicans and Democrats earlier this year, and few lawmakers stepped forward in showing support. However, Laura Loomer, former Congressional candidate and conservative journalist, expressed her support earlier this year by calling the attacks against her "anti-Jewish." Now, Rep. Taylor Greene is calling attention to the longtime media ban that has been placed on Loomer, arguing that the Supreme Court should revise the actions taken against Loomer. Loomer, who lost to Florida Rep. Lois Frankel (R) in the 2020 congressional race for 21st district, has also faced heavy criticism for controversial views shared in the past. In showing her support for the embattled lawmaker, Loomer commented earlier this year that Taylor Greene "came to Palm Beach during my campaign to help me, she donated to my campaign, and she has done more to speak out about my De-Platforming than any other member of Congress." Loomer also pointed out that this includes "the 28 Jewish members of Congress who have never lifted a finger to help me."
"Republican measure protects against potential mail-in voter fraud, Progressive call it 'voter suppression'" by The Floridian's Javier Manjarres – The 2020 vote-by-mail fiasco brought on by the COVID-19 pandemic may be stopped dead in it tracks during the 2021 legislative session in Florida with Sen. Dennis Baxley's SB90 measure. When the pandemic broke out around the country in early 2020, Democratic legislators at both the state and federal level pushed for mail-in ballots to be issue to anyone that requested one, and even those that didn't. Democrats said that this move would help prevent the spread of the deadly novel virus. The widespread mail-in ballot sending problems were well documented, and Republicans blame the huge influx of unsolicited mail-in ballots that came as the cause for President Trump losing his bid for reelection. Mail-in voting worked in many places, including Florida, but it appears that Republican legislators are being extra cautious in hopes to protect the integrity of the state's election process. Sen. Baxley's bill would limit "vote-by-mail application to one election cycle and would require everyone who first signed up for a mail ballot in 2020, to reapply for a ballot in the 2022 election cycle. This is good, no? Not to Progressives who are crying voter suppression. Florida State Senator Lori Berman recently spoke out against SB 90.
"Texas lawmaker explains why he headed to Florida during winter weather crisis" by Click 2 Houston's Michael Lopardi – A state lawmaker from Fort Bend County is facing questions after leaving town this week while the region battled the effects of the winter weather. State Rep. Gary Gates, a Republican from the Richmond area, said he spent two nights in Florida beginning on Wednesday and returned to Texas on Friday. "I think I was more productive by being there," Gates said. The cold weather left many in southeast Texas without power or water. Gates said he had good reasons for flying with his wife and three daughters to his cousin's place in the Orlando area, where temperatures reached into the '80s on Thursday. "Because of my wife's illness that she's had for a couple of weeks and my handicapped daughter with her area of the house being flooded, I was just trying to find some easier accommodations for them and I was trying to find a place where I could continue to work and do the things I needed to do," Gates said. Approximately 30 percent of his home flooded because of broken pipes, Gates said, and he lost power on Tuesday night. However, he said he was still fielding concerns from his constituents and business.
"Trump to speak at conservative gathering in Florida for first post-White House appearance" by Associated Press – WASHINTON (AP) — Donald Trump will be making his first post-presidential appearance at a conservative gathering in Florida next weekend. Ian Walters, spokesman for the American Conservative Union, confirmed that Trump will be speaking at the group's annual Conservative Political Action Conference on Feb. 28. Trump is expected to use the speech to talk about the future of the Republican Party and the conservative moment, as well as to criticize President Joe Biden's efforts to undo his immigration policies, according to a person who spoke on condition of anonymity to discuss the plans. CPAC is being held this year in Orlando, Florida, and will feature a slew of former Trump administration officials and others who represent his wing of the GOP, including former Secretary of State Mike Pompeo, Florida Gov. Ron DeSantis and South Dakota Gov. Kristi Noem. Trump has been keeping a relatively low profile since he retired from the White House to Palm Beach, Florida, in January, but reemerged last week to conduct a series of phone-in interviews to commemorate the death of conservative commentator Rush Limbaugh.
"Former Florida mayor arrested on child pornography charges" by Wink News/AP – A former mayor of a small Florida city has been arrested on child pornography possession and distribution charges. The U.S. Attorney's Office for the Middle District of Florida said Kevin Hohn, 65, is a former mayor of Brooksville, a city north of Tampa. Federal agents discovered more than 100 images of child pornography on his computer, including some that appeared to have been secretly taken in his home. The criminal complaint says that investigators identified his address as one that distributed child pornography images and a video. On Friday, investigators conducted a search warrant in Hohn's home and found more than 100 images depicting naked prepubescent and teenage girls. Some of these images appeared to have been secretly shot inside his home. Before he was a city council member and mayor in 2014, Hohn was an Internal Revenue Service agent who investigated money laundering, public corruption and organized crime cases. A recent biography on a local newspaper says he later was a coach for an after-school golf program.
"Florida governor says flags will be flown at half-staff for Rush Limbaugh" by CBS News – In honor of conservative radio host Rush Limbaugh, Republican Governor Ron DeSantis announced Friday he would order flags in Florida to be flown at half-staff when Limbaugh's body is laid to rest. Limbaugh, a Florida resident, died Wednesday after battling lung cancer. DeSantis called him a friend. It's not clear when the flags will be lowered, since the funeral plans for Limbaugh have not been announced yet. "When there's things of this magnitude, once the date of interment for Rush is announced, we're going to be lowering the flags to half staff," DeSantis said at a news conference in Palm Beach County. Limbaugh's death has been widely mourned by conservatives, although critics have highlighted past comments by him that they allege were bigoted and blatantly racist. The governor has previously ordered flags to be at half-staff to honor the deaths of law enforcement officers killed on duty, members of the Navy killed in a mass shooting in Pensacola and Supreme Court Justice Ruth Bader Ginsberg, among others.
"Florida doctor charged with hate crime against Hispanic man" by WSVN/AP – A Florida anesthesiologist has been arrested and charged with a hate crime for assaulting a Hispanic man outside a supermarket, according to news outlets citing police reports. The Miami Herald reports that Dr. Jennifer Susan Wright, 58, of Miami had become enraged after the man asked her in Spanish to keep her distance due to COVID-19 guidelines while waiting in line at a supermarket in Hialeah, a heavily Hispanic suburb of Miami. Wright ignored him, so he repeated it in English. She responded by "mumbling bad words," the newspaper said, citing an arrest report. Wright then walked up to him in the parking lot and – after he asked her to back up – she hurled racial and other insults at him. The arrest report said Wright also proceeded "to stab the victim's vehicle with her keys while saying he needed to go back to his country" and punched and kicked the man. Officials said the attack took place Jan. 20, when President Joe Biden took office. Wright has been charged with criminal mischief, tampering with a victim and battery with prejudice, under the state's hate crime law.
"Florida Man Arrested for Slashing 60-Year-Old Woman's Face in 'Unprovoked' NYC Assault" by NBC New York – A 21-year-old man from Florida was arrested and charged by the New York City Police Department for allegedly attacking a woman in the Bronx this week, officials said Sunday. The attack happened Thursday afternoon in the Van Nest section of the Bronx, according to the NYPD. A 60-year-old woman was walking along E. Tremont Avenue when police say the suspect slashed her in the face with a "sharp cutting instrument." Authorities say the suspect tapped the woman on the shoulder as she was walking around 4:30 p.m. That's when she turned to face the man and he allegedly cut her face. The man fled the scene in a gray Honda Civic but was caught by police on Sunday and arrested. The man, from Palm Bay, Florida, faces assault charges. Police describe the assault as unprovoked, noting the suspect "did not make any statements" before the attack. The woman was taken to Jacobi Medical Center for treatment. Police did not release details of her condition.
"State reports 95 additional COVID-19 deaths, including 28 in Northeast Florida" by News4Jax – The Florida Department of Health on Sunday reported 5,065 new cases of the coronavirus and 95 additional deaths related to the virus. Of those deaths, 28 were in Northeast Florida: 14 in Duval County (1,091 total deaths), six in Alachua County (214), three in Putnam County (122), two in Clay County (299), one in St. Johns County (186), one in Columbia County (155) and one in Flagler County (87). The state Department of Health has now reported a total of 1,868,772 COVID-19 cases and 30,434 coronavirus-related deaths since March 2020. Duval County has recorded 87,607 total cases, including 121 cases that were reported Sunday. Meanwhile, the United States neared 500,000 coronavirus-related deaths on Sunday. According to Johns Hopkins University, more than 498,000 people in the death have died related to the virus. As of Sunday afternoon, 4,160 people were hospitalized in Florida with a primary diagnosis of COVID-19, according to the state Agency for Health Care Administration. The statewide positivity rate based on Saturday's testing was 6.32%, the health department said Sunday.
"Florida Fish and Wildlife law enforcement division gets reaccredited" by WCTV Staff – The Florida Fish and Wildlife Conservation Commission's Division of Law Enforcement has received reaccreditation for the fifth time. The FWC was initially accredited in 2009. According to the press release, state law enforcement accreditation is certified by an independent reviewing authority, the Commission for Florida Law Enforcement Accreditation, and divisions must meet about 240 prescribed standards over a three-year period in order to achieve reaccreditation status. Amid COVID-19 concerns, an accreditation assessment team made up of law enforcement representatives from other accredited Florida law enforcement agencies conducted virtual inspections of the division's procedures, policies, practices and equipment to determine compliance. Accreditation is voluntary. "The FWC Division of Law Enforcement continues to maintain the highest standards of credibility, effectiveness and professionalism," FWC executive director, Eric Sutton, said in the release. "Our staff work diligently to uphold these standards each and every day. Reaccreditation by the Commission validates the hard work they do and provides a strong vote of confidence in their ability to protect the public and conserve Florida's natural resources."
"Charlie Crist asks DOJ to investigate DeSantis' pop-up vaccine sites for wealthy Florida neighborhoods" by WFLA 8 – US Representative Charlie Crist announced Sunday he has sent a letter to Acting Attorney General Monty Wilkinson, asking that the US Department of Justice investigate concerns surrounding Governor Ron DeSantis' decision to establish vaccination sites in wealthy neighborhoods, such as Lakewood Ranch. A release from Crist's office says DeSantis has established "coronavirus vaccine distribution and administration sites to benefit political allies and donors, over the needs of higher-risk communities and existing county waitlists." Crist says the governor is prioritizing COVID-19 vaccines for "Republican-leaning communities," causing him to turn "his back on communities with higher COVID infection and death rates." Now, Crist is asking that the DOJ investigates if DeSantis' actions violate federal law, warranting a full federal investigation. "Time and time again, Governor DeSantis has proven he is not up to the task of leading our state out of this pandemic as he continues to play politics with the health and well-being of vulnerable Floridians," said Crist. "So far, over 30,000 Floridians have died and at least 1.8 million more have gotten sick, with minority communities and seniors hit the hardest. Instead of prioritizing people most at risk, the Governor has chosen – during the worst pandemic in a century – to help out his friends and donors. That is why I'm calling on the Department of Justice to investigate."
"Tampa residents hold protest against proposed Florida legislation to combat violent riots" by WFLA's Olivia Steen – People hit the streets of Tampa Sunday afternoon to show their disapproval of the "Combating Violence, Disorder and Looting, and Law Enforcement Protection Act." It's a bill that would crack down on violent demonstrations and attacks on police officers. "It's just a blatant attack to us," said Will Blake, who is with the Tampa Bay Community Action Committee. Governor Ron DeSantis presented HB 1, or the "Anti-Mob" legislation, back in September after Black Lives Matter protests broke out across Florida, the national, and the world. DeSantis said the intent of the bill is to add more severe penalties on people who commit crimes during protests. "The rioting and the disorder is wrong. We're not going to tolerate it in Florida," DeSantis said. But these protesters don't believe that's the true nature of the legislation. "There's no legal ramifications for people who hit protesters. It's a felony to walk in the streets," Blake said. The bill also states it'll prohibit state grants or aid to any local government that "defunds the police" or slashes any of the budgets for law enforcement services. Florida Democrats, like Representative Anna Eskamani, question if these laws would be enforced fairly.
National:
"Biden's first month was a 'honeymoon,' but bigger challenges loom ahead" by Reuters' Trevor Hunnicutt – One month into the job, President Joe Biden is on the cusp of securing a bigger economic rescue package than during the 2009 financial crisis. He has wiped out his predecessor Donald Trump's policies from climate change to travel bans, while the U.S. daily COVID-19 vaccine distribution rate grew 55%. That may have been the easy part. The White House's broad strategy – avoid unwinnable political fights, focus on policies with mass voter appeal, and mostly ignore Republican attacks – will be increasingly difficult in the months ahead, Democrats and Republicans say, even as millions more are vaccinated and the economy rebounds. "They've got some problems right around the corner," said Jim Manley, once a top aide to former Democratic Senate Majority Leader Harry Reid. Biden has made many of the changes he has clear authority to do by executive action. Landmines going forward include pushing laws on which the Democratic Party is divided, such as college debt relief, tax hikes and curbs on the energy industry. Then there are the intractable policy