Running for Congress Against Opponents Wife?
Despicable. Cowardly. Desperate. Bigotry.
Those are accurate words to describe a congressional candidate who attacks his opponent's wife over her faith and/or ethnicity.
Take a wild guess who is being accused of this. Go ahead, guess. I will give you a hint: Blackface. READ MORE

Florida's tie to Housing Illegal Immigrants
Companies with Florida ties will be supporting undocumented illegal immigrant children who are soon to be housed in Greensboro, N.C.
Two companies run by the same individual secured two government contracts totaling nearly $500 million to provide services to the migrant children at the campus of former Jewish boarding school, The American Hebrew Academy (AHA). MUST-READ


Byron Donalds- RELEASE THE AFFIDAVIT
Rep. Frederica Wilson-As a former school principal and educator at @MDCPS, I'm beaming with pride at this announcement.Providing growing students with reliable and cost-free meals helps support healthier kids who are ready to learn. Thank you MDCPS for your leadership!
Lauren Book-Fight like a Mother!!!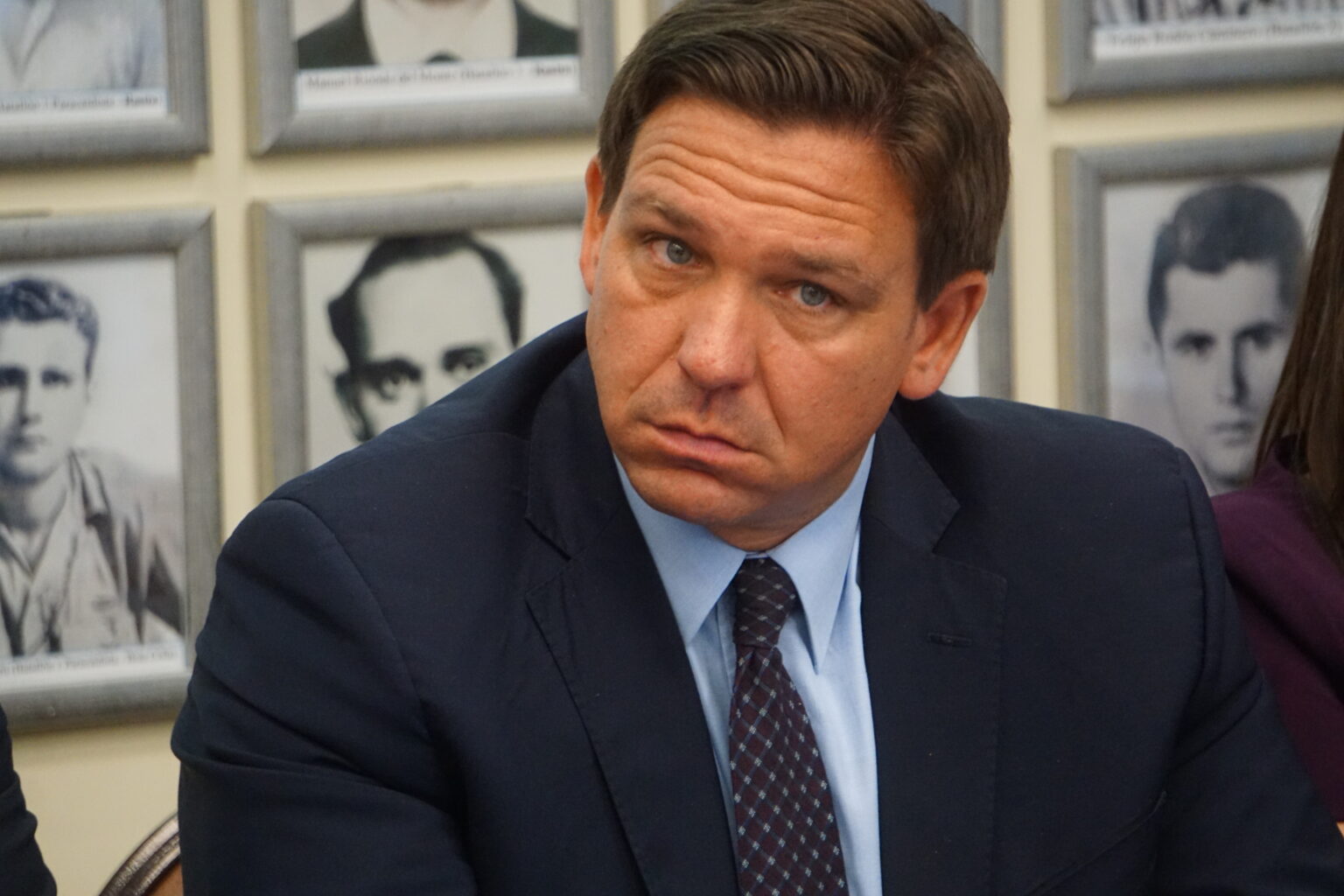 "DeSantis Admin Hits Back at Mike Bloomberg Over Censorship Debate," by The Floridian's Jim McCool—Billionaire and former candidate for President, Mike Bloomberg (D), has blasted Governor DeSantis (R-FL) and the Florida Legislature for recent passing of education reforms, claiming Florida, "seeks to limit open debate," in schools.
"Florida Companies Tied to School Housing Illegal Immigrants," by The Floridian's Michelle Rosenberg
"Patronis: "Nobody Wants More IRS" by The Floridian's Grayson Bakich—Amidst growing inflation and recession, the last thing Americans want to hear is the idea of expanding the IRS. Unfortunately, the Biden administration has done just that. While such an unwelcome move has garnered plenty of criticism, the state of Florida has decided to actually do something about it. On Monday, Florida CFO Jimmy Patronis outlines how the state of Florida will stand against a recently-expanded IRS.
"Florida Court Blocks Teen's Abortion Access on Account of Her Maturity," by The Floridian's Jim McCool—While Progressive Democrats believe that there is an attack on abortion access in Florida, so-called restrictive abortion laws are now taking effect after a Florida court blocked a teenage girl from getting an abortion.
"Florida Tourism Continues to Bounce Back," by News Service of Florida
"Bigotry Appears to Rear Head in Contentious Florida Republican Primary Race," by The Floridian's Grayson Bakich—The closer we get to the August 23 primary, election the deeper the hole Rep. Anthony Sabatini could be digging himself in his Republican congressional primary race.
"Will Miami Media Ignore Roger Waters' Antisemitism? " by Senator Marco Rubio—Pink Floyd co-founder Roger Waters describes himself as "pro dialogue, pro peace, [and] anti authoritarian." Maybe he should listen to his own music more, because he clearly can't tell heaven from hell. Far from standing "in defense of Mistress Liberty," Waters has become an advocate for antisemitism, Vladimir Putin's imperialism, and the Chinese Communist Party's genocide.
"Biden's Botched Afghanistan Withdrawal: One Year Later," by The Floridian's Grayson Bakich—Today marks the one-year anniversary of Pres. Biden's infamous and disastrous decision to withdraw U.S. military troops from Afghanistan. The hasty evacuation left behind billions of dollars in equipment for the reemergent Taliban to take for themselves. What's worse is that a large number of Americans and Afghan allies remain in hostile territory.
"DeSantis Responds to Hochul's 'Florida is Overrated' Jewish Remark," by The Floridian's Michelle Rosenberg—New York Democrat Governor Kathy Hochul poked at Florida Gov. Ron DeSantis and advised against New York Jews relocating to Florida. Hochul was signing a Holocaust education bill and was just about to introduce a Holocaust survivor to take the podium when she stated, "I just want to say to the 1.77 million Jews who call New York home: Thank you for calling New York home. Don't go anywhere or to another state. Florida is overrated. I shouldn't say this but look at the governor. It starts at the top down."
"Castor Receives Call Praising her Inflation Reduction Bill Vote," by The Floridian's Grayson Bakich—Having passed in the House, the Inflation Reduction Act continues to polarize Democrats and Republicans. Sunday evening, a giddy Rep. Kathy Castor (D-FL-14) took to Twitter to celebrate by posting a brief video attached to her tweet.
"Charlie Crist Says DeSantis's Base is 'Far-right', Polls Say Otherwise," by The Floridian's Jim McCool—Florida Democrats have remained persistent in branding Governor DeSantis (R-FL),and his legislation, "far-right." Now, US Rep. Charlie Crist (D-FL) is calling all of gov. DeSantis's Republican voting base of support, "far-right."
"Barbara Sharief and Lauren Book Senate Race Keeps Getting Uglier," by The Floridian's Jim McCool—Senate Minority Leader Lauren Book (D-35) has become arguably the most influential Democrat in Florida Politics. However, Broward County Commissioner and Mayor Barbara Sharief (D-35) is challenging Book's incumbency in State Senate District 35.
"Nikki Fried Affirms she Wants an Assault Weapons ban in Florida," by the Floridian's Javier Manjarres
Nikki Fried Says She's not a COVID Lockdown 'Extremist' [VIDEO]" by The Floridian's Javier Manjarres—FORT LAUDERDALE—Agriculture Commissioner and Democratic gubernatorial candidate Nikki Fried is once again asserting her opposition to any future mask and vaccination mandates, taking issue with being referred to as a lockdown extremist.
"'Dark Money' Expenditures Against Sabatini Could Point to President Trump," by The Floridian's Grayson Bakich and Javier Manjarres
"Rubio: American Families are Under Attack," by The Floridian's Grayson Bakich—Earlier this week, The Floridian posted a clip from the Netflix children's series Jurassic World: Camp Cretaceous in which two young women are shown kissing. This is just the most recent example of how left-wing elites seek to remodel American culture. On Friday, Senator Marco Rubio (R-FL) wrote a letter for the American Principles Project outlining the far-left cultural threat.
"Mike Waltz Tears into Democrats Claims US is in a Recession," by The Floridian's Jim McCool—Democrats have recently jammed controversial legislation through Congress to expand bureaucratic organizations, such as the IRS, while also attempting to fight inflation.  US Congressman Mike Waltz (R-FL) is tearing into the recent moves made by his opposing party, and claiming the US is in a recession.
"Anthony Sabatini Lies About Voting for DeSantis's 2022 'Freedom First' Budget," by The Floridian's Javier Manjarres—Most people look forward to checking their mailboxes every day to see what may have been sent to them, but that may not be the case for controversial State Rep. Anthony Sabatini, who recently dodged a debate with six of his Republican congressional opponents in Oviedo, Florida.
"Florida Reps Continue Slamming IRS Expansion and "Deadly Force" Job Listing," by The Floridian's Grayson Bakich—As the United States seeks to deal with the current recession, one provision of the Inflation Reduction Act has raised more than a few eyebrows. As reported by The Floridian, the Internal Revenue Service (IRS) will hire 87,000 new agents. More worryingly, one of the described duties featured in the now-deleted job listing says agents must "carry a firearm and be willing to use deadly force, if necessary."
"Christina Pushaw Resigns, Joins DeSantis Re-election Campaign," by The Floridian's Javier Manjarres
"DeSantis Calls Florida 'a Law-and-Order State'" by The Floridian's Daniel Molina—Florida Governor Ron DeSantis (R) is calling Florida "a law-and-order state." Amidst ongoing criticism from Democrats in the state and across the country, Governor DeSantis affirmed that what distinguishes Florida from the rest of the country is that Florida's 'a law-and-order state."
"Trump: "Release the Documents Now!" by The Floridian's Grayson Bakich
"Biden Promotes 'use of Deadly Force' to new 87,000 IRS Army," by The Floridian's Jackson Bakich—It has been reported around the nation that the Internal Revenue Service (IRS) is going to be hiring a vast number of agents after the House votes on Friday to grant the agency 80 billion dollars in additional funds. 87,000 agents are expected to be hired following the passage of the bill in the House. Sen. Rick Scott (R-FL) and other Florida politicians have aired their disgust regarding the assumed bill going through.
"Netflix Streams Lesbian Kiss on Kids Show," by The Floridian's Javier Manjarres—The Netflix kids' series Jurassic World Camp Cretaceous includes a kissing scene between two young girls. In the latest season of the animated series executively produced in part by Steven Spielberg, two female characters have built up tension between them throughout the series which finally culminates in the two sharing a passionate kiss on the mouth.
"DeSantis Announces Temporary Five-Year Teaching Certificate for Veterans," by The Floridian's Grayson Bakich—Being a state where a sizeable veteran population resides, Florida works hard to provide for former service members. Thursday, Governor Ron DeSantis (R) announced a five-year temporary teaching certificate program for veterans finishing their bachelor's degree.
"Republican Congressional Candidates in FL CD 7 Say They can, Will Work With Democrats in Congress," by The Floridian's Javier Manjarres—Oviedo, FL - This week Republican voters in Florida's 7th congressional district got the chance to hear what the candidates had to say for themselves on the issues in a debate-style format. The topic of congressional bipartisanship came up, to which many just about all of the Republican candidates said they would work with Democrats in Congress.
"Loomer Blames 'RINO' Republican Opponent for FBI Raid at Mar-a-Lago," by The Floridian's Grayson Bakich—Monday night's raid on former President Trump's Mar-a-Lago home by the FBI continues to make headlines. Conservative journalist and District 11 congressional candidate Laura Loomer has weighed in, telling The Floridian via text that the FBI needed to be defunded and dismantled.
"Cory Mills Leads in new Poll, 'Absentini' Sabatini and Santos cry Foul," by The Floridian's Jackson Bakich

The JUICE is squeezed by Javier Manjarres, Jim McCool, and Daniel Molina