Democrats Triggered by DeSantis's Cowboy Boots
All of a sudden, Democratic political operatives have noticed that Gov. Ron DeSantis has been wearing 'high heel boots," or as they are commonly called Cowboy boots.
DeSantis wearing cowboy boots is nothing new.
For as long as we can remember, The Floridian has always poked fun at DeSantis for never leaving home without his black cowboy boots.
The same is the case with former Gov. Rick Scott, who also never left the mansion without his black Lucchese cowboy boots.
Cowboy boots are always in, but not for someone looking to run for president, right?
"Just like he doesn't leave the house without his black cowboy boots. Gov. Ron DeSantis does not leave the Governor's Mansion without his black bag."
"Ingoglia was in a tough race but then DeSantis and his black cowboy boots endorsed him, Rep. Masullo's campaign was stomped out. It was lights out for Masullo."
"Not only does he traverse the state of Florida to sign bills, meet with local small business owners, and oversee disaster relief efforts wearing his black cowboy boots, but Gov. Ron DeSantis also likes to go to the Texas southern border…"
"Gov. Ron DeSantis will be locking and loading today in Miami when he participates in the Florida Python Challenge™ 2020 Python Bowl Launch Event. Florida will be handing out cash prizes to hunters who bag the most snakes. No word yet if DeSantis will be wearing his Lucchese cowboy boots on the hunt."
Well, you all get what we are saying. Ridiculous.
Florida is Where Racism Goes to Die
Gov. DeSantis and every single state and federal lawmaker has denounced racism.
There is no room for racial or bigoted attacks in Florida, and a recent racial attack against Senator Victor Torres has been met with harsh criticism, as it should be.
But Sen. Torres's unfortunate experience was made political.
Of course, it was, the state is always in the political funny season, and race politics works, right?
The Sky is Falling! The Sky is Falling! Blame Republicans for racism. READ MORE

Former Judge Says DeSantis Violated Constitution
He is being accused of doing just about everything wrong in the months leading up to his expected presidential run for office, but did Gov. DeSantis violate the U.S. Constitution? Some say he did, but most say he didn't. READ MORE


Rick Scott-Great to be at #CPAC with strong conservatives ready to take our country back and get us heading in the right direction! Right here, right now, is time for change!
Blaise Ingoglia-It's not often that you go to a party and run into a Chinese spy balloon but here we are….
US Rep Kathy Castor-It's a historic year to be recognized as an @LCVoters Climate Champion. Thanks to @ClimateCrisis, @HouseDemocrats, and @POTUS, we enacted groundbreaking legislation positioning America to lead the world in the emerging clean economy. Our work is just getting started.
Representative Fentrice Driskell-March 1st marks the start of Women's History Month, when we celebrate women and their many contributions. Wishing everyone a Happy
Rep. Cory Mills -We must hold the CCP accountable for their malign actions that threaten American interests.
Big Brother in Florida is Looking to Watch Over Media Outlets, 'Bloggers'" by The Floridian's Grayson Bakich—State Senator Jason Brodeur (R) has introduced a bill requiring compensated bloggers who write about the Florida government to register with the Florida Office of Legislative Services or Commission on Ethics. READ MORE
"Former Judge Accuses DeSantis of Violating the U.S. Constitution" by The Floridian's Javier Manjarres—Florida Gov. Ron DeSantis is being accused of violating the U.S. Constitution and Florida law by former Judge and Fox News Contributor Andrew Napolitano. READ MORE
"Florida's Aetna Branch Goes Beyond the Call of Duty" by The Floridian's Jackson Bakich—READ MORE
"Florida Senator Blames Republicans for Being Called a 'F-cking Sp-ic Freak' by The Floridian's Javier Manjarres—Florida State Senator Victor Torres (D) was quick to release an audio phone recording he received earlier this week, where he was called a "bald-headed F-cking Sp-c freak," and quick to blame Republicans. READ MORE
"Rep. Diaz Balart Fights for Israel Against UN Abuses" by The Floridian's Jim McCool—With Congress shaking up after the 2022 midterm elections, Republicans have benefitted with new leadership positions. Today, Congressman Mario Diaz-Balart (R-FL) chaired the first hearing of the State, Foreign Operations, and Related Programs (SFOPS) Subcommittee of the House Committee on Appropriations, to hear from Ambassador Linda Thomas-Greenfield, Representative of the U.S. to the United Nations. READ MORE
"Donalds Looks to Provide Tax Relief to those Affected by Hurricane Ian" by The Floridian's Jackson Bakich—Recently, Representative Byron Donalds (R-FL) released a statement concerning tax relief for Floridians that were impacted by Category Five Hurricane Ian. READ MORE
"Experts Agree: Venezuela's Humanitarian Crisis Can't Wait" by The Floridian's Javier Manjarres—During a panel discussion on U.S. Policy for Venezuela hosted by Florida International University (FIU) on Tuesday, Western Hemisphere political and economic experts concluded that U.S. "Maximum Pressure" sanctions against the Nicolas Maduro regime in Venezuela have not worked. READ MORE
"FIU Commemorates Employee, Stephen Fain, With Medal" by The Floridian's Jim McCool—Florida International University is taking significant steps to honor FIU's longest-serving employee, Stephen M. Fain. The school has now instituted the Fain Medal and will recognize faculty who have advanced the university's mission. READ MORE
"Luna: Zelensky 'Gone Too Far' Saying US Troops May Need to Fight for Ukraine" by The Floridian's Grayson Bakich—In a viral video making the rounds on Twitter, Ukrainian President Volodymyr Zelensky said if his country loses, Russia will push further west, and the United States will need to put boots on the ground. Rep. Anna Paulina Luna (R-FL) responded to the video with a tweet of her own, saying, "Zelensky's comments have gone too far." READ MORE
"DeSantis Lands Punch on Buttigieg for Taking Paid Paternity Leave" by The Floridian's Javier Manjarres—Naples— Florida Gov. Ron DeSantis took a shot at Transportation Secretary Pete Buttigieg during his "The Courage to be Free" book tour, questioning how the Secretary could take 3 months of paid leave just because he and his husband welcomed adopted twins. READ MORE
"Ron DeSantis Acknowledges Wife Casey's Beauty, Avoids Sleeping in Dog House or on Couch" by The Floridian's Javier Manjarre Florida Gov. Ron DeSantis seems to always say the right things, and Republican voters are paying very close attention as it appears that he and First Lady Casey DeSantis are close to announcing a presidential run in 2024. READ MORE
"Gimenez: US "Must Decouple from Communist China" by The Floridian's Grayson Bakich—As more evidence of Chinese espionage becomes apparent, House Republicans question our economic relationship with the country. In a Select Committee on the Communist Party of China (CCP) hearing, Rep. Carlos Gimenez (R-FL) said the US must "decouple from Communist China" entirely. READ MORE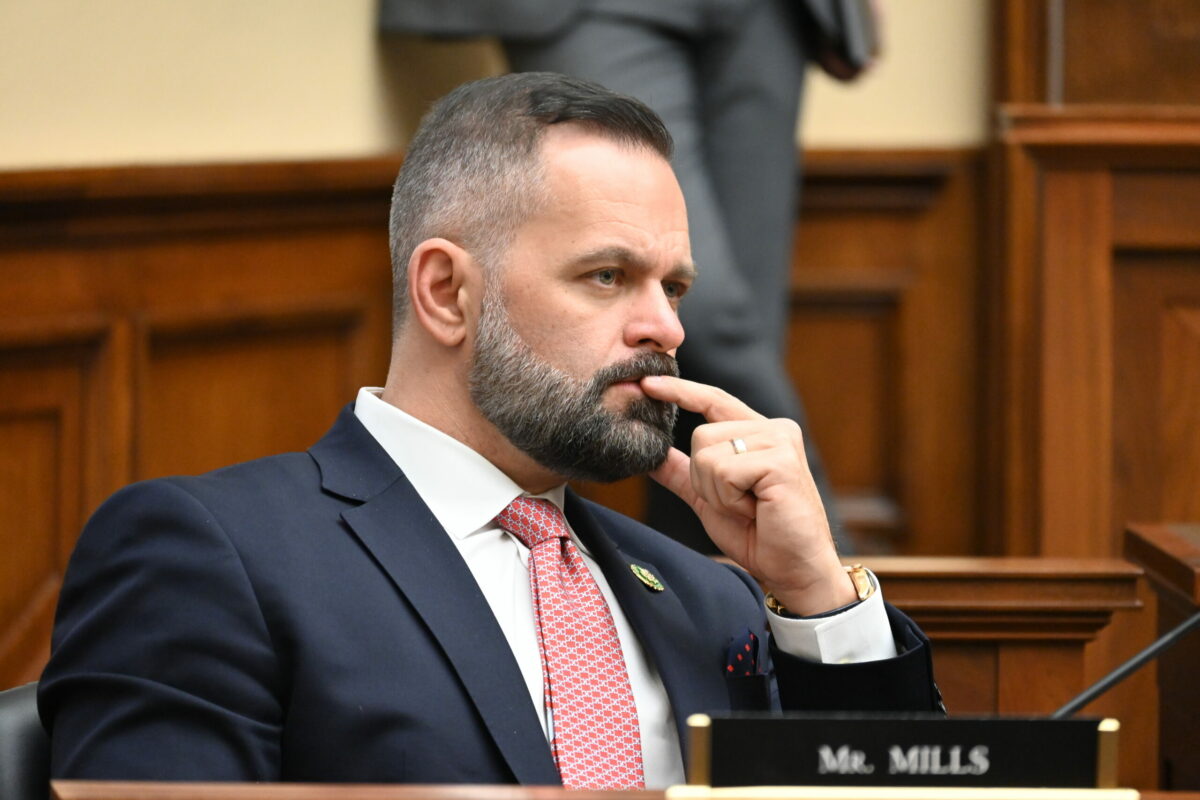 "Mills Calls Discharge of Unvaccinated Military 'Unlawful Purge'" by The Floridian's Grayson Bakich—House Republicans continue dismantling the COVID regime. Rep. Cory Mills (R-FL) grills Under Secretary Gil Cisneros on the dismissal of military service members for refusing the COVID-19 vaccine. Rep. Mills goes so far as to call it an "unlawful purge." READ MORE
"Ingoglia Introduces Bill to "Cancel" Florida Democrat Party" by The Floridian's Grayson Bakich—It looks as though Florida Republicans are turning cancel culture against itself. State Senator Blaise Ingoglia (R) has introduced the "Ultimate Cancel Act" that would effectively rule the Democratic Party in Florida defunct due to its previous support of slavery in the Civil War. READ MORE
"Gaetz, Waltz Question Veracity of Ukraine Funding" by The Floridian's Jackson Bakich—Tensions continue to rise between Florida Republicans and the Department of Defense. During a House Armed Services Committee hearing, Florida Reps. Matt Gaetz (R) and Mike Waltz (R) questioned Inspector General Robert Storch regarding funding for the war in Ukraine. READ MORE
"Frost Calls DeSantis a Fascist: 'I Don't Care What Anyone Says'" by The Floridian's Jackson Bakich—As the first elected U.S. congressman from Gen-Z, freshman Rep. Maxwell Frost (D-FL) leaves no doubt whether the new generation will passively attempt to represent their constituents. Recently, Rep. Frost repeatedly called Governor Ron DeSantis (R-FL) a "fascist" and stated that he "we are actively being oppressed. READ MORE
"Team DeSantis Praises 'Biden's Border Crisis' Bill" by The Floridian's Jim McCool—Florida Governor Ron DeSantis (R) continues to rally support against "Biden's Border Crisis." Last week, the Governor proposed legislation that would address key issues regarding the concern. As he promotes his soon-to-be  released book, Team DeSantis is highlighting why the "Border Crisis" bill is necessary. READ MORE
"MSNBC's Joy Reid: DeSantis wants 'Total Government Control'" by The Floridian's Jackson Bakich—Since 2016, Joy Reid has been a host on MSNBC and despite navigating some controversies during her tenure, she has made a home for herself on the network. In what News Busters journalist Kevin Tober described as a "meltdown," Reid described Governor Ron DeSantis (R-FL) as a someone who will enforce "total government control" should he become President. READ MORE
Salazar, Gimenez Condemn DHS for Facility Fiasco" by The Floridian's Daniel Molina—Over the weekend, Florida Rep. Maria Elvira Salazar (R) sent a letter to Department of Homeland Security (DHS) Secretary Alejandro Mayorkas condemning the DHS for allowing agents of the Cuban regime to visit U.S. military facilities. READ MORE
"Scott's New Resolution: 'National Fentanyl Awareness Week" by The Floridian's Jackson Bakich—Senator Rick Scott (R-FL) has announced the introduction of a resolution to the Senate which looks to establish February 26th through the 4th as "National Fentanyl Awareness Week." READ MORE
"Waltz Seeks to Prevent Chinese Owning Private Schools with JROTC Programs" by The Floridian's Jackson Bakich—Young people are a prime target for Chinese espionage, especially those in the Junior Reserve Officer Training Corps (JROTC). Rep. Mike Waltz (R-FL) and Rep. Chrissy Houlahan (D-PA) introduced a bipartisan bill prohibiting the the Dept. of Defense from establishing or funding JROTC programs in private schools affiliated with China. READ MORE
"Byron Donalds Reintroduces Financial Freedom Legislation" by The Floridian's Grayson Bakich—US Rep. Byron Donalds (R-FL) has reintroduced the House companion of the Financial Freedom Act. This legislation is aimed at Biden's Department of Labor and would restrict the type of investments that self-directed 401(k) account investors can choose to invest in through a brokerage window, taking another step to ensure financial freedom. READ MORE
"Donalds Reiterates Need for Transparency on Ukraine Funding" by The Floridian's Jackson Bakich— READ MORE
"DeSantis Ends Disney, the 'Corporate Kingdom'" by The Floridian's Javier Manjarres—Florida Gov. Ron DeSantis has ended Disney's corporate and tax advantages over other Florida theme parks. READ MORE
"Netflix Continues 'Grooming' Children in Their Kids' Shows" by The Floridian's Javier Manjarres—The American media company Netflix is once again exposing children to the current "woke ideology" in another one of their streaming kids' shows. READ MORE
The JUICE is squeezed by Javier Manjarres, Jim McCool, and Daniel Molina