Impeachment Circus
The House Judiciary Committee's recently-concluded impeachment inquiry hearing turned out to be nothing more than a circus of partisan three witnesses that hated President Trump.
take our poll - story continues below
Completing this poll grants you access to The Floridian updates free of charge. You may opt out at anytime. You also agree to this site's Privacy Policy and Terms of Use.
It was quite embarrassing to watch, especially when one of the witnesses injected Trump's young underage son into the discussion.
As expected, Rep. Matt Gaetz (R) shined during the proceedings, calling out the use of the president's son and by exposing that same witness as a hyper-anti-Trump partisan.
Democrats held their own, as Reps. Ted Deutch, Debbie Mucarsel-Powell, and Val Demings also made strong cases for why the impeachment inquiry was needed.
In the end, it was the American people that lost by having to sit through hours of these shenanigans.
"Gaetz challenges impeachment witnesses, exposes a deep anti-Trump bias," by The Floridian's Javier Manjarres – Rep. Matt Gaetz (R) questioned the key witnesses of the House Judiciary Committee's impeachment inquiry about their past allegiances to Democratic presidential candidates, and about their past and present support for impeaching President Donald Trump.
This video speaks for itself, as does the transcript, so I will just leave it at that.
More on the impeachment inquiry below.
Visit The Floridian
IMPEACHMENT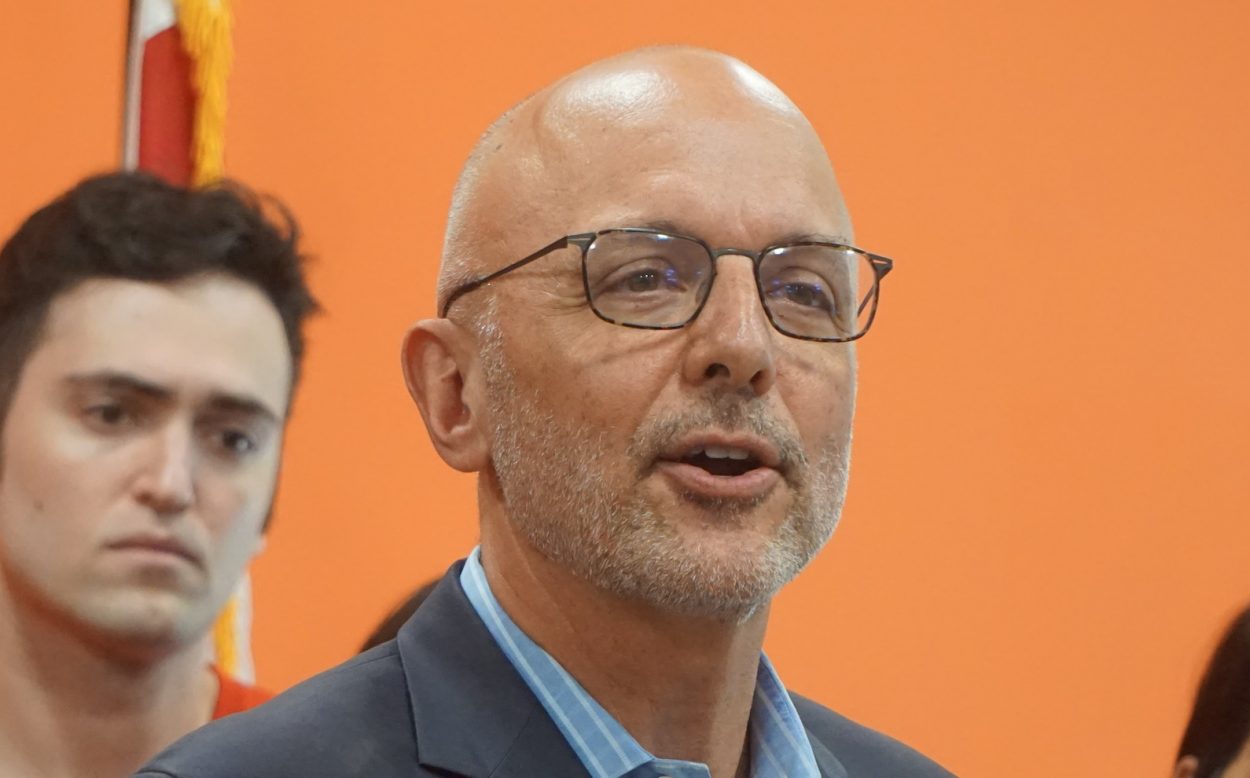 Several of Florida's congressional delegation took center stage during the House Judiciary Committee's impeachment inquiry. The question that is now on everyone's mind is, will House Democrats actually file articles of impeachment against President Trump?
"House Democrats not sure they will move forward with impeachment" By The Floridian's Javier Manjarres – With the House Judiciary Committee having concluded their one-day impeachment inquiry hearing into President Donald Trump, both Republicans and Democrats are claiming victory. Democrats stuck to their impeachment talking points of "corruption" and "obstruction" by Trump, but the clear bias that all of their key witnesses had against Trump was on full display for everyone to see, and may have hurt them instead of helping them. But as recent polls show that impeaching the president is becoming very unpopular with Americans, could House Democrats be looking for an exit strategy, or will they even follow through with impeachment? In speaking to reporters outside of the House Gallery in the Capitol, Florida Rep. Ted Deutch (D), who has been pushing for impeachment, joined the growing chorus of House Democrats in dialing back their rhetoric and playing it safe by not asserting that the House would impeach Trump.
"Demings offers "bribery" definition, says Trump "coerced" Ukraine president" By The Floridian's Javier Manjarres – Moments after the House Judiciary Committee recessed so that members could cast their votes over in the capitol, Florida Rep. Val Demings (D) spoke to reporters, telling them that she believed that the evidence was "pretty overwhelming" that President Donald Trump committed an impeachable offense during the now-infamous phone call with Ukrainian President Volodymyr Zelensky. When asked it House Democrats were actually going to write up that Articles of Impeachment against Trump, Demings stated," I certainly believe we are going to mark up articles. Rep. Demings appeared taken back a bit when one reporter asked her if she believed the impeachment inquiry process was moving too fast. "As a former law enforcement officer I looked for the elements of a crime or wrongdoing, and took actions," said Demings "When there is evidence of wrongdoing, you take action, and I took action.
"Frankel supports impeachment, but focused on other issues" By The Floridian's Daniel Molina – Florida Rep. Lois Frankel (D) is a staunch supporter of impeaching the President, and this afternoon she took some time to talk to The Floridian about possible recourses if the impeachment process against President Trump proves to be successful. When asked what recourses Democrats had in mind, Rep. Frankel commented, "I don't mean to sound trite in any way, but this is really about the Constitution and about whether or not someone is above the law," adding " you know, the Republicans just want to… sweep something under the rug. But… no ones above the law. A Democratic President shouldn't do this, a Republican President shouldn't be doing this. He's basically using his office for his own personal gain, political gain. It's just a clear violation."
Gov. Ron DeSantis will be locking and loading today in Miami when he participates in the Florida Python Challenge™ 2020 Python Bowl Launch Event. Florida will be handing out cash prizes to hunters who bag the most snakes. No word yet if DeSantis will be wearing his Lucchese cowboy boots on the hunt.
Thanks, Mr. President
DeSantis thanks the president for setting aside millions more to help Florida recover from recent natural disasters.
"On behalf of our entire state, I thank President Trump and Secretary Carson for announcing an additional $326 million in funds to areas impacted by both Hurricanes Michael and Irma," said Governor DeSantis. "Thanks to the continued commitment from President Trump and his administration, we have secured more than $735 million in hurricane recovery dollars for Northwest Florida alone, which is critical to our ongoing recovery efforts in the region. These funds will address housing and infrastructure needs so our communities may continue to rebuild and emerge stronger than ever before."
First Lady Casey DeSantis, who has been making all sorts of moves, "announced a new, multi-faceted initiative called "The Facts. Your Future." to heighten youth understanding of the toxic effects of substance abuse. First Lady DeSantis was joined by Florida Attorney General Ashley Moody, Education Commissioner Richard Corcoran, Florida Surgeon General Dr. Scott Rivkees, Florida Department of Children and Families Secretary Chad Poppell and Seminole County Sheriff Dennis Lemma.'
"George Zimmerman, Who Fatally Shot Trayvon Martin, Sues Martin Family in Florida" By Reuters – Former Florida volunteer community watchman George Zimmerman, whose 2012 killing of unarmed black teen Trayvon Martin drew attention across the United States, sued Martin's family and lawyers on Wednesday, saying they used a fake witness against him. Zimmerman is seeking at least $100 million in damages from Martin's parents, state prosecutors and two women, who are accused in a Polk County, Florida, lawsuit of helping provide false statements to investigators and during the trial, according to court papers. On Feb. 26, 2012, Zimmerman, who was then a neighborhood watch captain in a gated community in Sanford, Florida, fatally shot Martin after the teen's trip to a convenience store to buy snacks. The incident helped spark the rise of the Black Lives Matter movement. Zimmerman was arrested and charged. During the 2013 trial, prosecutors argued Zimmerman profiled, pursued and confronted the black youth. Zimmerman claimed he shot Martin in self defense and was found not guilty by a jury.
What an idiot
"Florida Republican calls to hang 'traitor' Ilhan Omar and other Democrats" By The Times of Israel's Tamara lush and Brendan Farrington – Local and national Republican leaders distanced themselves Wednesday from a Florida congressional candidate who sent a fundraising letter stating that "anti-American radical Democrats" should be hung for treason. George Buck, one of six Republican primary candidates for Florida's 13th Congressional District, referred to several Democrats but in particular to Congresswoman Ilhan Omar, D-Minnesota. Omar was born in Somalia and came to the US as a child. In the recent letter to potential donors, he said that "we should hang" Omar and other "traitors" for "abusing our system to destroy our country." He mentioned "tinfoil hat accusations" against US President Donald Trump, but didn't elaborate. Buck's letter cited an unverified story that Omar is an asset of a foreign government who passed information to another foreign government. Omar has denied the report, calling it "outlandishly absurd" in a statement.
"Florida delegation still divided over impeachment — Rubio puts nominee on hold — Federal judge smacks state over felon voting rights" By Politico's Gary Fineout, Matt Dixon, and Matthew Brown – Dividing line — A 300-page report from the House Intelligence Committee was released Tuesday and it concludes that President Donald Trump abused his power by pressuring Ukraine's president to investigate former Vice President Joe Biden. And here's a shocker — Democrats and Republicans from Florida have vastly disparate views about it. Hashtags — Rep. Val Demings, who is a member of the committee led by Rep Adam Schiff, made sure to tweet out the findings of the lengthy report and concluded with this: "The facts are uncontested. The only question left is: who will join us to DefendOurDemocracy?" Rep. Donna Shalala, who was among the House members initially reluctant to pursue the impeachment inquiry, said on Twitter that "The report released by the House Intelligence Committee is damning." Nothing to see here — Then there is this rebuttal from Rep. Matt Gaetz, who sits on the House Judiciary Committee, which is the panel that would draw up articles of impeachment: "The Schiff report is a novella built on conjecture and presumption. It offers no startling revelations, and nothing that fulfills Speaker Pelosi's promise of a bipartisan impeachment process. The facts before the American people are clear: Donald Trump is innocent."
AG Commissioner Nikki Fried will be down in the Keys, not python hunting, but to discuss climate change when she addresses the 11th Annual Southeast Florida Regional Climate Leadership Summit today.
Major endorsements for Dane Eagle
Eagle announced that State Senator Wilton Simpson and State Representative Chris Sprowls have endorsed his congressional campaign in FL CD 19.
Florida Democrats – Gillum is still trying to muster up some more voters
Forward Florida and the Florida Democratic Party will host a press call to announce a major push to re-engage Florida voters in 2020. Florida Democratic Party Chair Terrie Rizzo will join Mayor Andrew Gillum.
Florida Republicans – Targeting Nikki Fried
On Monday, Agriculture Commissioner Nikki Fried abstained from voting on new leadership for the Office of Financial Regulation. Florida law explicitly states members of the Cabinet "may not abstain from voting" (section 286.012) unless there is a conflict of interest. Nikki Fried is ignoring the law and refusing to vote on important issues that come before the Cabinet.  
"Nikki Fried plays politics when she abstains from legally required Cabinet votes," said Chairman Joe Gruters. "Voters trusted her to be a state leader, not run away from tough decisions."

He answers to a higher power and doesn't care what anyone thinks.
"Rubio: 'I didn't write the Bible, just putting it out there.'" By The Floridian's Javier Manjarres – who is a devout Catholic, has been criticized by some and praised by many over this daily exercise of tweeting Bible verses, most coming very early in the morning. Many of his followers, regardless of whether they support his posting of scripture, have all wondered what drives Sen Rubio to do share Bible verses. We sat down with Senator Rubio in his Washington, D.C. office and asked him why he felt compelled to share his religious beliefs. Rubio, who doesn't always post scripture on Twitter said that he wanted to be true to himself and "authentic" to his followers about who he really was. "I want to be authentic," said Rubio "That is what I do every morning, oftentimes it's out of the Catholic daily readings –the Missal. Every now and then, I'll be reading through a book of the Bible, whether it's Isaiah, Genesis, or Proverbs, a lot of Proverbs for a while and I just put up something that speaks to me, nothing to do with politics, nothing to do with current events.
It's starting to look a lot like Christmas.
Sen. Rick Scott (R) held another Xmas party Wednesday night and we were invited to take part in the festivities. Everyone from Fox News contributors and hosts, former staffers, former campaign staffers, and some DC elites were in attendance.
But before Scott press the flesh at his little Christmas fiesta, the good senator spoke exclusively to The Floridian.
"Scott Says 'Number of People Crossing (Border) Illegally is Going Down.'" By The Floridian's Daniel Molina – This morning, in an interview with The Floridan, Florida Senator Rick Scott (R) discussed some of the accomplishments of the Homeland Security committee he is a member of. As well, Senator Scott commented on some moves he's making for the future. Speaking on Homeland Security measures, Scott noted that "constantly getting information about what is going on on the border" has been an important contribution considering that curbing illegal immigration has been a top priority for the Trump administration. When asked what's going on with the border, Senator Scott informed that "the number of people crossing illegally is going down." Moreover, Scott added that "we've worked on some things to try to get more border agents."
"Joe Biden: 'Of course' I would consider Kamala Harris as VP pick" By CNN's Sarah Mucha – Former Vice President Joe Biden said Wednesday he would consider Sen. Kamala Harris as a potential running mate, a day after she dropped out of the presidential race. "Of course I would," Biden said. "Look, Sen. Harris has the capacity to be anything she wants to be. I mean it sincerely. I talked to her yesterday. She's solid, she can be president someday herself, she can be vice president, she could go on to be a Supreme Court justice, she could be attorney general. I mean she has enormous capability." Harris, who was once seen as a leading contender in the race for the 2020 Democratic nomination, ended her campaign Tuesday due to financial pressures and after months of polling in single digits. Harris and Biden have a complicated history.
"If the Republican Party Is Dying, Why Are Their Governors So Popular?" By National Review's – David Harsanyi – A new St. Leo's poll in Florida shows Governor Ron DeSantis sporting an approval rating of 68 percent (with a disapproval of 20 percent). What's most impressive about these numbers is that in every demographic that matters, DeSantis is polling above 50 percent — with both sexes, Hispanic (67 percent approval) and black voters (63), and among both parties. When it comes to governorships, Florida isn't an outlier. The last time the Morning Consult poll tabulated a list of the most popular governors, the top 14 — and 18 of the top 20 — were Republicans. These Republicans govern in states that have highly diverse electorates, from Alabama to Vermont. Which is weird, because this very week, progressives at the New York Times and the Atlantic were assuring us that the GOP was so reviled nationally — and its agenda so toxic to the average American — that the party has been compelled to hide from "democratic accountability." Naturally, Charlie Baker can't support the same policies in Massachusetts that Mark Gordon can in Wyoming. And some of these governors have their agendas tempered by Democratic legislatures, while others do not. But, like DeSantis, all of them tend to govern with a conservative disposition, and most of them openly advocate a conservative agenda.
"Senate defies China threat, smoothing path for human rights bill" By Chicago Tribune's Daniel Flatley – The U.S. Senate is rushing to approve a bill to punish China for the oppression of a Muslim ethnic group, with a bipartisan pair of senators maneuvering to get the measure to President Donald Trump as soon as possible. Republican Sen. John Cornyn and Democratic Sen. Mark Warner introduced legislation Wednesday that would control exports to China of surveillance and detention technologies. The legislation is aimed at stopping oppression of the Uighur population, concentrated in the Xinjiang province of northwest China, the senators said in a statement. The introduction of the bill, which falls under the jurisdiction of the Senate Banking Committee, helps smooth internal Senate politics and clear the way for the chamber to pass a broader measure approved by the House of Representatives on Tuesday, according to three people familiar with the effort…Sen. Marco Rubio, the lead Republican sponsor of the Uighur Human Rights Policy Act, which first passed the Senate in September before being amended by the House, said Tuesday there was broad bipartisan agreement about the policy goals of the legislation. He said he wants the Senate to pass the House version before the end of the year. "It's not about the particulars of it, it's not about the policy of it," said Rubio, a Florida Republican. "We need to get something sent over here that's acceptable to both sides and that we could hopefully persuade Banking to waive jurisdiction on it."
"Legal scholars clash in hearing over whether Trump committed impeachable offense" By Fox News's Gregg Re and Brooke Singman – Lawmakers and legal scholars sparred Wednesday during the House Judiciary Committee's impeachment inquiry, with Democrats and their witnesses reviving concerns raised during the Russia probe, and Republicans and their sole witness arguing the impeachment of President Trump is "predetermined," "woefully inadequate," and "dangerous." In perhaps the most heated moment of the day, Florida GOP Rep. Matt Gaetz unloaded on the Democrat witnesses' apparent bias, noting that Stanford Law professor Pamela Karlan had appeared on an anti-Trump podcast, disparaged conservatives, and donated $1,200 to Barack Obama, $2,000 to Hillary Clinton, and $1,000 to Elizabeth Warren. Gaetz noted that Karlan has previously suggested that conservatives, unlike liberals, can't bear to live around each other: "[L]iberals tend to cluster more," Karlan has said. "Conservatives, especially very conservative people, tend to spread out more, perhaps because they don't even want to be around themselves." Under questioning from Gaetz, Karlan broke in and insisted she did not have contempt for conservatives. "You don't get to interrupt me on this time," Gaetz shot back. Gaetz then hammered Karlan, who has made a slew of other anti-Trump comments, for invoking Barron Trump's name at one point in her testimony, saying it only further damaged her credibility.

@realDonaldTrump –When I said, in my phone call to the President of Ukraine, "I would like you to do US a favor though because our country has been through a lot and Ukraine knows a lot about it." With the word "us" I am referring to the United States, our Country. I then went on to say that…."I would like to have the Attorney General (of the United States) call you or your people….." This, based on what I have seen, is their big point – and it is no point at a all (except for a big win for me!). The Democrats should apologize to the American people!

Rep. Val Demings @RepValDemings
The best evidence all along has been the president's own words. #DefendOurDemocracy


Rick Scott @SenRickScott – The Democrats want to impeach @realdonaldtrump
instead of doing their job. This 3-ring circus is getting in the way of real results and fixing real problems for American families.
Rep. John Rutherford @RepRutherfordFL Maybe it was hard for Chairman Nadler to find more conservative law professors because thanks to @senatemajldr and @realDonaldTrump so many of them are now serving on the federal bench. #ImpeachmentHearings
Debbie Wasserman Schultz – @DWStweets The climate change bill is coming due in Florida, and it can't always be paid. How much longer will Republicans ignore this crisis?
US Rep. Al Lawson Jr –@RepAlLawsonJr We must remember that our care and attention should remain with the people in our communities struggling with food insecurity. Many #SNAP recipients are either attempting to find work or face hardships that prevent them from doing so. #HandsOffSNAP
Ron DeSantis @GovRonDeSantis – I enjoyed speaking at @evergfoundation's town hall to discuss my administration's efforts to restore the Everglades & improve water quality. This has been a historically successful year for FL's environment & we will continue to invest in a better tomorrow for future generations.
Commissioner Nikki Fried @NikkiFriedFL – We must all do more to address food insecurity across Florida. I'm proud to join @UF for the @GatorAdvocates Food Drive to help fight hunger. Now through December 19, drop nonperishable food items at my Capitol office to help feed those in need during the holidays. #GoGators!

""Arrests made after Florida couple found dead in New York," by WTSP – Buffalo, N.Y. — The investigation stretched from New York to Florida after police made a gruesome discovery near several known drug houses almost three months ago in Buffalo.
On Sep. 15, two people were found dead in a burned-out minivan, human remains were found in a fire pit behind a home – and a little boy was found all alone sleeping on a front porch half a mile away.
Now, the CBS station in Buffalo is reporting federal agents arrested people months ago on drug charges. 
The Assistant U.S. Attorney said, "We believe they are all substantially involved, if not directly involved in the murders of three persons." 
Police say they were seen on surveillance video carrying seven or eight large bags from a red car to the fire pit after backing into the driveway.
Buffalo police said Nicole Merced-Plaud and Miguel Valentin-Colon drove from Florida to New York with their 3-year-old son, but they haven't said why. The parents were found in the van. 
The little boy is now living with other family members in Florida, as police work to identify the remains found in the fire pit.
According to investigators, the remains were not the only thing in the pit. WIVB reports officers found "boxer briefs also containing a red stain in the trash can, and these boxer briefs match boxer briefs that were found in a hotel room in a suitcase where that Chrysler Pacifica had been earlier that day."
"Suspect in Aniah Blanchard disappearance arrested by U.S. Marshals in Florida," by WBMA Staff Escambia County, Fla. — Our sister station WEAR reports the man wanted in connection with the disappearance of Alabama student Aniah Blanchard has been arrested in Escambia County, Florida.
U.S. Marshals in Montgomery, Alabama called the U.S. Marshals in Florida after receiving a tip that 30-year-old Ibraheem Yazeed was possibly in the area of Pine Forest and I-10 in Escambia County.
Auburn Police Department identified Yazeed as a suspect and issued a first-degree kidnapping warrant Thursday. They identified him as dangerous and possibly armed.
U.S. Marshals told us they converged on the area and spotted him wearing all black, and called the Escambia County Sheriff's Office for assistance.
.