Rick Scott: The Thorn in McConnell's Side
Senator Rick Scott continues to ruffle leadership feathers in the U.S. Senate.
When Sen. Scott decided to challenge his party's leadership, did he know that there would be repercussions for doing so?
We are sure he did.
After being stripped of a key committee assignment, Sen. Scott has told The Floridian that there is only one person to blame for his removal from the Senate Commerce Committee. READ MORE

Black History Month and Republicans
Gov. Ron DeSantis and Florida Republicans are once again being called racists, this time its because of the banning of AP African American Studies.
Why?
Gov. DeSantis and Republicans (many Floridians do as well) oppose topics like "Black Queer Studies" and Movements for Black Lives" from being taught in the classroom, so because of this ban, DeSantis is considered racist, even though he has stated that he supports the teaching of slavery, segregation, and other important moments in Black history. READ MORE
Save the Date
Fort Lauderdale-based Tripp/Scott will be hosting Fox News Host Pete Hegseth on February 15th as he promotes his new book, "Battle for the American Mind."

Rep. Cammack Press Office-The ATF pistol brace "final rule" is a slap in the face to our Constitution. Joe Biden and his regime have abused the rulemaking process once again, and it's far past time we deregulate the swamp and return the power to the people—the law abiding, rightful, gun-owning people.
Laurel Lee-Congratulations to the 2023 Florida Strawberry Festival Queen and Court! I look forward to seeing these extraordinary ladies represent the Plant City community well throughout the year!
Debbie Wasserman Schultz-We honor the strength and resistance of African Americans to demand a more just United States this #BlackHistoryMonth. As extremists in FL continue to undermine Black history and block ballot & health care access, we must join this resistance for equality.
Michele Rayner-Goolsby (she/they)-Couldn't be me. Ain't NO WAY I'm gonna let another grown person bully me, @CollegeBoard and Florida Republicans. Ain't no way…and on the 1st Day of Black History Month?
Surely, Jesus didn't die for this.
Mario Diaz-Balart-Today, I'm voting to end the #COVID19 National Emergency Declaration immediately. President Biden said it himself last September, "the pandemic is over," so these emergency powers should end once and for all.
Lauren Book-While we're helping families with young children across FL, we were limited last yr in only providing relief for infant diapers for 1yr. Now, we are continuing to fight for a permanent exemption on all diapers bc working families shouldn't be taxed on essential health care items!
"Waltz Urges DOD to Investigate School Military Programs" by The Floridian's Daniel Molina READ MORE
"Donalds: 'COVID is Over Now'" by The Floridian's Jackson Bakich—Rep. Byron Donalds (R-FL) has become more than just a popular U.S. House Congressman among other legislators, but a nationally recognized name, and is now railing against the federal overspending tied to the COVID pandemic. READ MORE
"DeSantis Releases 2023. Education Agenda, Looks to ban CRT and Diversity and Equity Curriculums" by The Floridian's Jackson Bakich—Gov. Ron DeSantis (R-FL)  held a press conference in Bradenton today, and later released a statement regarding the introduction of his agenda for the 2023 Session, particularly his intentions to "further elevate civil discourse and intellectual freedom in higher education." READ MORE
"DeSantis, Florida Lawmakers Target Unanimous Jury Recommendations in Death Cases" by The Floridian's Javier Manjarres—TALLAHASSEE — With backing from Gov. Ron DeSantis, Florida lawmakers could scrap a requirement that unanimous jury recommendations are needed before death sentences can be imposed. READ MORE
"Rubio Comments on Biden's Classified Documents" by The Floridian's Daniel Molina—Florida Senator Marco Rubio (R) appeared on the Fox News "Hannity" TV Show this week to discuss a number of issues, including the ongoing investigation into the classified documents President Joe Biden (D) had over several locations. READ MORE
"Buchanan, Wasserman Schultz Introduce Bipartisan Human Trafficking Bill" by The Floridian's Grayson Bakich READ MORE
"Ashley Moody Issues Consumer Alert on Identity Theft" by The Floridian's Jim McCool—Identity theft is not a new obstacle that Floridians have had to deal with.  Attorney General Ashley Moody (R-FL) has issued a Consumer Alert to warn Floridians this Identity Theft Awareness Week about the billions of dollars lost to identity theft each year. READ MORE
"Gimenez Demands Mayorkas Allow Border Agents Testify About Migrant Crisis" by The Floridian's Jim McCool—Rep. James Comer (R-KY) recently invited four Chief Patrol Agents of four U.S. Border Patrol sectors to testify about the southern border crisis in a hearing scheduled for February 7th. Secretary of Homeland Security Alejandro Mayorkas refused to let the four speak. READ MORE
"Trump Intends to One-Up DeSantis on Education in New Campaign Video" by The Floridian's Grayson Bakich—Governor Ron DeSantis' (R-FL) ongoing battle to reform education in Florida continues to draw attention on the national stage. More specifically, from former President Donald Trump and his campaign. READ MORE
"Florida Judge Dismisses Lawsuit Against DeSantis Administration over Illegal Immigrant Flights" by The Floridian's Javier Manjarres—TALLAHASSEE — A Leon County circuit judge has dismissed a lawsuit alleging that the Florida Department of Transportation and a contractor did not fully comply with public-records requests about controversial state-funded flights of illegal migrants to Martha's Vinyard in Massachusetts. READ MORE
"Florida Grand Jury Seeks to Curb Immigrant Releases" by The News Service of Florida—A Florida statewide grand jury is urging lawmakers to curb the releases of undocumented immigrants from county jails. A presentment released Friday alleged that a law has been "intentionally and flagrantly abused," resulting in the release of inmates who had been held in county jails under detainers issued by U.S. Immigration and Customs Enforcement. READ MORE
"Florida Lawmaker Reasserts That Criminal Justice System is Built on Racism" by The Floridian's Javier Manjarres—When Tyre Nichols was pulled over by five Memphis Police officers and brutally beaten and killed, Americans were rightfully disgusted by the police brutality, but was the tragic incident anchored in racism? READ MORE
"Waltz Calls on Biden to Pressure Others in Funding Ukraine" by The Floridian's Daniel Molina—As the war between Ukraine and Russia continues, providing further funding for Ukraine has become a topic of contention in the United States. Congressional Democrats support sending more funding and resources to Ukraine, but Republicans have grown weary of the measures. Florida Rep. Mike Waltz (R) discussed sending tanks to Ukraine on Fox News this weekend, questioning recent support from Germany. READ MORE
.
"Miami-Dade County Commission Chairman Shuns Former State Legislators" by The Floridian's Javier Manjarres READ MORE
"Gimenez Heads Subcommittee on Transportation & Maritime Security" by The Floridian's Daniel Molina—Over the weekend, Florida Rep. Carlos Gimenez (R) announced that he will serve as the Chairman of the Subcommittee on Transportation and Maritime Security. READ MORE
"Eskamani Fights for Public-School Funding" by The Floridian's Daniel Molina—Florida State Rep. Anna V. Eskamani (D) has shared a blog post of her third week of committee meetings. Rep. Eskamani shared certain issues that have been discussed such as public school funding. READ MORE
"Wasserman Schultz Calls Out DeSantis for Censorship of Classroom Material in Schools" by The Floridian's Jackson Bakich—Florida Democrats around the state have been calling out Florida Governor Ron DeSantis (R-FL) since his signage of the controversial school transparency law HB 1467 in March. Some Democrats, like Rep. Debbie Wasserman Schultz (D-FL) say that the bill is "censorship." READ MORE
"Maxwell Frost Addresses Week of Violence in America" by The Floridian's Jackson Bakich—In a week of violence across the nation that saw 3 mass shootings in less than 2 days, and a viral video of police brutality in which five Memphis officers beat and killed a man, there was natural outrage from members of Congress, including freshman Rep. Maxwell Frost (D-FL). READ MORE
"Rubio Writes Pfizer CEO Over Alleged Purposeful Virus Mutation" by The Floridian's Javier Manjarres—Sen. Marco Rubio (R-FL) sent a letter to Pfizer President and CEO Albert Bourla to address the report from Pfizer's own Director of Research and Development, Jordan Walker, detailing the possibility that the company was conducting "directed evolution," known by some as gain-of-function research. READ MORE
"Mills Calls for House GOP to Start Investigating Biden for Documents Debacle" by The Floridian's Jackson Bakich—Freshman Congressman and newly selected member of the House Foreign Affairs Committee Rep. Cory Mills (R-FL) recently went on Fox Business to discuss President Joe Biden's (D) scandal concerning the found documents containing classified information at various locations, including the President's Delaware home. READ MORE
"Strategic Production Act Passes Along Party Lines" by The Floridian's Grayson Bakich—Increasing domestic energy production has been a priority of Republicans since retaking the House of Representatives. Now it looks like they have made some progress towards that goal as the Strategic Production Act (H.R. 21) passed in the chamber late last week.  Rep. Kat Cammack (R-FL-3) stated about the measure, "this bill is a huge win for American energy independence, and Rep. Cammack was proud to support it. @HouseGOP is consistently delivering on our commitment to America, and Republicans have only just begun." READ MORE
"Trump Proposes Iron-Dome-Like Missile Defense System" by The Floridian's Grayson Bakich—With former President Donald Trump out on the reelection campaign trail, videos detailing his domestic and foreign policy plans are making the rounds. A recent video, tweeted by Trump War Room, features President Trump speaking about implementing an Iron Dome-like missile defense system. READ MORE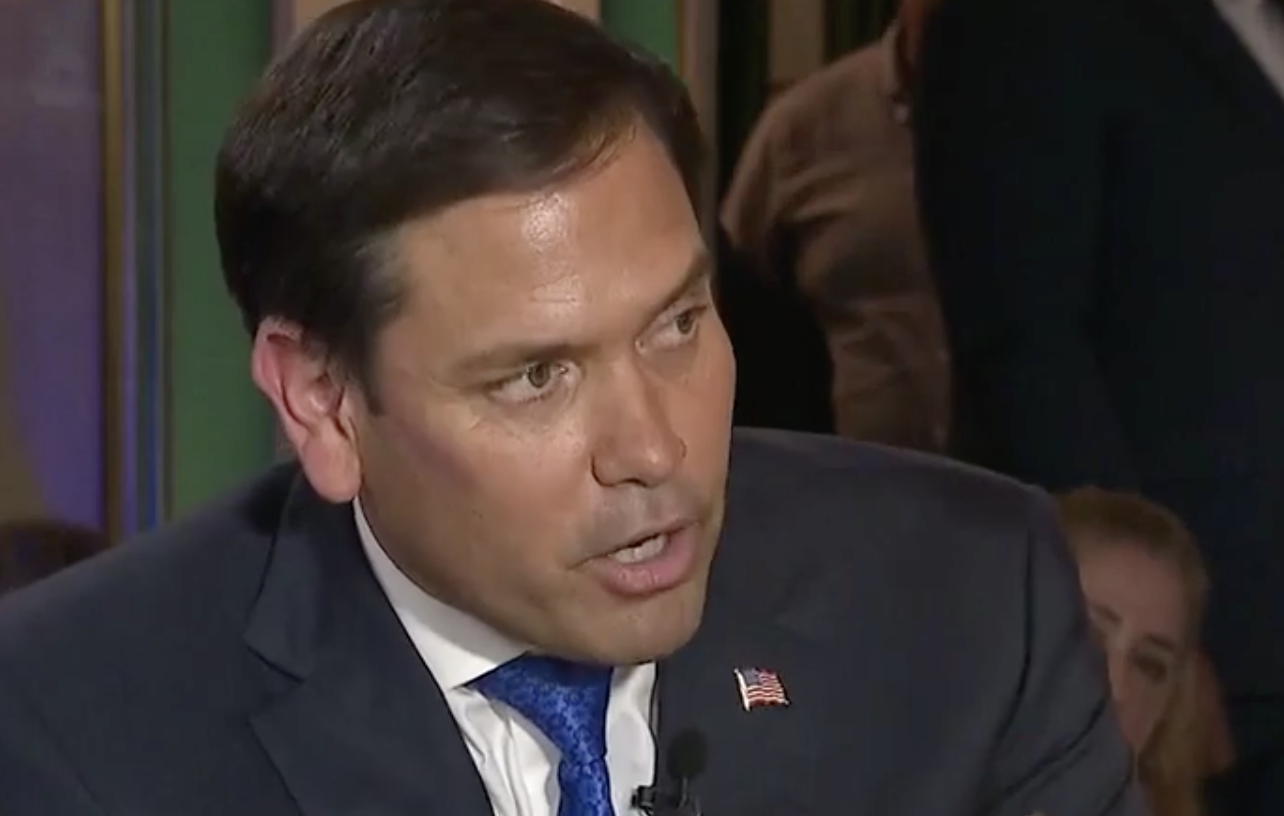 Gaetz Introduces PENCIL Resolution, Looks to Bar Adam Schiff from Classified Info" by The Floridian's Jackson Bakich—Rep. Matt Gaetz (R-FL)  has announced the introduction of the "Preventing Extreme Negligence with Classified Information Licenses" (PENCIL) Resolution, which looks to prevent Rep. Adam Schiff (D-CA) from receiving security clearances to classified information as well as launching an investigation by the House Ethics Committee. READ MORE
"Rubio Threatens Biden Administration for Denying Intelligence Committee Access to Secret Documents" by The Floridian's Javier Manjarres—After a recent closed-door Senate Intelligence Committee briefing with National Intelligence Director Avril Haines, where the entire committee of U.S. Senators in attendance was denied access to the classified documents recently found at President Joe Biden's Delaware home... READ MORE
"Salazar Reintroduces Resolution Denouncing Socialism" by The Floridian's Daniel Molina—Florida Republicans have been vocal critics of socialism. Florida Rep. Maria Elvira Salazar (R) has now joined forces with House Majority Leader Steve Scalise (R) to reintroduce a resolution denouncing the failures of socialism. READ MORE
"House Republican Cory Mills Passes out Grenades to House Members" by The Floridian's Javier Manjarres—When House Republicans took control of the U.S. House of Representatives earlier this month and vowed to thoroughly investigate the Biden administration, Democratic political heads began to blow up around the nation. Now, newly sworn-in Rep. Cory Mills has decided to take the exploding Democratic head gasket undertaking to a whole other level. READ MORE
"DeSantis Draws Fire Over Rejection of African American Course" by The News Service of Florida
"Waltz Reintroduces Bill on Drug and Human Trafficking" by The Floridian's Javier Manjarres—Florida Rep. Mike Waltz (R) has teamed up with a bipartisan group of lawmakers to reintroduce legislation cracking down on drug and human trafficking. The Extending Limits of U.S. Customs Waters Act provides several government organizations with the jurisdiction to push back against drug and human traffickers. READ MORE
"Wasserman Schultz Takes Victory Lap After Securing Funding for FIU Program" by The Floridian's Jackson Bakich—Rep. Debbie Wasserman Schultz (D-FL), a longtime proponent of climate change, is doing a victory lap after she and U.S. House Representatives delivered $9.7 million to Florida International University (FIU) for their mission to monitor the rise in sea levels and to prevent damages along the coast. READ MORE
"Scott Reintroduces the 'Let's Get to Work Act'" by The Floridian's Jackson Bakich—Now that the 118th Congress is in session, Sen. Rick Scott (R-FL) has reintroduced the Let's Get to Work Act, which "encourages Americans who are able to work to return to the workforce by ending the current suspension of work requirements
" of the Supplemental Nutrition Assistance Program (SNAP, formerly known as the Food Stamp Program), as well as establishing work requirements for those receiving public housing benefits. READ MORE
"Progressive Media Outlet Smears Pro-DeSantis" by The Floridian's Javier Manjarres—Few would deny Gov. Ron DeSantis (R-FL) is popular among the masses. Influencers on Twitter will speak favorably of him, and some are even acknowledged by his campaign Press Secretary Christina Pushaw. READ MORE
"DeSantis Dismisses 'Woke' State Attorney's Request to Get Job Reinstated" by The Floridian's Javier Manjarres—Thanks, but no thanks. But nice try. That is what Florida Gov. Ron DeSantis is all but saying after dismissing former Hillsborough County State Attorney Andrew Warren's request to be reinstated to his old job. READ MORE
"Mills and Gaetz Call for Transparency on Ukraine Funding" by The Floridian's Jackson Bakich READ MORE
"Telehealth Eyed for Medical Marijuana use Certification" by The News Service of Florida and Javier Manjarres READ MORE
"Kat Cammack Named to Subcommittee  on the Weaponization of the Federal Gov" by The Floridian's Jim McCool—The 118th Congress has signaled in new leadership within the ranks of the U.S. House of Representatives.READ MORE
The JUICE is squeezed by Javier Manjarres, Jim McCool, and Daniel Molina