Drawing the Congressional Lines in the Sand
Well, so much for Florida getting two new congressional seats after the Census dust settled. Florida is only getting one new seat, and while that will bring tip the scales in favor of Republicans, it won't have the impact that two congressional seats would have.
Now those individuals who were waiting to see if they would run for office based on two new seats will have to dig deep and make the decision of whether or not to run for office anyway. The seat could (most likely) be drawn in the Orlando area, a move that Florida State Rep. Anthony Sabatini has been banking on. READ MORE
Advice for Republicans: Don't F*ck this up again.
6 States Gain, 7 States Lose
The U.S. Census Bureau on Monday released the long-delayed House reapportionment numbers that reshuffle the 435 congressional districts among the 50 states, with several Sun Belt states such as Florida are set to lock in an additional seat while states from the Northeast and Midwest are set to lose one seat a piece due to population count — with New York was only just 89 residents short of keeping all of its 27 seats. READ MORE
GOOOOOOL!!!!!! >>>>>Florida Senator Lauren Book scores big during 2021 legislative session READ MORE
Rep. Val Demings @RepValDemings-We want the richest Americans to pay their fair share. We also want you to pay less.
US Rep Kathy Castor @USRepKCastor-Here in the Sushine State, our natural resources & beaches are central to our way of life & our economy. We've seen the impacts of oil &gas drilling off our shores, &are coming together, Democrats & Republicans, to once again introduce legislation to protect our coast- permanently.
Congressman Greg Steube @RepGregSteube-Apparently, Biden's plan for economic recovery is keeping the economy closed and raising taxes. This massive tax hike comes at a high price.
Congressman Scott Franklin @RepFranklin-Left unchecked, we are looking at 750,000 illegal immigrants breaking through our border this year. These aren't asylum seekers surrendering at the border, they are dangerous criminals, drug smugglers, and terrorists.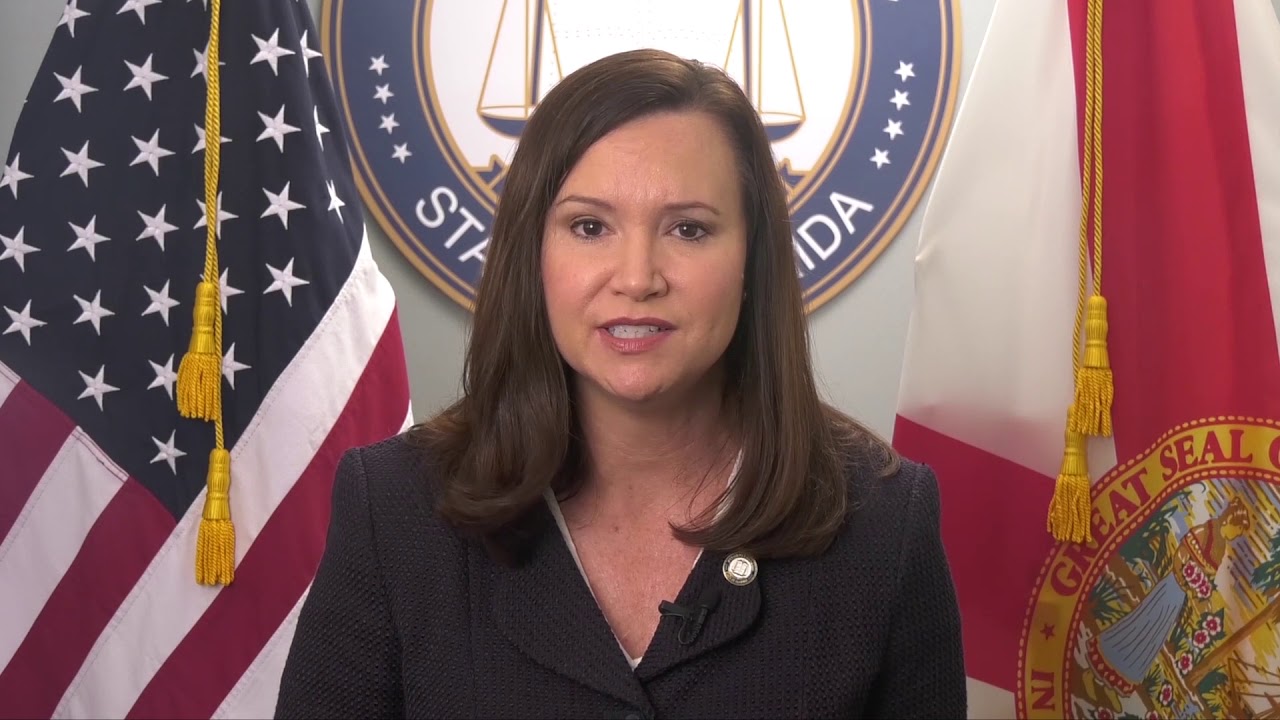 "Moody Extends Protections for Seniors" by The Floridian's Jim McCool – Attorney General Ashley Moody (R-FL) has been backed the ever-important and influential senior population in Florida, and today AG Moody gets to brag that the senior protection legislation she endorsed, HB 1041, passed the Senate and will make its way for a probably signature from Governor Ron DeSantis (R-FL). Moody worked closely with bill sponsors, Sen. Danny Burgess (R-20), and Rep. Colleen Burton (R-40) in order to further extend protections for seniors against scammers.
"Demings Defends Columbus Police Officer Involved In Shooting Of 16 Years Old Ma'Khia Bryant" by The Floridian's Mona Salama – Rep. Val Demings (D-FL), the former chief of police in Orlando came to the defense of another police officer while her fellow Democrats have attacked the Columbus police officer who fatally shot 16-year-old Ma'Khia Bryant in Ohio last week, saying it appears based on the body camera footage released showed that the officer responded in accordance with his police training as the teen was just seconds away from stabbing another girl if they had failed to act.
"Jones Calls SB 90 'Blatant Voter Suppression'" by The Floridian's Daniel Molina – After the 2020 presidential election, a number of Republican lawmakers were vocal about changes they wanted implemented in the voting process. This concluded in SB 90, by Florida State Senator Dennis Baxley (R)"which eliminates current requests for mail-in ballots, get rid of voter dropboxes, and adds burdensome signature requirements." This is something that Florida Democrats argue "that Supervisors of Elections oppose." In response to the legislation, Florida Rep. Shevrin Jones (D) shared his thoughts regarding the bill, discussing saying that it would only further "blatant voter suppression."
"Wasserman Schultz Finally Receives COVID-19 Vaccine" by The Floridian's Javier Manjarres – With CDC and Biden administration officials mulling over whether to start easing COVID-19 mask and social distancing restrictions, millions of more Americans, including legislators (myself) like Rep. Debbie Wasserman Schultz (D), are getting the COVID -19 vaccine. "Getting vaccinated against COVID-19 saves lives and makes sure we can keep one another safe and healthy," tweeted Rep. Wasserman Schultz. "The sooner we all get the shot, the sooner we can get back to normal, boost our economy and prevent the spread of this virus that has devastated people and communities all across our country and the world. I got vaccinated."
"VP Harris Continues To Blame Trump Administration For Border Crisis" by The Floridian's Mona Salama – Vice President Kamala Harris who still hasn't paid a visit to the southern border since being appointed the border czar is continuing the blame game in pointing the finger on former President Donald Trump's handling of the border as reason for the surge of unaccompanied minors that is occurring now under the Biden administration. "Part of the problem is that, under the previous administration, they pulled out, essentially, a lot of what had been the continuum of work, and it essentially came to a standstill," Harris said in an interview with Dana Bash on CNN's "State of the Union" that aired Sunday.
"CDC Reports Florida With Fewer COVID Cases Than Other Blue States" by The Floridian's Jim McCool – The state of Florida has received much praise today, as a new Fox News reporting has officially announced red states like Florida have fewer COVID cases than blue states. Just last month, President Biden (D) criticized Texas and Florida for opening up their functions again, calling it, "neanderthal thinking" and irresponsible for those states' respective governors to put Americans at risk. Florida Governor Ron DeSantis (R-FL) in particular was accused of endangering the lives of Floridians after mask mandates along with Texas. And while these states managed to keep cases relatively down, New York, Pennsylvania, and Michigan all remain locked down.
"Lazy POLITICO Reporters Skip Google, Make False Claim About First Black Republicans in Florida" by The Floridian's Javier Manjarres – Call it laziness for refusing to conduct simple research, or call it being just plain disconnected with Americans Politics, but POLITICO may need to educate their reporters about former Congressman Allen West and Congressman Josiah Thomas Walls— "Florida's first Black Republicans in Congress" In a recent "Red, Fresh & Blue" segment about Florida Congressman Byron Donalds (R), the writers of the story Eugene Daniels, Kyrstal Campos, and Michael Cadenhead —all "persons of color"— headlined Rep. Donalds as being "Florida's First Black Republican in Congress."
"The Pentagon's explanation about why an unknown Florida company took over a giant slice of its internet leaves a key question unanswered" by Business Insider's Katie Canales – The Pentagon has responded to how a mysterious Florida company was able to take over a large chunk of government-owned internet. In a statement on Friday, Brett Goldstein, the chief of the Pentagon's defense digital service, said federal officials are working to "assess, evaluate and prevent unauthorized use of DoD IP address space" and hopes to "identify potential vulnerabilities" in its fight to curb cyberattacks of US networks, according to the Associated Press.
"Florida House OKs bill on excessive use of force by police" by News 4 Jax/ AP' Brendan Farrington – A law enforcement officer would be required to intervene if another officer uses excessive force, and all officers would have to receive more training to avoid excessive force under a bill unanimously passed by the Florida House on Monday. The passage comes amid a national debate on police actions that have resulted in the deaths of African Americans, including George Floyd, who died after a Minneapolis police officer put a knee on his neck for more than nine minutes.
"Florida to gain congressional seat following release of census data" by WESH – Florida voters will see a new congressional seat on the ballot next year. Census Bureau data shows Florida is one of half a dozen states picking up new seats. The announcement was a surprise to those who believed Florida would add two more seats to the 27 the state has now. The headline in the results of the 2020 census is that there are now more than 331 million Americans and that our growth rate is slowing. The result is that seven congressional seats will shift among 13 different states.
"Florida Senate Passes Bill Restricting Voting Rights" by Huff Post's Sanjana Karanth – Florida's state Senate has passed a bill that includes a number of voter suppression initiatives, following Georgia's lead in chipping away at voting rights. Senators in the GOP-led chamber voted 23-17 to pass S.B. 90 on Monday, which is Confederate Memorial Day in the state. The Florida House, which is also led by the GOP, is expected to pass a similar bill later this week, despite concerns from Democrats and voting rights activists that the legislation is part of a nationwide Republican effort to restrict the constitutional right to vote.
"Legislation targeting big tech clears Florida Senate" by News4Jax' Mike Vasilinda – The Florida Senate on Monday passed legislation requiring social media companies to publish standards for use and abide by them when it comes to de-platforming users. The legislation carries heavy fines and the threat of lawsuits for would-be violators. Specifically, big tech platforms face fines up to $100,000 a day if they de-platform a statewide candidate for public office and $10,000 a day for other political candidates. In 2018, Matt Caldwell, the losing candidate for Florida Agriculture Commissioner was de-platformed for his pro-National Rifle Association ad, which YouTube removed for almost a day.
"Florida's top college students to lose $600 stipend for textbooks" by Tampa Bay Times' Ana Ceballos – In final budget talks, Florida lawmakers largely backed off from major cuts to Florida universities and colleges but remained insistent on slashing two long-standing college financial aid programs for the upcoming fiscal year. House and Senate budget leaders agreed to suspend a $600 stipend that top-level Bright Futures recipients get each year to offset the cost of textbooks, a move that will save $37 million. Lawmakers have also signed off on a $5 million cut that will eliminate the Access to Better Learning and Education (ABLE) grant program, which helps Floridians pay for private college tuition.
National:
"John Kerry denies allegations he divulged Israel's covert operations" by Fox News' Brittany De Lea – U.S. Special Climate Envoy John Kerry on Monday denied allegations that while he was serving as secretary of state under Barack Obama informed the Iranian foreign minister of Israeli operations in Syria. In a Twitter post, Kerry called the claims – detailed in leaked audio obtained by several media outlets – 'unequivocally false.' Iranian Foreign Minister Mohammad Javad Zarif alleged in the audio that Kerry told him that Israel had struck around 200 Iranian targets in Syria. The Iranian leader admitted he was shocked by the purported admission, as reported by The New York Times.
"Hunter Biden could face federal probe for allegedly illegally buying firearm if GOP's demands come true" by Fox News' Jon Street – More than 20 House Republicans are calling on President Joe Biden's nominee to lead the Bureau of Alcohol, Tobacco, Firearms, and Explosives to investigate the Hunter Biden for allegedly falsifying information in order to obtain a firearm. "I write to ask that you publicly commit to investigate allegations that Hunter Biden falsified information during a background check in order to illegally obtain a firearm should you be confirmed by the U.S. Senate as the Director of the Bureau of Alcohol, Tobacco, Firearms and Explosives (ATF)," Rep. Bob Good (R-VA) wrote in a letter to Biden's nominee for ATF Director.
"Recent declines in US coronavirus cases likely 'locked in at this point,' says Gottlieb" by Fox News' Madeline Farber – The country's recent decline in new cases of the novel coronavirus is a "hopeful trend," said the former head of the Food and Drug Administration over the weekend. Dr. Scott Gottlieb during an appearance on CBS News' "Face the Nation" on Sunday said the recent decline in cases is different than any others seen throughout the last year, as recent declines are largely rooted in the country's intense vaccination effort. The Centers for Disease Control and Prevention (CDC) late last week said 1 in 3 U.S. adults are now fully vaccinated, while more than half have received at least one dose.
"Critics of California governor gather enough signatures to force recall election" by Cnn's Maeve Reston, Stella Chan, and Kyung Lah – Critics of California Gov. Gavin Newsom have met the state's threshold with enough validated signatures to force a recall election of the Democratic governor this year, a contest that could land on the ballot as early as this summer or as late as December. The recall had long been expected to qualify because it was driven by a well-organized grassroots group that gathered signatures in every county of the state — and backed by key Republican strategists in California who brought their fundraising heft and direct mail expertise to the effort.
"Census Bureau announces 331 million people in US, Texas will add two congressional seats" by CNN's Dan Merica and Liz Stark – The US Census Bureau announced Monday that the total population of the United States has topped 331 million people, marking the country's second slowest population growth rate in US history. Amid that, Texas will gain two seats in the redistricting process, the results found. Additionally, Colorado, Florida, Montana, North Carolina and Oregon will each gain one seat in Congress. California, Illinois, Michigan, New York, Ohio, Pennsylvania and West Virginia will all lose congressional seats ahead of the 2022 midterm elections.
"U.S. Launches Investigation Into Louisville Police Practices" by WSJ's adie Gurman and Zusha Elinson – The Justice Department will open a broad civil-rights investigation into the practices of the Louisville Metro Police Department, Attorney General Merrick Garland said Monday, more than a year after the fatal shooting of Breonna Taylor in her home during a botched police raid. The inquiry will examine whether Louisville officers routinely violate citizens' rights, including by illegally executing search warrants on private homes, Mr. Garland said. It will also seek to determine whether officers use excessive force, discriminate based on race and engage in unconstitutional stops, arrests and seizures.
"Iranian Ships Swarmed U.S. Coast Guard Vessels in Persian Gulf, Navy Says" by WSJ's Gordon Lubold – A group of boats from Iran's elite Islamic Revolutionary Guard Corps harassed two U.S. Coast Guard ships earlier this month in the Persian Gulf, Navy officials said, the first such incident in a year. The incident occurred April 2, just as the U.S. and Iran announced they would conduct negotiations toward renewing the 2015 multilateral nuclear accord. Those talks began earlier this month in Vienna. The episode hasn't been previously disclosed. U.S. Navy officials confirmed that three fast-attack crafts and one ship known as Harth 55, a 180-foot, twin-hulled support vessel, swarmed the two Coast Guard ships while they were patrolling international waters in the southern portion of the Persian Gulf.
"Supreme Court to Hear Case on Right to Carry Concealed Guns for Self-Defense" by WSJ's Jess Bravin and Zusha Elinson – The Supreme Court agreed Monday to review state restrictions on concealed-weapons permits, opening a possible path to the first major expansion of gun rights since the justices recognized a Second Amendment entitlement to armed self-defense more than a decade ago. For more than a century, New York state law has limited concealed weapons to applicants of "good moral character" who demonstrate "proper cause" for a license. Two gun owners and a state affiliate of the National Rifle Association contend the provision is unconstitutional because it requires applicants to give specific reasons for carrying beyond them expressing a general fear of crime.
"Justice Department opens policing probe over Breonna Taylor's death" by Associated Press – The Justice Department is opening a sweeping probe into policing in Louisville, Kentucky over the March 2020 death of Breonna Taylor, who was shot to death by police during a raid at her home, Attorney General Merrick Garland announced Monday. It's the second such sweeping probe into a law enforcement agency by the Biden administration in a week. The 26-year-old Taylor, an emergency medical technician who had been studying to become a nurse, was roused from sleep by police who came through the door using a battering ram.
"McCarthy-Cheney divide deepens at GOP retreat" by Politico's Melanie Aanona – House Minority Leader Kevin McCarthy said it's imperative for Republicans to stay united if they want to take back the majority. But cracks are widening in his own relationship with one of his top deputies over former President Donald Trump. At a retreat meant to craft a cohesive message for the party, McCarthy (R-Calif.) and GOP Conference Chair Liz Cheney (R-Wyo.) illustrated the exact rift the GOP has fought to avoid. While the former president wasn't even invited to the House GOP's annual policy retreat here in the Sunshine State, his presence has loomed large over the three-day gathering.
"Trump backs Susan Wright to replace her late husband in Texas' 6th District" by Politico's Benjamin Din – Former President Donald Trump on Monday backed Susan Wright to replace her late husband in a special election to represent a rapidly diversifying Texas congressional district. "Susan Wright will be a terrific Congresswoman (TX-06) for the Great State of Texas," Trump said in a statement. "She is the wife of the late Congressman Ron Wright, who has always been supportive of our America First Policies." The former president's support for Wright in the race for Texas' 6th District, which includes a large swath of the region southwest of Dallas and the city of Arlington, comes as she finds herself with a commanding lead in a field of 23 candidates, including 11 Republicans, according to internal polling from both parties.
—Florida political news. Florida news. Florida Politics. The Floridian