Tampa Bay Bucs Win! Now let's do lunch...
The Super Bowl is over and the Tampa Bay Buccaneers have won. So, what do you think Florida Gov. Ron DeSantis did shortly after seeing his home team win the big game?
DeSantis did what every governor of Florida would do — head down to the Miami boogie down and take in a Cuban sandwich at the Versailles restaurant in Little Havana.
Before DeSantis sat down for his feast, he visited the Brigade 2506 Bay of Pigs Museum up the street to honor those veterans who tried to overthrow the Communist Cuban regime many moons ago. In addition, DeSantis announced that the COVID-19 vaccine would be offered there to those veterans as part of his "ongoing effort to vaccinate homebound seniors."
Is DeSantis getting ready for his reelection campaign?
Probably.
Visiting the famed Versailles restaurant is usually a move that politicians make when they are campaigning. This could be the case with DeSantis, but considering that he was a healthy appetite, why would he go chow down at McDonald's if Versailles is just a stone's throw away from the museum?
Now, if there was a Chick-Fil-A anywhere in the vicinity, well, all bets are off as to where DeSantis would have gone for lunch. Dale! (Cuban slang —I'm not Cuban)
Speaking of elections, who is going to challenge DeSantis?
We know AG Commissioner Nikki Fried is going to run, but what about Rep. Charlie Crist? Is Charlie really serious about running for office, or is he angling for something else?
The Floridian first broke the story about Crist's interest in running for governor in 2022. READ MORE
Why would Crist leave his cushy (safe) congressional seat to run the risk of running a losing statewide for the third time?
"3 Strikes You're Out?" (Hat tip to NI).
Oh, and by the way. President Donald Trump's impeachment trial starts today. The Floridian's Mona Salama will be reported on the trial from Washington.
Marco Rubio @marcorubio-A virus locomotive is heading straight at us, with the new variants increasing the urgency of the vaccine rollout. But the U.S. Senate will spend at least the next week on an impeachment trial of a President no longer in office.
Rep. Debbie Wasserman Schultz @RepDWStweets-Today, Rep. Wright became just the latest victim of the #COVID Pandemic. It is a tragic reminder of why fighting this virus must be our top priority. May his memory be a blessing.
Congressman Byron Donalds @RepDonaldsPress-I join my House colleagues and the nation in mourning the loss of @RepRonWright.A proud conservative & even prouder American, Rep. Wright served his constituents honorably and with unwavering principles. Erika & I send our deepest condolence to all who knew & loved him. RIP
Rep. Ted Deutch @RepTedDeutch- "Hunger is tightening its grip on America. It is an empty fridge in New Mexico, a skipped meal in Pennsylvania, an unpaid bill in California, a line of cars just outside the nation's capital." This is why Congress can't wait to help out people who urgently need a helping hand.
U.S. Rep. Stephanie Murphy @RepStephMurphy-Florida is leading the country in cases of this highly infectious variant. This is why Congress should immediately approve funding that will help us get more vaccine shots in arms as soon as possible. Time is of the essence.
.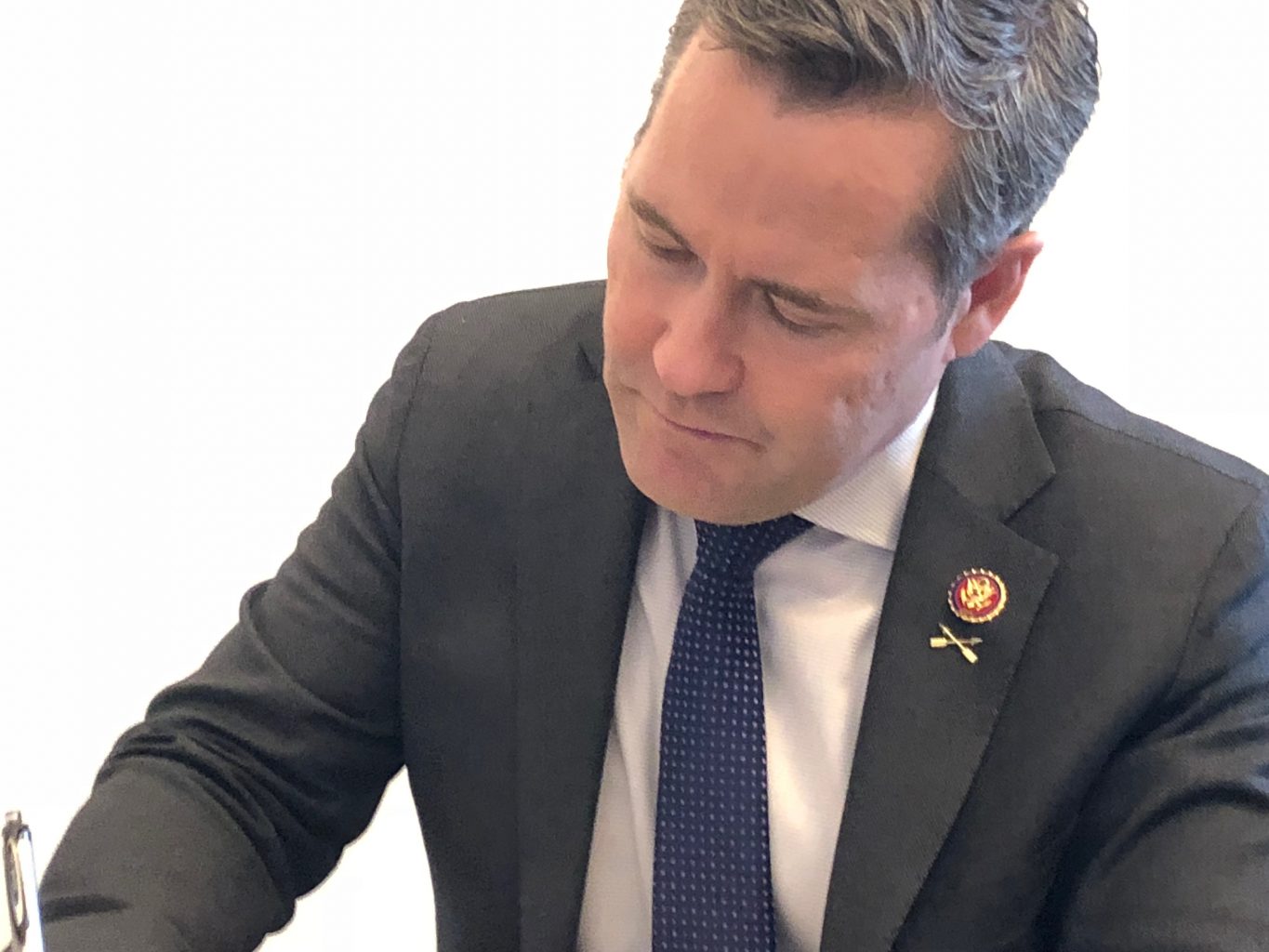 "Country Singer Wears Police Badge During Super Bowl National Anthem" by The Floridian's Javier Manjarres – Many Americans believed that the Super Bowl would be inundated with "racial diversity" especially during the moments leading up to the kick-off. They were not disappointed, as the Black National Anthem was sung, American the Beautiful was sung by a black recording artist, and the National Anthem was sung by one Black Singer and white country music singer, Eric Church. With the Black Lives Matter movement pressing an anti-Police agenda, Eric Church may have taken a subtle position in support of Law Enforcement by wearing what appears to be a police badge around his neck.
 Val Demings says she loves the 'Pledge of Allegiance,' but votes against reciting it by The Floridian's Javier Manjarres – Over the weekend, Rep. Val Demings (D) released a video of her speaking to the House Judiciary Committee about much she loved the Pledge of Allegiance, and how "the words" mean so much to her. "I love the Pledge of Allegiance," said Rep. Demings. See, it really means something to me when I listen to the words about my upbringing and all in the South and the obstacles and challenges. When I hear words like "One nation" that means something to me. When I hear words like "justice for all" not just some, not just for the privileged few but justice for all believe me those words mean everything to me. They are beautiful." Demings' love for the Pledge is unmistakable and unquestionable, but the third-term legislator from Orlando did not stand up in its defense when House Judiciary Committee Chairman Jerry Nadler (D) refused to allow the Pledge recited before each meeting of the committee, a move that signals a further deepening of the existing congressional divide. Rep. Matt Gaetz (R) made the request and introduced an amendment to the rules of the committee to have the Pledge said at the outset of every meeting, but has shot down when every single member, including Demings, voted down his measure.
"Mast Presses Simpson To Do More For Florida's Environment" by The Floridian's Jim McCool – This week, Congressman Brian Mast (R-FL) took to Facebook to publicly apply pressure to new State Senate President Wilton Simpson (R-FL) in regard to protecting Florida's environment. Mast expresses his concerns over a letter the Senator shared with Colonel Andrew Kelly of the U.S. Army Corps of Engineers on the matter of the Environmental Agricultural Area (EAA) south of Lake Okeechobee. The letter Simpson articulated alienates that "95 percent of the water", "92 percent of the phosphorus", "89 percent of the nitrogen", flows into the Everglades from north of the lake. The implementation of the Lake Okeechobee Watershed Restoration Project (LOWRP), intends to address these numbers, but rhetoric and letters seem to not be enough for Mast. As Mast recites the aforementioned data, he related Simpson's reasoning to dumping pollution into the Everglades, as he only shows concern for North of Lake Okeechobee. With that being said, Mast officially called on Simpson to "Pass enforceable standards" as the State Senate President. However, Mast's message was more than pessimistic, as he extended his hand to help his state of Florida from the Federal level.
"Florida City Threatens Hispanic Church with $5k Fine If They Hold Prayer Services" by The Floridian's Javier Manjarres – The Village of Palm Springs, Florida appears to be stepping all over religious freedoms by threatening to fine the Hispanic Cidra Church $5,000 per day if they hold a prayer service or revival the group has scheduled to take place this month. According to the church's pastor Fernando Cortez, when he stopped by the Village of Palm Springs office to apply for a permit for the event —an event that is scheduled to be held a the very facility they hold their weekly meetings or services — he and the church were threatened with the fine. In a written statement to The Floridian, Pastor Cortes said that he was "told by a member of the Village of Palm Springs that it will need 15 days to review and even if we present it, it will not be approved because we did not comply with many things that apply to that special permit." Cortes said that "the person in charge of permits in Palm Springs" who identified herself as "Kim" had contacted him on Friday and told him "that even if I bring the permit, she will deny it." Cortes added that "Kim," which we can assume is Village Clerk Kimberly Wynn, sent a letter to the church's landlord "threatening to fine them and also US to fine (sic) US $5,000 " The Floridian obtain a letter from the church's landlord, 839 Congress Ave, LLC, to the church asking for the church to "indemnify" them from liability with a $10,000 payment for the 2-day event.
"DeSantis Declares Ronald Reagan Day in Florida" by The Floridian's Javier Manjarres – Florida Gov. Ron DeSantis has declared February 6 as Ronald Reagan Day in the Sunshine State. "Ronald Readon was one of the greatest presidents our nation has ever had and left an iconic legacy that continues to inspire," state Gov. DeSantis. Considering that DeSantis is a staunch supporter of President Donald Trump, could there be a "Donald Trump Day" in the works? Rep. Anthony Sabatini has already filed to rename a major roadway after Trump.
"Ivanka Trump, Pam Bondi will not challenge Rubio in 2022" by The Floridian's Javier Manjarres – Senator Marco Rubio (R) is up for reelection to the Senate in 2022, and many Trump Republicans and Monday morning politicos believe that Rubio will face a primary challenge from former Florida Attorney General Pam Bondi or from Ivanka Trump (both pictured). It's just not going to happen. First of all, Ivanka Trump has worked closely with Sen. Rubio during her father's administration and knows who well Rubio and her father worked together to implement the America First Agenda the presidential campaign on. According to one former Trump administration official, who asked that we keep his or her name out of this story, said that running the U.S. Senate in 2022 was "out of the question," and just because she bought the property in Florida "it doesn't in any way signal a run against Rubio." As far as Bondi, who has been one of President Trump's closest allies, Florida's former attorney general is a friend to Rubio. In response to our request for comment on the rumor that she may challenge Rubio in 2022, Bondi simply replied, "never, Marco is a friend." The calls for Rubio to be the primary challenge come from the fringe element of the Republican Party that can't get past the contentious 2016 Republican presidential primary race where both Trump and Rubio exchanged political blows.
"Anti-Trump Lincoln Project continues to implode" by The Floridian's Javier Manjarres – The Lincoln Project is imploding. The group of grifting former Republican-turned-Democrats or whatever is having a tough time keeping it together as co-founder Jennifer Horn has called it quits after her former Project colleague, co-founder John Weaver was accused of sexually harassing men. The New York Times was the first to report Horn's exit of the group, and reported on 21 young men, including a 14-year-old at the time, has harassed by Weaver over the internet. "John Weaver's grotesque and inappropriate behavior, coupled with his longstanding deceptions concerning that behavior, are sickening," Horn told the Times. "It is clear at this point that my views about how the Lincoln Project's efforts are managed, and the best way to move the Lincoln Project forward into the future in the wake of these awful events, have diverged.'' The embattled group fired back at Horn, accusing the former head of the New Hampshire GOP of demanding a $250,000 signing bonus and a $40,000 a month consulting retainer. "Forty-eight hours ago, at a moment when the Lincoln Project was under attack from the Trump organization and their propaganda allies, Jennifer Horn, in written communication, requested from the Lincoln Project an immediate "signing bonus" payment of $250,000 and a $40,000 per month consulting contract. "This followed a Christmas Eve communication from Jennifer, where she demanded a board seat on the Lincoln Project, a television show, a podcast hosting assignment, and staff to manage these endeavors. She also stated her goal was "to establish immediate and long-term financial security."
"Fox News Heads To The Super Bowl" by The Floridian's Jim McCool – This Sunday, Tampa will be at the center of the Sports world universe as Tampa Bay Buccaneer Quarterback Tom Brady searches for his 7th Super Bowl title against last year's champ, Kansas City Chief's Quarterback Patrick Mahomes. The Buccaneers will also be the first team to play the Super Bowl at their home field, as the 5th seed underdogs to the juggernaut that is Kansas City. Fox News anchors Dana Perino and Bill Hemmer will be broadcasting Tampa on Monday but will be taking in the big game on Sunday. Hemmer and Perino joined "America's Newsroom" on January 18, 2021. The coverage will occur after the game, and will recap the match that Hemmer anticipates to be "a COVID Super Bowl we will never forget." Hemmer expressed to The Floridian that he has had "good fortune of attending numerous Super Bowls, but never a Covid Bowl." As a football fan, Hemmer thinks the Brady and Mahomes matchup is "terrific." Hemmer also expressed his appreciation for this season considering Covid. "Back in August, many thought the actual season was in doubt and here we are," said Hemmer. Here's to a great game and a well-deserved distraction for the US of A." After reminiscing the Super Bowls that have since passed, Hemmer told Bobby Burack of "OutKick" that his co-anchor, Dana Perino is "terrific" and that the two are off to "a great start."
"Democrats Mock Gaetz's American Pledge Request" by The Floridian's Jim McCool – While we saw the vote to expel a fellow House member, Marjorie Taylor Greene (R-GA), Democrats simultaneously took aim at the country, not just Republicans. Representative Matt Gaetz (R-FL) yesterday requested that the House of Representatives start all legislation meetings with the pledge of allegiance. Like most votes with this new Congressional session, it was rejected on party lines and Gatez claims it is solely because he is a "Minority member."In an interview with Fox News, Gaetz listened to an audio clip of House Democrat Steve Cohen ask, like a stubborn child, "…how many times a day should I do that [pledge]?" Cohen elaborates saying this was something that he did in, "1st grade." Another unidentified Democrat in the audio compared Gaetz's pledge request to nuclear bomb drills. It is imperative to note that the audio has not been independently verified by Fox News or The Floridian. Gaetz expressed the Fox' Harris Faulkner that it was, "disheartening" to hear Democrats make a "mockery" of unity.
"Scott's Immigration Amendment not Adopted in Senate" by The Floridian's Daniel Molina – This week, Republicans and Democrats have been at odds regarding the vision that both parties have when it comes to immigration reform. Senator Rick Scott (R) introduced an amendment that would ensure the enforcement of all immigration laws, but in a 50-50 vote, the amendment was not adopted. In turn, the former Governor of Florida took to Twitter to voice his frustration over what it means to not have the amendment adopted. "The Democrats just voted AGAINST my amendment to secure the border and make sure all immigration laws are followed," wrote Senator Scott. Slamming Democrats for not voting in favor, he warned his followers of what Democrats' vision for immigration reform entails. "They don't want law & order – they want open borders & amnesty," he expressed, adding that "it's dangerous, kills American jobs & prevents countless families from pursuing the American Dream." The Florida Senator has voiced his support for securing the border, and last month he announced that he would be filing "a bill to provide funding and resources needed to secure America's Southern border, and offer a permanent solution for individuals registered in and eligible for the Deferred Action for Childhood Arrivals (DACA) program."
"Democrats Vote to Restore "Catch-and-Release" Immigration Policies" by The Floridian's Daniel Molina – As Americans continue to struggle during the ongoing COVID-19 pandemic, Florida Senator Marco Rubio (R) released a statement, warning of the dangers regarding "catch-and-release" policies. This week, Senate Democrats voted against an amendment to the budget resolution that would have prevented the Biden administration's catch-and-release policies. Calling the amendment "common sense" and the catch-and-release-policies "dangerous," the Florida lawmaker believes implementing these policies will only generate a grave outcome. "By restoring catch-and-release policies, the Biden Administration and Senate Democrats are sending a signal to the world that it is okay to enter our borders illegally," said Rubio. He further expressed that "not only will it result in more illegal immigration into our country amid a global pandemic but also at a time when Americans are struggling to find work." Rubio added that the "worst of it all means countless men, women and children will entrust their lives to smugglers in an attempt to enter the U.S." and that "the human cost of these policies are real, and it is shameful Democrats would return to these dangerous policies that have failed America for decades."
"Florida Supreme Court Ends 2020 With Adoption of the Federal Summary Judgment Standard" by National Law Review's Traci T. McKee and Stephanie A. Koltookian – Out with the old, in with the new: the Florida Supreme Court closed out 2020 with a key decision that eliminates Florida's previous summary judgment standard in favor of the federal standard articulated in the Celotex trilogy. The opinion — released on New Year's Eve — provides that the new summary judgment standard will take effect on May 1, 2021. See In Re: Amendments to Florida Rule of Civil Procedure 1.510, No. SC20-1490 (Fla. Dec. 31, 2020) (per curiam). The rule amendment will change Florida's jurisprudence in three primary ways, with the overarching purpose of securing "the just, speedy, and inexpensive determination of every action": First, Florida courts will recognize the similarity between a motion for directed verdict and a motion for summary judgment. Id. at 2–3. In both contexts, the inquiry will be the same: "whether the evidence presents a sufficient disagreement to require submission to a jury or whether it is so one-sided that one party must prevail as a matter of law." Second, Florida courts will abandon the requirement that the moving party must negate or otherwise conclusively "disprove the nonmovant's theory of the case in order to eliminate any issue of fact." Id. at 3. Instead, a movant should prevail if, after adequate time for discovery, the nonmoving party fails to make a showing sufficient to establish the existence of an essential element of a claim for which the nonmoving party bears the burden of proof at trial. Id. 3–4.
"Gov. DeSantis: Florida lifts people up by keeping businesses, schools open amid coronavirus pandemic" by Fox News' Talia Kaplan – Florida Gov. Ron DeSantis told "Fox & Friends Weekend" on Sunday that keeping businesses and schools open amid the coronavirus pandemic has helped "lift people up." "As other states have tried to lock people down, we've tried to lift people up," DeSantis told host Will Cain in Tampa ahead of Super Bowl LV. "You look around the country, they still are debating whether schools should be open," he said "We've had schools open the whole year." "They talk about whether businesses should be open. Every business in Florida has a right to operate," he continued. "They talk about all these people unemployed. In Florida, every single person has a right to earn a living and our unemployment rate is lower than the national average, even though we are so tourism dependent [and] that market hasn't recovered at all." The national unemployment rate edged down to 6.3% in January from 6.7% in December – well below the April peak of 14.7%, but about twice the pre-crisis level, the Labor Department said in its monthly payroll report, released Friday.
Florida's unemployment rate stood at 6.1% in December, according to the Bureau of Labor Statistics.
"Florida's $15 minimum wage botched by Legislature | Editorial" by Tampa Bay Times – No one should be surprised that some Florida lawmakers are looking to water down the state's minimum wage requirement. After all, frustrated voters effectively sidelined them last year by putting a $15 hourly wage in the state Constitution after years of legislative inaction. Constitutional amendments are blunt tools, the wrong instrument for routine policymaking. But lawmakers have only themselves to blame for a wage mess that was entirely preventable. Florida voters approved a constitutional amendment in November that gradually increases the state's minimum wage. Currently at $8.65 an hour, the wage will rise to $10 in September, and increase $1 annually until reaching $15 an hour in 2026. Business groups opposed the statewide referendum, noting the costs to employers, and warning that low-paid workers would be unintended victims, as restaurants and other industries reliant on entry-level workers would be forced to trim their payrolls. The wage amendment that voters approved was self-executing, meaning it did not require legislative action. Senate Judiciary Chairman Jeff Brandes, R-St. Petersburg, recently proposed amending the state Constitution to allow the Legislature to exempt felons, people under 21 and others from Florida's new minimum wage requirements. He cites reports that minimum wage requirements have a "disparate impact" on low-skilled workers, such as teenagers. Brandes said he believes that "recently released incarcerated felons" also would be hurt by the higher wage, as felons would be less competitive in most labor markets.
"New Gulf Power developments will bring hundreds of jobs to Northwest Florida" by WTVY's Katie Bente – Gulf Power is working to give Northwest Florida cleaner energy by building Solar Energy Centers. Gulf Power Spokesperson Kimberly Blair said, "We were really grateful that we were able to start providing and developing those solar developments in Northwest Florida." Not only do these centers reduce the same amount of carbon as taking 26,000 cars off the road, but they also are expected to bring in about 250 jobs during peak construction. "This is a wonderful opportunity for people who want to come in, help build this renewable energy center, and then have some skills that they might be able to take and apply in other projects," Blair said. Blue Indigo was the first solar energy center in our area. Blair says that center alone has changed lives. She explained, "We actually had an employee working for us from Chipley. He really wanted to work in the renewable energy field. But to do that, he knew he was probably going to have to move away somewhere to do that." Because of the development of Blue Indigo, he didn't have to. "He was able to work on that project and now he's the manager of that project. He gets to stay in his community and work renewable energy," said Blair.
"North Florida/South Georgia Veterans Health System welcomes new associate director" by WCTV's Staff – The U.S. Department of Veterans Affairs has announced that Joshua Pridgen, MHS, FACHE is now the Associate Director at the North Florida/South Georgia Veterans Health System. Pridgen, a graduate of Valdosta State University and the University of Central Florida, is now responsible for the executive level oversight of the health system's Primary Care services and Outpatient Clinics. Prior to his appointment as associate director, Pridgen served as the associate director for the VA Eastern Colorado Health Care System, acting director for VA Salt Lake City Health Care System and assistant director and Chief of the Business Office for VA Eastern Colorado Health Care System.
"Senate bill would end Florida's state pension option for new employees" by Tampa Bay Times' Jim Saunders – After years of discussions about the tricky issue of overhauling Florida's retirement system for government employees, a Senate committee this week approved a proposal that would shut future workers out of a traditional pension plan. The proposal, sponsored by Senate Governmental Oversight and Accountability Chairman Ray Rodrigues, R-Estero, would require new employees as of July 1, 2022, to enroll in a 401(k)-style "investment" plan. Employees currently are allowed to choose whether to take part in the pension plan or the investment plan. Rodrigues, whose Republican-controlled committee approved the bill (SB 84) in a party-line vote, said lawmakers have to make "difficult decisions" to maintain the long-term solvency of the pension fund. He pointed, in part, to a $36 billion unfunded actuarial liability, which is essentially a measurement of whether the fund is projected to have enough money to meet its future obligations. "What we're seeing is the trend is clearly pointing in the wrong direction," Rodrigues said. "The amount that we are not funded continues to rise each year, which makes the plan less solvent and less solvent and more unstable for those who are counting on it."
"Some counties opting out of Florida's new vaccine pre-registration system, leaving seniors confused" by WFLA's Marco Villareal – Florida now has a statewide COVID-19 vaccination registration system, but we have discovered several counties across Tampa Bay are refusing to use it. People want to know if they should be turning to their county or the state to sign up for the vaccine. If they don't sign up with the state, will they lose their chance? The Florida Department of Health's new COVID-19 vaccine pre-registration system is up and running. It now allows health care workers, seniors and individuals deemed extremely vulnerable to COVID-19 to sign up. A qualifying Floridian can call by phone or visit myvaccine.fl.gov and their place in line will be reserved through software called Sharecare. It is left up to the counties to decide whether they want to merge with the new state system or continue on their own. 8 On Your Side has learned the following 5 Tampa Bay area counties have opted into the state's system: Citrus, Hardee, Highlands, Pasco, and Hillsborough. The following 5 counties have opted out of the state's system: Hernando, Manatee, Pinellas, Polk, and Sarasota. "My question would be why did we opt out? What is the logic behind opting out?" Pinellas resident Ken Goergen wondered.
"Florida's New Form I-9 & E-Verify Requirements" by Lexology, Baker Hostetler – Like many states before it, the State of Florida has enacted new requirements for mandatory use of E-Verify and expanded I-9 documentation requirements for private and public employers. The new law, which went into effect Jan. 1, 2021, requires all Florida employers to retain copies of documents new hires provide to verify their identity and work authorization during the Form I-9 employee onboarding process. The law also requires certain employers to use the U.S. Department of Homeland Security's E-Verify system to confirm employment authorization. The federal law known as the Immigration Reform and Control Act (IRCA) requires employers to confirm employees are eligible to work in the United States by completing Forms I-9 and reviewing documentation of employees' identity and employment eligibility. Federal I-9 regulations provide that employers can generally choose whether to retain copies of the supporting documents, with some exceptions for employers that use the voluntary federal E-Verify service. As of Jan. 1, 2021, Florida's new statute requires all Florida employers to retain copies of the identity and employment eligibility documents provided by all new hires during the I-9 process. These documents must be retained for at least three years after the initial date of employment with the corresponding Form I-9 or with the employee's other records.
"Some Floridians finally seeing new $300 unemployment checks after delay" by Tampa Bay Times' Jay Cridlin and Lawrence Mower – Two weeks after President Donald Trump signed a new $900 billion federal pandemic relief package, many unemployed Floridians are still waiting on help to arrive. The new aid, including weekly $300 checks, has been delayed as the state figures out how best to incorporate the new benefits into its unemployment system. But as with the Florida's vaccine rollout and plans for rent relief, the lack of details about a timetable for the payments has frustrated users. "For the last week and a half, our office phones have been ringing off the hook because of all the confusion over this," said state Rep. Anna Eskamani, a Democrat from Orlando, who's been cataloging unemployment questions and complaints on social media. The package provides $300 per week in Federal Pandemic Unemployment Compensation (FPUC), a popular program that paid $600 per week before ending in July. It also extends programs like Pandemic Unemployment Assistance (PUA), benefitting gig workers and the self-employed; and Pandemic Emergency Unemployment Compensation (PEUC), which lengthen's a claimant's window of eligibility.
"Conservative GOP Senator gets boot from fundraising venue in Florida" by NY Daily News' Cathy Burke – Sen. Josh Hawley (R-Mo.) got a fundraising punch in the gut for his Jan. 6 objection to President-elect Joe Biden's win — and for raising his fist in solidarity on the day pro-Trump rioters stormed the Capitol. In a tweet, Loews Hotels on Saturday canceled a planned fundraiser at its Portofino Bay Hotel at Universal Orlando. "We are horrified and opposed to the events at the Capitol and all who supported and incited the actions," Loews said in its social media statement. "In light of those events and for the safety of our guests and team members, we have informed the host of the Feb. fundraiser that it will no longer be held at Loews Hotels." The event sponsored by a Hawley-affiliated political committee, Fighting for Missouri, raised more than $272,000 for him in the 2020 election cycle, the Orlando Sentinel reported. Hawley doesn't face reelection until 2024. The fundraiser invite was posted earlier Saturday on Twitter by Florida lawyer Daniel Uhlfelder, the Sentinel reported