Election 2020
We are on the eve of the most important and consequential election in American history, and neither Republicans nor Democrats are pulling their political punches in hopes that their best efforts will help elect or re-elect their respective presidential candidates.
Here in Florida, it's business as usual for the political class, as some lawmakers like Rep. Carlos Guillermo Smith (D) continue to fan the flames of racial and societal division.
Why shouldn't he, it's election season and he's trying to get his people elected.
"Being a Florida Democrat in the Year 2020 means showing up, standing up, and acting up to defend equality for women, for black lives, for immigrants, LGBTQ people, religious minorities, people with disabilities, for those currently incarcerated, for returning citizens, and all other marginalized communities…READ MORE


Rep. Debbie Mucarsel-Powell @RepDMP–Trump knows that the Cuban and Venezuelan regimes harm and punish their own citizens. But he turns away the people fleeing for safety and yearing for democracy. Why won't he help Cubans and Venezuelans?
Rep. Anna V. Eskamani @AnnaForFlorida–Not talking about #COVID19 while it's still killing people is already very on brand for President Trump.
Rep. Matt Gaetz @RepMattGaetz–Defend the police. Stand with law enforcement.
Congressman Greg Steube @RepGregSteube–We can no longer afford to let Big Tech hide behind Section 230 and abuse their power. I recently introduced legislation that will end their unconditional immunity and hold them accountable for their actions.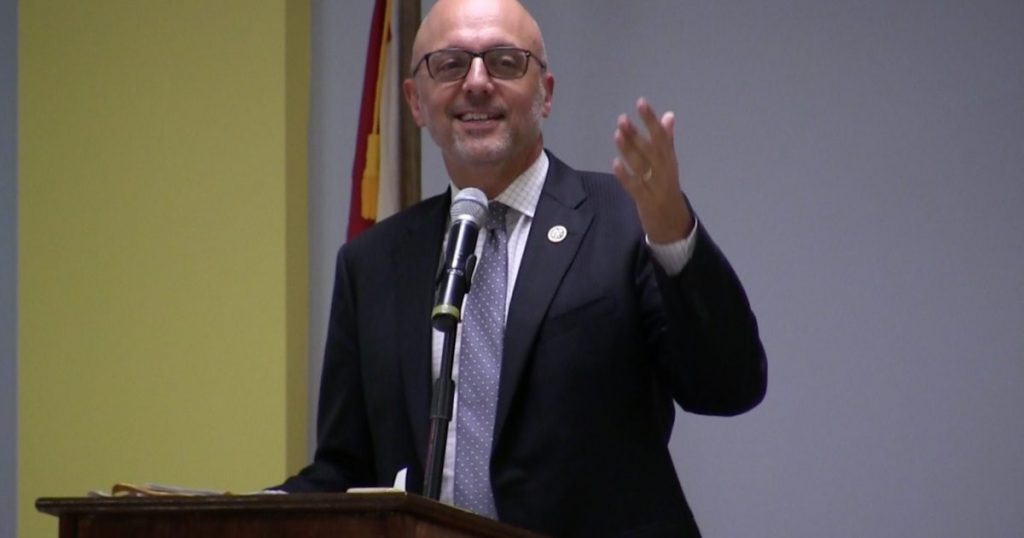 WE WANT MASKS >>> Deutch demands DeSantis sign statewide mandatory mask order
RUBIO VS. AOC >>> Rubio: 'Not every democrat is a socialist, but every socialist is a democrat'
BETRAYAL >>> House Democrats support Venezuela's Juan Guaido, but Biden won't if he wins
MORE NAME-CALLING >>> Biden 'Deplorable' Moment, Calls Trump Supporters 'Ugly Folks' At Rally
Venezuelan-Americans want U.S. companies to continue operating in Venezuela
Soto Argues Trump has Failed on Immigration Reform
Mucarsel-Powell Highlights "Environmental Racism" in FL
"Cruz Spars With Twitter CEO For Blocking NY Post Hunter Biden Story: 'Who The Hell Elected You?'" by The Floridian's Mona Salama – Sen. Ted Cruz (R-TX) blasted Twitter CEO Jack Dorsey during the Senate Commerce Committee hearing for its decision to censor and blocking users on their social media platform from sharing the New York Post smoking gun reporting about former Vice President Joe Biden's son Hunter earlier this month. "Mr. Dorsey, who the hell elected you and put you in charge of what the media are allowed to report, and what the American people are allowed to hear?" Cruz charged at Twitter CEO. "Why do you persist in behaving as a Democratic super PAC, silencing views to the contrary of your political beliefs?" Cruz began his Senate Hearing argument with harsh words towards the three Tech CEOs — Dorsey, Facebook founder Mark Zuckerberg and CEO of Google Sundar Pichai. The three gentlemen volunteered to testify Wednesday about Section 230, avoiding a subpoena, and were faced with questions about its extensive social media impact this election cycle by abusing the outdated protection clause. "The three witnesses we have before this committee today collectively pose, I believe, the single greatest threat to free speech in America, and the greatest threat we have to free and fair elections," Cruz stated.
"Rick Scott makes 'six-figure' ad buy for Trump in Florida: Report: by Fox News' Thomas Barrabi – Republican Florida Sen. Rick Scott is backing President Trump's re-election bid with a significant ad buy in his home state ahead of Election Day, according to a report Wednesday. Scott's political action committee, Let's Get to Work, is making a "significant six-figure buy" and will run pro-Trump ads in six to eight Florida media markets, Politico reported. In the ad, the senator warns voters that Democratic presidential nominee Joe Biden and his running mate, Sen. Kamala Harris, would push a "radical agenda" if elected to office. "Democrats have a radical plan for America," Scott said in the ad. "Joe Biden may not even be aware of it, but Kamala Harris is." Scott's ad references multiple policies favored by leading progressives, including "Medicare for All" and an expansion of the Supreme Court after Justice Amy Coney Barrett's confirmation. Biden does not support "Medicare for All." So far, Biden has declined to provide a definitive answer on whether he would support "court-packing" in the future. At one campaign event, Biden said he is "not a fan" of the concept. While Scott is not up for re-election until 2024, he seeks to become head of the National Republican Senatorial Committee, according to Politico. He is also said to be a possible presidential candidate in 2024. Political donors have poured money into the Florida race. Billionaire Mike Bloomberg, a former presidential candidate-turned-Biden supporter, has pledged to spend $100 million to back his presidential bid in the Sunshine State.
"Trump's path begins in Florida" by Politico's Marc Caputo and Ryan Lizza – Good evening and hello from the state of election cliffhangers, where on Thursday, in a rare crossing of paths, President Donald Trump and former Vice President Joe Biden will campaign in the same city, Tampa. It's the heart of the Tampa Bay media market, which forms the westernmost barbell end of the I-4 Corridor, which is geographically and politically in the center of the state (but more on that later). The dueling visits underscore how the path to the White House runs through the region. Tampa Bay's mix of urban, suburban, rural, white, Black, Hispanic, working-class and retired voters gives Tampa Bay an Everywhere, USA feel. And its central importance to the swing region of the swing state — one Trump needs to win for a second term — heightens the importance of their visits. Trailing by various margins in most polls of most swing states, Trump is still essentially tied with Biden in Florida. If the president is going to have another come-from-behind victory, it starts here. And if Biden wants to kill Trump's chances in one place, Florida is the MAGA horcrux and Tampa is the place to smash it. Beyond location, the similarities end there for the two contrasting presidential campaigns and candidates. Biden is hosting a drive-in rally to ensure social distancing (his campaign won't even announce where it's at yet). Trump is proudly hosting his event in the parking lot of Raymond James Stadium, which as the home of Tampa Bay Buccaneers, fittingly has a pirate ship built in.
"Florida awarded $5 million to tackle opioid crisis through treatment and job training" by WTSP's Madison Alworth – Florida is hoping to tackle the opioid crisis with a new approach. The state has been awarded a $5 million dollar grant from the U.S. Department of Labor to create a new pilot program, "Support to Communities: Fostering Opioid Recovery through Workforce Development." The goal will be to help foster opioid recovery and invest in long-term career training and employment opportunities for those suffering from addiction. "The opioid crisis continues to be a public health concern in Florida," Gov. DeSantis said. "We are grateful to U.S. Secretary of Labor Eugene Scalia for partnering with Florida to implement this pilot program which will help create a talent pipeline for unfilled positions, offer opportunities to prepare those working in these fields to better identify and respond to individuals with a substance misuse disorders and prepare individuals in recovery to become peer counselors." With the funding, the Florida Department of Economic Opportunity will work with community partners to address opioid abuse and addiction. For families that have lost loved ones to the disease, news of more help is always welcomed. Renee Negron lost her only son to an overdose. He started using opioids after being prescribed them. "He was a welder in New York City construction, rebuilding the World Trade Center, Freedom Towers, and fell off a scaffold which broke his back in three places." The prescription became a problem that Joseph recognized. He went through treatment for eight months. It was costly for Negron, "About $40,000 of that came out of our, you know, our family's pocket to help him because he was, he knew, he saw his addiction and wanted to correct it."
"Parties watching Florida's voter turnout as days tick down to Nov. 3" By Tampa Bay Times' Allison Ross – Nearly 7 million Floridians have already voted as the days tick down to the Nov. 3 general election. About 2.9 million of those votes have been during in-person early voting, while 4 million have been vote-by-mail ballots, according to Wednesday morning data from the Florida Division of Elections. Republicans, who have split their votes fairly evenly between mail and in-person voting so far, are quickly closing the gap with Democrats in total votes cast to date. Democrats, who have favored mail ballots over in-person voting so far, have cast about 2.8 million ballots to Republicans' 2.6 million. No-party-affiliated voters have cast nearly 1.4 million ballots. A report this week from Tufts University found that the number of early votes cast by Floridians ages 18-29, both in person and by mail, is up significantly from the same time period in 2016. About 570,000 of the voters so far have been younger Floridians ages 18-29, according to data from Democratic voter targeting firm TargetSmart. That group's share of total votes cast is up somewhat compared to 2016, according to TargetSmart data. But it's still to be seen how overall turnout will look once polls close on Nov. 3. Younger voters are historically the least likely to vote, but some are hopeful that high interest in the race between President Donald Trump and former Vice President Joe Biden could energize higher turnout among young people. "To me, it looks like excitement by young people to get the vote in early," said Abel Iraola, spokesman for NextGen Florida, which focuses on turning out younger voters.
"Florida Man Anthony Guevara Accused Of Changing Voter Registration Information For Gov. Ron DeSantis" by CBS Miami – A 20-year-old Naples man was arrested after he reportedly changed voter registration information for Governor Ron DeSantis. Agents with the Florida Department of Law Enforcement launched an investigation Monday after DeSantis learned his address in the state's voting database had been changed to an address in West Palm Beach. DeSantis made the discovery when he went to vote in Tallahassee and was informed of the address change. Agents say the registration address was changed via computer over a web browser and they traced it to Anthony Guevara. He was arrested at his home following a search warrant Tuesday night. Agents believe Guevara also accessed the voter registrations of U.S. Senator Rick Scott and sports celebrities Michael Jordan and LeBron James but made no changes. "FDLE is committed to ensuring the voting rights of Florida citizens are protected, and we will continue to work with our local, state, and federal partners in ensuring the security of our elections," FDLE Commissioner Rick Swearingen said.
"Florida receives additional $73 million from Deepwater Horizon settlement" by Naples Daily News' Karl Schneider – The federal government announced Wednesday that Florida will receive an additional $73 million in funding from the Deepwater Horizon spill settlement to be used for restoration projects. U.S. Environmental Protection Agency's Associate Deputy Administrator Doug Benevento said a variety of projects will be done up and down Florida's Gulf Coast.
"This funding will go to the day-to-day work of water quality improvement that is necessary to ensure the protection of human health and the environment," Benevento said. Other potential projects include:
Coastal vulnerability assessments
10,000 – 20,000 acres in land acquisitions in conjunction with Florida Forever
Storm water treatment and septic updates
Settlement funding from Deepwater Horizon is overseen by the Resources and Ecosystems Sustainability, Tourist Opportunities, and Revived Economies of the Gulf. Coast States Council, or RESTORE. Over the last four years, RESTORE allocated $51 million to Florida for restoration purposes, and today's additional funding brings the total to $121 million.
"Florida Supreme Court dismisses lawsuit that would open primaries to all voters" by Associated Press – The Florida Supreme Court says it won't nullify a proposed constitutional amendment that could change Florida's primary election system. The court dismissed a lawsuit Wednesday that asked justice to order votes for Question 3 not be counted. The ballot question would style Florida elections similar to those in California. In Florida, all candidates for the state Legislature, Cabinet and governor would appear on the same primary ballot and then the top two candidates would move on to the general election. That could mean two Democrats or two Republicans face each other in the general election. Opponents say it would hurt minority representative in government.
"More People Are Migrating From New York to Florida" by Mansion Global's Fang Block – The Covid-19 pandemic has accelerated a trend for people to move out of high-tax, expensive states such as New York, California and Massachusetts, into other states with more space and affordability, new data shows. In the third quarter of 2020, nearly 47,000 more Redfin.com users looked to leave New York than to move in. The potential net outflow represented a 35% increase compared to the figure of the same period last year, at 35,000, according to a report released Wednesday by the real estate brokerage. "New York's loss is Florida's gain," Redfin economist Taylor Marr said in the report. "When the pandemic hit the U.S. in March, remote workers started leaving New York City and its ultra-expensive housing in search of wide-open spaces, sunshine and affordable homes—all of which you can find in Florida, with the bonus of no state income tax."
"80 to 90% voter turnout expected in Northeast Florida" by News 4 Jax' Jim Paggott – Record voter turnout continues in Northeast Florida as people are taking advantage of early voting. Local election staff has been calling for an 80 to 90% turnout in Northeast Florida and if the trends continue. There was a steady stream of voters at polling locations around the area on Wednesday. One of the early voting sites News4Jax was at on Wednesday was in Oceanway at the community center. Voters like Terrence Jones said there is one reason why he is voting early. "In previous elections, I've been in long lines and they've already called the election while I was standing in line to vote and this time I wanted to make sure that would not happen," Jones said. News4Jax also hit the Highlands Regional Library in North Jacksonville. There were not as many people in line as in the past, but those who were there also said it is important to get out the vote now. There has been a large turn out from both parties in all of North Florida.

"Rubio warns of foreign interference around Election Day" by Fox News' Morgan Phillips – Sen. Marco Rubio, R-Fla., the acting chairman of the Senate Intelligence Committee, warned that foreign adversaries were working to undermine the U.S.election next week through disinformation campaigns. "WARNING. The bulk of disinformation attacks prepared by our adversaries were designed for the days before & just after Election Day," the Florida Republican wrote on Twitter. "They may come faster than they can be spotted & called out,so word to the wise,the more outlandish the claim,the likelier it's foreign influence." One week ago, Director of National Intelligence John Ratcliffe warned that Russia and Iran were attempting to influence the 2020 elections and had obtained some voter registration information. Ratcliffe noted that both nations had taken specific actions to influence voters' opinions. He noted that the registration information they obtained could be used to confuse voters through false communication. The Iranian interference that's been discovered, Ratcliffe said, has been designed to incite social unrest and damage the president. "This data can be used by foreign actors to attempt to communicate false information to registered voters that they hope will cause confusion, sow chaos, and undermine your confidence in American democracy," he said. "To that end, we have already seen Iran sending spoofed emails designed to intimidate voters, incite social unrest, and damage President Trump."
"Federal government says it will pay for any future coronavirus vaccine for all Americans" by CNN's Andrea Kane – The Centers for Medicare and Medicaid Services said it will pay for any Covid-19 vaccine that is authorized or approved by the US Food and Drug Administration to allow for "broad vaccine access and coverage for all Americans." The agency also announced it will help cover a larger portion of the cost of new Covid-19 treatments that may be coming down the pipeline for Medicare recipients. "There are several vaccines in Phase 3 trials, production and distribution plans are well underway, and CMS is doing its part by laying the essential groundwork for coverage and payment when a vaccine does arise. It'll be widely available and accessible to seniors and every American," CMS administrator Seema Verma said during a briefing Wednesday. She said that while the federal government is paying for the vaccine, insurers including Medicare, Medicaid and private plans must cover the cost of administering it. For Medicare recipients, any future vaccine would be covered by Medicare Part B as a preventative vaccine at no cost to beneficiaries. Medicare Part B covers doctor visits and outpatient services such as lab tests, diagnostic screenings and medical equipment.
"The rule removes any existing ambiguity surrounding Medicare's coverage of the Covid-19 vaccine and allows us to focus on the paramount goal of ensuring that all of Medicare's 62 million beneficiaries, including those enrolled in a Medicare Advantage plan, can receive the vaccine at their provider, their choice, again, at no cost," said Verma.
"Trump Administration Proposes Eliminating H-1B Visa Lottery" by WSJ's Michelle Hackman – The Department of Homeland Security is proposing to effectively replace the H-1B visa lottery, the method for selecting which foreign professionals receive the coveted visas each year, with a selection process that gives priority to the jobs with the highest salaries. The proposal, which was announced Wednesday and will be opened for a 30-day comment period, was one of the expected remaining pieces of the Trump administration's overhaul of the visa program before the U.S. presidential election. The proposal is the latest in a series of changes the administration has made to restrict access to the H1-B program. The administration has long argued that the visa program artificially depresses wages by allowing employers to hire foreign workers at lower salaries. Awarding visas to foreign professionals who would earn the highest salaries in their fields would create upward pressure on the market overall, according to administration officials. "The current use of random selection to allocate H-1B visas makes it harder for businesses to plan their hiring, fails to leverage the H-1B program to truly compete for the world's best and brightest, and hurts American workers by bringing in relatively lower-paid foreign labor at the expense of the American workforce," said Acting DHS Deputy Secretary Ken Cuccinelli. The proposed change was criticized by business groups and other immigration advocates.
"Jim Biden refuses to answer questions about family's business dealings" by Fox News' Alex Pappas – Jim Biden, the brother of Democratic presidential nominee Joe Biden, refused to answer questions Wednesday when approached by Fox News outside a house in Maryland about claims the former vice president had knowledge about the family's overseas business ventures. Approached at a residence on the Eastern Shore, Jim Biden repeatedly rebuffed questions in his driveway as Fox News asked questions from a distance in the street. "I don't want to comment about anything," Jim Biden said. Asked if he cared to answer questions, Biden said: "Nope." Two sources confirmed the person was Jim Biden, including a neighbor who viewed a picture of the footage. The Eastern Shore house is linked to Jim Biden in public records. It comes a day after Tony Bobulinski, a former business associate of Hunter Biden, told Fox News' "Tucker Carlson Tonight" in an exclusive interview, that the former vice president's denials of knowledge or involvement in his son's foreign dealings are "a blatant lie." Asked why he and Hunter Biden allegedly wanted to meet with Bobulinski, Jim Biden replied: "What are you talking about?" Bobulinski said he raised concerns in 2017 to the former vice president's brother Jim Biden, about Joe Biden's alleged ties to a possible joint venture with a Chinese energy firm.
"Supreme Court won't expedite latest GOP challenge to Pennsylvania mail-in ballot rules" by CNN's Ariane de Vogue – The US Supreme Court is leaving in place for now a Pennsylvania state Supreme Court decision that allowed the counting of ballots received up to three days after the election, even if there is no legible postmark. The justices on Wednesday denied a request from Pennsylvania Republicans to review the decision on an accelerated basis. Justice Amy Coney Barrett did not participate in the consideration of the motion. The court's public information officer said that Barrett did not participate because of the need for a "prompt resolution" and because she had not had the time to fully review the filings. Democrats have been pressing the new justice to recuse herself from cases involving the election. Pennsylvania is a critical state for both President Donald Trump and former Vice President Joe Biden. The order was issued with no noted dissents, but in a statement accompanying the order, Justice Samuel Alito, joined by Justices Clarence Thomas and Neil Gorsuch, said that it was too close to the election for the justices to step in. "I reluctantly conclude that there is simply not enough time at this late date to decide the question before the election," Alito said, but he left open the possibility that the court could still hear the case on a shortened schedule after the election. The state attorney general's office said county boards will segregate all ballots received after 8 p.m. on Election Day until 5 p.m. on November 6, Alito noted.
"Tech CEOs Square Off With Senators in Hearing Over Online Speech" by WSJ's Ryan Tracy and John D. McKinnon – Chiefs of the largest social-media companies tangled with U.S. senators over their role in public discourse amid a contentious election that has stoked bipartisan criticism of the companies' policies. Facebook Inc. Chief Executive Mark Zuckerberg, Twitter Inc. CEO Jack Dorsey and Sundar Pichai, CEO of Google and YouTube owner Alphabet Inc., have spent the years since the 2016 election rewriting their policies and taking a more active role in moderating online speech—in part to avoid a spotlight like the one placed on them Wednesday. Instead, the Senate Commerce Committee hearing reflected deep discontent with social-media platforms' power and equally deep divisions about how to address it. Republicans are pushing to update part of a 1996 law known as Section 230 that helps shield internet platforms from liability for user-generated content, claiming it has been misused to censor conservative views. Sen. Cory Gardner (R., Colo.) questioned Twitter's decisions to label some posts by President Trump as misleading but not others by Iran's Supreme Leader Ayatollah Ali Khamenei threatening Israel and denying the Holocaust. "I just don't understand how Twitter can claim to want a world of less hate and misinformation while you simultaneously let the kind of content that the ayatollah has tweeted out to flourish," he said.
"FBI reveals alleged Whitmer kidnapper plotter also wanted to hang Trump, disproving Democrats' narrative" by Fox News' Brittany De Lea – A man who has been accused of an attempted kidnap plot against Gov. Gretchen Whitmer, D-Mich., also reportedly made threats targeting President Trump. Barry Croft, of Delaware, is said to have posted numerous threats against elected officials on his Facebook page, including a comment about hanging Trump, according to an unsealed FBI search warrant affidavit obtained by The Detroit News. Former Presidents Barack Obama and Bill Clinton were among the other prominent political figures mentioned. The site reported on Wednesday that the FBI was able to search the Facebook account of Croft, which is said to have been filled with violent images and rhetoric. The affidavit said one Facebook post in May showed an image of Trump with a caption reading, "True colors shining through, wanna hang this mf'er too!!!%" Another post the next day said, "I say we hang everything currently governing us, they're all guilty!!% And what a deterrent, Rope!!!%" Croft is one of six purported members of an extremist paramilitary group accused of scheming to kidnap Democratic Gov. Gretchen Whitmer because of her shutdown orders to control the coronavirus. Some Democrats, including Rep. Rashida Tlaib, D-Mich., and Chicago Mayor Lori Lightfoot, blamed the president's rhetoric for helping to incite the planned acts against Whitmer.
"North Carolina can count votes received 9 days after Election Day, Supreme Court says" by CNN's Ariane de Vogue – The Supreme Court on Wednesday allowed the counting of ballots in North Carolina received up to nine days after the election as long as the ballots are postmarked by Election Day, a victory for Democrats in another key state. Republicans and the Trump campaign had asked the court to reinstate a deadline set in June by the state Legislature that allowed ballots to be received only up to three days after Election Day. Justice Amy Coney Barrett took no part in the decision because she had not had time to fully review the briefs, the court said. North Carolina Attorney General Josh Stein praised the court's order, calling it a "huge win." "The Court upheld the State Board of Elections' effort to ensure that every eligible vote counts, even during a pandemic," he said in a statement. There were two separate challenges, one brought by the Trump campaign and other Republicans and a second brought by Republican North Carolina legislators. Tuesday's orders did not specify a vote count. In both, Justices Samuel Alito, Neil Gorsuch and Clarence Thomas noted their dissent. It would have taken five justices to grant the Republicans' request. Election law expert Rick Hasen said there are some reasons why either Chief Justice John Roberts or Justice Brett Kavanaugh may not have sided with their conservative colleagues. He noted that the case was more complicated by procedural issues than other recent voting rights challenges before the justices. There may have also been an inclination not to change the rules too close to the election. "Many voters have already made their voting plans dependent on the deadlines," Hasen said.
"Trump Administration Considers Early Biometric Screening for Visa Seekers" by WSJ's Michelle Hackman – The White House is developing a plan to create a new biometric database that prospective immigrants or visitors would need to enter before they apply for visas to come to the U.S., according to draft plans reviewed by The Wall Street Journal and two government officials involved in the conversations. Under the change, visa applicants would need to submit their fingerprints and possibly other biometric information to be entered into a new database before they are permitted to submit applications online. Right now, visa applicants visit a U.S. consulate abroad after they file an application to do an interview and submit their fingerprints. The plan has been the subject of discussion for several months at the White House's National Security Council. On Oct. 14, officials directed the Department of Homeland Security to begin purchasing fingerprinting machines to ship to consulates abroad, according to a "summary of conclusions" document reviewed by the Journal. Consulates already have machines they use to take fingerprints, but the machines used by DHS collect more detailed fingerprints. The Department of Homeland Security referred comment to the National Security Council, which declined to comment for this article. Administration officials have argued internally that collecting biometric information earlier will allow the government more time to conduct background checks, and it furthers President Trump's promise in 2016 to crack down on foreign visitors.

Donald J. Trump @realDonaldTrump– For 47 years, Sleepy Joe Biden betrayed Hispanic-Americans. Now he wants to close your small businesses, eliminate school choice, and attack our Hispanic Law Enforcement Heroes. I will always stand with the incredible Hispanic-American community!

Joe Biden @JoeBiden–Donald Trump's COVID-19 response has been the greatest failure of presidential leadership in our nation's history.