Novel polling recently published by the Trafalgar Group demonstrates that most Americans do not agree with late-term abortions.
The poll, which obtained higher participation rates from Democratic-registered voters than Republicans, requested individuals indicate their preference regarding two abortion-related proposed bills.
Participants selected the bill that most aligned with their beliefs from the following two choices:
A national law that eliminates late-term abortions with certain exceptions vs a national law that grants women the universal right to abortion and prohibits individual state limitations.
The former choice was the favorite by a sizable 20-point margin.
See the poll's results below: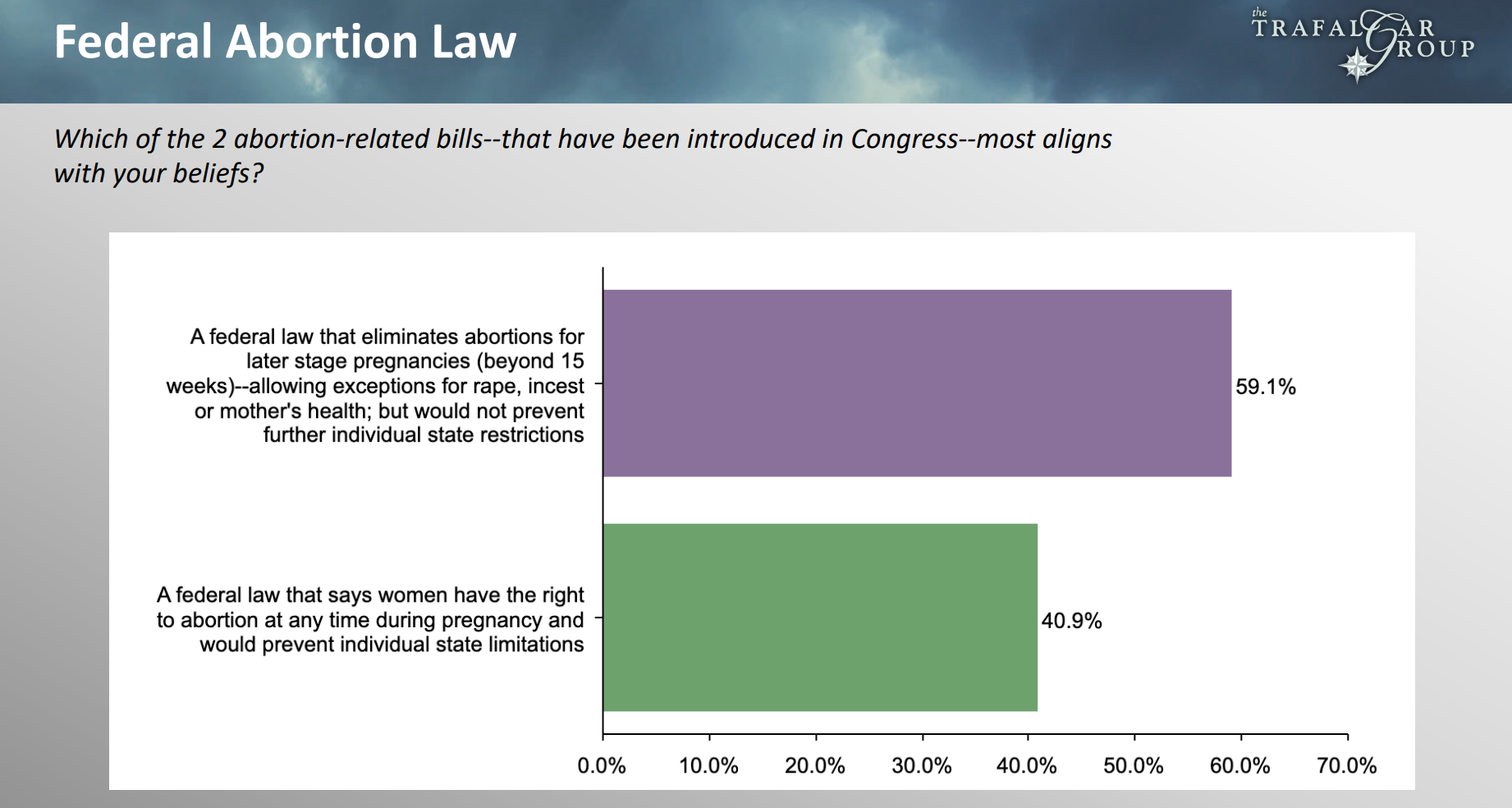 For an in-depth, technical explanation of the poll's data gathering methods, click here.
The poll's results provide relief for State politicians that have been under fire for quickly mobilizing to impose state regulations on abortions following the Supreme Court's Recent decision in Dobbs v Jackson.
Both of the proposed bills' constitutionality has yet to be explored given that health regulation is a power constitutionally reserved to the states. Nonetheless, the wide margin demonstrated by the poll in favor of abortion restrictions also provides assurance to pro-life national legislators that a majority of the American citizenry supports them.
In effect, South Carolina Senator Lindsey Graham recently tweeted his support for a nation-wide ban on late term abortions, calling such legislation "common-sense protection of the unborn."
States that have more protections for the unborn in place will not be affected.  My proposal puts us in line with 47 out of 50 European countries that have abortion bans at 12 to 14 weeks.

It is common-sense protection of the unborn.

— Lindsey Graham (@LindseyGrahamSC) September 20, 2022
Conversely, Democrat party leaders have ignored recent polling and continue opposing any abortion-bans, with Vice President Kamala Harris leading the way.
According to Vice President Harris, abortion ban supporters are "clearly disconnected from the priorities of everyday Americans."
Any senator attempting to pass a national ban on abortion or working to criminalize health care providers is clearly disconnected from the priorities of everyday Americans.

— Vice President Kamala Harris (@VP) September 21, 2022
While D.C. Republicans do not currently possess the ability to pass late-term abortion bans, a favorable result in both the House and Senate after midterm elections could shift momentum in their favor.
Florida Republican Rep. Byron Donalds, a staunch pro-Life advocate, has railed against the Democratic-controlled House of Representatives since taking office.
Months after being sworn into office, Rep. Donalds denounce Speaker Nancy Pelosi's push to pass an "indefensible bill" that he said would "remove every protection for the unborn."
"Nancy Pelosi is bringing the most radical pro-abortion legislation ever for a vote. This indefensible bill would remove every protection for the unborn and would allow taxpayer-funded abortions up until birth," stated Donalds.
All in all, any abortion legislation passed, be it for or against, will undoubtedly have to surmount a flurry of potentially fatal legal and constitutional challenges.