The Rumble in the Florida Jungle
It's official.
Rep. Val Demings (D) has finally announced her run for the U.S. Senate, setting the table or an ideological slugfest between her and Senator Marco Rubio.
Call it East vs. West, Left vs. Right, or whatever you want, but this race will push the ideological envelope to its limit. This race set the tone for the entire ballot.
Socialism and Democratic Socialism will be on the ticket again in 2022.
We saw how that played with Floridians in 2022. READ MORE
Democrats Go On Offense
After being hammered by Republicans during the 2020 presidential election, Democrats are still licking their wounds and are trying to come out in front of the continued GOP effort to paint them as Socialists.
Former Rep. Debbie Mucarsel-Powell, who lost in 2020, is leading the charge with a new PAC she and other former Democrat members have launched.
It's going to be hard to win this battle when members of your own party call themselves Socialists. READ MORE


Val Demings @valdemings-I'm running for U.S. Senate because I will never tire of standing up for what is right. Never tire of serving Florida. Never tire of doing good.
Marco Rubio @marcorubio-No matter who wins the democratic Senate primary in #Florida my opponent will be a far left extremist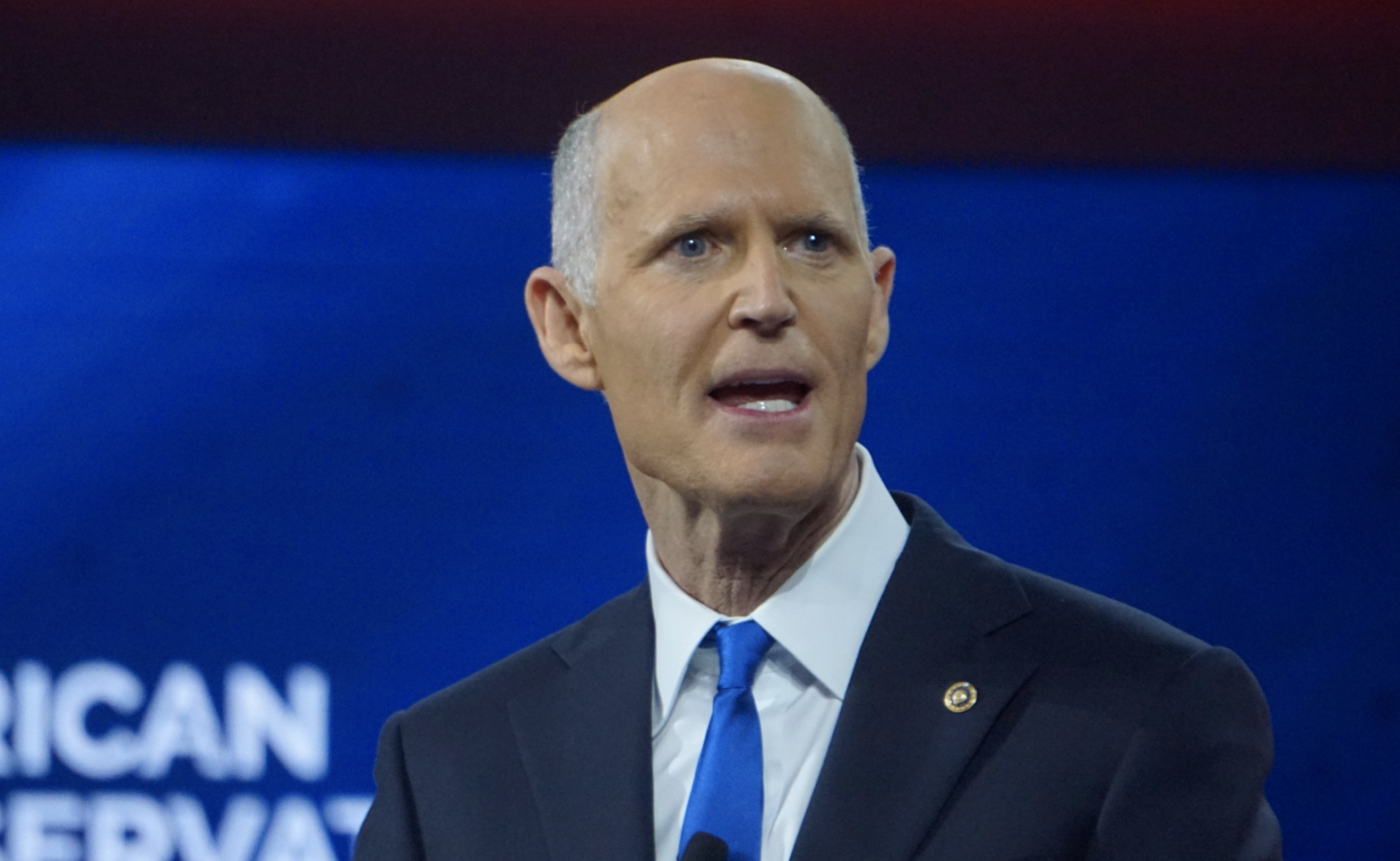 "Biden Ends Infrastructure Negotiations With Capito" by The Floridian's Mona Salama – President Biden on Tuesday abruptly ended infrastructure talks with a GOP group, after one-on-one talks with a key negotiator, Sen. Shelley Moore Capito (R-WV) officially broken down as Democrats move closer to ram the original tax-and-spend infrastructure bill proposed without bipartisan support using budget reconciliation before the Summer recess. Capito in a statement stated the final call with Biden was a five-minute call that was "respectful and candid," but expressed disappointment at the president decision to cut off negotiations.
"VP Harris Defends Not Visiting Border: 'Well I Haven't Been To Europe Either'" by The Floridian's Mona Salama – Vice President Kamala Harris got defensive in an interview Tuesday morning when questioned why she hasn't made any attempt to visit the US-Mexico border in over the 76 days since President Biden appointed her border czar, snapping back to say that she hasn't "been to Europe," either. In an interview with NBC News just hours before she was scheduled to meet with Mexico's President Andrés Manuel López Obrador, Harris was questioned by anchor Lester Holt over on whether she plans to visit the border.
"Lauren Book Combats Online Child Predation" by The Floridian's Jim McCool – With internet use more prominent than ever as a result of the COVID-19 pandemic, so have internet-related crimes involving minors. With 1 in 5 children being sexually solicited online, Florida State Senator Lauren Book (D-32) has established free resources online in order to combat online child exploitation and predation. This past year, children and teens' increased reliance on digital devices during COVID community closures has exacerbated the threat of online predation, and according to the National Center for Missing end Exploited Children, there has been a 97.5% increase in online enticement reports in 2020 compared to that same 12-month period in 2019.
"Mast Accused of Politicizing Lake Okeechobee" by The Floridian's Daniel Molina – Florida Rep. Brian Mast (R) may have landed himself in hot water after Florida lawmakers directed a letter to him, arguing that he is politicizing Lake Okeechobee. A number of Florida Mayors signed on to the letter, expressing that "over the past few years, we have watched with tremendous concern as you have politicized issues and advocated for policies that would harm our communities, all while ignoring real solutions to help Lake Okeechobee, the liquid heart of our state." As lawmakers hurry to answer the environmental concerns of Lake Okeechobee, Florida Rep. Greg Steube (R) has also directed a letter to "the Army Corps of Engineers to reject calls to drastically lower the level of water in Lake Okeechobee or to develop a regulation schedule that does not fully implement the authorized purposes of the federal project.ƒ"
"Wasserman Schultz Grills Fisher-Price Over Their Deadly 'Rock 'n Play' Sleeper" by The Floridian's Jim McCool – After executives at Fisher-Price ignored repeated safety warnings about the company's once-popular Rock 'n Play sleeper, and even after infants began to roll over and die in the now-recalled product, the House Oversight Committee may be coming down hard on the corporation as Rep. Debbie Wasserman-Schultz (D-FL) grilled the company over their controversial product. Rep. Schultz claimed on Twitter that the company's CEO & Senior VP publicly admitted the controversial Rock 'n Play that has taken the lives of multiple infants, was not adequately researched for safety before releasing to the public.
"Murphy Increases Hurricane Awareness, Biden Double aid for FL" by The Floridian's Jim McCool – With everything going on in Florida politics, it is important to remember that Hurricane Season— Florida's biggest political issue— is right around the corner and President Biden (D) has just doubled federal hurricane aid for Florida. Starting May 15th the NHC started tropical weather outlooks ahead of their usual June 1st kickoff date. And with a record-breaking 30 name storms in the Atlantic last year, we could be looking at a long and fatal hurricane season.
"Fired Florida health official plots run against Matt Gaetz" by Fox News' Houston Keene – The Florida Department of Health (DOH) official who was fired for alleged insubordination announced her campaign against embattled Rep. Matt Gaetz, R-Fla., for his House of Representatives seat. Rebekah Jones, a critic of Governor Ron DeSantis' COVID-19 response that claimed the governor told her to alter coronavirus data, took to Instagram to announce her candidacy on Monday hours after being suspended from Twitter for violating the site's "rules against platform manipulation and spam."
"Gov. DeSantis seeks to shield Florida's universities from Chinese espionage, theft" by Fox Business' Brittany De Lea – Florida's Republican Gov. Ron DeSantis signed a bill on Tuesday to protect higher education institutions in the state from espionage and intellectual property theft carried out by China's Communist Party. Known as HB 7017, the bill requires more transparency and disclosure from scientists, technicians and administrators on foreign support for postsecondary institutions. It also increases scrutiny for research grants. "Make no mistake — China is a hostile foreign power, and every Governor has the responsibility to protect their education system, and every other entity within their purview, from the espionage and commercial theft undertaken by the Chinese Communist Party," DeSantis said in a statement.
"Rubio, Scott Urge Biden Administration to Re-implement Prohibition on Chinese Citrus Imports, Protect Florida Growers" by Press Release, Sen. Rubio – U.S. Senators Marco Rubio (R-FL) and Rick Scott (R-FL) sent a letter to U.S. Department of Agriculture (USDA) Secretary Tom Vilsack urging him to protect Florida's citrus growers by re-implementing a prohibition on the importation of five varieties of citrus fruits from China. "The USDA's decision continues to risk an increase in unfair trade competition by Chinese government-subsidized products and could be exposing domestic growers to a host of invasive pests and diseases," the senators wrote.
"Fired Florida data official Rebekah Jones yo-yoes on congressional bid" by WPTV's Forrest Saunders – The last 24 hours have been a wild ride for one of Florida's most controversial figures. Rebekah Jones was recently banned from Twitter, criticized by the governor's office and has said she is running for Congress. But it's unclear if she will actually run for Congress. If you're confused, you're not alone. Jones is a former Florida Health official, fired last year for alleged insubordination. She has claimed she refused to manipulate COVID-19 data to justify reopening the state.
National:
"Kamala Harris' mixed messages on the border: From migrant 'embrace' to 'do not come'" by Fox News' Adam Shaw – Vice President Kamala Harris on Monday issued a tough warning to potential migrants, telling them "do not come" to the U.S. and warning that she believed they would be turned back — a stark contrast to a more welcoming message she had issued in past years. "I want to emphasize that the goal of our work is to help Guatemalans find hope at home, at the same time I want to be clear to folks in this region who are thinking about making the dangerous trek to the United States-Mexico border — do not come, do not come," she said in Guatemala.
"Hawley, GOP senators delay Biden OPM nominee confirmation over critical race theory, abortion stance" by Fox News' Thomas Barrabi – Senate Republicans are delaying confirmation proceedings for Kiran Ahuja, President Biden's nominee to serve as head of the Office of Personnel Management, amid concerns about her stance on critical race theory and abortion rights. Sen. Josh Hawley, R-Mo., is leading the effort to hold up Ahuja's confirmation after previously expressing concern about her viewpoint during her confirmation hearing in April. The objections from Hawley and other GOP senators effectively blocked a fast confirmation vote on Ahuja's nomination, which will be subject to debate on the Senate floor.
"Biden ends infrastructure talks with Capito amid disagreements on spending" by Fox News' Thomas Barrabi and Jacqui Heinrich – President Biden broke off negotiations with a group of GOP senators led by Sen. Shelley Capito on Tuesday (R-W.Va.) amid disagreements regarding the structure and size of his proposed infrastructure spending plan. Discussions between the White House and Capito's group were cordial, and Biden walked away feeling as though the negotiations ran their course and were in good faith, an administration source told Fox News. Talks broke down because Biden wanted Republicans to present a more significant number for infrastructure investments and because he felt their plan to pay for a proposed $1 trillion package lacked specifics.
"Democrats fear Biden's agenda may be squandered as they pressure key moderates to abandon Senate GOP" by CNN's Manu Raju and Lauren Fox – Senate Democrats, growing impatient as they watch their ambitious agenda imperiled in the evenly divided chamber, are prepared to go-it-alone on President Joe Biden's sweeping infrastructure package — and pressure Sens. Joe Manchin and Kyrsten Sinema into backing a Democratic-only approach. At a closed-door lunch on Tuesday, Sinema, an Arizona Democrat, informed her caucus that she would try to get a bipartisan deal with Republicans on an infrastructure package and that she had Biden's blessing to make that attempt, according to three sources in the room.
"Oregon Republicans call on GOP state lawmaker to resign after video shows him appearing to tell protesters how to enter closed state Capitol" by CNN's Chris Boyette and Devan Cole – Republican members of Oregon's House of Representatives have called on an embattled member of their caucus to resign after newly surfaced video showed him appearing to give protesters insights into how to access the state Capitol, which led to a scuffle between protesters and police last year. In a letter sent by every Republican in the chamber to GOP state Rep. Mike Nearman on Monday, the lawmakers say they "strongly recommend" he resign from his position in the legislature. "Given the newest evidence that has come to light regarding the events of December 21, 2020, it is our belief as friends and colleagues that it is in the best interests of your caucus, your family, yourself, and the state of Oregon for you to step down from office," the letter states.
"Senate passes massive bipartisan bill to combat China's growing economic influence" by CNN's Ali Zaslav, Jeremy Herb, Ted Barrett and Phil Mattingly – The Senate passed rare bipartisan legislation on Tuesday aimed at countering China's growing influence by investing more than $200 billion in American technology, science and research. The final vote was 68-32. Independent Sen. Bernie Sanders of Vermont was the only member of the Democratic caucus to vote against the bill. Nineteen Senate Republicans joined Democrats voting for passage.
Passage is a victory for Majority Leader Chuck Schumer, a New York Democrat who co-wrote and strongly backed the measure, and for President Joe Biden, who made reaching across the aisle a central promise of his governing strategy, although he has faced criticism for moving unilaterally on his largest agenda items to this point.
"Democrats Consider Changes to Voting Bill Amid Manchin Opposition" by WSJ's Siobhan Hughes and Eliza Collins – Senate Democrats said they were considering changes to their election overhaul proposal, after pivotal centrist Sen. Joe Manchin made clear he opposed both the current bill and any imminent move to weaken Republicans' power to block legislation. "We're open to changes and modifications as long as it does the job," said Senate Majority Leader Chuck Schumer (D., N.Y.). He added that "we've had discussions with Sen. Manchin and they're continuing." The voting measure touches on nearly every aspect of the election system, from how districts are drawn, to how campaigns are financed, to how voters register and verify their eligibility.
"IRS Is Investigating Release of Tax Information of Wealthy Americans" by WSJ's Richard Rubin – Federal authorities are investigating the release of wealthy Americans' tax information, Internal Revenue Service Commissioner Charles Rettig said Tuesday. ProPublica, a nonprofit news organization, published details about the reported income and tax payments of some of the richest Americans, including Amazon.com Inc. Chief Executive Officer Jeff Bezos and Berkshire Hathaway Inc. CEO Warren Buffett. Taxpayer information is confidential, and there are potential criminal penalties for IRS employees or others who release such information. Mr. Rettig told lawmakers that there were internal and external investigations beginning, with potential prosecutions to follow.
"FDA Approval of New Alzheimer's Drug May Boost Prospects of Other Treatments" by WSJ's Joseph Walker – The Food and Drug Administration's approval of Biogen Inc.'s BIIB +0.32% Aduhelm on Monday may have boosted the prospects of other experimental Alzheimer's disease drugs that target the disease in a similar way. In greenlighting Aduhelm, the FDA endorsed a hypothesis about Alzheimer's that not long ago was thought dead: The disease can be treated by clearing the buildup of a sticky substance in the brain known as amyloid. Many scientists studying Alzheimer's aren't ready to give up on the amyloid hypothesis, but there isn't a consensus on precisely what role amyloid plays in the disease.
"Job openings reached record in April, as worker shortage concerns rose" by Politico's Rebecca Rainey – U.S. employers had 9.3 million job openings available at the end of April, the Bureau of Labor Statistics reported Tuesday, the highest number recorded since the government started collecting the data in 2000. Employers hired 6.1 million workers in April, according to the monthly Job Openings and Labor Turnover survey, a small increase from the 6 million hired in March. At the same time, the rate of workers quitting jobs reached the highest level on record in April, while layoffs reached a series low. Business concern: The new data, coupled with a mediocre May jobs report, is fueling business complaints of a labor shortage. The National Federation of Independent Business' measure of small business optimism fell slightly last month, as nearly half of business owners reported being unable to find workers to fill job openings.