Congressman Anthony Sabatini?
The CPAC convention took place this past weekend in Orlando, and while President Donald Trump owned the event after closing out the annual event, State Rep. Anthony Sabatini told The Floridian that he was strongly considering a run for Congress in the 2022 midterm election cycle.
Yes, Trump Republican Rep. Sabatini is now expected to run for the U.S. Congress. MUST-READ
Trump/DeSantis 2024?
President Trump hinted that he would run for a second term during his speech, but a new poll but conducted by the American Conservative Union shows that if Trump does not run in 2024, Gov. Ron DeSantis is the next choice for Floridians as president.
But what if Trump runs, would he pick DeSantis as his running mate?
Can you imagine that combination?
Trump wins.
Marco Rubio @marcorubio–It's funny to hear hispanic politicians who have opposed me every time I have run now demanding I support Becerra for HHS just because he is a hispanic
Rick Scott @SenRickScott–I'll always support ensuring that our honorable men and women who have served our nation are well taken care of. Glad to see @FLVetsAffairs and @FLSERT helping homebound veterans in #Florida get access to COVID-19 vaccines.
Rep. Matt Gaetz @RepMattGaetz–Unlike the Left and Establishment Republicans, the America First movement will NEVER sell out to foreign interests abroad or special interests at home. The American people will always come first.
Congressman Byron Donalds @RepDonaldsPress It's time we speak truth in the nation's Capitol: The American Rescue Plan is being sold to the public as COVID-19 aid, yet only 9% of the funds are directed towards providing stimulus relief. The American taxpayers deserve better than radical and fake relief bills.
Congressman Greg Steube @RepGregSteube–Today is #TermLimitsDay, where we recognize the anniversary of the 22nd Amendment limiting presidential terms. Career politicians foster an environment for the deep state to prosper, and I support term limits on all levels of government.
Congresswoman Kat Cammack @RepKatCammack–The "COVID relief" bill the House passed last night is a) bad, b) bad, and c) bad. There's nothing good about it. Only nine percent goes to actual COVID relief. With all the partisan favors shoved in, we should call it Pelosi's Partisan Payoffs. I'm fighting against it.
Gus Bilirakis @RepGusBilirakis–Proud to work with my colleagues in a bipartisan/bicameral way to ensure folks can rely on the 9-1-1 system. This is especially important as we continue to battle #COVID19 and move closer to #HurricaneSeason.
.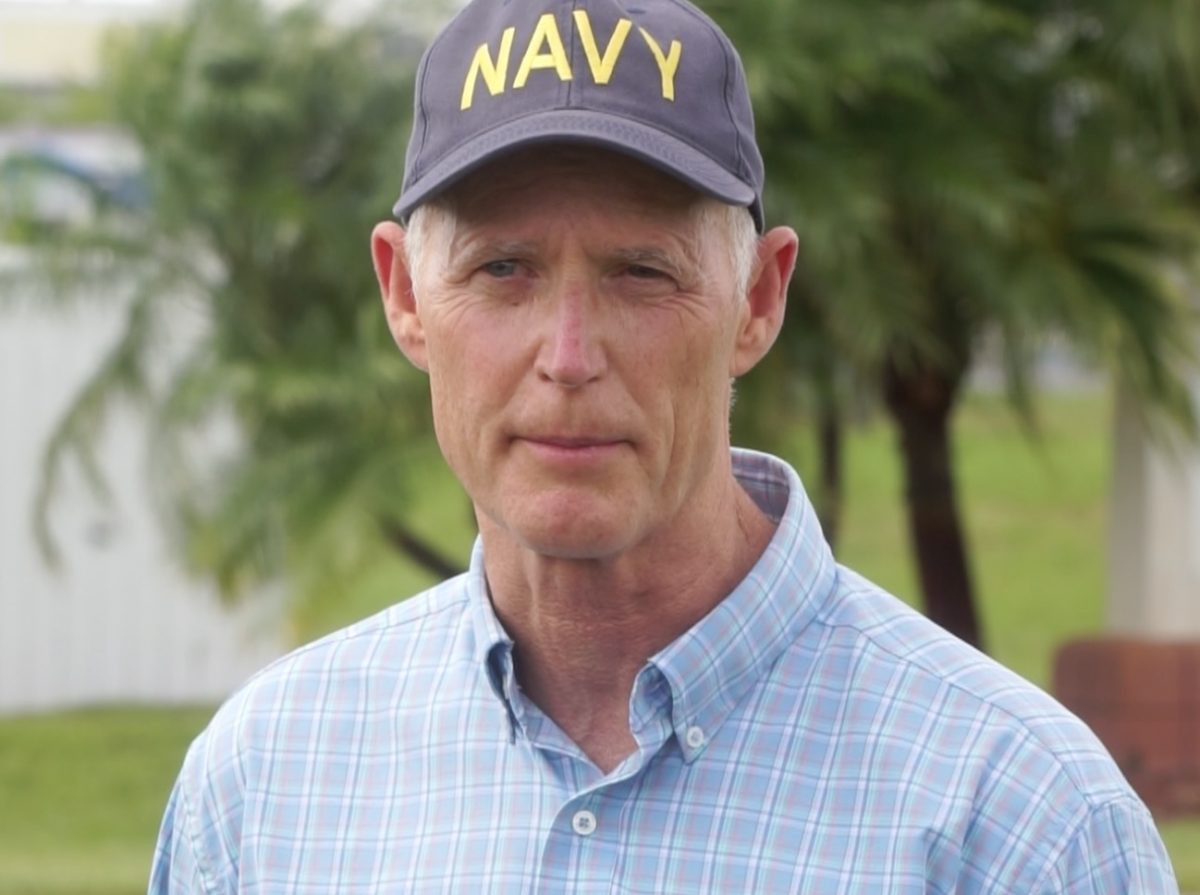 "Trump At CPAC Says 'The Incredible Journey' Is 'Far From Being Over'" by The Floridian's Mona Salama – In a speech closing out the Conservative Political Action Conference (CPAC), former President Donald Trump teased a 2024 presidential run while targeting President Biden on his immigration policies and demanding he "get the schools open." "I stand before you today to declare that the incredible journey we begun together we went through a journey like nobody else. There's never been a journey like it, there's never been a journey so successful," Trump began his first speech since leaving the White House last month. "We began it together four years ago and it is far from being over. And you know what this is? The hardest working people, hard-working American patriots, it's just getting started and in the end, we will win. We've been doing a lot of winning." "We are gathered this afternoon to talk about the future of our movement, the future of our party, and the future of our beloved country," Trump added, saying the "the next four years" he will "continue to fight" alongside the "brave Republicans in this room will be at the heart of the effort to oppose the radical Democrats, the fake news media and their toxic cancel culture." The former president breaking with political tradition tore into Biden's first 39 days of his presidency, labeling the president and his administration as "anti-jobs, anti-family, anti-borders, anti-energy, anti-women and anti-science."
"Trump Wins 2021 CPAC Straw Poll" by The Floridian's Mona Salama – Former President Trump won the Conservative Political Action Conference (CPAC) annual straw poll with 55 percent of attendees saying they would vote for him again if he were to run in a hypothetical 2024 Republican primary if it were to occur today. While Trump received 55 percent of the vote, 21 percent said they'd vote for Florida Gov. Ron DeSantis. Come in at third was South Dakota Gov. Kristi Noem who received 4 percent of the vote. In the straw poll, 68 percent of the participants said they would like to see Trump run again for president in 2024, compared to 15 percent who stated they wouldn't. 17 percent stated that they were unsure. Almost Ninety-five percent of the poll participants said they want to continue with Trump's agenda and policies within, with 3 percent saying the GOP should change directions and 2 percent saying they were uncertain.
"Rep. Marjorie Taylor Greene Heckled By Fake Qanon Supporter" by The Floridian's Javier Manjarres – During a public speaking event at this past weekend's CPAC conference in Orlando, Florida, Georgia Rep. Marjorie Taylor Greene (R) was interrupted by an individual claiming to be part of the Qanon movement and a supporter of the congresswoman. In a video recorded by The Floridian's Jim McCool, the individual can be seen casually walking up to the dais were Rep. Greene as if he did not want to draw attention to himself until he made his remarks. "We go one, we go all," yelled the heckler, prompting Rep. Greene to emphatically and repetitively say "No" to his statement. "No, no, no! Get Out!" said Greene. The heckler was quickly escorted out of the room, but just as he was about to exit through the door, he drew himself against the door and floor so that the photographer he brought with him could catch the staged heckling on video. Both men quickly exited the hotel, but The Floridian was able to catch up to them in the parking lot, where it was made abundantly clear to us that these two men were not "Q" supporters, let alone supporters of Rep. Greene.
"Anthony Sabatini Considering Congressional Run in 2022" by The Floridian's Javier Manjarres – The final day of the annual Conservative Political Action Committee (CPAC) conference in Orlando, where Gov. Ron DeSantis, Senator Rick Scott, Reps. Matt Gaetz, Byron Donalds, Greg Steube, and Kat Cammack, all addressed the Conservative base of the Republican Party, Florida State Rep. Anthony Sabatini appears to have made the biggest news this weekend. A rumor was floating around the conference that Rep. Sabatini, a Trump Republican, was going to run for the U.S. Congress in the 2022 election cycle. The Floridian reached out to Sabatini to discuss the rumor we had heard from several attendees, but Sabatini was unavailable for any comment. But on Sunday, just hours before President Donald Trump gave his highly-anticipated speech, The Floridian caught up to Sabatini at the Rosen Plaza hotel, where the popular conservative had appeared on a panel with Rep. Paul Gosar (R-AZ) about the threat of "Big Tech." We asked Sabatini to confirm the rumor that he was considering a run for Congress in Central Florida, but Sabatini neither confirmed nor denied the rumor, only saying that he was interested in running for Congress. Sabatini grinned and said "I have been giving it a lot of thought," but would not elaborate any further. With redistricting taking place later this year, and with Florida expected to gain two new congressional seats, the new congressional lines in the Orlando area could open up several opportunities for Sabatini.
"Progressive Black Activist Verbally Attacks Child At CPAC" by The Floridian's Javier Manjarres – This past Saturday outside of the CPAC convention in Orlando, Florida, a small group of Black Lives Matter/ANTIFA activists stood outside of the event to protest Conservative principles and values. One of the activists used a bull horn to get is hate-filled message across, crossing the street to espouse hatred and bigotry against a group of counterprotests, Black Republicans, and one child. Moments after calling Michael from 'Blacks for Trump" an "Uncle Tom" and verbally abusing and antagonizing an elderly black man by calling him "old," the activists turn his anger against a young boy who merely stated to him," I don't like you." "It's OK man, I know you feel that way in middle school, where you feel that you're all alone.," said the protestor. "All your classmates are minorities." The boy responded by asking, "middle school? I'm going to break his neck." The child got a bit confused and told the activist that he was in the 8th grade, which is middle school. The activist laughed at the child and asked, "What insult is middle school, blue shorts?" The child was wearing blue shorts. Watch the Video. This guy attacks the child. Unbelievable.
"Gosar Calls For Investigation of 2020 Election Results" by The Floridian's Jim McCool – Although we are over a full month into the Biden Presidency and over 3 months since the election, House Republicans are not giving up in their fight for a fair election result. An Arizona superior court recently ruled that there can be an investigation into the voting machines of the state of Arizona. Luckily, The Floridian was able to speak with a top-tier Arizona representative, Rep. Paul Gosar (R-AZ). Gosar, who represents Arizona's 4th congressional district, was one of the house members who was committed to objecting to the election results of President Biden (D). During CPAC in Orlando Gosar answered questions about his own State's Supreme Court ruling, and what this could mean for the future of American elections. Gosar responded, "The thing that we're going to see is, we're going to expose, basically, the process," adding that too many things were amiss. For example, there was a small audit of 100 random duplicate ballots, and when they ran those, they got a 3% error rate and it is how that 3% came about." Gosar further elaborates, "When you saw Joe Biden come to Arizona, he had nobody to attend his rallies, but yet you see Donald Trump, and tens of thousands came from all over the place.", Gosar puts it plainly, "It didn't make sense. We asked for transparency, and we got lawsuits from Maricopa County."
"Second Former Aide Accuses Scandal Plagued Cuomo Of Sexual Harassment During Height Of Pandemic Lockdown" by The Floridian's Mona Salama – A second former aide to New York Gov. Andrew Cuomo (D) has come forward to accuse him of sexual harassment, during the time the state was the epicenter of the coronavirus pandemic last spring. Charlotte Bennett, who was an executive assistant and health policy adviser and only 25 years old told The New York Times that the governor harassed her before she left his administration in November. The former aide said that Cuomo would continuously ask her questions about her sex life, including whether if she had ever slept with an older man being that she was in her mid-20s. During one incident she vividly described to the publication a time in June when she was "alone" with the governor in his State Capitol office where he allegedly asked her if she thought that his age being 63 made a difference in romantic relationships along with the fact that he was open to having relationships with women in their 20s. She said those types of remarks were "comments she interpreted as clear overtures to a sexual relationship." Despite Bennett stating that Cuomo never tried touching her, the governor's "message" and "comments" during that exchange about age and relationship were "unmistakable to her." "I understood that the governor wanted to sleep with me, and felt horribly uncomfortable and scared," Bennett told The Times. "And was wondering how I was going to get out of it and assumed it was the end of my job."
"CPAC Chairman Matt Schlapp Tangles With CNN's Jim Acosta (VIDEO)" by The Floridian's Javier Manjarres – During the annual Conservative Political Action Committee (CPAC) conference in Orlando, Florida, Chairman Matt Schlapp had a tense confrontation with former White House and CNN Reporter Jim Acosta, accusing the antagonistic and controversial journalist of comparing him to a Nazi. The two men were engaged in a somewhat heated dialogue about the recent 2020 general election where Conservatives like Schlapp believe that the "illegal voting in the last election" led to the defeat of President Donald Trump. "You just told me there was illegal voting in the last election," said Schlapp. "You don't know how many." Acosta then took a shot at Schlapp and his group, asking Schlapp if the annual CPAC conference was actually the "Big Lie Conference." Schlapp fired back.
"Soto Praises Passage of $1.9 Trillion COVID Relief House Bill" by The Floridian's Javier Manjarres – The U.S. House of Representatives has just passed the highly-anticipated $1.9 Trillion COVID-19 stimulus bill early Saturday morning, a measure that Democrats have championed and Republicans have criticized as being wasteful spending. Rep. Darren Soto, a Democrat from Orlando, Florida, voted in favor of the measure that passed along political party lines. "On day one, President Biden promised that help would soon be on the way," said Congressman Soto. "Today's vote of the American Rescue Plan puts us on a clear path towards recovery and brings us one step closer to ending this crisis. President Biden's bold, strategic relief package delivers the long-overdue resources needed to meet the needs of Central Florida's families. With a robust national vaccine program, plan to reopen schools and direct checks to Floridians, we're reminded of the hope for a post-pandemic future. I'm proud to join my colleagues to deliver for families across America, and I look forward to the Senate taking quick action. Our constituents cannot wait any longer!"
"House Democrats Pass $1.9 Trillion Non Family-Friendly Stimulus Bill" by The Floridian's Jim McCool – Early Saturday morning, the House of Representatives passed the much anticipated $1.9 Trillion COVID relief bill that Democrat contest will benefit the vast majority of Americans, cut the measure that passed along party lines (219-212) at 2 am Saturday, may not be as family-friendly as promoted. Rep. Stephanie Murphy (D-FL), who labels herself as a moderate Democrat, and could be a potential challenger to Senator Marco Rubio (R-FL) in 2022, has voted in favor of the bill, a bill that Republicans are calling a Progressive wish list. Murphy claims that she was, "proud" to support the relief bill, adding that, "this COVID relief bill that will help Florida families and businesses struggling through no fault of their own. We're now a step closer to delivering direct checks to households, expanding unemployment assistance, and getting the vaccines to every America." However, one may wonder how "family-friendly" is, as ONLY 1% of the funds are directed to the vaccine and 9% goes to stimulus relief.
"House Passes Biden's $1.9 Trillion COVID Relief Package" by The Floridian's Mona Salama – The House of Representatives voted to approve President Biden $1.9 Trillion COVID relief package in the early Saturday morning hours with the bill now heading to the Senate which includes the $15 an hour minimum wage hike provision, despite the Senate parliamentarian ruling that it cannot be included if Congress wants to use the budget reconciliation process to pass with 51 votes. The votes were 212-219, nearly along partisan lines. Only two Democrats — Reps. Kurt Schrader of Oregon and Jared Golden of Maine joined the entire Republican House caucus in voting against this measure. Biden's bill, dubbed the American Rescue Plan, includes only 10% of the package address the pandemic. With the price tag of $1.9 trillion, it includes allocating only $1,400 instead of what Biden promised last month of a $2,000 stimulus checks for American individuals making under $75,000, $400 per week supplemental unemployment bonus extending until September, $160 billion for vaccine development, distribution and related needs, an extra $130 billion funding to apparently aid schools fully reopen, $30 billion in emergency rental assistance and programs for the homeless and $350 billion bailing out funds for cash-strapped state and local governments who destroyed their economy with draconian lockdowns.
"WH Says 'Kids In Cages' Have Access To 'Educational Care' While Failing To Reopen Schools For American Children" by The Floridian's Mona Salama – White House press secretary Jen Psaki claims the "new" detention facilities in Texas, the same center former President Trump was viciously attacked for keeping "kids in cages" have "been revamped" due to the Biden Administration main focus on providing detained migrant children quality access to "educational services," despite failing to re-open schools for Americans nationwide. During Thursday's White House daily press briefing, Psaki was questioned by an NBC reporter, who happened to be the 2020 presidential debate moderator last October about Rep. Alexandria Ocasio-Cortez (D-NY) being "displeased with" the Biden administration handling child migrants being held at detention facilities. The press secretary attempted to justify the reasoning for the administration reopening the detention center in Texas, the facility that was only opened for a month amid accusations the Trump administration were keeping "kids in cages," this time by now claiming that these children are "fleeing prosecution" and "threats in their own countries." "What is happening now is there are children fleeing prosecution, fleeing threats in their own countries, traveling on their own, unaccompanied, to the border. And our focus is on approaching this from the view of humanity and from and with safety in mind," Psaki responded.
"Florida's Sunday COVID update: 5,539 cases, 126 deaths, 1.68 million fully vaccinated" by Miami Herald's David J. Neal – Sunday, the Florida Department of Health's COVID-19 dashboard reported 5,539 new cases and 126 total deaths in the state, continuing trends for each number. Current hospitalizations continued to decrease, a sign of progress against COVID or a factor of the state losing 100 to 200 people per day or a combination of the two. Positive test rates hopped up a bit in the state and Miami-Dade, Broward and Palm Beach. For the novel coronavirus pandemic, Florida has had 1,909,221 total cases, 30,852 resident deaths and 31,406 total deaths. The state's positive test rate Saturday was 6.40%, according to the daily COVID-19 report, after four consecutive days under 6.0%
▪ Florida: The state's vaccination report says another 12,149 have received their second COVID vaccine dose, meaning 1,337,431 people are halfway through the vaccine and 1,680,230 are fully vaccinated.
▪ Miami-Dade County: The state reported 1,145 people completed their vaccinations, meaning 179,447 in Miami-Dade have received both vaccination shots.
▪ Broward: Another 203 people completed their vaccinations, putting Broward's completed vaccine total at 148,919.
▪ Palm Beach: After 131 people completed their vaccine treatment, 157,746 in Palm Beach County have received both shots.
▪ Monroe: Ten people completed their vaccine shot treatment. Overall, 6,588 have done so.
"Florida Gov. expands executive order that broadens who can give, get COVID-19 vaccine" by Local 10's Michelle Solomon – Florida's governor expanded COVID-19 vaccine eligibility on Friday signing an executive order that now allows doctors, nurses and pharmacists the ability to vaccinate people who are determined to be extremely vulnerable to COVID-19. Under Gov. Ron DeSantis' addition to the first phase inoculation plans for Floridians, Executive Order 21-46 states that persons deemed by a physician to have a high-risk medical condition will now be able to get the COVID-19 vaccine at doctors' offices and pharmacies. Previously, providers could order the vaccine in hospitals for people under the age of 65. The amended order says that the first phase of vaccine administration included persons 65 and older, long-term care facility resident and staff and frontline health care workers. That remains, but additionally "physicians, licensed under Chapter 458 and 459, Florida Statutes, may vaccinate persons whom they decide are at risk of contracting COVID-19."
"Missing former NFL player Louis Nix found dead in Florida" by NBC News' Doha Madani – Former NFL defensive lineman Louis Nix was found dead Saturday at age 29, days after he was reported missing in Jacksonville, Florida. Nix's mother confirmed his death after authorities pulled a vehicle matching his car's description from a retention pond near his apartment, NBC affiliate WTLV reported. The Jacksonville Sheriff's Office said it was looking for Nix after he was reported missing Wednesday. The sheriff's office tweeted late Saturday that Nix had been "located" but did not provide further details. It did not immediately respond to a request for comment Sunday. It was not clear whether a cause of death had been determined. The school described Nix as a four-star prospect who quickly helped "anchor the defensive front" for the team as it fought for championships. Nix was an All-American in his junior year, and he began his senior year on both the Maxwell and Bednarik award watch lists, Notre Dame said. A knee injury he suffered during his final year at Notre Dame continued to ail him in the NFL, however. He needed surgery before he made it to the Texans' training camp and another operation before the end of his rookie season, NBC Sports reported. Nix had stints with the Texans, the New York Giants, the Washington Football Team and the Jacksonville Jaguars during his three seasons in the NFL.
"Brothers arrested in shooting of 2 deputies near Florida-Georgia border" by ABC News' Bill Hutchinson – Two sheriff's deputies were shot and wounded, one critically, on a Georgia highway Saturday night when two brothers in a vehicle being chased allegedly opened fire with a rifle, authorities said. One of the brothers, Troy Arthur Phillips, 40, was captured on Sunday following a statewide search, Decatur County Sheriff Wiley Griffin announced on Facebook. Phillips' brother, Brad Phillips, 41, was arrested shortly after the shooting that left the Decatur County sheriff's deputy critically wounded, according to the Georgia Bureau of Investigation. The shooting unfolded when a Decatur County Sheriff's deputy attempted to assist a Seminole County, Florida, sheriff's deputy in a chase on U.S. Highway 84 that started in Florida and crossed into Georgia, Griffin said. During the chase, the occupants of a white Chevrolet pickup the deputies were attempting to stop for speeding and reckless driving opened fire with what investigators believed to be a .30 caliber rifle. The deputies returned fire as the chase continued, investigators said. "The suspects drove into the driveway of a Decatur County residence and attempted to gain entry by shooting through the door," according to the Georgia Bureau of Investigation statement. The Decatur County deputy arrived at the scene as the suspects were fleeing the residence in Brinson, Georgia, and one of the brothers allegedly shot the deputy while he was still in his vehicle.
"Audit reveals problems, solutions for Florida's CONNECT unemployment system" by Hadas Brown – A hearing Monday will address problems and potential solutions for Florida's troubled unemployment system. An audit conducted by ISF shows the CONNECT system was not ready for the volume of claims the pandemic brought about. "It just went off so quickly and rapidly," State Senator Linda Stewart said. "We found out that the problems were so deep that we could not hardly get our people taken care of." Stewart says her office still hears from some waiting for their first check. The audit shows that the pandemic brought in more claims over 11 months than in the previous eight years combined. ISF says the system was already in need of improvements before that surge. While the Department of Economic Opportunity took steps in the months that followed, such as adding more servers and staff, the audit says improvements will have to focus on "continuous modernization." "We've got to take it down and rebrand it and bring it up so it's user friendly," Stewart said. Some recommendations include finding another company and tailoring its program to fit Florida's needs, providing annual reports to the state in order to track progress, and creating a new office, focused on keeping the process efficient, and those in charge, accountable.
"Florida Representatives file legislation to legalize domestic sports wagering" by WTVY's Cristi McKee – Florida representative Chip LaMarca (R-Lighthouse Point), along with Rep. Anika Omphroy (D-Lauderdale Lakes), have filed legislation to legalize sports wagering in an effort to address the budget shortfall in the state. In a press release, Rep. LaMarca said that the state must get "innovative" in time where many programs are facing cuts. Thursday, Rep. LaMarca and Reo. Omphroy filed this legislation "because Florida has failed to bring legal sports wagering to our state." The representative said that "We have an opportunity to keep that money here in Florida. Allowing online and retail sports betting to operate legally translates into millions in revenue. That's money from Floridians that should be invested in Florida." Three bills, one to implement the policy, one to implement the new license and one to implement the new tax structure, have been filed. HB1317 and HB1321 were filed by LaMarca, and HB1319 was filed by Rep. Omphroy. Rep. LaMarca's full statement can be read below: "As we grapple with a tough budget year and as many good programs are facing deep cuts, it's time Florida gets innovative when it comes to keeping dollars in our state. This is why I will be filing legislation today to legalize domestic sports wagering here in Florida. Right now, Floridians are sending millions of dollars out of the state every year, mostly overseas to foreign countries, because Florida has failed to bring legal sports wagering to our state. We have an opportunity to keep that money here in Florida. Allowing online and retail sports betting to operate legally translates into millions in revenue. That's money from Floridians that should be invested in Florida. Governor DeSantis has made it a priority to make Florida the destination for sports and tourism Capital of America. We have hosted two super bowls, a college football playoff national championship, and countless other major sporting events all within the last twelve months. Floridians and visitors alike demand entertainment choices. I look forward to working with all interested parties in the Legislature on a bill that makes Florida a major player in the online and retail sports wagering industry to help fill budget shortfalls. Bottom line? Safe and regulated domestic sports wagering is an industry Florida deserves."
"Charlie Crist is eyeing a run for governor again. Florida Democrats might not care." By Politico's Gary Fineout – Rep. Charlie Crist switched parties almost a decade ago — but the party has moved on. As the former Republican prepares a potential bid to unseat Florida Gov. Ron DeSantis, the 64-year-old Crist must somehow convince skeptical Democrats that he can energize the diverse coalition that now makes up the party. "I don't think he excites the part of the base that we need to propel a statewide campaign," said Thomas Kennedy, a newly-elected member of the Democratic National Committee from Florida. "I don't think a former Republican governor — who has lost statewide before and, quite frankly, hasn't been at the forefront of the battles that have roiled this county in the last four years — is going to be able to take on what's going to be a really tough race against Ron DeSantis." Crist, a two-term congressman who served as the state's governor more than a decade ago, hasn't officially jumped into the race. But he's reached out to political consultants, major donors such as famed attorney John Morgan, long-time friends like Broward Mayor Steve Geller and other politicians about whether he should try to reclaim the job he once held. Along the way, some of his past allies are beginning to work with other potential Democratic candidates.
"Northern Florida U.S. Attorney Lawrence Keefe Resigning" by North Escambia News – U.S. Attorney for the Northern District of Florida Lawrence Keefe is resigning effective midnight Sunday. He is one of dozens of U.S. attorneys that were nominated by former President Donald Trump that are now resigning. First Assistant U.S. Attorney Jason Coody will serve as the interim U.S. attorney beginning Monday until President Joe Biden nominates a replacement that is confirmed by the U.S. Senate. Keefe was sworn into office on January 9, 2019.
National:
"Republican trolls trillion dollar COVID package, asks for $10,000 stimulus checks instead" by Fox Business' Caitlin McFall – In a last ditch effort to counter the $1.9 trillion coronavirus package passed by the U.S. House of Representatives in the early hours Saturday morning, frustrated Arizona Republican Rep. Paul Gosar submitted an amendment that slashed non relief spending and offered $10,000 stimulus checks instead. "I offered an amendment to prioritize $10,000 stimulus checks to Americans most affected by COVID-19 and lockdowns," Gosar said in a statement to Fox News Saturday. "Instead, Democrats chose foreign aid, Big Tech transit, and Pelosi's political priorities over direct relief to American citizens." Gosar's amendment called for the removal of 10 agenda items out of the American Rescue Plan's more than 200 sections, including funding for the arts, federal and corporate transit projects, "vaccine confidence activities" and foreign aid. The proposal was an attempt to show that by removing non COVID-related funding, Congress would be able to provide substantially more cash in-hand for the U.S.'s most financially vulnerable. "People need help with car payments, mortgage and rent, and everyday necessities," Gosar said. "The government broke it. Now government must fix it. The people, not corporations or billionaires, need this money to survive," he added, saying a $10,000 stimulus check should considered "a down payment." The amendment was a nonstarter with House Democrats.
"Cuomo says he was 'being playful,' but admits he 'may have been insensitive' amid sexual harassment claims" by Fox News' Joseph A. Wulfsohn – New York Gov. Andrew Cuomo attempted to explain his past interactions with staffers as the embattled Democrat is facing multiple accusations of sexual harassment. "Questions have been raised about some of my past interactions with people in the office," Cuomo began in a press release on Sunday. "I never intended to offend anyone or cause any harm. I spend most of my life at work and colleagues are often also personal friends." "At work sometimes I think I am being playful and make jokes that I think are funny. I do, on occasion, tease people in what I think is a good-natured way," the governor explained. "I do it in public and in private. You have seen me do it at briefings hundreds of times. I have teased people about their personal lives, their relationships, about getting married or not getting married. I mean no offense and only attempt to add some levity and banter to what is a very serious business." Cuomo continued, "I now understand that my interactions may have been insensitive or too personal and that some of my comments, given my position, made others feel in ways I never intended. I acknowledge some of the things I have said have been misinterpreted as an unwanted flirtation. To the extent anyone felt that way, I am truly sorry about that."
"Trump uses CPAC speech to tear into Biden on border crisis, says he won't create new party" by Fox News' Adam Shaw – Former President Donald Trump on Sunday tore into President Biden on issues ranging from the brewing crisis at the border to foreign policy – while mapping out what he believes is the future of the conservative movement, and pledging not to create a new party.   "Joe Biden has had the most disastrous first month of any president in modern history," Trump said, calling the new administration "anti-jobs, anti-families, anti-border, anti-energy, anti-women and anti-science." "In one short month we have gone from America First to America Last," he said. Trump spoke at the Conservative Political Action Conference (CPAC), marking his first major speech since leaving office. He spoke to a raucous pro-Trump crowd at an event where his influence was felt throughout. He focused predominantly on the escalating border crisis, which he returned to frequently as he ripped into Biden's rollbacks of a number of Trump-era policies – which has in turn seen a surge in migrants at the border. "It took the new administration only a few weeks to turn this unprecedented accomplishment into a self-inflicted humanitarian and national security disaster," he said. "By recklessly eliminating our border, security measures, controls, all the things we put into place, Joe Biden has triggered a massive flood of illegal immigration into our country like we've never seen before."
"More than a dozen Republicans tell House they can't attend votes due to 'public health emergency.' They're slated to be at CPAC." By CNN's Dana Bash, Manu Raju, Daniella Diaz, Lauren Fox and Michael Warren – More than a dozen of former President Donald Trump's closest Republican allies in the House skipped Friday's votes and enlisted their colleagues to vote on their behalf, signing letters saying they can't attend "due to the ongoing public health emergency." But those members are actually in Orlando and listed as speakers at the Conservative Political Action Conference, an annual meeting aimed at energizing conservative activists and boosting their own profiles. The members include Florida Rep. Matt Gaetz, who addressed the conference on Friday, as well as others who were listed as scheduled speakers — such as Reps. Paul Gosar of Arizona, Jim Banks of Indiana, Madison Cawthorn of North Carolina, Ted Budd of North Carolina, Mark Green of Tennessee, Darrell Issa of California, Ronny Jackson of Texas, Mike Kelly of Pennsylvania, Rep. Lauren Boebert of Colorado, Ralph Norman of South Carolina, Devin Nunes of California and Greg Steube of Florida. While most of the offices of those members didn't respond to requests for comment, an Issa spokesman contended that his boss did nothing untoward. "Congressman Issa complied with all House voting rules in lodging his opposition to what the Democrats labeled as Covid relief, but that devoted more than 90 percent of its total to non-Covid spending," Issa's spokesperson Jonathan Wilcox said in a statement. The move is especially surprising given that Republicans were furious critics of the system to vote by proxy during the coronavirus pandemic, even suing over it and often ridiculing Democrats for staying at home and demanding they return to Washington.