It seems as if the entire moderate or establishment Republican universe is coming out against Congresswoman Marjorie Taylor Greene (R) over her past statements that have now been deemed conspiratorial, insensitive, and even anti-Semite by some, including the Republican Jewish Coalition (RJC).
The RJC, which backed Rep. Greene's 2020 GOP primary opponent in Georgia, has called her "outside the mainstream of the Republican Party" and stated that they were "working closely with the House Republican leadership" to figure out what to do next.
While the RJC did not mention any allegations of anti-Semitism, Rep. Greene is accused of pushing suggested anti-Semitic conspiracy theories, including the theory that a vice chairman of the international investment firm Rothchild Inc, may have been involved in the Paradise Fire in California that wiped out the entire city.
Greene suggested that the fire was started by a laser beam that came from "space solar generators."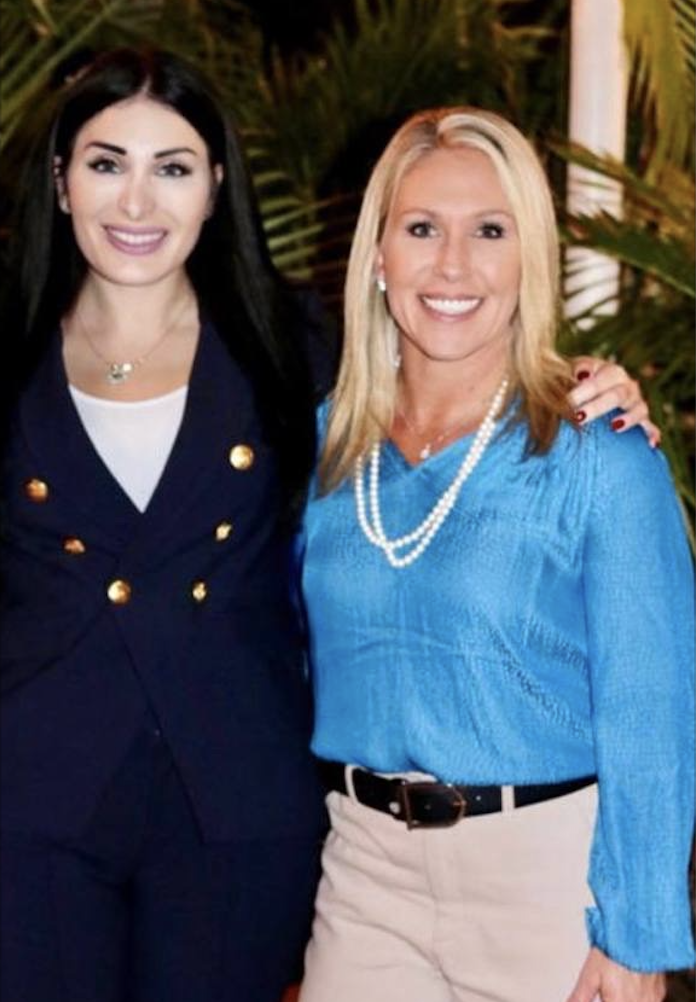 But even though Greene's past rhetoric is highly questionable and in many cases, offensive, the RJC appears to be weighing in because of the alleged anti-Semitic remarks.
There are a lot of people that do support Greene's freedom of speech, including Rep. Byron Donalds (R) and former congressional candidate and Conservative journalist, Laura Loomer.
Loomer, a Jewish woman who ran for congress in Florida's 21st congressional district, did not receive support from the RJC even though she was running against a very liberal Democratic congresswoman, Lois Frankel, who has refused to condemn anti-Semitic Congresswomen Ilhan Omar and Rashida Tlaib.
Loomer weighed in on the Greene' controversy, defending the freshman congresswoman who supported her candidacy in 2020 and cast shade on the RJC.
"The attacks on Congresswoman Greene as "anti-Jewish" are absurd and entirely false. As a Jewish woman who ran for Congress in Florida's 21st Congressional District, the most Jewish district in America, earning the endorsement and vote of President Donald Trump, I'm here to tell you first hand that Congresswoman Greene has been nothing but supportive and kind to me," stated Loomer. "She came to Palm Beach during my campaign to help me, she donated to my campaign, and she has done more to speak out about my De-Platforming than any other member of Congress, including the 28 Jewish members of Congress who have never lifted a finger to help me."
Loomer then took a shot at the RJC, who as we mentioned, refused to involve itself in Loomer's primary race and even after she became the Republican nominee.
"Congresswoman Greene is pro-Israel, and the attacks against her by the GOP establishment, the Jew-hating Democrat Party, the RJC, and other so-called Jewish organizations are rooted in lies, deceit, and misogyny," added Loomer. " It's odd that they have such a hard time accepting a strong, outspoken America First woman. Perhaps they should instead direct their accusations of antisemitism toward the real Jew-haters and terror supporters in Congress, including Ilhan Omar and Rashida Tlaib."-
Loomer continued her screed against the RJC and announced that she would be disassociating herself from the group.
"After seeing RJC's absurd disavowal of Congresswoman Greene, I will no longer be paying my RJC membership dues, and I will be canceling my RJC membership," she continued. "I want nothing to do with an organization that claims to be Jewish if they are going to use my money and the money of other Republican Jews who support Congresswoman Greene to slander her with lies in their press releases. I have made a donation to Congresswoman Greene instead, and encourage other Jews to do the same."
House Republican leader Kevin McCarthy said this week that House Republicans were not going to go after Greene, saying that "past comments from and endorsed by Marjorie Taylor Greene on school shootings, political violence, and antisemitic conspiracy theories do not represent the values or beliefs of the House Republican Conference," but will not seek punitive actions against her.