Broward Clerk of Court's Brenda Forman is running for re-election to her post against two Jewish American candidates, so it's a little curious to see her post a quote from non-other than Adolf Hitler, the person responsible for exterminating 6 million Jews during WWII.
Forman has since taken the quote, which as accompanied by an image of former Prime Minister David Cameron, who happens to resemble Adolph Hitler.
Fort Lauderdale Attorney Todd Baker stated that Forman's posting "wasn't an accident
 and that Forman should be "ashamed of herself."
NO ONE in their right mind would ever reference Hitler in any way. Forman has since deleted the posting, but the damage has been done.
Forman cannot say that she didn't know about Hitler because to simply Google search him, his atrocities towards humanity are in plain sight. What's worse is that the quote in question is from Hitler's Mein Kampf, the Nazi Party leader's manifesto that outlines his anti-semitic roots.
But wait, Forman and everyone else has gotten it all wrong.
Hitler never said this, nor is it written in his Mein Kampf, according to  Politifact,.
Here is the statement:
"The best way to take control over a people and control them utterly is to take a little of their freedom at a time, to erode rights by a thousand tiny and almost imperceptible reductions. In this way, the people will not see those rights and freedoms being removed until past the point at which these changes cannot be reversed. -Adolf Hitler, Mein Kampf"
So, in reality, Forman posted a fake and non-existent quote from Hitler. The quote can be attributed to a 2014 book by Pat Miller (Politifact)
Again, this is no excuse. Forman clearly intended and posted the quote with Hitler being cited as the author.
This should make her re-election effort very interesting, to say the least.
As I went to share her post directly, she deleted it. I saw this post on her page with my own eyes and the screenshots don't lie. She should resign and drop out of the race. Period.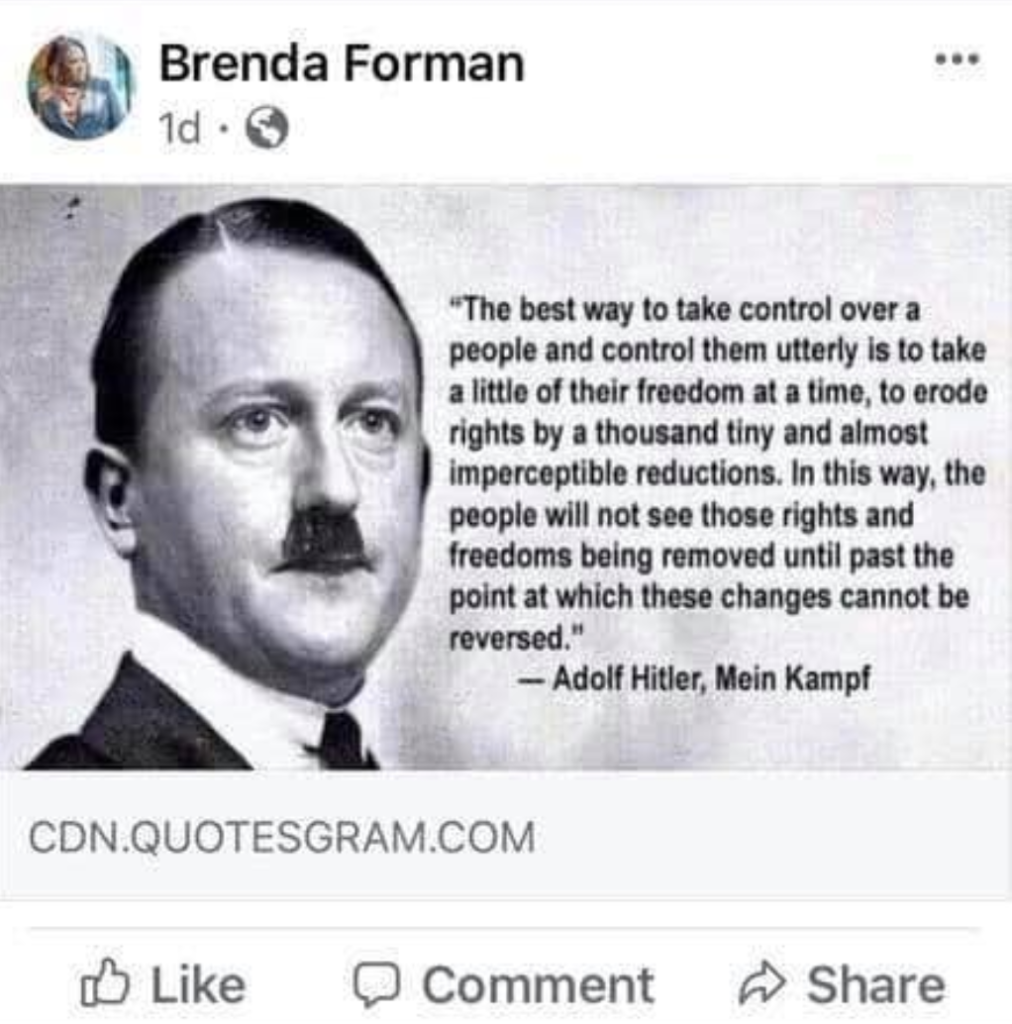 Forman's posting comes as Democratic leaders like Rep. Debbie Wasserman Schultz ha called for any reference to the Holocaust or Nazism to be eradicated from cemeteries and other public spaces.