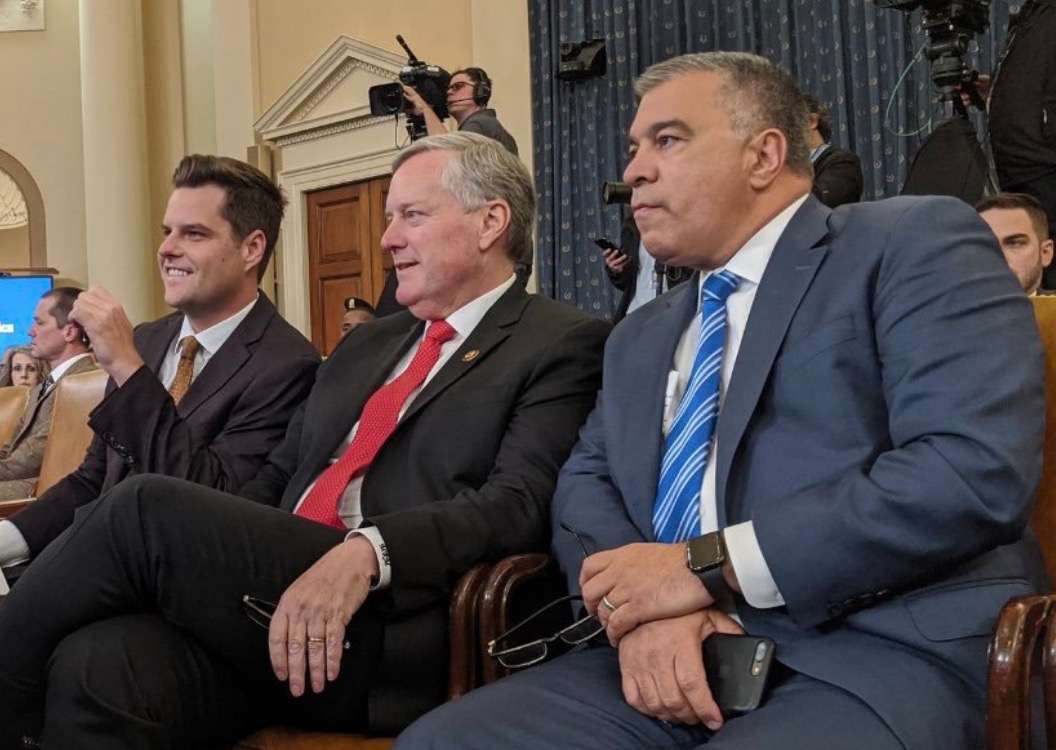 Impeachment: The Repubs and The Dems
take our poll - story continues below
Completing this poll grants you access to The Floridian updates free of charge. You may opt out at anytime. You also agree to this site's Privacy Policy and Terms of Use.
DAY 1 of the open impeachment inquiry hearings has come and gone, and both Republican and Democratic members of the House are claiming victory.
The ugly truth is, there aren't any winners. Everyone is losing.
Chairman Adam Schiff (D), who appears to be reveling in his extended 15 minutes of fame, is clearly the biggest loser after DAY 1.
Schiff appears to have lied to American when asked if he knew the identity of the whistleblower. Of course he knows who the secret witness is, his staff met with him,so he wants us to believe that no one on is staff told him the whistleblower's name?
FUBAR! Read more>>>
Impeachment Inquiry DAY 1 wrap up: The Republicans
Having a fun time of it all, Senor Snark, Rep. Matt Gaetz crucified Democrats throughout the day >>> "House Democrats are having such a bad day they might want to invite Mueller back."
Rep. Ted Yoho echoed what Democratic counsel confirmed during the meeting, that neither witness was even on the call between the Ukrainian president and President Trump. <<< Witnesses to nothing.
Rep. Greg Steube just wants people to read the transcript of the call in question. That's all. "This impeachment is completely partisan—all you have to do is read the transcript to see there's nothing impeachable."
The Democrats:
Rep. Val Demings made the hearsay case for Republicans by furthering Ambassador's statement that his aide overheard a call between President Trump and Sondland.
'My understanding is that the aide asked Sondland 'what did the President think about Ukraine,' and the response was he's more concerned about investigations of the Bidens.'
Rep. Debbie Mucarsel-Powell reiterated Deming's point, saying that the hearsay was "clearly damning" for President Trump. DMP added she expects Republicans will push delay tactics and distort the truth.
Rep. Kathy Castor stated that both Bill Taylor & George Kent detailed "the president's abuse of power." Yes, the detailed second and third-hand accounting. Remember, they acknowledged they weren't even on the call.
While the witnesses answered all the questions to the best of their ability, or to what they heard, the most important question the goes to the heart of the impeachment inquiry was never answered.
Rep. John Ratcliffe (R-TX)— "Where is the impeachable offense in that call? "Are either of you here today to assert there was an impeachable offense in that call? Shout it out." "Anyone?" *
Neither witness could answer the question.

Impeachment talk aside —
Hey grandpa, it's your healthcare – "State Lawmakers Must Boost Long-Term Care to Address the Approaching Silver Wave" (Opinion) The Floridian – For four decades, policymakers have wrestled with how to address the health care needs of Florida's growing elderly population. For years, the concern was that eventually the Baby Boom generation would reach retirement age and our state would have a difficult time meeting their unique needs.
That time has arrived, and today more than one in four Floridians is age 60 or older. These 5.5 million people – that's more than the entire population of 28 states – are placing an increasing burden on Florida's health care and long-term care systems.
To identify meaningful solutions that can work, earlier this year several of the state's leading organizations for this aging population banded together to form the Coalition for Silver Solutions. Last month those organizations – AARP, the Florida Health Care Association, LeadingAge Florida and 1199SEIU United Healthcare Workers East – convened a Silver Summit to set out ambitious but important proposals for the upcoming legislative session.
While the policy goal of the State of Florida is for seniors to remain in their homes as long as possible, the reality is that many elders eventually need more care than can be provided at home. That's where nursing homes step up to help.
Not just the sniffles – " PHARMACISTS COULD GET POWER TO TREAT FLU, STREP" by News Service of Florida's Christine Sexton – Tallahassee In an attempt to increase access to health care, a House panel on Wednesday approved a proposal that would authorize pharmacists to test patients for — and treat — the flu and strep throat. 
"I think this bill is a realization that we need to do more in our state to make sure that folks have access to care," Rep. Tyler Sirois, a Merritt Island Republican who is sponsoring the bill (HB 389), told members of the House Health Quality Subcommittee.
"The flu is a tremendously impactful illness in terms of the effect that it has on our workforce and our children in school," Sirois added. "So what we need to do is make sure people have access to this care. Your pharmacist is easily accessible and available as part of your daily routine, so we really are creating more options for patients in our state and ultimately reducing costs."
But physicians who oppose the bill warned that increased access to care doesn't mean patients will receive top-notch care.…
Saving Florida's Environment – "Rubio's and Scott's environment protection bills advance in the Senate" by The Floridian's Javier Manjarres – Today, Florida's environment received a big boost of support as the Senate Committee on Commerce, Science and Transportation voted to pass the South Florida Clean Coastal Waters Act, the measure that expands research and understanding of blue-green algae and red tide, and the Restoring Resilient Reefs Act of 2019 , which reauthorizes and modernizes the Coral Reef Conservation Act of 2000 "to help restore and protect our nation's coral reef ecosystems."
The two bills were introduced by Florida's Republican U.S. Senators Rick Scott and Marco Rubio.
 "People from across the world come to Florida because of the state's natural beauty," stated Scott "During my eight years as Governor, Florida's annual investments to preserve the environment increased by $1 billion."
 BOO! – "Elections supervisor apologizes for 'scary' letter mailed to voters" by The Sun-Sentinel's Larry Barszewski – Broward's supervisor of elections says he didn't mean to scare 146,000 people who received "final notices" from his office threatening to designate them as an "inactive voter."
After receiving complaints from several voters who questioned why they were receiving the notices — they vote regularly and have not changed their address in years — Supervisor Pete Antonacci said Wednesday he's going to apologize to all who got the mailer.
"We had voters receive this notice from us that is, in fact, a little bit scary," Antonacci said. "It's our plan to send them another postcard, first-class, that certainly expresses my apologies and regrets for aggravating them."
Antonacci said no one's voting status will change as a result of the final notice mailer. The apology will remind voters to update their address if it has changed.
Antonacci said he will have elections workers personally look at the voter files before the status of any voter is switched.
POT – "Legalize marijuana petition a step closer to making Florida's 2020 ballot" by the Orlando Sentinel's Steven Lemongello – Videos on the stem to medication process of medical marijuana collection and processing plays on a television behind the cashier desk at the medical marijuana treatment center Surterra Wellness. The group, now called Parallel, is one of the biggest backers of the Make It Legal Florida petition to legalize recreational marijuana.A second major initiative to legalize recreational marijuana has reached the threshold for review by the Florida Supreme Court.
Make It Legal Florida, the group backed by some of the state's biggest medical marijuana companies, has officially collected more than 77,000 verified signatures. That's enough to trigger a review of its language by the court and analysis of its financial impact by state officials.
While the state lists only officially verified ballots, the group claims in a statement Wednesday that it's gathered almost 390,000 total signatures since it was formed in August. That's more than halfway to the goal of 766,200 signatures it needs by Feb. 1 to get on the 2020 ballot.
The group said the additional signatures are being shipped to elections offices, which have 30 days to verify them.
In triggering a review, the Make It Legal petition joins a separate marijuana legalization initiative by the group Regulate Florida, which reached that threshold in August. Its language has been challenged by Attorney General Ashley Moody, who contends it is too long and confusing.
War on Drugs – "Palm Beach County may drop out of opioid class-action lawsuit" by The Palm Beach Post's Hannah Morse – WEST PALM BEACH — Palm Beach County may opt out of a class-action lawsuit spurred by the opioid epidemic.
County Attorney Denise Nieman told The Palm Beach Post on Wednesday that opting out "means that we'll continue proceeding with the lawsuit we filed" in April 2018.Palm Beach County commissioners will make the final decision on Tuesday.U.S. District Judge Dan A. Polster, who from Ohio has presided over the more than 2,000 lawsuits compiled as the National Prescription Opiate Litigation, has pushed for settlement rather than trial. In a Sept. 11 ruling, Polster the best way to go about this is through "a new form of class action" called "negotiation class certification."
The purpose of negotiation class is to bring all potential affected parties — in this case, more than 34,000 — to the table to negotiate terms of a settlement with certain defendants of the combined lawsuit. Class members were given until Nov. 22 to opt out.
Before opting out, parties can calculate any future allocation based on a hypothetical $1 billion settlement. Palm Beach County and its municipalities could receive $4.7 million, according to the estimate on the negotiation class website.
Former State Senator Rene Garcia sent former Hialeah Councilman Luis Gonzalez a cease and desist letter in regards to the unauthorized use of his image in campaign material.
"Democrat Schiff may have lied during impeachment inquiry hearing" by The Floridian's Javier Manjarres – Rep. Adam Schiff (D), Chairman of the House Intelligence Committee heading the impeachment inquiry hearings of President Donald Trump, may have lied about his knowledge of who the whistleblower in the case is.
When Rep. Jim Jordan (R) pointed out that Schiff was the "only member" who knows the identity of the whistleblower, Schiff responded by calling the statement "false," when in fact it has already been proven that Schiff's office had interviewed the anonymous whistleblower.
"2020 Democratic candidates missing huge amounts of votes" by The Floridian's Javier Manjarres – "Asking for a friend," Florida Senator Marco Rubio (R) posed a question on Twitter, asking why media outlets were not reporting on the amount votes Democratic senators running for president in 2020 have missed since deciding to run for the presidency.
"Is the absence of incessant reporting about how many votes the Democratic senators running for president are missing just an unintentional oversight or evidence of a double standard," asked Rubio.
The news is all about Impeachment, so why bore you with any more talk of it?

@realDonaldTrump -.@RepRatcliffe asked the two "star" witnesses, "where is the impeachable event in that call?" Both stared straight ahead with a blank look on their face, remained silent, & were unable to answer the question. That would be the end of a case run by normal people! – but not Shifty!

@RepValDemings reacts to President Trump calling the impeachment inquiry a "joke."
"There's nothing funny about our country finding ourselves directly involved in an impeachment inquiry due to the inappropriate, really disgraceful behavior of the President."

–@SenRickScott -Our veterans fought to defend the values that make America great. These values can & should be part of our country's future.
Unfortunately, there are many that want to discredit and undermine these values. We can't let that happen.
–@MarcoRubio Dangerously tense situation in #HongKong. Just a few days after #Beijing announced the Communist Party of #China would take a "firmer hand" the police recklessly escalated the violence against protestors. The world is witnessing the true nature of the Chinese government.
–@RepDMP The OAS audit discovered clear manipulation of the elections in #Bolivia leading to @evoespueblo 's resignation. The reports of violence in the streets are disturbing. I urge civility in this time of transition. I stand w/the Bolivian ppl who are fighting for a peaceful democracy.
–@USRepKCastor Every day is Veterans Day in our patriotic Tampa Bay community! I was happy to represent you in the salute to our veterans and their families at the Hillsborough County's Annual Veterans Day Tribute.
–@GwenGraham Legendary Journalist Bill Moyers Says He Fears For The Nation For The First Time In His Life
–@AndrewGillum Seeing as the whistleblower simply repeated what you alreready admitted to – YOU might be HIM.
–@BallardFirm Thank you to all our great servicemen and women who sacrifice so much! #VeteransDay2019
·Great seeing so many scouts out to honor our most patriotic Americans, our Veterans!