During his long-anticipated trip to Israel, Florida Gov. Ron DeSantis has been all business, having met with different private businesses and government officials to bolster economic relations between that nation and the state of Florida.
Gov. DeSantis and the entire Florida delegation met with Israeli Prime Minister Benjamin Netanyahu, where the two men exchange pleasantries and the "strong bond" between Israel and Florida
"It was a pleasure and an honor to sit down with Prime Minister Netanyahu, a great friend of Florida," said Governor DeSantis. "The Prime Minister has been a model of strong leadership for Israel throughout the course of his tenure in public service. I look forward to our continued partnership as Florida remains the most pro-Israel state in the nation."
Having been honored by Ariel University earlier in the week for his dedication to the state of Israel, DeSantis sported a custom "DeSantis" Yamake when visited the Western Wall.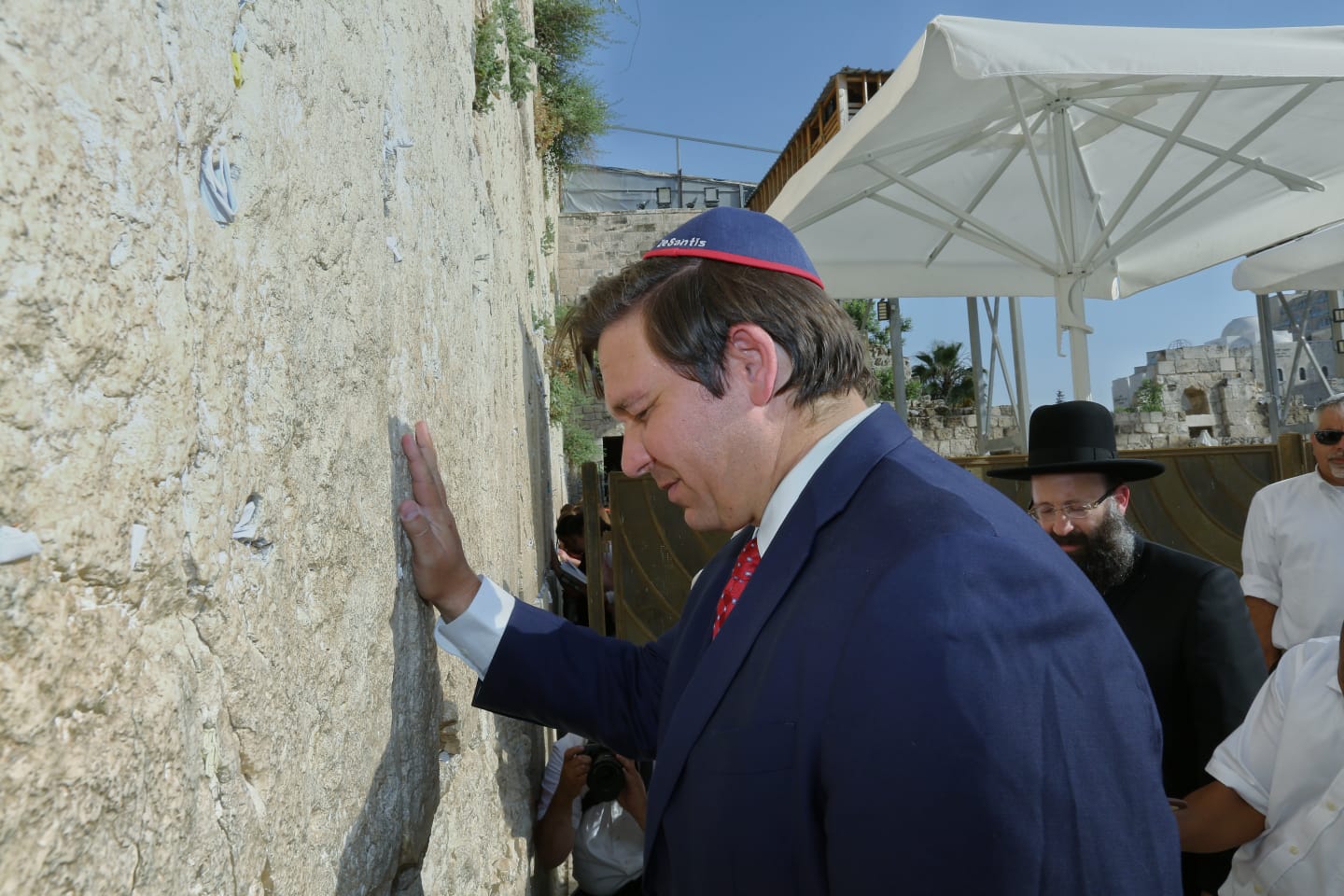 DeSantis also visited the Church of the Holy Sepulchre, both situated in the holy city of Jerusalem.
"It is an incredible privilege to be able to visit the Western Wall and the Church of the Holy Sepulchre," said Governor DeSantis. "The Wall is a lasting testament to the Jewish community and their history as a people and a sacred site of their faith. I am honored to be able to lead this delegation of Florida leaders as they experience the rich history Israel has to offer the world."
It's customary when visiting the Wall to insert a handwritten note or prayer into the cracks. DeSantis inserted a prayer or plea to "spare Florida from hurricanes this season."
Earlier in the day, Gov. DeSantis held a "school safety and security" roundtable meeting with Attorney General Ashley Moody, Chief Financial Officer Jimmy Patronis, Florida Division of Emergency Management Director Jared Moskowitz, Senator Wilton Simpson, Representative Chris Sprowls, Representative Randy Fine, Senator Lauren Book, Representative Joseph Geller and Enterprise Florida, Inc. President and CEO Jamal Sowell.