DeSantis Accused of Trying to Wipe Out Gay's in Florida
Florida Gov. Ron DeSantis is surely used to being called all kinds of names like, "racist" or "bigot" or even a "Right-Wing Nutjob" but I don't think he would ever have thought that someone would accuse him of trying to erase the identities of the entire gay community.
Well, it happened, courtesy of State Rep. "Carlitos" Guillermo Smith, who made another off the way, attention-grabbing remark.
Apparently, by not adding a special funding directive in the state budget for the gay community in Orlando, DeSantis is wiping out Carlitos' identity as a gay man.
Next, can we expect Smith and others to accuse DeSantis of not being a "breeder" and being a closeted gay man?
Wait, DeSantis does wear those black cowboy boots all the, so he may be part of some Village People tribute band? (Sarcasm)
"Young man, there's a place you can go. I said, young man, when you're short on your dough. You can stay there, and I'm sure you will find. Many ways to have a good time
It's fun to stay at the YMCA
It's fun to stay at the YMCA
In Other Political News…
Senator Marco Rubio has taken a shot at potential Democratic senatorial candidate Rep. Val Demings, categorizing her as being one of the socialist-minded House Squad members for her voting record. The Floridian first wrote about how Rep. Demings's voting record was very much in line with how the Squad voted. READ MORE


Rep. Anna V. Eskamani R @AnnaForFlorida-The USA has a history of destabilizing Central America — telling folks not to come is the wrong especially when seeking asylum is legal.
Rep. Omari Hardy @OmariJHardy-Democrats are acting like they have to move heaven and earth to deliver on their agenda. No they don't. They just have to get rid of the filibuster.
Rep. Darren Soto @RepDarrenSoto-The House passed the #DreamAndPromiseAct in March to pave a pathway to residency & citizenship for TPS recipients & many others. This #SCOTUS decision further highlights the need for our Senate colleagues to work with us to fix the immigration system.
U.S. Rep. Stephanie Murphy @RepStephMurphy-Hurricane season is here and I want to make sure all Floridians are adequately prepared. Pleased that @POTUS has doubled the amount of funding available this year from @fema to help cities and states prepare for extreme weather disasters.
Commissioner Nikki Fried @NikkiFriedFL-Florida is the nation's #2 producer of farm-fresh tomatoes — and they're in-season now! Find some @FreshFromFL tomato goodness at a farmers market or festival near you, like the Tomato Feastival at Tallahassee's
Jimmy Patronis @JimmyPatronis-We've worked hard to hold China accountable w/ transparency. Thru @GovRonDeSantis approval of HB 7017, @FLDFS is empowered to identify how China has been working to influence American institutions. If Biden won't push back on China, Florida will.
AG Ashley Moody @AGAshleyMoody-This is a step in the right direction. I urge chief judges to move as quickly as possible to reduce the backlog of in-person criminal jury trials to keep our communities safe.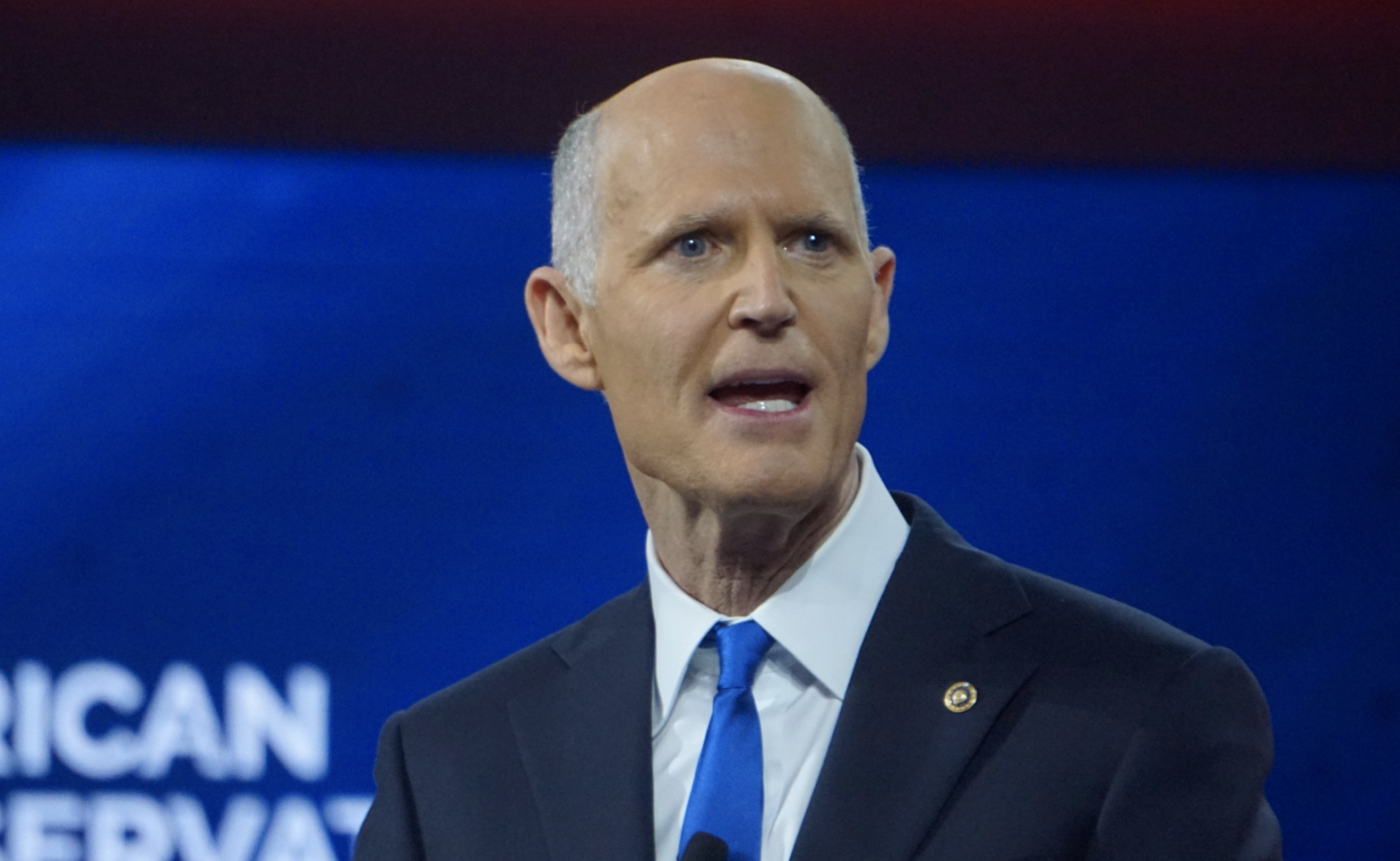 "Nikki Fried Makes 'Bizarre' 2022 Landslide Victory Prediction" by The Floridian's Javier Manjarres
Kamala Harris Greeted In Guatemala With 'Go Home' and 'Trump Won' Messages by The Floridian's Javier Manjarres
DeSantis will Target School Board Candidates who Support Critical Race Theory by The Floridian's Javier Manjarres
"Miami Mayor Francis Suarez Primed to run for President in 2024?" by The Floridian's Javier Manjarres – Miami— During this past weekend's American Conservation Coalition rally at Bayfront Park in Downtown Miami, the organization's founder Benji Backer praised City of Miami Mayor Francis Suarez for his commitment to fighting climate change and endorsed him for President of the United States in 2024. Well, Backer didn't utter those exact words, but he did say that Suarez would make a great president in 2024.
"Rep. Deutch Blames the Squad for Antisemitic Violence" by The Floridian's Jim McCool – With the Israeli-Palestinian conflict mostly subdued as a result of a ceasefire, the tensions have sparked a dialogue in the US around the antisemitic violence that Democrat Rep. Ted Deutch (D-FL) has blamed on the Squad. In the first weeks of the conflict, Squad member Rep. Ilhan Omar (D-MN) made controversial headlines as she called Israeli foreign aid "an act of terrorism," and convinced her other squad members to endorse her characterization of Israel as an "apartheid regime."
"Biden Says He's 'Very Confident' In Fauci Despite Email Controversy Fallout" by The Floridian's Mona Salama – President Biden said he is "very confident" in Dr. Anthony Fauci amid a revelation of thousands of his emails showing the "flip-flip" leading infectious disease expert not being forthcoming about the origins of the coronavirus. Mr. President, do you still have confidence in Dr. Fauci?" a reporter shouted at Biden as he was walking out the room after giving brief remarks touting May jobs report that missed the mark. "Yes, I'm very confident in Dr. Fauci," Biden replied, stucking his head back in to the room to expressing his support for his top COVID response doctor in respondng to the reporter's shouted question.
"Trump Fires Back At Facebook 'Censoring and Silencing' Ban, Vowing Revenge On Zuckerberg When He Returns To White House" by The Floridian's Mona Salama – Former President Trump fired back at Facebook over its decision to suspend his account until at least 2023, blasting the tech giant for "censoring and silencing" the 45th president and vowed revenge to the CEO, Mark Zuckerberg "next time" he's at the White House — dropping the strongest hint yet to date that he is definitely running in 2024. In a pair of statements, Trump called the ruling from Facebook "an insult" to all the 75 million-plus Americans who voted for him. "Facebook's ruling is an insult to the record-setting 75M people, plus many others, who voted for us in the 2020 Rigged Presidential Election," Trump said in an email statement released by his Save America PAC.
"Facebook Extends Trump Suspension To Last At Least 2 Years" by The Floridians' Mona Salama – Facebook has officially announced that they have decided to extend its suspension of former President Donald Trump's account for at least two years due to the remarks he made "prais[ing] people [who] engaged" in the Jan. 6 Capitol riots. "Last month, the Oversight Board upheld Facebook's suspension of former US President Donald Trump's Facebook and Instagram accounts following his praise for people engaged in violence at the Capitol on January 6," Facebook said in the statement release announcing its ruling Friday. "We are suspending his accounts for two years, effective from the date of the initial suspension on January 7 this year."
"Rick Scott to Donate Senate Salary to Children's Charity" by The Floridian's Jim McCool – Senator Rick Scott (R-FL) has announced that he plans to donate, not only his first-quarter salary but his second quarterly Senate salary to charities across Florida to help fight child poverty and diseases such as ALS. Liberty Youth Ranch in Bonita Springs is a residential program for vulnerable children, and Advance Senior Center in Kissimmee provides programs and resources for seniors to promote health, exercise, and entertainment. Liberty Youth Ranch is one of Florida's select 100% privately funded residential programs for vulnerable children since 2003. The institution offers a variety of therapeutic and recreational activities to give children the opportunity to work through their circumstances while enjoying their youth.
"THE FLORIDIAN: State Rep. Alex Andrade" by The Floridian's Javier Manjarres – You won't find the former college cheerleader rooting for Gov. Ron DeSantis with pom-poms in hand, but you will find Conservative Republican State Rep. Alex Andrade pushing DeSantis' Florida First agenda, and in his spare time, he is still trying to Make America Great Again. Andrade can almost be described as being to the right of Congressman Matt Gaetz. Because Andrade and Gaetz are very similar in that they prescribe to a less government, no new taxes, build The Wall agenda, Andrade is considered to be the potential heir apparent to Gaetz whenever the firebrand congressman decides to call it a day and kick up his flip flops.
"Allen West Resigns As Chairman of the Texas GOP" by The Floridian's Javier Manjarres – Texas GOP Chairman Allen West has resigned from the state Republican party, prompting speculation that he will be running for elected office, possibly against Gov. Greg Abbott or Lt. Gov. Dan Patrick, or quite possibly for a congressional seat in the Dallas area. West tweeted," Humbled and blessed by the opportunity to serve…" Statement from the Texas GOP: Chairman of the Republican Party of Texas, Lt. Col. (Ret.) Allen West, has submitted his irrevocable resignation to the officials' meeting as of 8am CT today. He will remain at the helm of the Texas GOP until a new Chairman can be selected on July 11th at an undetermined location as of now.
"Democrat who ran Florida's pandemic response blasts Rebekah Jones for 'running a disinformation campaign'" by Politico's Marc Caputo and Gary Fineout – Jared Moskowitz realized he had a big problem and needed to fix it. As the head of Florida's emergency management department, he was already in charge of pandemic response and had to contend with someone in his office possibly leaking to a purveyor of what he called coronavirus "disinformation." The person receiving the leaks was Rebekah Jones, a fired health department worker who earned national media attention for unsubstantiated allegations that Florida was manipulating Covid-19 death data.
"Florida School Board Votes To Replace Confederate Names At Half A Dozen Schools" by CBS Miami/CNN – After community members demanded the change, a Florida school board has voted to replace the Confederate names of six schools. After debating the issue for a year, the Duval County School Board in Jacksonville approved on Tuesday the district's recommendations to strip and replace the names. The schools to be renamed are Joseph Finegan Elementary School, Stonewall Jackson Elementary School, J.E.B. Stuart Middle School, Kirby-Smith Middle School, Jefferson Davis Middle School and Robert E. Lee High School.
"Viewers react to Jimmy Kimmel calling Florida 'America's North Korea': 'Hateful ignorance'" by Fox News' Cortney O'Brien – ABC late night host Jimmy Kimmel infuriated viewers after disparaging the state of Florida as "America's North Korea" on "Jimmy Kimmel Live!" Friday night. "In America's North Korea, the Sunshine State, from time to time, we enjoy taking a look at what's going on, and tonight we are doing it again in a Gov. DeSantis edition of 'This Week in Florida,'" Kimmel said while introducing a video of Republican Gov. Ron DeSantis kicking off the "2021 Python challenge." The annual event challenges participants to remove invasive Burmese pythons "with the goal of empowering people to take an active role in conserving the Florida Everglades through invasive species removal," the competition website explains. "As part of my focus on restoring the Everglades, I've charged FWC with dedicating more resources and taking innovative approaches to removing invasive Burmese pythons," DeSantis said in a press conference introducing this year's contest.
"Florida restaurant industry returning to normal as hiring increases" by Fox 35 Orlando – It has been a long, hard year for the restaurant industry. There are signs that Florida dining is returning to normal and sooner than many expected. There are a number of factors at play here. For example, vaccines, a recent drop in jobless claims, and the busy travel season. Business owners are breathing a major sigh of relief. "It's still tough, but we're starting to see people coming in now," John Horne, the owner of the Anna Maria Oyster Bar, said. "The schools are out so we've got some of the college kids back in town. We've got some of the high school kids looking for hours so we're starting to see that normal influx."
"Lawsuit filed over Florida's 'Fairness in Women's Sports Act'" by Wink News – Gov. Ron DeSantis and the State of Florida will be facing a lawsuit after the "Fairness in Women's Sports Act" was signed into law. It bans transgender girls from playing in school and college sports designated for females. The law is being called unconstitutional and will be challenged in court. Opponents say it limits the rights of the LGBTQ community. The law states athletes can't participate in sports without providing a birth certificate to prove the athlete was born female. Alphonso David, president of the Human Rights Campaign, said everyone deserves to be treated equally and the law denies the civil rights of young transgender people.
Federal:
"Trump demands 100% tariffs on Chinese goods, debt cancellation, and $10T in reparations for COVID-19" by Fox News' Caitlin McFall – Donald Trump returned to the GOP political scene Saturday with a speech at the North Carolina Republican Convention, where he called on China to pay "reparations" to the U.S. for coronavirus-related damages. "All nations should work together to present China a bill for a minimum of $10 trillion to compensate for the damage," Trump said, adding that the figure was lower than it should be. "As a first step, all countries should collectively cancel any debt they owe to China as a down payment on reparations," he said. Trump said he also thought the U.S. should put a 100% tariff on any goods imported from China. In a lengthy speech Saturday night, the former president echoed sentiments from Republicans on the Hill and went after infectious disease specialist Anthony Fauci for reversing his stance on the importance of wearing masks early in the pandemic.
"China plans to build more bio labs amid scrutiny in Wuhan" by Fox News' Evie Fordham – China is planning to build dozens of biosafety level three labs and one biosafety level four lab over the next five years as investigators take another look at the possibility that the coronavirus could have leaked out of a laboratory in Wuhan, China. China's Guangdong province plans to create 25 to 30 biosafety level three labs and one biosafety level four lab, the Financial Times reported. China is planning to build dozens of biosafety level three labs and one biosafety level four lab over the next five years as investigators take another look at the possibility that the coronavirus could have leaked out of a laboratory in Wuhan, China. China's Guangdong province plans to create 25 to 30 biosafety level three labs and one biosafety level four lab, the Financial Times reported.
"Sen. Cruz argues Facebook was censoring COVID-19 content 'on behalf of the government'" by Fox News' Talia Kaplan – Sen. Ted Cruz, R-Texas, argued on "Sunday Morning Futures" that "it now is clear" that Facebook was "utilizing their monopoly position to censor on behalf of the government" regarding information related to COVID-19 and its origins. Cruz made the comment reacting to Facebook saying on May 26 that it would no longer ban posts suggesting COVID-19 is man-made amid mounting calls from President Biden and other officials for further investigation into the pandemic's origins. The announcement marked a reversal for the social media giant. In February, Facebook said it would remove posts claiming the virus was man-made or manufactured "following consultations with leading health organizations, including the World Health Organization" who had "debunked" the claim.
"Warning of 'dire' consequences, progressive groups plan pressure campaigns on Senate Democrats to pass federal voting laws" by CNN's Fredreka Schouten – Progressive and voting rights groups say they plan to ratchet up pressure on Democrats in the Senate in coming weeks to do whatever it takes to pass the federal voting legislation they view as key to counteracting the blitz of new voting restrictions in Republican-led states. Activists plan to text, call, email and go door-to-door to reach voters in states such as West Virginia, New Hampshire and Arizona to urge Senate action on the sweeping elections, ethics and campaign finance bills known as the For the People Act. Next week, the heads of the NAACP and other civil rights groups plan to press their case with Sen. Joe Manchin, the centrist West Virginia Democrat whose opposition to dismantling the legislative filibuster in the Senate is viewed as a key impediment to passing voting rights legislation.
"Energy secretary says adversaries have capability of shutting down US power grid" by CNN's Chandelis Duster – Energy Secretary Jennifer Granholm on Sunday warned in stark terms that the US power grid is vulnerable to attacks. Asked By CNN's Jake Tapper on "State of the Union" whether the nation's adversaries have the capability of shutting it down, Granholm said: "Yeah, they do." "There are thousands of attacks on all aspects of the energy sector and the private sector generally," she said, adding, "It's happening all the time. This is why the private sector and the public sector have to work together." The secretary's warning comes amid a rise in ransomware attacks in America's public and private sectors in the recent weeks, creating a sense of urgency in the Biden administration on how to confront cyber vulnerabilities. The issue will take an outsized role during President Joe Biden's first foreign trip this week, during which he is set to talk with European leaders and meet with Russian President Vladimir Putin in Geneva, Switzerland.
"Biden stays mum on state abortion laws with major test ahead for Roe" by CNN's Caroline Kelly – As more Republican-led states pass abortion bans with the easing of the Covid-19 pandemic, a heated debate has returned to center stage with abortion rights supporters warning of a looming threat to access and anti-abortion activists determined to keep up the momentum. But one key person has been noticeably quiet on the issue: President Joe Biden.
Irked advocates want the President to make more noise, but historians tell CNN that he's facing a unique moment at the intersection of history and day-to-day politics that helps explain the relative silence from 1600 Pennsylvania Avenue. It may cause consternation within his party, but the Democratic President is likely to stay mum on the new laws unless he's forced to take a stand because of a potentially momentous decision out of a staunchly conservative Supreme Court that has expressed an interest in addressing abortion rights.
"W.H. briefing room to return to full, pre-pandemic seating capacity" by Politico's Quint Forgey – The White House's James S. Brady Press Briefing Room is slated to return to full seating capacity this week, the White House Correspondents' Association announced on Sunday. The WHCA will also reintroduce its pre-pandemic seating chart for the briefing room, featuring a front row of reporters from outlets including NBC, Fox News, CBS News, the Associated Press, ABC News, Reuters and CNN. In addition, press capacity limitations on the White House grounds, including on the North Lawn and in indoor press workspaces, will return to 100 percent, according to the WHCA.
"Israelis Wonder: After 12 Years of Netanyahu, Can Politics Go Back to Normal?" by Politico's Yardena Schwartz – Just before midnight on Wednesday, many Israelis got the news they had been waiting two years and four elections to hear: "I have succeeded in forming a government." Israel's so-called "government of change" has, of course, made international headlines because it is set to oust Benjamin Netanyahu, whose 12 consecutive years as prime minister have been defined by a divisive style, corruption scandals, and a rightward shift in political life. But the prospective new government, which would install the right-wing Naftali Bennett as prime minister, followed in 2023 by the centrist Yair Lapid, is historic for other reasons as well. The coalition itself — a motley crew of eight parties spanning the ideological rainbow with little in common but opposition to Netanyahu — is unprecedented. Moreover, the Islamist Ra'am party is poised to make history by becoming the first Arab party to join an Israeli governing coalition.
"Facebook VP defends Trump suspension as reasonable and proportionate" by Politico's David Cohen – Defending Facebook's latest ruling on the former president, executive Nick Clegg said Sunday that the two-year suspension of Donald Trump reflected improved processes. "Our job is not to take the decisions with an eye to, you know, which side of the political aisle is going to agree or disagree more with us, but just to do so in a way that is fair, transparent and proportionate," said Clegg, Facebook's vice president of global affairs. Speaking on ABC's "This Week with George Stephanopoulos," Clegg said an "independent oversight board" concluded that Facebook was fully within its rights in barring Trump on Jan. 7 but there were problems with the way it was done.
"Biden's Agenda Takes On Steep GOP Resistance in Senate" by WSJ's Lindsay Wise – Many of President Biden's priorities are in danger of stalling as the Senate returns on Monday, with measures on voting, infrastructure and other issues facing firm Republican resistance and opposition from a handful of centrist Democrats. The difficulties Democrats face moving ahead in the evenly divided Senate became clearer Sunday when a pivotal centrist, Joe Manchin of West Virginia, said he wouldn't support the key voting-rules bill that has already been opposed by Republicans. Mr. Manchin said that without Republican support, the voting legislation would deepen partisanship in Congress and that instead he favors pursuing discussions on narrower changes to voting laws.
"Justice Department to End Pursuit of Reporters' Contact Records Over Leaks" by WSJ's Aruna Viswanatha – The Justice Department said it would no longer seek records of reporters' contacts when investigating government leaks of sensitive information—a change that reverses a longstanding practice after President Biden said he believed it was wrong. Department spokesman Anthony Coley on Saturday said the agency completed a review of pending requests for reporters' records and in the future federal prosecutors "will not seek compulsory legal process in leak investigations to obtain source information from members of the news media doing their jobs." Scrutiny of the practice rose in recent weeks after the department notified reporters at the Washington Post, CNN, and the New York Times that, under the Trump administration, the agency sought and obtained their phone records from 2017. That drew objections from the news outlets and press-freedom organizations.
"Citigroup, JPMorgan to Resume Campaign Donations" by WSJ's Brody Mullins and avid Benoit – Two major U.S. banks said they will resume campaign donations from their political-action committee, but split on the question about whether they would donate money to any of the 147 Republican lawmakers who voted to challenge the results of the 2020 election. In a memo to employees Friday, Citigroup Inc. said it wouldn't ban donations to those Republicans, but would only give money to candidates who supported a set of principles, such as protecting democratic institutions. JPMorgan Chase & Co. told employees it wouldn't give money in the 2021-22 election to the Republicans who challenged the election of President Joe Biden.
—Florida political news. Florida news. Florida Politics. The Floridian.