**UPDATE— Loomer called Ingoglia and GOP Rino's, not DeSantis.
With the legislative session in Tallahassee coming to a close, Conservative activists took to the streets, specifically "Trump corner" in Palm Beach County, to call out  Gov. Ron DeSantis and then called State Rep. Blaise Ingoglia as "incompetent and "malicious," and demanded that they and other state legislators, "get off their asses and do the right thing" regarding the Big Tech bill being proposed in the Republican-led legislator.
Conservative journalist and congressional candidate Laura Loomer, who organized the rally, accused Republicans in Tallahassee of "intentionally ignoring" information she personally furnished to them regarding important points she made about strengthening Ingoglia's Big Tech bill in Florida House.
Loomer then laid into Gov. DeSantis and Republican legislators, calling legislators like Ingoglia "incompetent, malicious, and sinister RINO's," who need to "get off their asses and do the right thing."
"If you have been previously banned it doesn't matter if you are an elected official or become an elected official, you will not be able to have social media accounts due to the policies of Facebook and Twitter that they created during my campaign," added Loomer.
"The bill does not fix that."
"It is time for these both incompetent, malicious, and sinister RINO's in Tallahassee to get off of their asses and do the right thing."- Laura Loomer
Loomer then singled out DeSantis, criticizing his appearance on Fox News to champion his efforts to pass a fix all Big Tech bill to combat the cancellation of political candidates by social media platforms like Twitter, Facebook, and Youtube.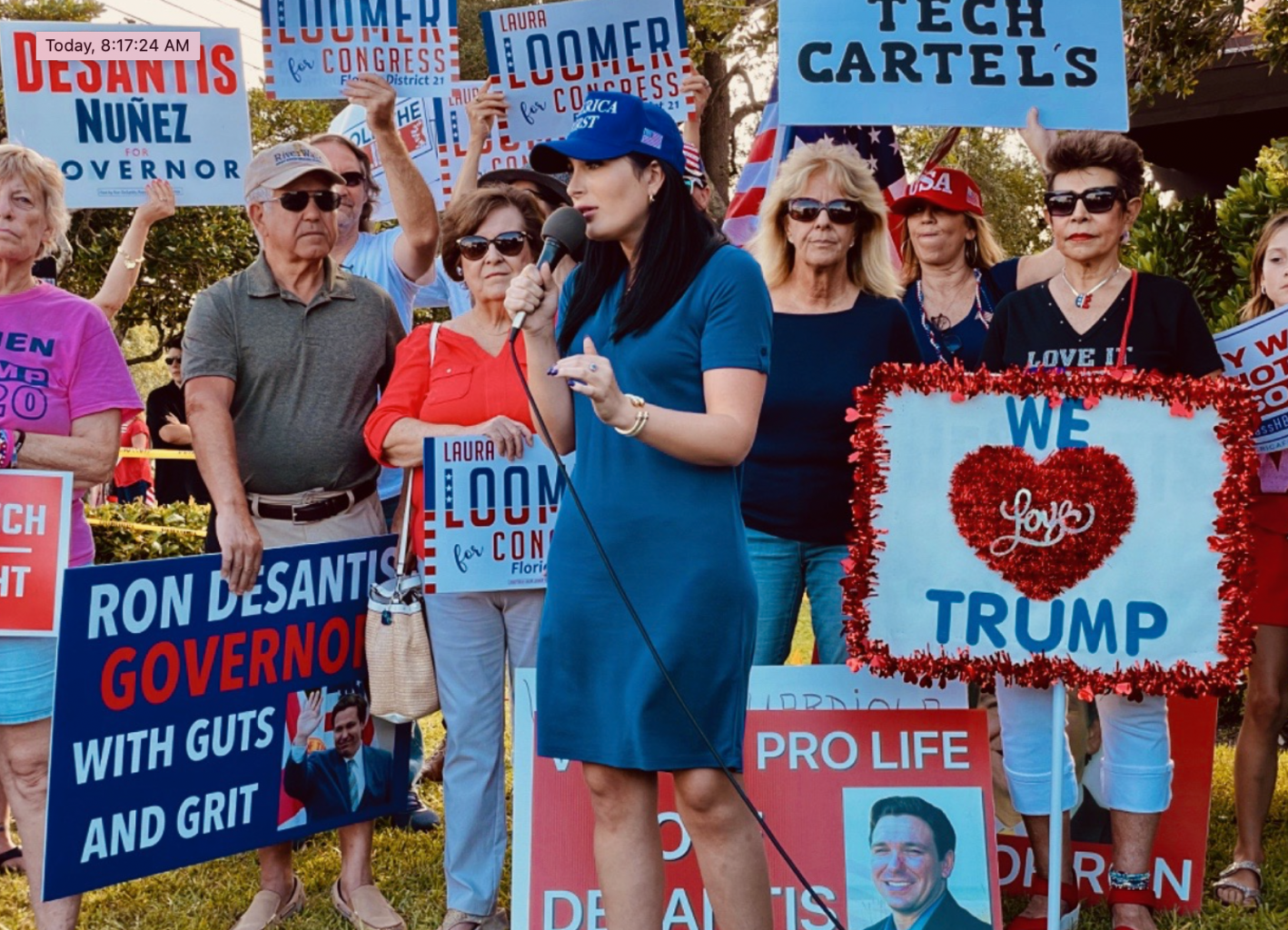 "There are four days left, and over my dead body will I let these RINO's getaway — if they think that they are going to go on Fox News and talk about a bill and make empty promises to combat cancel culture, and protect our elections, and combat social media censorship, in a weak bill that has no teeth," said Loomer.
Conservative heavyweight Michelle Malkin, who endorsed Loomers's current congressional campaign,  was also on hand, where she didn't go as far as Loomer in calling legislators incompetent but suggested that Floridians call DeSantis and Ingoglia and demand they "fix the bill" DeSantis is said to be ready to sign.
"They got to make this bill better. Each of you needs to call the governor's office, call the state legislators, call Blaise Ingoglia, who is sponsoring the House bill, and tell them to adopt these amendments in the bill. Fix the Bill. Fix the Bill," stated Malkin.
Conservative @michellemalkin calls out @GovRonDeSantis and @GovGoneWild and demand they fix the Big Tech bill #fixthebill #Flpol pic.twitter.com/Niz71mJ2gF

— Javier Manjarres (@JavManjarres) April 27, 2021
Last week, Rep. Ingoglia told The Floridian that he would be offering amendments before the end of the session. Ingoglia followed through, increasing the fines to Big Tech companies who cancel candidates, but only about $100,000 a day, which is peanuts for companies like Facebook and Twitter.
Ingoglia later stated that he had struck the existing bill for another measure.
Loomer, who praised DeSantis for the work he is doing in Florida, is running in Florida's 21st congressional district against Rep. Lois Frankel (D). President Donald Trump, who lives in the district and voted for Loomer in 2020, also endorsed her candidacy.