Obama's Third Term
President-elect Joe Biden's administration looks like it will a completer retread of the Obama administration he helped craft during his 8-year stint as vice president.
Just look at his cabinet picks.
The biggest name that Biden has tapped to sit on his cabinet is former Sec. of State John Kerry.
Yes, that John Kerry who threw away his Vietnam War medals, ran for president and lost against President George W. Bush, and the architect of the disastrous Iran Nuclear deal that funneled millions of U.S. dollars to the Islamic regime.
Senator Marco Rubio expresses his distaste and distrust for the people Biden will be surrounding himself with, calling the then the nucleus for "America's decline." READ MORE
Ron and the Virus
While Florida Democrats and members of the media like to say that Gov. Ron DeSantis is failing at his job when it comes to dealing with the ongoing COVID pandemic, DeSantis is not taking the bait and is instead pressing his narrative of how the state is dealing with the spreading virus.
DeSantis put out a video update addressing what the state was doing as far as how it was combatting the virus.
 "This month has brought promising news regarding therapeutics and vaccines to combat COVID-19, and the state of Florida's been working to procure the new treatment for hospitals, also made plans to assist in the distribution of a safe and effective vaccine which we believe will be delivered relatively soon. I've also been able to meet with key officials involved in Operation Warp Speed in Washington have been able to get key questions answered for the state of Florida."- Gov. Ron DeSantis
Meanwhile, the virus continues to soar across the state over the past month or so, and with the total injection number about to eclipse 1 million cases, the deaths attributed to the coronavirus are way down.

Ron DeSantis @GovRonDeSantis-For too long, Floridians have been paying high prices for prescription drugs. Yesterday, we took another step towards lowering those prices by submitting a proposal to @HHSGov for a first of its kind Canadian Prescription Drug Importation Program. Info
Marco Rubio @marcorubio-On Covid, media emphasized bad news even when we had positive developments & did more Trump/hydroxychloroquine stories than all vaccine stories combined. Part of a broader pattern of characterizing everything as bad news Republicans are to be blamed for
Debbie Wasserman Schultz @DWStweets -A @JoeBiden Administration will confront America's problems, not retreat from challenges or the world stage. The president-elect has put forward a diverse, experienced team of crisis-tested professionals ready to lead on day one.
Rick Scott @SenRickScott–Thank you to @USOCC for taking action to stop banks from discriminating against companies that are considered politically decisive Fair and equal access should always be observed.
Rep. Ted Deutch @RepTedDeutch–The @JoeBiden–@KamalaHarris team is a return to the kind of experience, professionalism, strong values, & sound judgment that should drive American foreign policy and national security.
On Day 1, these leaders will restore our standing around the world & strengthen our security.
Rep. Lois Frankel @RepLoisFrankel–The nominees @JoeBiden has selected to lead our #foreignpolicy are deeply experienced & historic.They represent a shift back to an America that is ready to lead the world, not retreat from it, & stand up for our values at home & abroad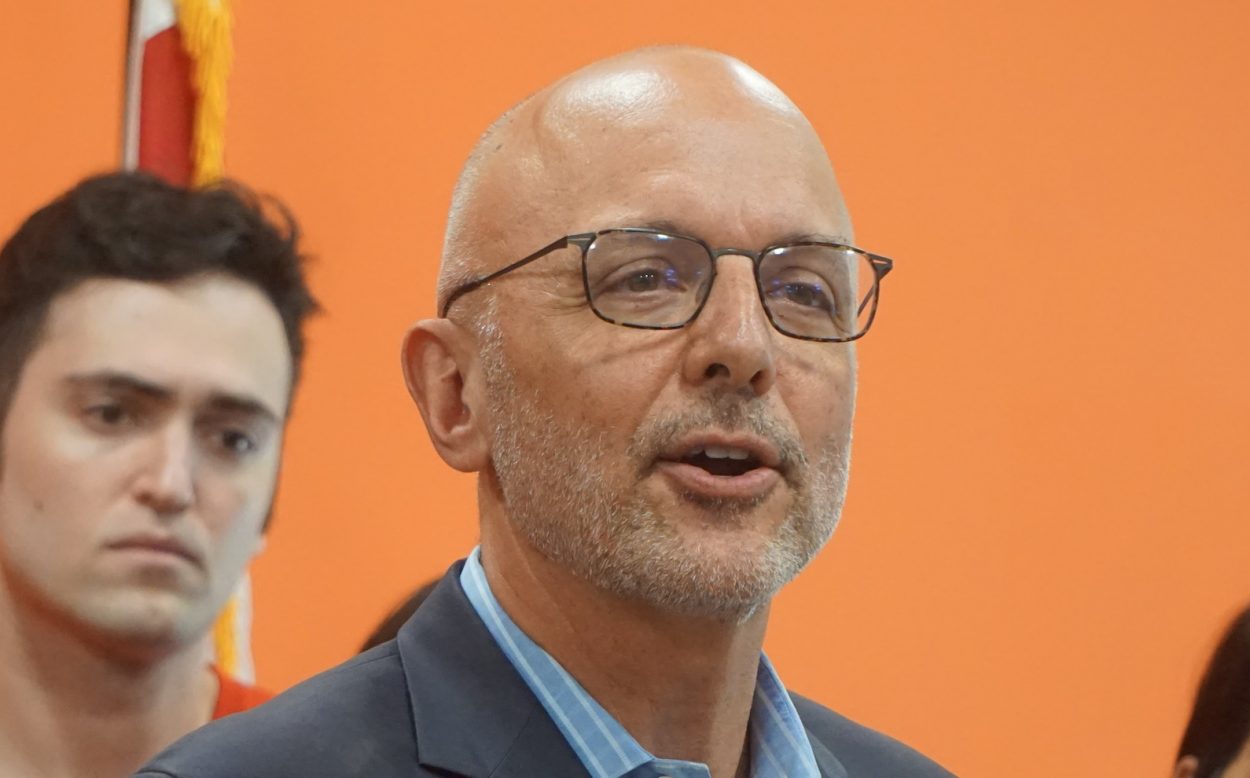 "Deutch backs Kerry's Climate Czar cabinet appointment" by The Floridian's Javier Manjarres – Vice President-elect Joe Biden is filling his cabinet, picking many long-time or "Deep State" government retreads, including former Secretary of State John Kerry to be his "Presidential Envoy for Climate." Florida Rep. Ted Deutch (D), who has been one of the strongest advocates of climate change, welcomes Biden's creation of the Climate Czar position in his cabinet and believes that Kerry is more than qualified for the job and ready to tackle the issue head-on with his past experience and existing relationships. "In appointing a Special Presidential Envoy for Climate, the @JoeBiden @SenKamalaHarris administration makes clear climate is a significant national security priority," stated Kerry "@JohnKerry's decades of work on the issue & relationships will ensure no time is wasted in tackling this threat" Kerry does have a history of working with friends and foes around the world, but while he served as President Obama's Secretary of State, he along with President Barack Obama and former Vice President Biden helped draft the controversial Iran nuclear deal that President Trump back out of, and that many pro-Israel members of Congress, including Rep. Deutch, voted against.
"Rubio Not Impressed With Biden's Cabinet Picks" by The Floridian's Daniel Molina – As Vice President Jee Biden (D) continues to make announcements regarding his administration and the filling of his Cabinet, Florida Senator Marco Rubio (R) is slamming his team, making it known that he is not impressed by the names that have been announced or touted for a Biden administration. The Florida Senator stated that "Biden's cabinet picks went to Ivy League schools, have strong resumes, attend all the right conferences & will be polite & orderly caretakers of America's decline." Rubio asserted that he supports "American greatness" but made the distinction that he has "no interest in returning to the 'normal' that left us dependent on China." In recent weeks, with rumored picks for Biden's cabinet, the Vice President has faced scrutiny from both Republicans and Democrats. The more left-leaning Democrats or Democratic Socialists/Progressives have criticized Vice President Biden over choosing individuals that are not progressive enough. Instead, the announcements are being viewed as an Obama-era retread, and a number of lawmakers have signaled that this is the moment for him to prove that he's interested in a more progressive future.
"'Pragmatic Socialist' Shalala lashes out at Salazar after losing reelection bid" by The Floridian's Javier Manjarres – When Congresswoman-elect Maria Elvira Salazar (R) announced that she was strongly considering starting the "Freedom Force" to act as a counterweight to the Democratic Socialist House "Squad" led by Rep. Alexandria Ocasio-Cortez (D), politicos began to salivate over the potential daily, mano-a-mano, in your face cage match between the ideological factions of the two political parties in the U.S. House of Representatives. Salazar, who is coming off a historic upset of self-described "pragmatic socialist" and Rep. Donna Shalala (D), campaigned against the growing Socialism agenda Democrats have put forth, and has all but became the lead in the House on combatting the Socialist aggression in the Western Hemisphere. Unfortunately, Rep. Shalala appears to be a bit upset over her loss to Salazar and has labeled Salazar and Congressman-elect Carlos Gimenez (R) as McCarthyism hacks who won their respective congressional races off of fear-mongering. "McCarthyism moves to Miami," tweeted Rep. Shalala about a Miami Herald story highlighting the Gimenez and Salazar wins, and the anti-Socialism platform that ushered them into office.
"Downtown Orlando housing market sluggish amid residential boom" by Orlando Biz Journal – While Central Florida home sales increase and prices climb, downtown Orlando's housing market is comparatively quiet. Central Florida's housing boom during the pandemic has favored the suburbs, with Winter Garden, Windermere and Apopka among the areas with the most third-quarter home sales. At the same time, the demand for more living space during the pandemic has made downtown condos less attractive to some buyers. The housing numbers for Orlando's 32801 ZIP code hardly look different than they did a year ago. For example, 26 sales closed in October, compared to 24 in October 2019, according to the Orlando Regional Realtor Association. Home supply is up slightly, from 101 homes to 116 homes in the past year. Plus, the median sales price is down 1% from $279,000 to $276,000. Compare that to the entire Orlando area, where home sales were up 25% and prices up 10% in that same timeframe. Plus, local home supply has plummeted 25% from a year ago. One reason is that demand for condos, which made up 85% of downtown's home supply last month, has deflated since the start of the pandemic, according to Jose Mussenden. The Realtor leads The Ole Group Inc., which focuses on downtown Orlando.
"Florida reports more than 8,500 new cases of COVID-19 and 73 new deaths" by Sun Sentinel's Andrew Boryga – Florida reported 8,555 new cases of COVID-19 on Tuesday, continuing an upward trend in the spread of the virus this month ahead of the Thanksgiving holiday. The state also reported 73 new deaths on Tuesday. Since the pandemic began, 953,300 Florida residents and non-residents have been infected with COVID-19. The death toll, including non-residents, stands at 18,383. As cases have trended higher in recent weeks, so have hospitalizations. The spike indicates South Florida is likely experiencing the same surge that is occurring across the nation. Statewide, 3,780 patients were hospitalized with coronavirus symptoms as of 3 p.m. Tuesday, up from 3,758 on Monday, according to the Florida Agency on Healthcare Administration. Broward County: 891 additional cases and one more death. Broward has a known total of 102,638 cases and 1,659 deaths since the beginning of the pandemic. Palm Beach County: 419 additional cases and four more deaths. The county now has 62,697 confirmed cases and 1,687 deaths. Miami-Dade County: 1,852 additional cases and seven new deaths. The county now has 218,294 confirmed cases and 3,811 deaths.
"Order allowing Florida nursing home residents to leave for Thanksgiving sparks concern among advocates" by WFLA's Mahsa Saeidi – We're two days away from Thanksgiving and there are concerns that Florida is creating conditions for a perfect pandemic storm. If you have a loved one in long-term care, you should be aware of the state's nursing home policy for the holiday. Gov. Ron DeSantis issued an executive order last month stating that all nursing homes let residents leave the facility, including for the holiday. Nursing home advocates question what happens next, when residents come back. "My mother can't go anywhere," said Janet Rock. The Rock family knows first-hand COVID-19's toll on nursing home residents. Janet's 93-year-old mom lives at Freedom Square in Pinellas County. "It's a pretty vulnerable population," said Rock. "That's the demographic that needs to be tested and protected the most, I think." Right now, community transmission is on the rise in most of the state. "I think that the governor's policy is well-intentioned," said Brian Lee, the executive director of a non-profit called Families for Better Care that advocates for nursing home residents. The state executive order mandates all nursing homes allow residents to leave. But when they return, the facilities must only screen, not test, residents for the virus.
"With State Moratorium Lifted, Evictions Spike in South Florida" by NBC Miami's Sasha Jones – Florida's moratorium on evictions and foreclosures expired at the end of September. Since then, enforcement of eviction orders has resumed in some counties. From April to the end of September, the state didn't allow renters to be evicted from their homes, giving people some time to get through the tough times caused by COVID-19. "The order which was put in place to help, but there's always people there to take advantage of something that is good," said Kandace Edwards, a local landlord. Edwards says the state moratorium made it difficult to evict a tenant who was not paying rent. "Not until the beginning of October that BSO said they could finally go in and on October 7, the officer came here and put the sticker on the door," Edwards said. "By that time, she was long gone." But Edwards says she is out of thousands in rent payments and has to pay to repair damage at her property. According to the Miami-Dade County Clerk of Courts, 5,063 evictions have been filed in the county since March. The most recent order to Miami-Dade Police is to limit enforcement to cases filed on or before March 12. In Broward County, evictions for non-payment due to COVID-19 were halted in March.
"Florida lawmakers eying coronavirus liability protections for businesses" by WFLA / Cap News Service's Jake Stofan – Businesses will likely be given some limited immunity from COVID lawsuits the next time the Florida Legislature meets in the spring. At least one suit has been filed in Miami against Publix Supermarkets, claiming wrongful death. Publix deli employee Gerardo Gutierrez passed away in April after a battle with COVID-19. His family is now suing the grocery chain, alleging policies the company put in place at the start of the pandemic resulted in his death. "Their father died because Publix said you can't wear a mask," said Michael Levine, an attorney representing the Gutierrez family. Legal liability protection for companies in the age of COVID-19 is expected to be a top priority for Florida lawmakers. "It's something that I think that we should do. That would give businesses confidence to be able to operate," Florida House Speaker Chris Sprowls said. The Senate president and House speaker have given few details but have said they don't support total immunity. "I cannot imagine that we are going to let people off the hook for negligence," Senate President Wilton Simpson said. As an example of what kind of protections businesses are looking for, the Florida Chamber of Commerce pointed to a Pinellas County case where a man sued a restaurant after entering and not seeing anyone wearing masks.
"Florida Reports Lower First-Time Bar Pass Rate in Chaotic Year" by Bloomberg Law's Elizabeth Olson – Bar exam pass rates in Florida for first-time test takers declined for the October sitting compared to July 2019 as the test moved online, but the state's data alone paints an incomplete picture of broader exam results in a year of coronavirus-related upheaval. Florida reported a 71.7% pass rate for first-time test takers in October, when the test was given online, a decline from July 2019 when 73.9% passed the in-person test. The Florida Board of Bar Examiners says it only tracks the pass rate for first-time exam takers. Florida's exam was delayed several times in 2020, including once due to technical glitches during the online transition. The online test was also administered over one day, instead of two, and had some differences in content from the 2019 in-person version. This year has been anything but normal for states looking to test and license new attorneys across the country. And as more states report their pass rates, debate is likely to continue over the effectiveness of pandemic-era testing. More than 68,000 people took the bar exam nationwide last year, according to National Conference of Bar Examiners' figures, while this year the total was only 57,000. Many state bar exams in 2020 were fraught with pandemic-related delays. Rather than holding exams in person, a number, like Florida, decided to migrate to remote tests, and still others allowed recent law graduates to begin practicing without taking the bar, if they met other requirements. Despite the health risks, there were states that offered in-person exams in July, which has been the traditional point for most law school graduates to take the qualifying exam.

"Biden says Trump administration outreach on transition has been 'sincere'" by Fox News' Morgan Phillips – President-elect Joe Biden said outreach from the Trump administration has been "sincere," since the General Services Administration ascertained his win on Monday. GSA Chief Emily Murphy gave the OK for Biden's team to access transition resources Monday, allowing the formal transition of power to begin, ending a stand-off in which the Biden team accused the GSA of withholding resources for political reasons. That same day, Biden announced a number of cabinet picks, including the core of his national security team. "Immediately, we've gotten outreach from the national security shop to just across the board," Biden told NBC News' Lester Holt. "They're already working out my ability to get presidential daily briefs, we're already working out meeting with the COVID team in the White House and how to not only distribute but get from a vaccine being distributed to a person able to get vaccinated, so I think we're going to not be so far behind the curve as we thought might be in the past," the president-elect continued. "And I must say the outreach has been sincere — it has not been begrudging so far and I don't expect it to be." Trump's coronavirus vaccine chief Dr. Moncef Slaoui had not had contact with Biden's transition team as of Sunday, as vaccine candidates near a prospective rollout.
"For Trump and GOP, Risks in Postelection Fight Rise" by WSJ's Gerald F. Seib – The costs of the continued fight over the 2020 election are rising for both the Republican party broadly, and for President Trump personally. For other Republicans, one of the costs associated with the president's continued attempts to overturn the results of the 2020 presidential election is that he is attacking the legitimacy of the very electoral system that brought all of them into office in the first place—and a system that actually has been quite good to Republicans at every level of government. For Mr. Trump, the cost of the fight may turn out to be a more personal one: It is deflecting attention from the accomplishments he could carry forward as a more positive legacy after 2020. The basic argument of Mr. Trump and his allies is that he has been victimized by a system in which corrupt Democrats from one side of the country to the other twisted the election's outcome to their benefit, as they have been doing for years. More than that, now-ousted Trump election lawyer Sidney Powell spread the indictment across party lines in recent days, charging that "we have no idea how many Republican or Democratic candidates in any state across the country paid to have the system rigged to work for them," and asserting that leading Georgia Republicans are part of some kind of illicit scheme. Those amount to an assault on a system that has been quite good to the GOP. Republicans have actually been the more prosperous of the two parties operating within that system—and, in fact, had a quite successful election this year, something largely obscured by the furor over the presidential outcome.
"More GOP senators back transition as GSA recognizes Biden's win" by CNN's Paul LeBlanc – A growing group of Republican senators on Monday signaled support for allowing President-elect Joe Biden to start the transition as the General Services Administration informed Biden that the Trump administration is ready to begin the formal process. The GOP transition support — from Sens. Lamar Alexander of Tennessee, Shelley Moore Capito of West Virginia and Bill Cassidy of Louisiana — paired with the GSA letter, amount to a considerable turning point against President Donald Trump's bid to overturn his loss after Michigan officials moved to certify the state's electoral votes for Biden. "The presidential election is rapidly coming to a formal end," Alexander, who is retiring, said in a statement posted on Twitter. "Recounts are being completed. Courts are resolving disputes. Most states will certify their votes by December 8. Since it seems apparent that Joe Biden will be the president-elect, my hope is that President Trump will take pride in his considerable accomplishments, put the country first and have a prompt and orderly transition to help the new administration succeed." "When you are in public life, people remember the last thing you do," he said. Capito said in her own statement that the time had come for Biden to begin "receiving all appropriate briefings" for a transfer of power.
"Trump told confidants he intends to pardon Michael Flynn: report" by Fox News' Sam Dorman – President Trump reportedly intends to pardon former National Security Advisor Michael Flynn, one in a series to be issued before he leaves office. Axios first reported the news Tuesday, citing two sources with direct knowledge. Sources with knowledge of the president's thinking also told Fox News he plans to pardon Flynn. Flynn pleaded guilty in December 2017 to misleading the FBI about his contact with Russia, and has came to symbolize for conservatives how Justice Department officials abused their power in the Russia investigation. Despite two guilty pleas from Flynn, the prosecution came under scrutiny after the release of FBI documents that indicated a plot to get Flynn to lie. "What is our goal?" read one of the FBI's notes. "Truth/Admission or to get him to lie, so we can prosecute him or get him fired?" Following those revelations, Trump's Justice Department moved to drop its case against him but has since encountered hurdles in court. The D.C. Circuit Court of Appeals rejected in August Flynn's plea to force a federal judge to drop his criminal case. Flynn's attorney, Sidney Powell, reportedly said she requested that Trump not issue a pardon, but the president publicly has been very sympathetic to Flynn's cause. "What happened to General Michael Flynn, a war hero, should never be allowed to happen to a citizen of the United States again!" Trump tweeted in April.
"Key Democrat warns Biden not to nominate Mike Morell as CIA director" by CNN's Zachary Cohen – A key Democrat on the Senate Intelligence Committee is warning President-elect Joe Biden that he should avoid nominating a top contender for the job of CIA director, Mike Morell, because his record as a "torture apologist" makes confirmation a "nonstarter." Morell, who was a deputy director of the CIA under President Barack Obama and twice served as the agency's acting director, is a contender to be nominated for the full-time role under Biden, according to two sources familiar with the deliberations, who note that others remain in the mix for the job. But the prospect of Morell leading the CIA has prompted harsh criticism from members of Biden's own party — namely Sen. Ron Wyden of Oregon, a member of the Intelligence Committee who will ultimately vote on whether any nominee for the job is confirmed. "No torture apologist can be confirmed as CIA director. It's a nonstarter," Wyden told CNN, referring to Morell's previous suggestions that the agency's so-called "enhanced interrogation" of terrorists was both effective and moral — claims that go further than those made by other officials who have faced scrutiny over the the agency's handling of detainees at black sites, including former Director John Brennan and current Director Gina Haspel. The Daily Beast was first to report Wyden's objection to Morell's possible nomination.
"GOP poised to flip 4 House seats in California, more than any other state" by Fox News' Bradford Betz – Despite Democrats' confident predictions of a "Blue Wave" sweeping statehouses in the November election, the final results showed that almost nothing had changed. Yet in California, a Democrat stronghold, Republicans are poised to flip more House seats than in any other state. The results have shown a significant, reversal from the 2018 midterms, which was marked by a rabid anti-Trump furor that helped Democrats flip seven House seats. Now, the GOP is on the verge of taking back four of those seats. Young Kim took back California's 39th District from Democrats after incumbent Rep. Gil Cisneros flipped the normally Republican district in the 2018 "Blue Wave." In the Republican stronghold of Orange County, Michelle Steel took back California's 48th District after the unprecedented 2018 victory of Democratic Rep. Harley Rouda. California's 21st District, which includes Fresno and Kern counties, looks set to return to the GOP after David Valadao was projected this week to reclaim the seat he lost to Democratic Rep. TJ Cox in 2018. Republican U.S. Rep. Mike Garcia declared victory last Friday in the state's 25th Congressional District. The seat, a former GOP stronghold that spans parts of Los Angeles and Ventura counties, was flipped blue by Democrat Katie Hill in 2018, but she resigned from Congress last year over a nude photo scandal. The final results are expected to be announced later this week.
"Dow 30,000 makes history, S&P hits fresh record on Yellen, vaccine optimism" by Fox News' Jonathan Garber – U.S. equity markets rallied sharply Tuesday, catapulting the Dow Jones Industrial Average to above the 30,000 level for the first time as the S&P 500 also booked a fresh record. Vaccine optimism combined with another solid read on U.S. home prices drove a broad market rally led by Dow members Chevron, JPMorgan and IBM. President Trump, speaking at the White House, called the level a "sacred number." The rally was also supported by the likelihood that projected President-elect Joe Biden will formally appoint former Federal Reserve Chair Janet Yellen as his would-be Treasury secretary. The Dow Jones Industrial Average climbed 454 points, or 1.54%, while the S&P 500 and the Nasdaq Composite added 1.62% and 1.31%, respectively with all 11 of the major sectors rising. The S&P CoreLogic Case-Shiller index report for September showed home prices rose 6.6% year-over-year, making for their biggest annual increase since April 2018. Prices in Phoenix remained red-hot, growing at an 11.4% annual pace. Looking at stocks, those tied to the reopening of the economy continued to gain momentum after AstraZeneca on Monday became the third company to announce positive news regarding its COVID-19 vaccine.
"Justice Department places new pressure on immigrants facing deportation" by CNN's Priscilla Alvarez – The Justice Department is requiring some immigrants facing deportation to file to stay in the United States in a matter of weeks, a highly unusual move that puts them at a disadvantage and at an increased risk of removal. Immigrants fighting deportation generally have a chance to make their case in court, where they can ask a judge to allow them to stay in the US by arguing they qualify for asylum or another legal option. This year, as the coronavirus pandemic gripped the US, the nation's immigration court system — which is operated by the Justice Department — partially shut down, leading to the postponement of hearings and fueling the growing backlog already facing the system. As of August 2020, the current active court case backlog grew to around 1.2 million, up 11% from the start of March, according to Syracuse University's Transactional Records Access Clearinghouse, which tracks immigration court data. But as of late, despite the challenges posed by the pandemic, immigration attorneys have begun to see a slate of orders requesting that their clients file applications requesting relief from deportation within around five to six weeks. If the deadline is not met, a judge could issue a removal order, meaning they'd be subject to deportation at any time. Victoria Neilson, a managing attorney at the Catholic Legal Immigration Network, called the orders "disturbing" and "politically motivated." "The intended result appears to be to increase deportation to even people who have every intent of filing an application with an immigration court. For some people, their next court date is not for many months or a year into the future," she said.

Donald J. Trump @realDonaldTrump– In certain swing states, there were more votes than people who voted, and in big numbers. Does that not really matter? Stopping Poll Watchers, voting for unsuspecting people, fake ballots and so much more. Such egregious conduct. We will win!

Joe Biden – Zzzzzz