Killing President Donald Trump
Some are calling it a veiled threat, some are calling it an implied joke, but everyone is calling it just plain stupid.
take our poll - story continues below
Completing this poll grants you access to The Floridian updates free of charge. You may opt out at anytime. You also agree to this site's Privacy Policy and Terms of Use.
Democratic congressional candidate Pam Keith, who is running for Congress against Rep. Brian Mast (R) posted a Facebook Live video over the weekend that implied that President Donald Trump was going to be killed by American or Russians because of his alleged past shady dealings.
I am pretty sure this has caught the attention of the Secret Service, considering that they look into any and all threats made directly or indirectly against any U.S. President, past or present.
It appears as though Mrs. Keith was so unhappy about The Floridian posting the story (Video) about her remarks against the President, that she blocked me on Twitter. Awww. READ MORE


Rep. Matt Gaetz @RepMattGaetz- Appeasement is never a winning strategy.
Rick Scott @SenRickScott –Rick Scott –Florida is home to amazing national parks including the Everglades. As we celebrate the @Natlparkservice's 104th Birthday, we thank all of the employees & volunteers of the NPS!
Rep. Debbie Mucarsel-Powell @RepDMP –Rep. Debbie Mucarsel-Powell–Today I joined @HispanicCaucus to hear from our nation's "testing czar." I asked him about the status of testing, efforts to test in minority communities, & urged the admin to take action to reduce turnaround times in testing.
Debbie Wasserman Schultz @DWStweets –Didn't GAO just say he was unlawfully installed as head of the department? He should resign.
Marco Rubio @marcorubio –The police shooting in Wisconsin should be fully investigated & everyone should reserve judgment until we know all the facts And no one should tolerate,excuse or support the rioting or the armed groups
Commissioner Nikki Fried @NikkiFriedFL -State Attorney Dave @Aronberg and Cookie (the basset hound of justice) are asking you to do your part to help keep each other safe — wear a mask and #BeSMARTFL!
Helen Aguirre Ferre –@helenaguirrefer -Another home Tun for Miami! @LtGovNunez is Florida 's first Hispanic woman , Carlos López Cantera was 1rst Hispanic, to be the Lieutenant Governor of the Sunshine State. Jeanette did a great job at the #RNCConvention2020 as she does daily defending our constitution & freedoms.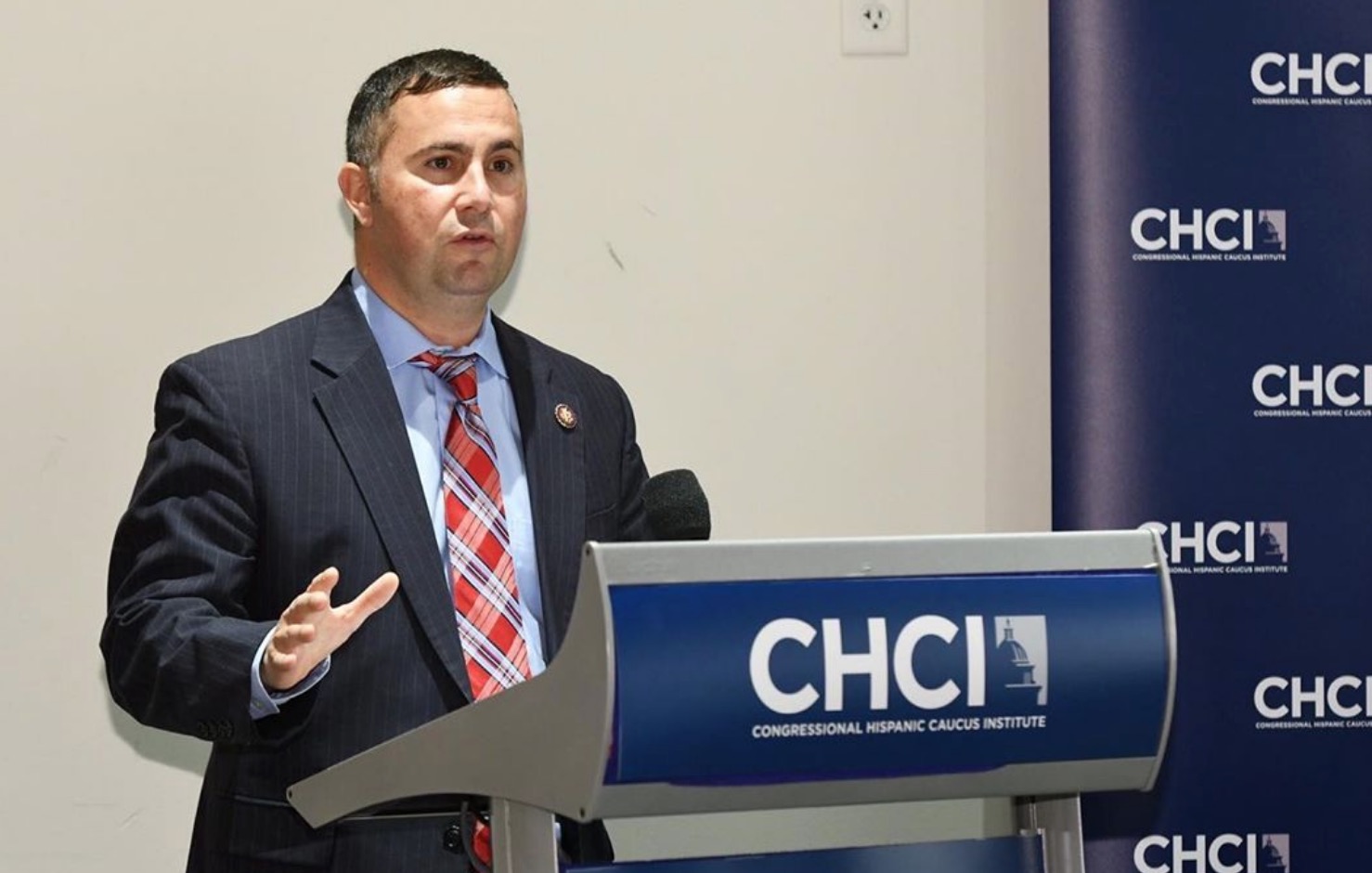 Soto Voices Support for Puerto Rico's Statehood
by The Floridian's Daniel Molina
Democrats call Jewish-American Laura Loomer a "racist" with ties to Klu Klux Klan
by The Floridian's Javier Manjarres
Congressional Democrat implies President Trump will be killed by Americans or Russians
by The Floridian's Javier Manjarres
Mooney needs Miami-Dade to win Florida House Seat 120
by The Floridian's Javier Manjarres
Florida Businessman Maximo Alvarez Delivers Emotional RNC Speech About American Dream
by The Floridian's Mona Salama
"Pelosi Calls Trump, GOP Allies Domestic 'Enemies of the State'" by The Floridian's Mona Salama – Speaker Nancy Pelosi continued her barrage of attacks toward President Trump and GOP lawmakers, labeling them as "domestic enemies" and "enemies of the state" over their opposition to universal mail-in voting. "We take an oath to protect and defend the Constitution from all enemies, foreign and domestic. And, sadly, the domestic enemies to our voting system and honoring our Constitution are right at 1600 Pennsylvania Avenue with their allies in the Congress of the United States," Pelosi said in an appearance on on "MSNBC Live" with host Ayman Mohyeldin Monday afternoon. The host appeared shocked with Pelosi's rant response and was overheard saying "wow!" "They're doing everything they can, suppress the vote with your actions, scare people, intimidate by saying law enforcement will be there, diminish the role of the postal system in all of this. It's really actually shameful. Enemies of the state," Pelosi added. During her appearance, Pelosi was questioned on a new MSNBC News-Wall Street Journal poll that shows only 45 percent of Americans "are confident in the results of the election being accurately counted." Mohyeldin asked the speaker, "Can you tell people today that they should not be afraid of what happens on November 3rd?"
"Rick Scott says Obama/Biden policy with Cuba "disgusting"" by The Floridian's Javier Manjarres – "He's a nice enough guy, but he's clearly a puppet for the Left," asserted Senator Rick Scott about Democratic presidential nominee Joe Biden during a Monday press conference about the launch of the RNC convention. Sen. Scott, who alongside Senator Marco Rubio have been the most outspoken critics of both the Cuban and Venezuelan regimes in the Western Hemisphere, expressed his disgust over the Obama administration's foreign policy with Communist Cuba and Venezuela. When Sen. Scott was asked to compare the Trump administration to the Obama administration in regards to their espective relationships with the Maduro regime in Venezuela, Scott said that Obama and Biden were "OK with a Communist military dictatorship in Cuba," and that he found it "disgusting" that the Obama's flew down to the island and sat and watched a baseball game with Raul Castro. "Their approach to Cuba and their approach to Maduro has been the same, if you look at Maduro they never pushed back," said Scott. Scott outlined how important he said the Venezuelan issue was to President Trump, pointing out the administrations efforts of imposing economic sanctions on Maduro and his regime, adding that Democrats had done "nothing" to "hold Maduro accountable." What's frustrating to me is that Democrat's don't ever stand up against these people," said Scott as he brought up the fact that his TPP proposal for asylum-seeking Venezuelans was "blocked" by Democrats.
"Trumps Makes First RNC Appearance" by The Floridian's Mona Salama – President Trump was officially nominated as the GOP's presidential candidate for a second term during a scaled back in-person roll call vote in Charlotte, North Carolina. "This is the most important election in the history of our country," Trump said during a surprise appearance at the Charlotte Convention Center. "This is the biggest. Our country can go in a horrible, horrible direction or an even greater direction." "It's not fair, it's not right, and it's not going to be possible to tabulate," Trump added. "What they are doing is using COVID to steal an election. They are using COVID to defraud the American people of a fair and free election." During the in-person roll call vote, states and territories were called in alphabetical order as Nevada cast the votes to put Trump over the top. With Nevada, 1,284 delegates have renominated Trump as the party's nominee, surpassing the 1,276 delegate threshold to win the nomination. Florida, the president's home state was the last state to cast its votes of 122 delegates before Trump took to the stage to give his remarks. The crowd of 336 Delegates greeted Trump as he took to the stage with "Four More Years." "If you really want to drive them crazy, say 12 more years," Trump said in response. Trump spoke for nearly an hour discussing various topics ranging from his administration economic success amid the coronavirus, his administration response to the coronavirus pandemic, and warning voters of massive mail-in ballots that will lead to voter fraud.
"Republicans re-nominate President Donald Trump and Vice President Mike Pence" by The Floridian's Javier Manjarres – Republicans from across the country convened at the RNC convention in Charlotte, North Carolina to formally re-nominate Donald Trump and Mike Pence for President and Vice President. This was just a formality, but crucially important to the masses of Republican voters and "Trumpsters" that have seen an unprecedented effort by both "Never Trump" Republicans and Democrats to unseat a sitting U.S. President. President Trump has already stated that 2020 could be stolen away by widespread voter fraud. Many Republicans, including Trump's former advisor, Roger Stone, recently echoed the president's voter fraud fear that threatens the nation this election cycle. "This is an historic moment in the life of our nation as we re-nominate Donald Trump and Mike Pence for President and Vice President and set our Party on a path to victory. Today's unanimous re-nomination is a reflection of the unified support for the Trump-Pence ticket. Joe Biden and Kamala Harris are running on the most radical, socialist, extreme-left ticket in American history, and we must vote like our lives and our country depend on it this November. Our Party is unified, our supporters are energized, and we go forward confident in our cause of re-electing President Trump and Vice President Pence 70 days from now!" – RNC Chairman Ronna McDaniel
"Wasserman Schultz praises "Never Trump" Republicans for supporting Biden" by The Floridian's Javier Manjarres – Former Arizona Senator Jeff Flake (R), of the infamous Senate 'Gang of 8' immigration reform bill of 2013, has joined the group of "NeverTrump" Republicans that are now supporting Democratic presidential nominee Joe Biden over President Donald Trump. "Fellow Republicans, there's still time to save your souls,"stated Flake a past op-ed he wrote. "My fellow Republicans, it is time to risk your careers in favor of your principles. Whether you believe the president deserves impeachment, you know he does not deserve reelection," wrote Flake. "Our country will have more presidents. But principles, well, we get just one crack at those. For those who want to put America first, it is critically important at this moment in the life of our country that we all, here and now, do just that." Team Biden and national Democrats like Florida Rep. Debbie Wasserman Schultz (D) are praising Flake and those of the former Republican members of Congress who oppose Trump. "I served with Congressman Dent, and consider him a friend. We worked together in Congress to ensure that our veterans have the resources they deserve. I have immense respect for his opinion and his courage to voice it," stated Rep. Wasserman Schultz. Some others on the list had already backed the former vice president, including former Republican Sens. Gordon Humphrey of New Hampshire (who is now an independent) and John Warner of Virginia.
"Trump Announces Second-Term Agenda, "End Reliance on China"" by The Floridian's Daniel Molina – With the Republican National Convention taking place virtually this week in Charlotte, North Carolina, President Trump (R) released an announcement to supporters, providing an outline on what his agenda is should the Trump administration be elected for a second term. In the announcement, supporters are told that "unlike Joe Biden and Kamala Harris, who have vowed to DESTROY the American way of life, President Trump and Vice President Pence are promising to put YOU and your family first every single day." In his agenda, the President is planning to "create MORE jobs, CUT taxes, PROTEXT American jobs" and eradicate the coronavirus. Moreover, the Trump administration announced that "American will END its reliance on China and bring back 1 MILLION manufacturing jobs," "insurance premiums will be LOWERED," "Social Security and Medicare will be protected," "prescription drug prices will be CUT," "and preexisting conditions will be covered." As well, "school choice will be provided to EVERY child in America," the administration "will DRAIN THE SWAMP by passing Congressional term limits," "law enforcement will be fully funded," there will be "NO more sanctuary cities," "human trafficking networks will be dismantled, and illegal immigrants will be BLOCKED from becoming eligible for taxpayer-funded welfare, healthcare, and free college tuition."
"Florida judge blocks state requirement that public schools open for in-class education" by CNN's Ralph Ellis, Randi Kaye and Dan Shepherd – A Florida judge on Monday blocked the state's requirement that all brick-and-mortar public schools must offer in-class education by August 31. In his temporary injunction, 2nd Judicial Circuit Court Judge Charles Dodson said Florida Education Commissioner Richard Corcoran "arbitrarily prioritized reopening schools statewide in August over safety, and over the advice of health experts and that all districts complied in order to avoid loss of state funding." The ruling was a win for teacher unions.
"This is a great day for public schools," Florida Education Association President Fedrick Ingram said at a late afternoon news conference. "Sometimes, the good guys win, and today is that day." The FEA sued Gov. Ron DeSantis and Corcoran in an attempt to postpone in-person learning at schools until they can open safely. The lawsuit seeks to allow local districts to make the safest decisions pertaining to reopening physical campuses without losing state funding.
The judge heard three days of arguments last week. Fred Piccolo, a spokesperson for DeSantis, said: "We intend to appeal this ruling and are confident in our position and in the authority of the commissioner and the governor to do what is best for our students." Corcoran said he was "100% confident we will win this lawsuit." "This fight has been, and will continue to be, about giving every parent, every teacher and every student a choice, regardless of what educational option they choose," he said.
"Calling Colombians: With Florida In Play, Trump And Biden Reach Out To A Latino 'Sleeping Elephant'" by WLRN's Tim Padgett – Florida's large Colombian community never got much attention from U.S. presidential candidates. Until now. Colombians are the third largest Latino community in Florida, behind Cubans and Puerto Ricans. Yet you don't see U.S. presidential candidates making pilgrimages to Kendall to eat buñuelos the way they go to Little Havana to drink Cuban coffee. That lack of attention to Colombians seemed to change a lot last week. President Trump's National Security Adviser, Robert O'Brien, traveled to Bogotá to meet with Colombian President Iván Duque and discuss Trump's new multi-billion-dollar financing initiative to promote democracy and economic growth in Latin America—especially in Colombia. But politically, O'Brien's more important stop was the day before—in West Palm Beach, where he unveiled the initiative to Colombian expats. "We're talking now about the power of the Colombian vote," said Fabio Andrade, a Colombian-American Republican in Weston who heads the business nonprofit Americas Community Center that helped organize O'Brien's visit to South Florida. Andrade supports Trump; in his native Colombia he supports conservative President Duque—who is popular with most Colombian expats. An estimated 150,000 of them are registered to vote in Florida. Andrade helped convince the White House that Trump could win more of that electorate if he helped out Duque—a prospect that matters in a state where just 100,000 votes tipped things for Trump four years ago.
"Florida Supreme Court offers stopgap for law school grads" by News 4 Jax/Dara Kam's Dara Kam – The state Supreme Court on Monday released a supervised-practice program for law school graduates who have been unable to take the Florida Bar exam amid the coronavirus pandemic, but critics said the program doesn't go far enough. Chief Justice Charles Canady last week issued an apology after the Florida Board of Bar Examiners postponed a plan to offer the exam online, after canceling an in-person exam in July. In calling off the online exam, the board blamed problems with software — but the move touched off an outcry from law school graduates who must pass the test to be licensed in the state. On Monday, the Supreme Court released a temporary program that will allow law school graduates to work under the supervision of Florida attorneys who have been practicing for at least five years. The program will be available to law school graduates who were signed up to take the test this summer and will exclude people who previously have taken the bar exam. The program will last until the results of the February 2021 bar exam are released. "It creates a way for applicants to work despite delays caused by pandemic conditions and online testing failures," the Supreme Court said in releasing Monday's order, which gives the Board of Bar Examiners until Aug. 31 to set up the supervisory program. But critics of how the board and the court have handled the summer exam said the temporary program doesn't go far enough because it still requires prospective lawyers to take the exam.
"Florida won't say how much Deloitte bid on disputed $135 million contract" by Tampa Bay Times' Lawrence Mower – Florida officials are refusing to say how much Deloitte Consulting bid on a potential $135 million contract to handle the state's Medicaid data, claiming the company believes the information is a "trade secret" and not releasable under the state's public records law. Florida's Agency for Health Care Administration is now asking Deloitte and its four competitors to get a judge to say why their bid amounts should not be considered public records. If the companies want to avoid the legal route, they could remove their claim that the information is a trade secret and allow the release of the information. "This is outrageous," Marsh said. "This is a serious abuse of the public records law." The agency decided to award a nine-figure contract to Deloitte earlier this month despite one of the company's other state projects, the CONNECT unemployment system, melting down during the pandemic, leaving millions of Floridians unable to file or collect unemployment claims. DeSantis has blasted Deloitte, ordering an investigation into the company's CONNECT contract and saying Deloitte shouldn't win any more work. The only reason Deloitte won, he said, is because the company dramatically lowered its bid and undercut its top competitor, Accenture.
"Florida to Let Law Grads Work Under Supervision Without Bar Exam" by Bloomberg Law's Sam Skolnik – The Florida Supreme Court has issued an order establishing a supervised practice program that will let certain applicants for the delayed August bar exam temporarily work as lawyers during the pandemic, under supervision of licensed attorneys. The order came shortly after a group of Florida attorneys on Aug. 20 petitioned the court to allow recent law school graduates to become permanently licensed without taking the exam. The court's Monday order is just the latest twist in a Sunshine State saga that's involved a bar exam delayed three times; fears that the initial in-person exam, which wound up getting canceled, could have exposed test takers to the coronavirus; and more recent concerns over the technical viability of the state's online exam now slated for October. The court "recognizes the severe hardship these delays have caused Bar applicants who have been preparing for the bar exam for months," and is committed to taking steps to mitigate the impact of the delays, according to the statement released Monday by Chief Justice Charles Canady. The program will allow recent law school graduates the ability to practice, dependent on meeting several conditions, through 30 days after the results of the February 2021 bar exam are released. These grads will be able to take the October online test, and if they fail, to take the test again in February. To qualify for the program, the would-be lawyers must have graduated from an ABA-accredited law school, have received a letter of clearance attesting to their character and fitness from the Florida Board of Bar Examiners, and have met several other criteria.
"Jeff Flake joins over two-dozen former GOP members of Congress to launch 'Republicans for Biden'" by Fox News' Brooke Singman – More than two-dozen former Republican members of Congress threw their support behind a "Republicans for Biden" effort being launched Monday by the Democratic presidential nominee's campaign to engage potential GOP supporters this November. The announcement comes on the first day of the Republican National Convention, as delegates prepare to formally re-nominate President Trump on Monday. In their respective convention agendas, each party has sought to showcase converted supporters. Joe Biden's list of Republican supporters, shared first with Fox News, includes a number of well-known Trump critics, most notably former GOP Sen. Jeff Flake of Arizona. Last fall, he penned an op-ed urging lawmakers to abandon the president and save their "souls," as he backed impeachment. He's since said he won't vote for Trump, but had held off on a formal Biden endorsement until now. Some others on the list had already backed the former vice president, including former Republican Sens. Gordon Humphrey of New Hampshire (who is now an independent) and John Warner of Virginia. They're joined by a number of former Republican House members: Former Reps. Steve Bartlett of Texas, Bill Clinger of Pennsylvania, Tom Coleman of Missouri, Charlie Dent of Pennsylvania, Charles Djou of Hawaii, Mickey Edwards of Oklahoma, Wayne Gilchrest of Maryland, Jim Greenwood of Pennsylvania, Bob Inglis of South Carolina, Jim Kolbe of Arizona, Steve Kuykendall of California, Ray LaHood of Illinois (who served as Transportation secretary in the Obama administration), Jim Leach of Iowa, Connie Morella of Maryland, Mike Parker of Mississippi, Jack Quinn of New York, Claudine Schneider of Rhode Island, Chris Shays of Connecticut, Peter Smith of Vermont, Alan Steelman of Texas, Bill Whitehurst of Virginia, Dick Zimmer of New Jersey, and Jim Walsh of New York.
"Wife of former congressman sentenced to home confinement in campaign scandal" by CNN's Alexandra Meeks – Margaret Hunter, the wife of former Republican Rep. Duncan Hunter, was sentenced in federal court Monday to eight months of home confinement for the scandal in which the couple misused more than $250,000 in campaign funds for a slew of personal expenses, including pet rabbits. "Margaret Hunter promptly accepted responsibility for her role in this campaign finance fraud," said Assistant US Attorney David Leshner in a statement.
"Her sentence reflects her lesser culpability relative to her husband, the important part she played in securing her husband's guilty plea, and her role in reinforcing the bedrock principle underlying our democracy that the politicians who write our laws do not stand above them," Leshner added. The couple was indicted in 2018 for lavishly spending on "items as inconsequential as fast food, movie tickets and sneakers; as trivial as video games, Lego sets and Playdoh; as mundane as groceries, dog food, and utilities; and as self-indulgent as luxury hotels, overseas vacations, and plane tickets for themselves, their family members, and their pet rabbits Eggburt and Cadbury," according to prosecutors. Duncan Hunter, the former San Diego area congressman, was sentenced to 11 months in prison and three years of parole for corruption charges in March 2020. Margaret Hunter's home detention portion of the sentence restricts all movement outside the home except for employment, education, religious services, mental health and substance abuse counseling, and court proceedings, according to the district judge's sentence. He also banned her from seeking employment with fiduciary responsibility.
"New York Attorney General Investigating Trump Organization, President Trump's Assets" WSJ's Deanna Paul and Rebecca Davis O'Brien – The New York attorney general's office is investigating whether the Trump Organization and President Trump improperly inflated the value of Mr. Trump's assets in financial filings, according to court papers made public Monday that seek to compel company executives to comply with subpoenas. The state's top prosecutor opened the civil investigation in March 2019, after Michael Cohen, the president's former personal lawyer and a former senior executive of the Trump Organization, provided Congress with copies of Mr. Trump's financial statements and testified that his assets were inflated to secure favorable loans and tax benefits, according to the filings in Manhattan state court. The attorney general's office, in Monday's filings, asked a New York court to order the Trump Organization and others to comply with civil subpoenas, including one issued for testimony from Eric Trump, who has led the Trump Organization since his father took office. The office submitted the request Friday, and the court filings were made available on Monday, the first day of the Republican National Convention. Allen Weisselberg, the Trump Organization's chief financial officer and a longtime confidant of President Trump, gave sworn testimony to the state investigators over two days last month, according to the filings. Mr. Weisselberg was subpoenaed in March, the filings say, and he is expected to meet again with the office.
"Over 1,000 DNC delegates voted against party platform, in sign of Dem discord" Fox News' Paul Steinhauser – With a common goal of booting President Trump from the White House in November's general election, the progressive and moderate wings of the Democratic Party mostly presented an image of unity last week at their nominating convention. But there was one moment during the four-day Democratic National Convention where progressives protested in large numbers – over the party's platform. While it's described as the most progressive platform in the Democratic Party's history and pushes the party to left on many issues — including health care reform, combating climate change, trade deals, and fighting racial injustice — the 92-page document doesn't specifically endorse "Medicare-for-all" or the Green New Deal, two of the top proposals pushed by the party's progressive wing. Democratic National Committee (DNC) officials announced last Tuesday that the platform was passed by convention delegates and adopted. But despite inquiries by Fox News and other news organizations, they didn't release the roll-call vote on the platform for days. The tally is now out — and reflects a major divide among delegates. The DNC revealed over the weekend that 3,562 delegates voted to approve the platform, while a total of 1,069 voted no, and 87 abstained. The number of convention delegates who voted no is roughly the same as the number of delegates pledged to progressive Sen. Bernie Sanders of Vermont. The populist lawmaker and "Medicare-for-all" champion was the last remaining rival to Democratic nominee Joe Biden in the primaries before suspending his White House bid and endorsing the former vice president in April.
"Montana secretary of state asks Supreme Court to intervene in Green Party ballot fight" CNN's Dan Berman and Caroline Kelly – The Montana secretary of state is asking the Supreme Court to intervene in a fight over whether the Green Party can be on the state ballot this fall — a decision that could have a major impact on a key US Senate race between Republican incumbent Sen. Steve Daines and Democratic Gov. Steve Bullock. Secretary of State Cory Stapleton, a Republican, filed an emergency request Monday urging the high court to place a hold on proceedings pending further legal action after lower courts had approved the Green Party absence from the ballot. "The Secretary is required to soon begin printing general election ballots," Stapleton wrote. "Under the status quo, these ballots will be printed without the Green Party's federal and state candidates." Montana Republicans earlier this year backed an effort to qualify the Green Party, which has traditionally drawn some liberal voters from the Democrats, for the ballot. But after that was revealed, state Democrats urged enough people who signed petitions to disavow their support. The secretary of state's office, however, did not accept requests to remove their support, and so the state Democrats and several people sued. A lower court judge and the state Supreme Court sided with the Democrats, saying the Green Party no longer qualified for November's contest. "The Montana courts have, effectively, created chaos out of Montana's otherwise orderly election process, without ever adequately considering the First Amendment rights of Green Party candidates, voters, and ballot access supporters," Stapleton wrote Monday. "In fact, no Green Party candidate, supporter, or funder was permitted to intervene in the matter."
"TikTok Files Suit Challenging U.S. Ban" WSJ's Katy Stech Ferek and Liza Lin – Chinese-owned TikTok sued the U.S. government in federal court Monday, saying that it protects its users' data and challenging President Trump's executive order that would effectively ban the video-sharing app if it doesn't find an American buyer for its U.S. operations. In the lawsuit, filed in federal court for the Central District of California, TikTok lawyers said that the company has "taken extraordinary measures to protect the privacy and security of TikTok's U.S. user data" and that it has explained those efforts to the federal government during a recent national security review. "By banning TikTok with no notice or opportunity to be heard (whether before or after the fact), the executive order violates the due process protections of the Fifth Amendment," the complaint says. U.S. officials say they are concerned that TikTok, owned by Beijing-based ByteDance Ltd., could pass on data it collects from Americans streaming videos to China's authoritarian government. TikTok has said it hasn't been asked to share data with the Chinese government and wouldn't do so if asked. TikTok's platform, filled with goofy user-made dance and music videos, has been downloaded more than 180 million times in the U.S., according to market research firm Sensor Tower. Earlier this month, Mr. Trump issued an order calling on TikTok's Chinese owner to divest itself of the video-sharing app's U.S. operations, setting a 90-day deadline for the transaction to be completed. Microsoft Corp., Oracle Corp. and Twitter Inc. have had talks about an acquisition, and several investment firms are also involved.
"Alaska Pebble Mine opposed by Trump Jr. hit with unexpected setback" by CNN's Scott Bronstein, Curt Devine and Drew Griffin – The federal government Monday announced that a controversial copper and gold mine in Alaska would cause substantial environment damage, could not receive a permit with its current proposed plan, and ordered the company to offset those impacts in order for the project to move forward. The U.S. Army Corps of Engineers sent a letter to Pebble Limited Partnership, the company behind the proposed mine, that said the footprint of the mine's adverse impacts would cover nearly 3,000 acres of wetlands, 132.5 acres of open water and 130 miles of streams, along with areas affected by other infrastructure. Pebble has 90 days to reply with a plan to mitigate the damage. While the letter does not outright block the mine, environmentalists and former officials call it a significant setback for the project that has in recent weeks attracted opposition from prominent Republicans including the President's son, Donald Trump Jr., Vice President Mike Pence's former chief of staff Nick Ayers, and Fox News' Tucker Carlson. The Army Corps said in a statement that the project "as currently proposed, cannot be permitted" under the Clean Water Act. The Army Corps cited a federal code that requires Pebble to restore, enhance or preserve an area comparable to that which would be damaged by the mine. That massive undertaking could potentially delay the project from getting its long-sought permit until after the US election in November, according to three current and former Environmental Protection Agency officials, two of whom did not want to be identified for fear of retaliation. Pebble CEO Tom Collier dismissed the significance of the letter, telling CNN it was a routine notice that didn't impede the progress of the project. "All of this is an anthill made into a mountain," Collier said, adding that the letter was not a surprise to company officials, that it was a normal part of the permitting and review process. "We've already got an additional plan. It's a plan we're confident of. We're mapping it," he said. Collier added that the effort has been ongoing for more than three weeks.
"Sen. John Kennedy claims 'too many Democrats' support 'the people who are trying to destroy our country'" Fox News' Charles Creitz – The first night of the Republican National Convention has sought to express a message of national unity, in contrast to last week's Democratic gathering, Sen. John Kennedy, R-La., told "Tucker Carlson Tonight" Monday. "The new Democratic Party of Senator [Bernie] Sanders and Congresswoman Alexandria Ocasio-Cortez seem to support middle-class Americans only if they are a part of a specific minority group that they deem worthy," Kennedy told host Tucker Carlson. "If you are not part of those elite groups and you are in the middle class, you are just a Deplorable, and they don't care about you," he added. "You are just ignorant and racist." According to Kennedy, a key theme of this week's gathering will be American exceptionalism, with an emphasis on America as the "greatest country in all of human history." "Many Democrats, on the other hand, their attitude seems to be, 'I was born in America, but I overcame it.' "They seem to — not all, but many of them — seem to [have] more contempt than gratitude for America. And that's why I think too many of my Democratic colleagues have been too supportive, either implicitly or explicitly, of the people who are trying to destroy our country by looting and burning and rioting and ignoring the rule of law. And that's what I think will be the differences between the two conventions."
"New Details Revealed of RNC Fundraiser's Lobbying for China" by WSJ's Aruna Viswanatha and Rebecca Ballhaus – A senior Chinese government official enlisted the help of a top fundraising official at the Republican National Committee to lobby the Trump administration in 2017 to return a Chinese businessman living in the U.S. who has long been sought by Beijing, according to a court document filed in Hawaii last week. Sun Lijun, China's then-vice minister of public security, met in a hotel suite in Shenzhen in May 2017 with Elliott Broidy, a venture capitalist and, at the time, national deputy finance chairman of the RNC, according to the document. At Mr. Sun's request, Mr. Broidy agreed to seek to use his influence with the Trump administration to advocate for the removal of Guo Wengui, a Chinese businessman living in New York, the document said. Details of the meeting and other efforts Mr. Broidy made on behalf of the Chinese to remove Mr. Guo show the lengths to which China has gone to pursue a priority that had stalled through official diplomatic channels. Beijing considers Mr. Guo a fugitive from bribery and other allegations in China but has been unsuccessful in persuading the U.S. to hand him over. Since moving to an apartment in a Manhattan hotel after fleeing China in 2014, he has publicized salacious and unproven allegations against senior members of the Chinese Communist Party. He has denied the Chinese allegations and described the attempts at his removal as a corrupt exercise by Communist Party officials. An account of China's and Mr. Broidy's alliance was contained in a federal criminal charging document filed against one of Mr. Broidy's business partners, Nickie Lum Davis. She is charged with violating a law that requires lobbyists for foreign governments or nationals to register that work with the Justice Department. A lawyer for Ms. Davis didn't return requests for comment. Mr. Broidy, who resigned from his RNC post in 2018, wasn't named in the document but is identifiable from details it contains. He hasn't been charged with any wrongdoing. A lawyer for Mr. Broidy, who has denied any wrongdoing in the past, didn't respond to requests for comment.

President Donald Trump @realDonaldTrump–Governor should call in the National Guard in Wisconsin. It is ready, willing, and more than able. End problem FAST!


Adam Schiff @RepAdamSchiff –BREAKING: The House just voted to save the USPS from sabotage by the Trump Administration. We will protect our postal service: For veterans. For small businesses. For rural Americans. For our very democracy. Everyday Americans need the USPS — we won't let Trump destroy it.