During the 2016 presidential election cycle, Republican voters and donors around the nation all got behind a slew of candidates vying to out conservative one another, sort of how the Democrats are doing in the 2020 election cycle, as they try to show Americans who is the most progressive of the bunch.
Then-candidate Donald Trump completely disrupted the usual balance within the GOP, causing many traditionally conservative voters to side with his unconventional presidential campaign.
Trump won, but not before making primary enemies along the way. Many supporters of former presidential candidates Marco Rubio, Ted Cruz, and Rand Paul couldn't bring themselves to support Trump after the real estate tycoon devastated their candidates by landing stinging and demeaning attacks against their person.
The "Never-Trumpers" were born.
But Senators Rubio, Cruz and Paul, along with many of their supporters, can't be called "Never-Trumpers."
Senators Rubio, Cruz, and Paul, all are very supportive of President Trump, even after Trump labeled them with demeaning nicknames during their heated primary race.
On any given day, all three men can be seen on TV pushing back against Trump's Democratic and Progressive detractors, and gushing over the booming national economy that Trump, among other issues.
Trump's economic policies are working, and even some of the most ardent past "Never Trumpers" have come around and given him a second look.
Combat veteran Mike Giallambardo is a former Rubio supporter and a  Republican running for the state House in Tallahassee, Florida.
Giallambardo was a loyal Rubio supporter that, as Trump supporters did,  supported their respective presidential candidates.
Shortly after Rubio bowed out of the race, Giallambardo moved over to Team Trump and projected the same positive effort for Trump that he showed Rubio, including speaking at Trump campaign rallies.
Giallombardo is currently matched up with Bryan Blackwell in a soon-to-be heated Republican primary race in Southwest Florida.
In a show of weakness and desperation, Blackwell's campaign supporters are pushing the false narrative that Giallombardo is a "Never Trumper."
Do you think President Trump would allow a "Never Trumper" to warm up his base of support before he took the stage?
Nope.
On Halloween night in 2016, Giallombardo did just that, he addressed the Trump faithful at the Hertz arena rally in Estero, Florida, and Team Trump took note.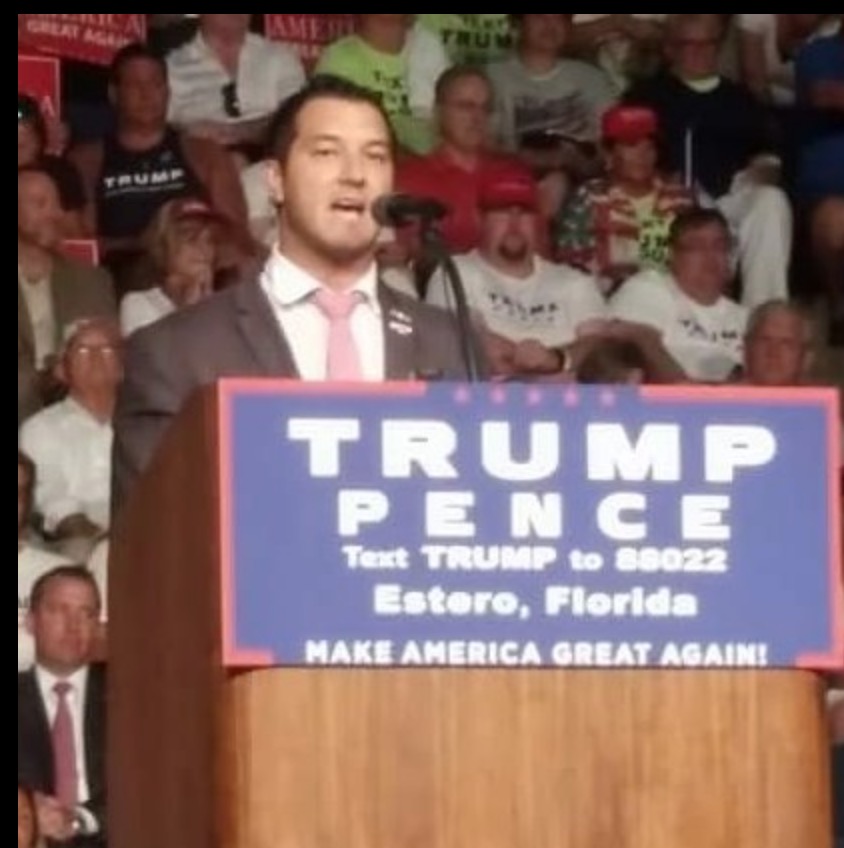 According to one current Trump 2020 advisor, the presidential campaign is keeping an eye on Giallombardo's candidacy. While they didn't say that the president was going to come out and support him, the source told The Floridian that Giallombardo was on their radar.
Team Blackwell has also put out the false claim that Blackwell was crushing Giallombardo in fundraising, but taking a closer look at the latest campaign finance reports, it's Blackwell who is being crushed.
According to the Florida Division of elections, in the last reporting cycle summary, Giallombardo had raised $56, 965.60 while Blackwell had only raised $46,840.00 with $20,000 of that amount coming in form of a loan Blackwell gave his campaign.
In other words, Blackwell has only been able to raise $26,840.oo to date.
Blackwell first announced his candidacy by stating that his political committee had received a whopping $140,000 from another political committee run by his campaign consultant, Anthony Pedicini.
The contribution came from Citizens Alliance for Florida's Economy, a political committee that appears to be part of the shady practice of moving money around to and from other committees to try to throw off any snooping reporter or investigator.
Since the committee's inception, it has taken in $6,372,399.35 much of that coming from other committees, some of those committees also being controlled by interested parties with possible direct or indirect ties to Blackwell.
So, it will be interesting to see "if" that $140,000 will ever be used on Blackwell's campaign, or if it finds its way back to some other political committee.
Giallambardo has garnered the endorsements from House Majority Leader Dane Eagle and Fmr. Lt. Gov. Carlos Lopez-Cantera, to name a few.
Meanwhile, the "Never Trumper" movement seems to have exhausted its' 15 minutes of political fame, as Americans who have not supported Trump appears to be coming around during the 2020 cycle.
You can credit House Democrats and their impeachment inquiry for moving those solid "no" Republican votes for