BREAKING NEWS!!! Massive Explosion Rocks Capitol in D.C.
Rep. Eric Swalwell (D-CA) is categorically denying that he let out a massive fart on live TV while being interviewed by MSNBC's Chris Matthews. Some blame Matthews, but video seems to clearly show Swalwell distinctively repositioning himself as he dropped the mega bomb.
The Floridian reached out to Rep. Brian Mast (R) a former U.S. Army bomb disposal export for comment on the kind of explosive devise Swalwell may have detonated, but could not reach him for comment on "Fart-Gate."
Outside of a melted wire or two, no one was hurt as a result of the Swalwell's apparent trouser explosion.
WARNING!!! This video is nothing less than graphic and absolutely hilarious >>>>
take our poll - story continues below
Completing this poll grants you access to The Floridian updates free of charge. You may opt out at anytime. You also agree to this site's Privacy Policy and Terms of Use.
Now on to other pressing stories…
The Bold, the Brighter, and the Better
Florida's first "Green Governor" Ron DeSantis has unveiled his FY 2020-2021 "Bolder, Brighter, Better Future" for the state of Florida.
"My budget proposal for Fiscal Year 2020-2021 builds on our successes of the past year, placing emphasis where it is needed while remaining fiscally responsible to Florida taxpayers," said Governor DeSantis. "The budget includes key investments in our K-12 education system, our environment and the well-being of our residents, while recommending over $480 million in savings and over $300 million in tax relief. Although there is still more we can do to improve our state, which we hope to accomplish through this budget, Florida's future has never been bolder, brighter or better than it is today."
Republican legislators and business-friendly trade organizations were quick to sing the praises for DeSantis' new budget…
Florida's Critical Care Hospitals – "We applaud the Governor's protection of the Critical Care Fund in his budget proposal. He is truly putting the best interests of patients first. This funding goes to ensure the poorest in our communities, mostly children, receive the very best care when they suffer from complex medical conditions like pediatric cancers or burns. The Governor's protection of this funding means state dollars are truly following the patient because only certain hospitals in our state are able to handle a high volume of complex pediatric care and still have the very best outcomes." –SNHAF Chief Executive Officer Justin Senior.
Associated Industries of Florida (AIF) – "AIF applauds Governor DeSantis' budget proposal for fiscal year 2020-2021 that includes more than $300 million in tax cuts for Florida's families. In his first year in office, Governor DeSantis has already made great strides with our economy, our environment, and our workforce development. Today's release of his 'Bolder, Brighter, Better Future' budget shows he is committed to continuing down the path of making Florida the best place to live, work and raise a family. From Everglades and wetlands restoration to affordable housing and hurricane recovery to transportation and workforce development funding, we look forward to seeing these important projects receive the funding they need to continue to improve our state. At the same time, AIF also looks forward to seeing the proposed tax cuts that will go a long way in helping Florida's business community continue to thrive."
Sadowski Coalition -"On behalf of the Sadowski Coalition, I want to thank Governor DeSantis for again distinguishing himself as a leader for recommending that all of the funds set aside for affordable housing be appropriated and used to create affordable housing in the State of Florida. It's clear that Governor DeSantis understands how important it is for the well-being of Florida's workforce and our most vulnerable populations, including veterans and the elderly, to have housing they can afford. The Governor recognizes that the Sadowski state and local housing trust fund programs are the best way for Florida to meet its enormous housing need. He also understands that you must be bold to solve long-standing problems." – Jamie Ross, Florida House Coalition CEO
Everglades Foundation -"Governor DeSantis is a true environmental leader who recognizes the importance of preserving our one-of-a-kind Everglades and the important role it plays in our state's economy, and his budget proposal reflects this. We applaud Governor DeSantis for again including more than $625 million in recurring funding for Everglades restoration and clean water initiatives. His commitment of investing $2.5 billion over four years shows his unwavering dedication to our environment and his willingness to tackle our environmental problems that have been put on the back burner for far too long. The funding included in the Governor's budget proposal is significant and I thank him for being an environmental champion for our state – especially at a time when we needed a leader on this issue – and for crafting a proposal that will have far-reaching and positive impacts throughout our state." –CEO Eric Eikenberg
Visit The Floridian

Sick- After allegations surface that former Palm Beach State Attorney Criminalizing Young Epstein Victims, Democratic State Senator Lauren Book pounced.
"It is a sad state of affairs when victims of sexual assault are re-victimized by the very people who should be fighting for justice on their behalf, and a serial sex predator is handed a sweetheart deal. However, recent reports indicate former Palm Beach County State Attorney Barry Krischer's office did just that – child victims of sexual assault were allegedly treated like criminals, and neither their interests nor the interests of the public were not properly represented. I eagerly await the FDLE report so the truth may finally be brought to light."– Sen. Lauren Book (D)
Democrats leading the way in 2020? – The Florida Democratic Party is boasting that it is training dozens of would-be local and municipal candidates, or prepping their farm team for future elections.
"Our goal is to recruit more candidates and provide them a platform to build a path to victory. We know that when more democrats run for office, more Democrats will get out and vote."
The embattled Republican Party of Florida (RPOF) appears to be running a ghostly, or "covert" election year ground game. In reality, the GOP doesn't appear to be doing much except when the RNC or Team Trump are running the show and barking the orders.
Meanwhile, Florida Democrats are still pushing their "gun violence" agenda, this time they descend on Tampa. Terrie Rizzo, chair of the Florida Democratic Party, along with State Senator Darryl Rouson, State Representative Dianne Hart, and State Representative Fentrice Driskell participated in the Tampa event to curb "gun violence in black communities. 
Why not pin thousands of deaths on DeSantis and Scott? (Sarcasm)-– "Democrats blame Scott & DeSantis for "thousands" of healthcare deaths" by The Floridian's Javier Manjarres – Rep. Debbie Wasserman Schultz (D) has come out blaming Republicans for the "thousands of lives" that were lost, alleging that the deaths are tied to the GOP's refusal to expand Medicaid coverage across the nation."Republicans must put people over politics and expand Medicaid and protect the #ACA," stated Wasserman Schultz "Thousands of lives were lost because they refused, Thousands more could be saved if they do the right thing."Rep. Wasserman Schultz's remarks are based on a recent Miami Herald Editorial Board opinion story accusing both the Rick Scott and Ron DeSantis administrations of refusing to expand Medicaid coverage, which led to numerous deaths.
Plugging In – The 2019 Florida Automatic Vehicles (FAV) summit is this week, Nov 21-22 in the Miami boogie down. Sen. Jeff Brandes (R) will be speaking Thursday morning.
More Budget Love For DeSantis – "DESANTIS PRAISED, CRITICIZED ON ENVIRONMENTAL SPENDING" by News Service of Florida's Jim Turner – TALLAHASSEE — Gov. Ron DeSantis drew praise as "a true environmental leader" but was also criticized for not putting more money toward the Florida Forever program and failing to adequately prepare the state for climate change as he released a proposed $91.4 billion budget on Monday.DeSantis received the mixed reviews from environmental groups for his spending plan, which included a previously announced request for $625 million annually for the next three years for efforts directed at the Everglades and other water projects.The Everglades Foundation applauded DeSantis' proposed budget, which included $322 million for Everglades restoration, $150 million for water quality improvements, $50 million for restoration of the state's springs and $22 million to combat the impacts of toxic algae blooms and red tide.…
The Love For DeSantis Ends – "DeSantis, indicted Ukrainian-American Parnas met at least 6 times, governor's office says" by the Orlando Sentinel's Gray Rohrer and Steven Lemongello – Lev Parnas, the Ukrainian-American tied to Rudy Giuliani and under indictment for campaign finance fraud, met with Florida Gov. Ron DeSantis at least six times and had other encounters beyond that, the governor's office confirmed to the Orlando Sentinel. The number of interactions is more than previously reported by Florida news outlets asking questions for weeks about the governor's ties to the Parnas and his business partner Igor Fruman. The duo also has been tied to the Ukraine scandal that has led to House impeachment hearings of President Trump.DeSantis has refused to talk about his encounters with the two South Florida businessmen beyond an initial brief description of them, even though Parnas repeatedly contacted his campaign and sought meetings with DeSantis. Now Parnas and Fruman face charges of illegally funneling foreign money into U.S. campaigns.DeSantis' office stressed that the governor had no knowledge of their alleged crimes and immediately gave the $50,000 they had contributed to DeSantis' campaign to the U.S. Treasury after news broke of their arrests.
Potential High-Noon Showdown in Broward's Sheriff's race – "Lamberti considering long-shot challenge against Broward Sheriff Tony" by The Floridian's Javier Manjarres – After Republican State Senators voted to permanently remove former Broward Sheriff Scott Israel after his office's debacle in responding to the Parkland school shooting that left 17 students and teachers dead, Israel continued declaring his innocence and has positioned himself as the top Democratic choice to take on Democratic Broward Sheriff Gregory Tony. Tony has already announced that he will look to retain the job he was appointed to by Gov. Ron DeSantis when Israel was suspended, so the table is set for a good ole fashion gunslinger showdown in Broward County. Sheriff Tony has outraised Israel through his Broward First political action committee and has received the full support of many of the Parkland shooting families, including Broward County School Board member Lori Alhadeff, Ryan Petty, and Andrew Pollack.
"Gov. Ron DeSantis introduces "Bolder, Brighter" annual budget" by The Floridian's Javier Manjarres – Florida's first "Green Governor" Ron DeSantis has unveiled his FY 2020-2021 "Bolder, Brighter, Better Future" for the state of Florida."My budget proposal for Fiscal Year 2020-2021 builds on our successes of the past year, placing emphasis where it is needed while remaining fiscally responsible to Florida taxpayers," said Governor DeSantis. "The budget includes key investments in our K-12 education system, our environment and the well-being of our residents, while recommending over $480 million in savings and over $300 million in tax relief. Although there is still more we can do to improve our state, which we hope to accomplish through this budget, Florida's future has never been bolder, brighter or better than it is today."
Roll of the Dice?– "Brandes Files Sports Betting Legislation in Florida, Could be Considered by Lawmakers in 2020" by Casino.org's Todd Schriber –State Sen. Jeff Brandes (R-FL) filed a sports betting bill today, potentially paving the way for the third-largest US state to consider permitting the activity as a means of increasing education revenue. Brandes, who represents part of Pinellas County along the Gulf Coast, unveiled SB 968, which pertains directly to the matter of sports betting in Florida. He also introduced SB 970, a bill that addresses the licensing and fees associated with sports wagering in the state, and SB 972, legislation that outlines related taxes. Under SB 968, the Florida Department of Lottery and other licensees would operate sports wagering there. Those wishing to participate would be subject to permit fees of $100,000 and 50/50 revenue split with the state.
"Chick-fil-A to halt Salvation Army, FCA donations after LGBTQ protests" by the Tampa Bay Times' Josh Fiallo – Chick-fil-a will stop all donations to the Salvation Army and the Fellowship of Christian Athletes next year, its CEO announced Monday. The decision comes after years of criticism from LGBTQ and human rights groups regarding Chick-fil-A's donations to the nonprofits in light of their positions on same-sex marriage. The Fellowship of Christian Athletes states on its website that "marriage is exclusively the union of one man and one woman." The Salvation Army came under fire in 2012 when the organization suggested that gay Christians pursue celibacy "as a way of life."Chick-fil-A said Monday its foundation will now "deepen its giving to a smaller number of organizations" and will concentrate its giving in the areas of education, homelessness and hunger.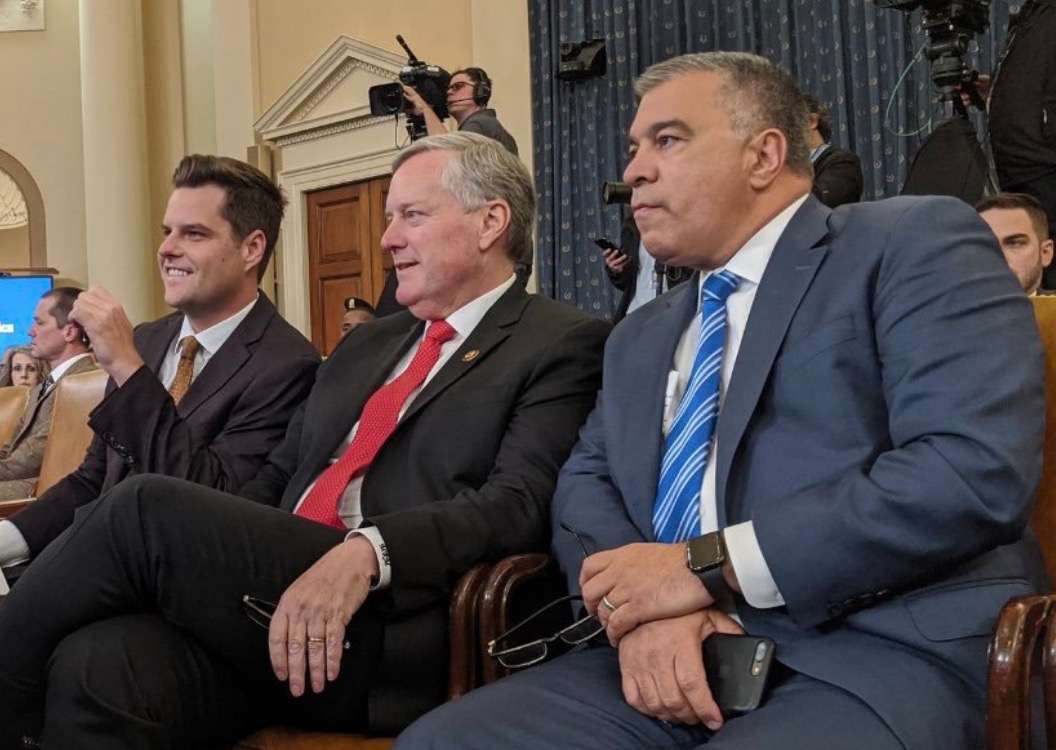 The House's Impeachment Inquiry Enters Week #2
"Impeachment guide: The 9 witnesses testifying this week" by The Hill's Cristina Marcos – Overthe course of three days, nine witnesses will tell their sides of the story as the House examines President Trump's interactions with Ukraine and his request that the country investigate former Vice President Joe Biden and his son, Hunter Biden, as well as 2016 election interference. 
The witnesses will testify after U.S. top envoy to Ukraine William Taylor and State Department official George Kent, along with former U.S. Ambassador to Ukraine Marie Yovanovitch, already appeared before the House Intelligence Committee last week.
Here's a guide to this week's hearings.
"Impeachment inquiry enters most crucial stage with top witnesses on deck" by CNN's Stephen Collinson – Washington (CNN)Democrats who want to oust President Donald Trump and Republicans battling to save him are braced for the most momentous phase yet in the battle of impeachment that is rocking Washington. The showdown that could result in Trump becoming only the third US president to suffer such a fate will resume in the House Intelligence Committee at 9 a.m. ET with appearances by senior national security officials. Dramatic televised hearings featuring what is expected to be occasionally stunning testimony over the next three days could decide whether Trump's accusers can establish that he abused his power to pressure Ukraine for political favors. Democrats have simplified their charge against the President — arguing now that he may be guilty of the impeachable crime of bribery after holding up military aid for Ukraine.The coming days will also be crucial for Republicans hoping to confound a difficult pattern of facts to show Trump did nothing more than exercise his vast authority to set foreign policy. 
 "House staffers on a summer trip to Ukraine learned U.S. aid was frozen. Stunned, here's what they did next." by NBC's Jonathan Allen – Washington – Two days after a whistleblower secretly filed a complaint about President Donald Trump's dealings with Ukraine in August, two top congressional staffers arrived in Kyiv on a routine business trip that ended up setting off alarm bells on Capitol Hill. The aides work for the Democratic leadership of the House Appropriations Committee, which is responsible for federal spending. They had been dispatched to make an on-the-ground assessment of the cash Congress has been pumping into former Soviet states — including Moldova, Georgia and Ukraine — to aid their defenses against Russian aggression. But after traveling from Chisinau, Moldova, for two days of meetings and Ukrainian special-forces training observation in Kyiv and Berdychiv starting on Aug. 14, the staffers were shocked to learn from U.S. embassy officials that there was no new money coming into Ukraine, a congressional aide familiar with their trip told NBC News. The Trump administration had frozen military aid to the country in the midst of its war with Russia.
"Lawmakers urge FBI to investigate possible pay-to-play scheme uncovered by CBS News" by CBS News' Jordan Freiman – Representatives Ted Lieu and Kathleen Rice sent a joint letter on Monday to FBI Director Christopher Wray, urging him to open an investigation into a possible pay-for-play scheme involving the Republican National Committee and President Donald Trump's nominee for ambassador to the Bahamas. The letter comes after CBS News reported Monday on the potential scheme.After San Diego billionaire Doug Manchester's nomination had stalled in the Senate for nearly two and half years when RNC Chairwoman Ronna McDaniel wrote to him if he would put together $500,000 worth of contributions from his family, according to emails obtained by CBS News. Manchester wrote back, "As you know I am not supposed to do any," but informed McDaniel that his wife would send a contribution for $100,000 and said that once confirmed, "our family will respond!""Ms. McDaniel's fundraising request of a presidential nominee pending confirmation and Mr. Manchester's apparent agreement of his Ambassadorship was confirmed plays to Americans' worst fears that this administration is selling public office to the highest bidder," the Democratic representatives wrote in the letter.
"DOJ outlines slew of Strzok 'security violations,' says wife learned of affair through unsecured phone" by Fox News' Edmund DeMarche, Gregg Re – The Department of Justice released documents Monday outlining a slew of "security violations" and flagrantly "unprofessional conduct" by anti-Trump ex-FBI agent Peter Strzok — including his alleged practice of keeping sensitive FBI documents on his unsecured personal electronic devices, even as his wife gained access to his cell phone and discovered evidence that he was having an affair with former FBI attorney Lisa Page.
The DOJ was seeking to dismiss Strzok's lawsuit claiming he was unfairly fired and deserves to be reinstated as chief of the counterespionage division at the FBI. In its filing, the DOJ included an August 2018 letter to Strzok from the DOJ's Office of Professional Responsibility (OPR), which found in part that Strzok had engaged in a "dereliction of supervisory responsibility" by failing to investigate the potentially classified Hillary Clinton emails that had turned up on an unsecured laptop belonging to Anthony Weiner as the 2016 election approached.The situation became so dire, OPR said, that a case agent in New York told federal prosecutors there that he was "scared" and "paranoid" that "somebody was not acting appropriately" and that "somebody was trying to bury this."The New York prosecutors then immediately relayed their concerns to the DOJ, effectively going over Strzok's head — and leading, eventually, to then-FBI Director James Comey's fateful announcement just prior to Election Day that emails possibly related to the Clinton probe had been located on Weiner's laptop.
What's Marco up to?
Sen. Marco Rubio is pressing the Iranian government to immediately release "Florida constituent Bob Levinson" from captivity.
He hates China
Sen. Rick Scott has been relentlessly ripping on Communist China over their shady trade and business practices, not to mention their ongoing human rights violations.
"Communist China wants to control the entire world, including Americans," the Florida Republican said on "Squawk Box." "They're not our partner. They're never going to be our partner under these existing leadership teams."
…"All of us would like a deal with China," Scott said. But he added he doesn't believe the Chinese can fundamentally change. "They're not going to do anything that's good for us and they're never going to open up their markets."
"We cannot continue to build the Chinese economy," the senator said.
Florida Reps. Alcee Hastings (D) and Ross Spano (R) have filed H.R. 5080, their HOPE for Victims of Human Trafficking Act.
"We should be helping survivors as they work so bravely to recover from trauma & rebuild their lives," said Hastings.
Rep. Kathy Castor (D) continues her Climate Change narrative that all-but blames the Trump administration for all of the ills of Global Warming. Hey, it's he job to do so.
"The Trump admin's climate denial threatens communities on the front lines of the #ClimateCrisis & the health of American families," stated Castor
"House Democrats weigh seniority and gender politics in replacing Cummings" by RollCall's Griffin Connolly – House Democrats will confront longtime divisions over gender politics and how much weight to give seniority when they hold a secret vote Wednesday to select a permanent leader for a committee investigating possible ethical violations in President Donald Trump's administration. Speaker Nancy Pelosi elevated the most senior member of the Oversight and Reform Committee, Rep. Carolyn B. Maloney of New York, to acting chairwoman after Chairman Elijah E. Cummings of Maryland died last month. Reps. Gerald E. Connolly of Virginia and Stephen F. Lynch of Massachusetts are challenging her, and their supporters are happy to make not-for-attribution comments that question her ability to stand up to the GOP's most vociferous Trump defenders. But Democrats say they worry about speaking openly against Maloney because of the optics of choosing a younger white man instead of a woman to succeed an African American, especially after she was already passed over once.
"Hostages from U.S., Australia have been freed, Taliban says" by Associated Press – KABUL, Afghanistan — The Taliban said they freed on Tuesday an American and an Australian hostage held since 2016 in exchange for three top Taliban figures who were released by the Kabul government and flown out of Afghanistan the previous day.The hostages — American, Kevin King and Australian Timothy Weeks — were released in southern Zabul province, ending their more than three years in captivity.According to a Taliban official, who spoke on condition of anonymity because he wasn't authorized to talk to the media, the release took place in the province's Now Bahar district, a region largely under Taliban control.It wasn't immediately known if the two hostages, both professors at the American University of Kabul, were handed over to Afghan government representatives, intermediaries, or U.S. forces.Their freedom came hours after the Afghan government freed three Taliban prisoners and sent them to Qatar. They included Anas Haqqani, the younger brother of the Taliban's deputy Sirajuddin Haqqani, who also leads the fearsome Haqqani network.

@realDonaldTrump –Nancy Pelosi just stated that "it is dangerous to let the voters decide Trump's fate." @FoxNews In other words, she thinks I'm going to win and doesn't want to take a chance on letting the voters decide. Like Al Green, she wants to change our voting system. Wow, she's CRAZY!

@SpeakerPelosi – Last week's witnesses confirmed: President Trump traded away our national interests for his personal political interests. This is why we must #DefendOurDemocracy.

@marcorubio– Evo Morales working from #Mexico to undermine peaceful democratic transition in #Bolivia Got #Cuba #Venezuela & #Nicaragua to arm protestors in Cochabamba. Next he will try & get his party to hold Natl Assembly session to reject his resignation & then he will try to return
@SenRickScott – The US and UK will not back down. As freedom loving countries we support the brave men and women standing up for their human rights & freedom. Communist China should take a step back and listen to the people, not violently silence them. We #StandWithHongKong!
@RepTedDeutch – Red flag laws aren't about taking guns away. Red flag laws give respite to help someone in a crisis stay alive.
@RepDMP– This is extremely disappointing. @POTUS, consider our children's health! These products are resulting in a new generation being addicted to tobacco. We can't stand idly by as the health of our nation's children is jeopardized by e-cigarettes & vaping products. #EndYouthVaping
@mattgaetz – What a shame. FCA & @salvationarmyare clearly forces for good. My fav chicken sandwich is one that satisfies hunger – not necessarily every question about i ntersectional gender identity assumptions. Sheesh.
@GovRonDeSantis I commend President @RealDonaldTrump for recognizing that the Jewish communities in Judea and Samaria are not inconsistent with international law.
@GwenGraham Anytime @GovRonDeSantis tries to pretend that he cares about public education, remember that this is the guy he installed at the head of Florida's Department of Education.
@JimmyPatronis – Great to meet with the team at @Budweiser in Jacksonville today to tour their amazing brewing facility in operation for 50 years! Awesome to see all that goes into one of the great American business operating right here in the Sunshine State.
·Worth comparing this to where the race stood the week before Biden got in:
Biden 30
Sanders 24
Buttigieg 9
Harris 8
Warren 7
Warren has grown, as has the Biden lead over Sanders, but for the most part, it's been a lot more stable than the noise about the race.
Anna Paulina Luna @realannapaulina I'm a green conservative. 🙂 There is nothing wrong with being conscious of the environment.


More Sickness – "Elections worker fired for scuffle with police during child-porn investigation" by the Sun-Sentinel's Brooke Baitinger – The man in charge of information technology for Palm Beach County's Supervisor of Elections Office was fired last week for allegedly shoving two detectives who were investigating him for child pornography.
Jeffrey Darter, 61, faces two felony charges of battery on a law enforcement officer, according to court records. The detectives were questioning him in the break room of the elections office on Wednesday, Nov. 13., and asked to see his phone to see whether there was child pornography on it. When he refused, they grabbed it from him, and he shoved them, records show. Darter was booked into Palm Beach County Jail on Wednesday, and left early Thursday after posting $3,000 bond. He has not yet been charged in the child pornography case.
Supervisor of Elections Wendy Sartory Link said Darter worked at the elections office for more than 28 years, most recently as the IT manager.