With the 2024 Republican presidential primary race in full swing, all of the announced candidates, including former President Donald Trump and Florida Governor Ron DeSantis, appear focused on all the issues concerning Americans, except for veterans issues.
During the first Republican presidential debate in Milwaukee in late August, the candidates on the stage were asked about UFO's before any mention of veterans or veteran's issues.
"Never thought I'd see the day that UFO's were mentioned before veterans," stated Brian Fay, the strategic director for Concerned Veterans for America in Florida.
Fay, who is also a wounded combat veteran, added that none of the candidates who participated in the debate made mention of how they would improve veterans' healthcare.
"Pandering, backbiting, and talks of how they will use our service members, but no plans on how to improve the health care treatment our vets get," added Fay.
According to a recent veterans statistics report, there are 18,592,457 veterans in America as of 2023, most of those being registered voting Republicans.
In the important early caucus and primary states that the  Presidential Republican candidates are focused on, Florida ranks #3 with 1,450,597 registered veterans, Iowa has 182,640 veterans, South Carolina has 388,404, Nevada has 216,626, and New Hampshire has 96,358.
Governor DeSantis, who after his presidential campaign reboot has focused on his military service and combat deployment, has in the past put an emphasis on veterans issues in Florida, but hasn't done so on the presidential campaign trail.
DeSantis is the only Republican presidential candidate with military service.
DeSantis's focus on military issues has been to drive the "woke" out of the Department of Defense and focus on "mission readiness" if he is elected Commander-In-Chief.
"We said we're not going to do the transgender or the gender ideology and that's mission readiness," DeSantis said. "That had been the policy prior to Biden and he's changed it. He's included the sex change and all that. So we are going to go back to pre-Biden on the gender ideology for that."
In his role as governor, DeSantis has helped direct millions of dollars in support and expansion of veterans' affairs throughout the state.
"Florida's veterans have made countless sacrifices to protect our freedoms, and in return we are working hard to ensure they have the resources and support they need to be successful and take care of their families," said Governor Ron DeSantis. "My administration will continue to invest in our veterans in the same way that they made sacrifices to invest in the freedom of our nation."
While DeSantis has championed veterans at the state level, former President Trump has done so on the federal stage.
Just recently, Trump tapped Rep. Brian Mast to lead his presidential Veterans for Trump efforts, and recently held a a Gold Star family event at Bedminster to address the 13 servicemen and woman killed during the botched military withdrawal from Afghanistan.
During his first term in office, President Trump signed significant pieces of veteran-related legislation during his overhaul of the Department of Veterans' Affairs.
Without question, one of the most significant pieces of veterans legislation that Trump signed into law was the Veterans Choice Program Extension and Improvement Act, the measure that would allow veterans to seek healthcare in the civilian sector.
"The veterans have poured out their sweat and blood and tears for this country for so long, and it's time that they're recognized, and it's time that we now take care of them and take care of them properly," said Trump. "This bill will extend and improve the Veterans Choice Program so that more veterans can see the doctor of their choice … and don't have to wait and travel long distances for VA care," he said. "Some people have to travel five hours, eight hours, and they'll have to do it on a weekly basis and even worse than that. It's not going to happen anymore."
Here are a few of those measures and initiatives Trump supported:
Signed and implemented the VA Mission Act, which made permanent Veterans CHOICE, revolutionized the VA community care system, and delivered quality care closer to home for Veterans
The number of Veterans who say they trust VA services has increased 19 percent to a record 91 percent, an all-time high
Offered same-day emergency mental health care at every VA medical facility, and secured $9.5 billion for mental health services in 2020
Signed the VA Choice and Quality Employment Act of 2017, which ensured that veterans could continue to see the doctor of their choice and wouldn't have to wait for care
During the Trump Administration, millions of veterans have been able to choose a private doctor in their communities
Expanded Veterans' ability to access telehealth services, including through the "Anywhere to Anywhere" VA healthcare initiative, leading to a 1,000 percent increase in usage during COVID-19
Signed the Veterans Affairs Accountability and Whistleblower Protection Act and removed thousands of VA workers who failed to give our Vets the care they so richly deserve (Source-White House)
Much of Trump's success in addressing the problems at the VA and veterans' issues can be attributed to Republican lawmakers like Rep. Gus Bilirakis, who has been the go-to person in the House of Representatives on veterans' relations,  and who has recently been appointed to be the Special Advisor to Speaker Kevin McCarthy on the VA.
Rep. Bilirakis recently told The Floridian that, unlike Democrats, Republicans actually "get things done" when it comes to veterans.
"I think we actually get things done instead of talking about it, and we do so in a fiscally responsible manner. We worked very well, I mean, in my experience, this is my 17th year; 14 of those years were on the Veterans' Committee, most of that time as Vice Chairman. And I think we follow through. We try not to make it political as opposed to the other side, and in a lot of cases, not just this case, but with regard to seniors, we have done so much for seniors, but we do not politicize it. So we are in a really good policy," said Bilirakis.
"One of Bilirakis's colleagues, freshman Congressman Cory Mills, a combat veteran who sits on the House Armed Services Committee, told The Floridian in a statement that Americans "must do better" in addressing veterans' issues, and that those seeking public office need to be committed to helping military servicemen and women, and veterans. Rep. Mills has endorsed President Trump and believes that the rest of the field of candidates need to take notice of all Pres. Trump's VA policies and catch up to Trump's veterans position."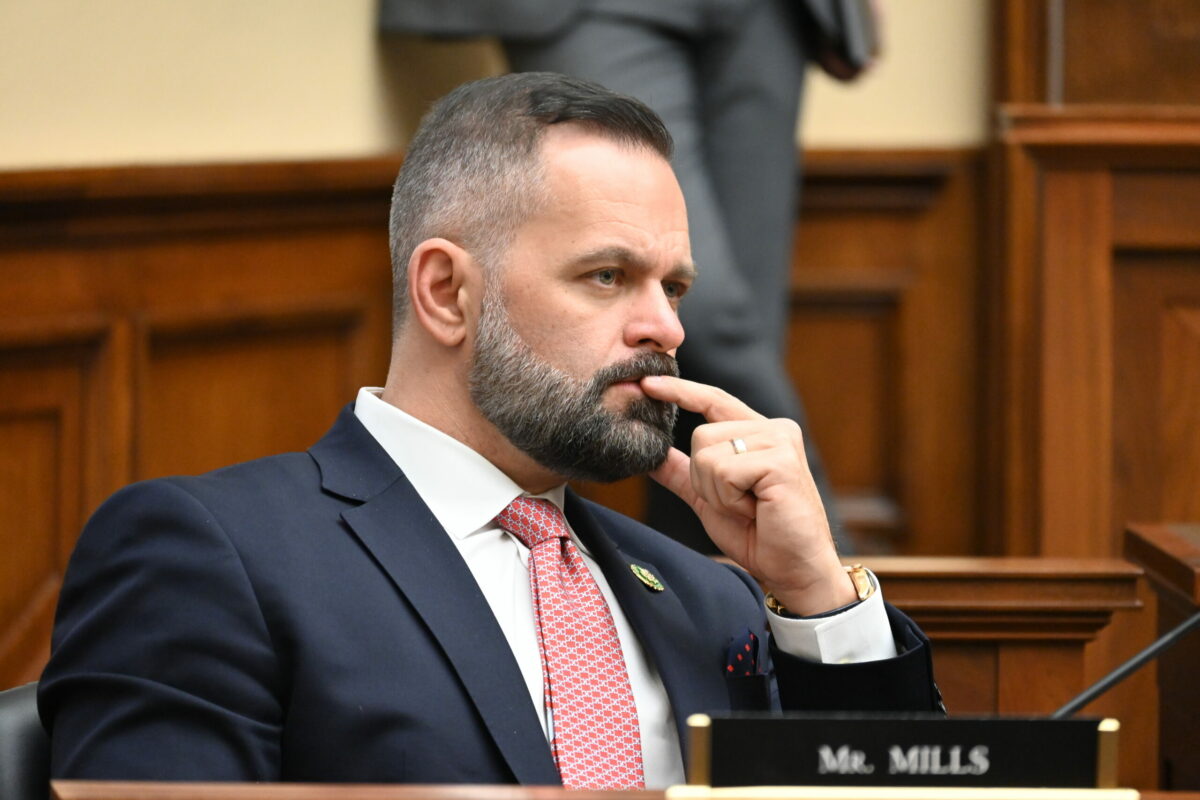 "Our beloved veterans and their bravery and sacrifices are why we are here today enjoying the American way of life," stated Rep. Mills. Issues in support of our veterans and their families should be at the forefront of today's political landscape. Individuals looking to gain our trust and support need to commit to helping our military personnel and veterans. We must do better to address veteran's issues."
As of the 2020 presidential election, there were some 91 veterans in Congress, the lowest number of vets in Washington since World War II. Most of the veterans in Congress are Republicans.
After the 2022 midterm elections, Rep.Mills along with Reps. Anna Paulina Luna, Ryan Zeinke, Eli Crane, and Sen. J.D. Vance, were several of six new members of Congress with military experience.
There are currently 97 members of the U.S. Congress with military experience, an increase of six from the 2020 presidential cycle.