They (Republicans) Are All Racists and White Supremacists 
According to Democrats, every single Trump supporter or voter is a "white supremacist" or some form of anti-Semite and racist, even those who go about their lives with their skin color being "black or brown."
Yeah, we get it. It's politics, but to what end will they go to try to win an election?
The tragic Capitol riot that left 5 dead was perpetrated by a bunch of mostly-white middle-aged men, but among them, there were Hispanics and even Black Americans.
This is a fact.
What is more interesting about the race-driven Capitol riot is that it was led by a group of "white supremacist" members of the U.S. Congress.
I don't know exactly how Democrats came to the conclusion that actual members of Congress were white supremacists.
Did these members go to work that day (or any day) wearing a white hood and cape?
Or, do these members wear some form of a swastika or Confederate lapel pin or another form of clothing or accessory?
Democrats won't name names, but that doesn't matter. ALL REPUBLICANS are racist, even us brownies, except for The Lincoln Project's Rick Wilson, who is still a registered Republican and owns a Confederate flag-draped ice cooler. READ MORE
Ron DeSantis, The Trumpster that is Assaulting Your Freedom
Rioting is bad. We can all agree on that.
But AG Commissioner Nikki Fried doesn't see it that way.
According to Fried and just about every Democrat you ask, the violent Black Lives Matter riots of 2020 were not actual riots, but "peaceful protests."d
Friend & company are once again bashing DeSantis for his and the GOP-led legislature's support of the anti-mob, anti-riot HB1 bill that has been introduced.
The truth about those protests is that they started off as peaceful, but like other similar events around the country, turned into violent mob riots. Just ask law enforcement officers in Tampa, St. Petersburg, JAX, Miami, and Fort Lauderdale. READ MORE
Rick Scott @SenRickScott –Proud to join my colleagues to reintroduce the Restoring Resilient Reefs Act, which will help restore and protect our coral reef ecosystems. This builds on our work to preserve our natural resources and helps ensure future generations can enjoy all that Florida has to offer.
Rep. Ted Deutch @RepTedDeutch–I saw the pain this tragedy brought & the trauma that continues even today in our community. I encouraged the survivors to come to DC to confront Members of Congress about their cowardice and failure to act.
US Rep. Al Lawson Jr @RepAlLawsonJr – President Biden is taking bold action on #SolvingTheClimateCrisis. I'm ready to work alongside him to create good-paying union jobs, build sustainable infrastructure, and deliver #EnviroJusticeNow.
Shevrin "Shev" Jones @ShevrinJones–We can't continue moving as if gun violence in the black community is not happening or as if it is not important. After the Parkland shooting, a task force convened to bring recommendations back to the legislature to implement school safety measures.
Congresswoman Kat Cammack @RepKatCammack–I joined 199 of my colleagues in defense of the Hyde Amendment, which protects the rights of American taxpayers opposed to publicly funded abortions. The radical Left's attempts at repealing it goes against decades of bipartisanship.
FL House Democrats @Mike_Grieco-Dem. Ranking Member of Criminal Justice and Public Safety Subcommittee says, "Our job is to fix something that's broken or improve something that can be better. This bill does not put food in anyone's youth, vaccines in people's arms, or money in anyone's pocket."
Florida GOP @FloridaGOP -Florida is expected to receive 307,000 first doses from the federal government next week, allowing us to continue vaccinating our 65+ population. But Florida still needs more vaccines!
Chris Latvala @ChrisLatvala-Awkward zoom moment while giving a talk. Forgot the lights in my Capitol office are on motion timer. Went completely dark in the middle of my speech. Oops. Sorry @JmsMadisonInst
.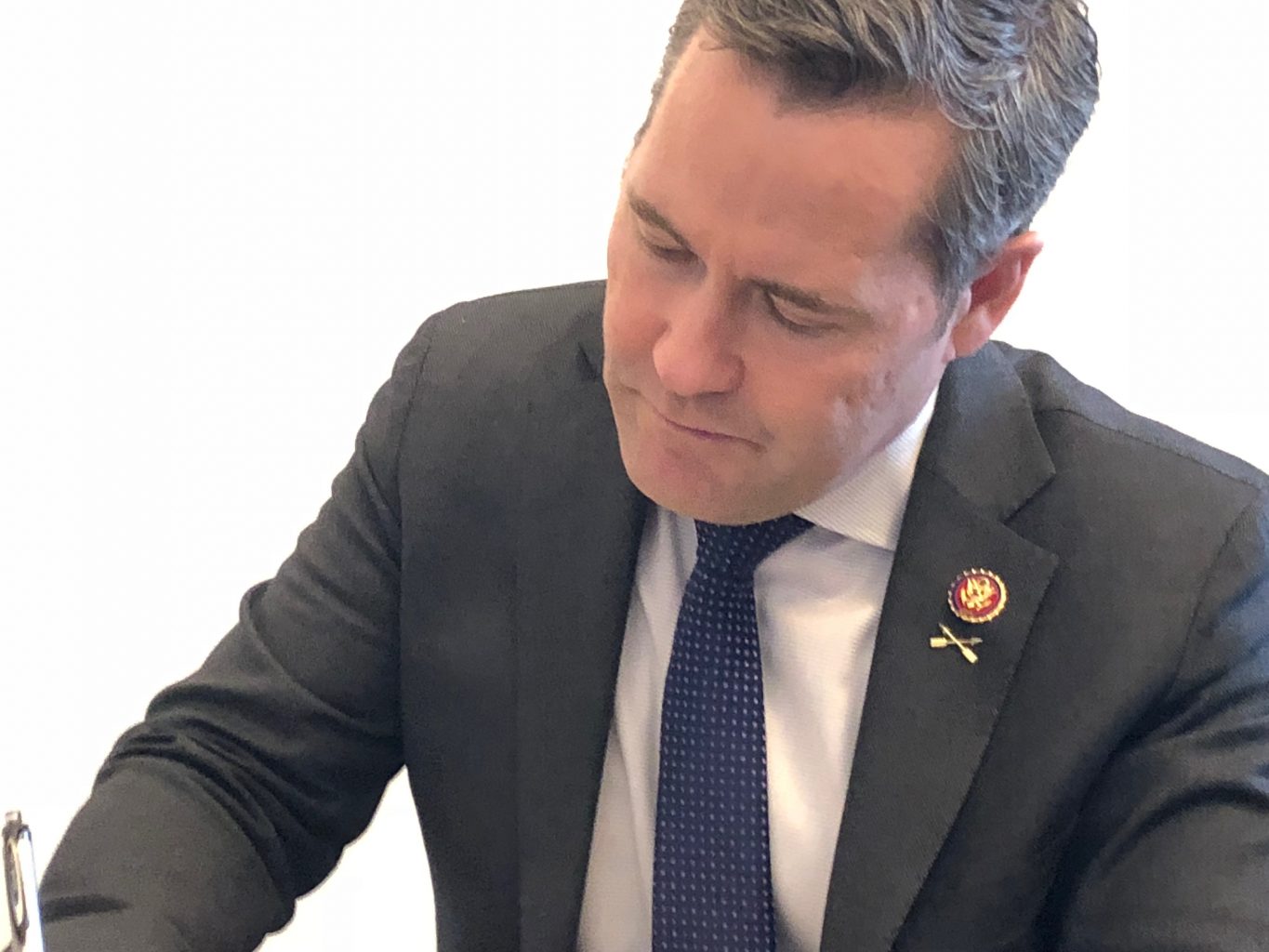 "House Republicans want answers over deployed national guard troops" by The Floridian's Javier Manjarres – Florida Congressman Michael Waltz (R) and several other members of the U.S. House of Representatives have penned a letter to the Acting Secretary of the Army John Whitley, asking for a "threat assessment briefing" as to why 7,000+ National Guard soldiers are still being kept deployed throughout the Capitol. News reports stated that the guardsmen will be kept in place to address any possible security threats over the potential impeachment trial in the Senate of President Donald Trump. The trials tentatively slated to begin the first week of February, but now that it is reported that votes to impeach President Trump just are not there. The letter requests that a full accounting and detailed assessment is given to legislators over "the ongoing threats to the Capitol, justification of the decision for significant troop presence through mid-March." Florida Gov. Ron DeSantis, along with other Republican governors, has ordered back Florida's national guardsmen after it was widely reported that troops were force to sleep in a parking garage.
"Biden Admin Tries To 'Out-Radical' Obama" by The Floridian's Jim McCool – President Biden's (D) campaign rhetoric on immigration whether it be giving 11 million undocumented aliens citizenship, or halting all deportations for his first 100 days in office, has only raised the concerns of many Americans. While some may believe this to be traditional Liberalism, let us not forget that not even President Obama (D), resorted to such extremes. In response to Biden's immigration position, Senator Rick Scott (R-FL) sent a letter to the DHS in regard to the new administration's immigration policies. In his letter, the Senator posed crucial questions about the latest immigration policies, such as: 'Is the Biden Administration declaring that all of the illegal aliens who were released while awaiting deportation no longer qualify for deportation under the federal immigration law?' 'Can you point to me where, in statute, the Biden Administration has the authority to make these kind of sweeping changes?' Being from a diverse state like Florida, Senator Scott has a history of calling for equitable reforms to the immigration system, and it begins with securing our borders, a practice the current administration seems to have spitefully abandoned. Scott concluded his letter by stating that border security, '…is the most important thing we can do to protect our citizens…'
"Eskamani files bill to end Orlando-area business tax break" by The Floridian's Javier Manjarres – Progressive Florida State Rep. Anna Eskamani (D-Orlando) has announced that her office had filed legislation to "repeal" the Urban High-Crime Area Job Tax Credit, a tax break put in place to incentivize businesses "within designated urban areas to create new jobs." Rep. Eskamani believes that this tax break needs to end because it has only served to pad profits for companies like Universal Orlando Resort. Eskamani's office released this statement regarding her wish to end the tax break. "HB 6043 would repeal Florida's "Urban High-Crime Area Job Tax Credit Program," a tax break created more than 20 years ago that was supposed to draw investment to poverty-stricken urban communities around the state. But it has instead become a permanent taxpayer subsidy for Universal Studios, the Orlando resort that is owned by Comcast Corp. — one of the world's biggest and most profitable corporations." According to the Florida Department of Revenue, the Urban Job Credit Program would extend a credit of $500 to $2,000 for each "qualified employee." Eskamani cites several Orlando Sentinel stories that address the alleged abuse by Universal and other area businesses, including one that states that the theme park has received $17.4 million from the state. All three of these stories were written by Jason Garcia, who is rumored to have dated or is currently dating Eskamani.
"Rick Wilson, the Democratic Party's Confederate Flag Guy" by The Floridian's Javier Manjarres – If there is one term to best describe The Lincoln Project and its founders like Floridian Rick Wilson, it's disingenuous. Long-time Republican Frederick George Wilson, aka Rick Wilson, was a friend to many Florida Republicans and a devout GOP strategist who wore his disdain for liberal Democrats on his sleeve. So what happened to good ole Rick? Why did he really leave the GOP to support Progressive Democrats like Joe Biden? Or did he really leave the Republican Party? Wilson's detractor say it was money, that he sold his soul to the Almighty Dollar. Yeah, we all know about his financial woes in the years leading up to his founding of the 'NeverTrumper" group, and of the very, very short list of clients he's had over the years. Remember that Wilson founded The Lincoln Project, which in the past promoted themselves as "a group of prominent Republicans," after President Donald Trump took office. Well, he started it up in 2019, to be exact. Wilson and his project were strictly focused on defeating President Trump and any Republican remotely associated with the former president. "The Lincoln Project is holding accountable those who would violate their oaths to the Constitution and would put others before Americans."-website It's interesting to note that as late as December 7, 2020, Wilson and company still referred to themselves as "prominent Republicans."
"Rubio: Keystone Pipeline Cancellation Hurts 11,000 families" by The Floridian's Daniel Molina – President Joe Biden (D) affirmed that he would be tackling growing climate change concerns as part of his plan for the office, and the announcement of canceling the controversial Keystone Pipeline drew criticism from conservatives regarding the number of jobs that would be lost as a result of the cancelation. Since its inception, the Pipeline drew widespread media attention because of its construction, and Florida Senator Marco Rubio (R) expressed his disapproval during an interview on FOX News, discussing the President's decision and what the implications will be. "The left of center and far-left people, the campaign and talk about 'I care about working people, I care about jobs, we want to help them,' and so forth," he admitted. However, he added that "getting rid of the Keystone pipeline will do nothing for the environment, but getting rid of it will upset our Canadian allies and put 11,000 families on the unemployment line at a time when it's hard to find work and the kind of work we need in this country." As a result, he criticized the "left" for deciding that "they had no problem, at the stroke of a pen, putting 11,000 people out of work." "They say they care about jobs, but when the time comes to protect them they choose the agenda of the far leftover jobs for Americans, and people are seeing it and unfortunately 11,000 families have been hurt," Rubio detailed.
"Biden Abolishes 'Offensive' Trump's 1776 Commission" by Texas Politics' Javier Manjarres – President Biden on Tuesday said he's abolishing former President Donald Trump's "offensive" 1776 Commission on "patriotic education" and rescinding the Trump administration's "harmful" ban on diversity and sensitivity training in the federal government. "In the weeks ahead, I'll be reaffirming the federal government's commitment to diversity, equity and inclusion and accessibility, building on the work we started in the Obama-Biden administration," Biden said during a signing ceremony at the White House alongside Vice President Kamala Harris. "That's why I'm rescinding the previous administration's harmful ban on diversity and sensitivity training and abolish the offensive of counterfactual 1776 commission. Unity and healing must begin with understanding and truth, not ignorance and lies." Biden rolled out an additional slate of executive actions with Tuesday's theme revolving around racial equity policy, although none of what he signed Tuesday were correlated to the 1776 commission or racial trainings. The president signed a memorandum directing the Department of Housing and Urban Development to examine "historical racism in federal housing policies," directed the Justice Department not to renew federal contracts with private prisons, reaffirming the federal government's commitment to Tribal sovereignty and consultation, and combating xenophobia that will be directed at Asian-Americans amid the coronavirus pandemic.
"OPINION- Publix gives $100,000 to DeSantis, gets exclusive COVID vaccination deals in
By Sun Sentinel's SCOTT MAXWELL – As Floridians get increasingly antsy for COVID vaccines, there are growing questions about why Gov. Ron DeSantis granted Publix exclusive rights to provide vaccines in some places. On some levels, it makes sense. Publix has stores are all over the place. And the company generally has a reputation for having its act together. Still, in a state that is doing a slightly below-average job of distributing vaccines — more on that in a moment — I wonder why Floridians don't have more retail options. It seems like we'd want as many soldiers as possible in the war on COVID. Why only Publix, whose vaccine-appointment portal filled up 90 minutes after opening Wednesday? It's only natural to wonder — especially after reading stories like: "Publix Vaccine Rollout Follows Grocer's $100K Donation To DeSantis' Political Committee." And "Gov. DeSantis' office: Publix PAC money not linked to launch of COVID-19 vaccine program." State records show that Publix cut the last of four $25,000 checks to DeSantis' campaign committee on Dec. 31. Five days later, DeSantis announced the state's exclusive partnership with Publix. DeSantis has denied there was any tit for tat. I might be prone to believe him. Why? Because Publix didn't need to cut this latest round of checks to ingratiate itself with Florida politicians. The company has bankrolled campaigns in this state for decades. We're talking $2.3 million to Florida candidates and campaigns in the last election cycle alone.
"Florida reports 8,408 new coronavirus cases, 4th straight day under 10,000" by Local 10's David Selig – State health officials confirmed 8,408 additional cases of COVID-19 on Wednesday and reported another 160 resident deaths as a result of the novel coronavirus. Florida has now verified 1,676,171 COVID-19 cases since the outbreak began and 25,833 resident deaths, according to the department of health. Another 416 non-residents have died within the state, and there have been at least 71,155 resident hospitalizations attributed to the novel coronavirus in Florida since the start of the outbreak. Deaths verified in the past day include nine in Miami-Dade County, 12 in Broward County, one in Monroe County and 14 in Palm Beach County. The state has gone four straight days with fewer than 10,000 new COVID-19 cases after four consecutive days above that mark. It's the first time the state had four consecutive days under 10,000 new cases since Dec. 6-9. Earlier this week, the Centers for Disease Control and Prevention reported that the number of COVID-19 cases confirmed to be caused by variants in Florida has doubled from 46 last week to at least 92, raising concerns that a more contagious strain is spreading.
"Girl abused by Florida children's book author hospitalized with infected wounds, organ failure, deputies say" by Click Orlando's Adrienne Cutway – A Florida children's book author and her husband are accused of abusing their three adopted children, leaving one girl hospitalized in critical condition, according to the Seminole County Sheriff's Office. Deputies said the investigation began when an 8-year-old girl was taken to a hospital on Jan. 1. The girl was in critical condition and had to be transported to another hospital, records show. The girl was suffering from a staph infection, sepsis, renal and liver failure, open and infected wounds, skin infections, bruising, pneumonia in her lungs and malnutrition, according to the affidavit. Records show Joseph Wolfthal took the girl to the hospital and when questioned, claimed that the girl had fallen on three different occasions recently and hit her head once on a desk and another time on a toilet, although deputies determined those scenarios were unlikely. Joseph Wolfthal said he works 10-hour days as an engineer and during that time, his wife Jennifer Wolfthal watches their three adopted children and disciplines them, according to the affidavit. He said he tried to intervene once when she was disciplining the children and she punched him in the chest and knocked him to the ground, records show. Deputies said on another occasion, she locked her husband in a laundry room as a "time out."
"Florida's Trump Plaza residents move to change name" by Associated Press – The residents of a South Florida condo complex want former President Donald Trump's name officially removed from their home following the siege at the U.S. Capitol earlier this month. The board of the Trump Plaza condominium voted unanimously last week to change the legal name of the 32-story, twin-tower complex in West Palm Beach, the Palm Beach Post reported. Residents still have to vote on a new name, with submissions due at the end of February. The complex sits on the Intracoastal Waterway, just a few miles away from the Mar-a-Lago private club on Palm Beach, where Trump is now living. Units at Trump Plaza start around $1 million and top out at over $4 million. "The Trump brand is damaged, so rebranding the complex is a wise move," said Burt Minkoff, a Palm Beach real estate agent with Douglas Elliman Real Estate. Trump Plaza signs on the roofs were removed in 2017 as part of a renovation, and residents voted last February not to replace them. Trump Plaza signs at street level were removed in June in the wake of protests against police violence following the death of George Floyd in Minnesota. Minkoff said the Trump name had been a problem for a while, but the Jan. 6 attack on the Capitol made it "a real lightning rod." Trump had told supporters shortly before the attack to march on the Capitol and stop Congress from certifying Electoral College votes that declared President Joe Biden the winner of the November general election.
"Florida unions say they are under attack again" by News4Jax's Mike Vasilinda – Under legislation passed through its first Senate committee in the Florida State Capitol on Wednesday, teachers, police and other public-sector union members would have to reaffirm their desire to be in their union. Sponsors argue the bill makes sure employees have the final say on their money, but unions say it's an effort to hurt them. Police, firefighters, teachers and even government clerks would have to proactively confirm they want to continue their union membership under legislation moving at the Capitol. Sponsor Ray Rodrigues wants those union members to know they have alternatives. "The acknowledgment must include a statement that payment of union dues is voluntary and that the employee may not be discriminated against based upon union membership," said Senator Rodrigues. But union sympathizers allege the bill is about much more. "This bill is just another attempt at union-busting," said State Senator Victor Torres. The bill would require public-sector union members to proactively tell their employer they want to stay in a union at least every three years or after each new contract. "We would ask what is the compelling reason to insert the employer between the employee and their union," said Stephanie Kunkel with the Florida Education Association. Law enforcement unions, in particular, are worried that someone will miss the notice to re-up and then not have any benefits if they get hurt.
"Florida leaders aim to kill constitution revision commission" by News Service of Florida's Jim Turner – An influential appointed panel that recommends changes to the Florida Constitution every 20 years is again in the crosshairs of state lawmakers. With bipartisan support, the Senate Governmental Oversight and Accountability Committee on Wednesday backed a proposal (SJR 204) by Sen. Jeff Brandes that would ask Floridians to eliminate the 37-member Constitution Revision Commission. Brandes, R-St. Petersburg, said the problem with the commission, whose members are mostly appointed by the governor, House speaker and Senate president, is that it isn't directly accountable to voters. "In many ways, the Constitution Revision Commission is like a Pandora's box that we open every 20 years, and none of us know what's going to come out of it," Brandes said. Set up by voters as part of the 1968 Florida Constitution, the commission meets every two decades and has unique power to place proposed constitutional amendments on the ballot. The commission in 2018 successfully put forward seven amendments, including high-profile measures designed to ban offshore oil drilling, prohibit vaping in enclosed indoor workspaces, bar elected officials from lobbying the first six years out of office and outlaw greyhound racing. But the commission drew widespread criticism, at least in part because it bundled unrelated issues into single ballot proposals. For example, it tied together the bans on oil drilling and workplace vaping. Critics argued such bunding was unfair to voters, who might support one issue in a ballot proposal and oppose another. Brandes' proposal to repeal the commission would require voter approval because it would involve changing the Constitution. Along with receiving bipartisan support from lawmakers Wednesday, it drew backing from the conservative Americans for Prosperity-Florida and more-liberal groups such as the Florida National Organization for Women and the Florida Policy Action Network.
"Florida Hemp beginning to take root" by WCJB's Staff – Since hemp was approved for hemp cultivation in mid-2019, 729 Florida farmers have been approved to grow the crop. Despite challenges posed in 2020, the industry is beginning to bloom. The Department of Agriculture's Cannabis Director Holly Bell told Senators all but one of Florida's 67 counties have farmers licensed to grow hemp. 293 acres were planted in 2020. "We did have 44 acres destroyed," said Bell. "There were only about two of them because the field went what we call 'hot' above the level of 0.3 total THC allowed." That's a success rate of 85 percent. Most of the unsuccessful crops were the result of inexperienced growers and Florida's unique climate, but universities like FAMU are actively conducting research to identify strains that grow best in the sunshine state. Funding for those research programs is slated to expire this September. Lawmakers like Senate Ag Chair Darryl Rouson believe their continuation is vital. "We need to do more. Hemp is an important product and an important part of the economy now," said Senator Rouson. In its first year, the state's hemp industry already includes more than 7,000 retailers, 280 manufactures, more than 200 warehouses, 38 distributors and 15 processors. And with a total of 23,000 acres approved for cultivation statewide, Bell predicts the industry will continue to grow as much as 25 percent each year.
"Biden 'committed' to study Supreme Court reforms as progressives push for court packing" by Fox News' Marisa Schultz – President Biden is "committed" to following through on his campaign pledge of forming a bipartisan commission to study Supreme Court reforms, the White House said Wednesday. Biden said in October he'd put together a bipartisan commission of scholars to send him recommendations within 180 days on how to reform a court system that's "getting out of whack." The White House said Wednesday Biden would be moving forward with the plans to study the federal judiciary. "The President remains committed to an expert study of the role and debate over reform of the court and will have more to say in the coming weeks," a White House official told Fox News. The commission was Biden's response to progressive demands to expand the number of justices on the Supreme Court to overcome the 6-3 conservative majority, a practice known as "court packing." The White House declined to confirm a Politico story out Wednesday that said Biden is already staffing up his commission, with Biden's campaign lawyer Bob Bauer and Yale Law School professor Cristina Rodríguez serving as co-chairs. The outlet also reported that Caroline Fredrickson, the former president of the American Constitution Society, and Jack Goldsmith, a Harvard Law School professor and a former assistant attorney general during the George W. Bush Administration, will also serve on the commission. Since Biden's election win and Democrats taking control of the House and Senate, progressives groups have doubled down on their demands to pack the court.
"NRA says it's asking federal court to overturn Maryland handgun qualification license law" by Fox News' Louis Casiano – The National Rifle Association said Wednesday it is backing a legal challenge of a Maryland law that requires handgun buyers to undergo training and to apply for a state license, saying it creates unnecessary barriers for average citizens to exercise their rights. The influential gun-rights group is supporting a lawsuit in which Maryland Shall Issue, another Second Amendment protection group, and individual gun owners are suing Republican Gov. Larry Hogan and William Pallozzi, the state police superintendent, in federal court to overturn the law. "This law was put in place with no other purpose than to discourage, financially burden, and intimidate law-abiding people from purchasing handguns for self-defense and other lawful purposes," NRA spokeswoman Amy Hunter said in a statement. "This is quite simply a background check, after a background check, after a background check. It is wasteful and burdensome. But, more importantly, it has zero impact on the criminals using illegal firearms to commit crimes. Maryland should stop restricting the rights of law-abiding people and focus on going after criminals." On Wednesday, Maryland Shall Issue filed a motion requesting a federal judge to rule the law violates the Second Amendment. Under the law, Maryland residents who wish to purchase a handgun must fill out an application with the Maryland State Police, provide a copy of their fingerprints from a third party, attend classroom instruction and qualify with a handgun during a fire exercise in which at least one live round is fired in order to obtain a handgun qualification license.
"Proud Boys leader was informer for federal, local law enforcement: report" by Fox News' Bradford Betz – Enrique Tarrio, the leader of the far-right Proud Boys group, was an informer for federal and local law enforcement, helping them prosecute more than a dozen people in cases that involved drugs, gambling, and human smuggling, according to a Tuesday report. The information was revealed by a former prosecutor and a transcript of a 2014 federal court proceeding obtained exclusively by Reuters. In an interview with the outlet, Tarrio denied working undercover for law enforcement saying that he didn't "recall any of this." Vanessa Singh Johannes, the former federal prosecutor in Tarrio's case, contradicted his claim of denial saying that Tarrio "cooperated with local and federal law enforcement, to aid in the prosecution of those running other, separate criminal enterprises, ranging from running marijuana grow houses in Miami to operating pharmaceutical fraud schemes." Tarrio, 36, was arrested earlier this month in Washington, D.C., where he arrived two days before a mob of Trump supporters stormed the U.S. Capitol to protest certifying the 2020 election results. He was charged in connection to the alleged possession of high-capacity magazines and one charge of destroying property in relation to the burning of a "Black Lives Matter" banner at a church in D.C. in December. Tarrio pleaded not guilty to felony and misdemeanor charges during a virtual Washington court appearance and was released without bail. Although the judge released Tarrio on his own recognizance, she ordered him to stay out of the nation's capital until his next court date on June 8.
"GOP threatens filibuster for Mayorkas nomination to be DHS secretary" by CNN's Manu Raju and Veronical Stracqualursi – Senate Republicans plan to object to any efforts to quickly confirm Alejandro Mayorkas as secretary of Homeland Security, further delaying his confirmation as the department grapples with the Covid-19 pandemic, national security concerns and President Joe Biden's ambitious immigration plans. In confirming the GOP's plans to filibuster, Republican Sen. John Cornyn of Texas told reporters Wednesday on Capitol Hill that "there's a number of problems" with Mayorkas' nomination. Senate Majority Leader Chuck Schumer has pushed to have Mayorkas confirmed quickly, but Cornyn and other Senate Republicans argue that Mayorkas hasn't been properly vetted on immigration issues and are calling for an additional hearing into his nomination. The Senate has scheduled a procedural vote to break the filibuster at 1:45 p.m. ET Thursday. After the Senate breaks the filibuster — which requires 51 votes — the final confirmation vote will be Monday evening. The use of the filibuster — to stall nominations or legislation — has long been a favored tool of the minority party, something Schumer did often when trying to derail and delay the Republican agenda under then-President Donald Trump. In recent days, continued use of the filibuster on legislation became a central sticking point over a resolution that would allow the 50-50 Senate to officially organize, but the stall tactic is unlikely to be gutted further in this Congress because of resistance from some moderate Democrats.
"Democratic House staffers draft letter to senators on impeachment: Convict Trump 'for our sake, and the sake of the country" by CNN's Annie Grayer – A group of Democratic House staffers are drafting what they hope will be a bipartisan message to the Senate about the upcoming impeachment trial, urging senators to take the trauma their aides experienced during the violent insurrection in the Capitol on January 6 seriously, a staffer tells CNN. "We are staff who work for members of the U.S. House of Representatives, where it is our honor and privilege to serve our country and our fellow Americans. But on January 6th, 2021, our workplace was attacked by a violent mob trying to stop the Electoral College vote count," the draft of the letter reads. In an effort to make the letter appeal to Republican staffers as well, its drafters organized the signatures so staffers can sign on with just their email addresses, leaving off the offices of the members of Congress they work for. The letter squarely blames former President Donald Trump for inciting the attack. "As employees of the U.S. House of Representatives, we don't have a vote on whether to convict Donald J. Trump for his role in inciting the violent attack at the Capitol, but our Senators do. And for our sake, and the sake of the country, we ask that they vote to convict the former president and bar him from ever holding office again," the letter states. A staffer familiar with the drafting of the letter told CNN that signatures are still being collected and when the letter will be sent to the Senate is undetermined. "No one should have to experience something like this in their place of work," the staffer told CNN. "And I think it's important to tell this part of the story, because it's not just members of Congress who come to work at the Capitol every day. And it's not just staffers who work at the Capitol who were traumatized by what happened. And I think that is a piece of it. The trauma is there; the trauma is very real. And anytime that new pieces of information come out, you know, you're kind of re-traumatized."
"Biden to Rescind Curbs on Asylum Policy Enacted by Trump" by WSJ's Michelle Hackman and Tarini Parti – President Biden plans to sign more immigration-related executive actions reversing his predecessor's policies on asylum seekers and refugees in the coming days, according to people familiar with the plans. Mr. Biden is expected to issue an order on Friday, though the timing could slip to next week, that lays out a plan to revamp the asylum system, after the Trump administration took numerous steps to restrict access to humanitarian protection in the U.S. That order would direct the Department of Homeland Security to roll back rules the previous administration enacted to make most asylum applicants at the southern border ineligible. For example, one rule disqualified applicants from asylum if they passed through a third country en route to the U.S. without making a claim in that country. The order would also freeze agreements that the Trump administration signed with Guatemala, Honduras and El Salvador to send asylum seekers to those countries to request protection there instead. According to the people familiar with the plans, Mr. Biden is also expected to rescind a memo that created a program known as the Migrant Protection Protocols, which has forced tens of thousands of asylum seekers arriving at the U.S. southern border to return to Mexico and wait, sometimes for years, as the American court system processes their requests. The program, also known as Remain in Mexico, was launched in 2019 as the Trump administration sought to curb a surge of Central American families seeking asylum. Officials said at the time that they wanted to end what they described as a legal loophole for economic migrants to falsely claim asylum as the easiest way in the U.S.
"Biden Re-Examining U.S. Arms Sales to Saudi Arabia, U.A.E." by WSJ's Warren P. Strobel – The Biden administration has imposed a temporary freeze on U.S. arms sales to Saudi Arabia and is scrutinizing purchases by the United Arab Emirates as it reviews billions of dollars in weapons transactions approved by former President Donald Trump, according to U.S. officials. The review, the officials said, includes the sale of precision-guided munitions to Riyadh, as well as top-line F-35 fighters to Abu Dhabi, a deal that Washington approved as part of the Abraham Accords, in which the Emirates established diplomatic relations with Israel. U.S. officials said it isn't unusual for a new administration to review arms sales approved by a predecessor, and that despite the pause, many of the transactions are likely to ultimately go forward. But in line with campaign pledges made by President Biden, Washington is seeking to ensure that American weapons aren't used to further the Saudi-led military campaign in Yemen, where its conflict with the Iranian-aligned Houthis has resulted in thousands of civilian deaths and widespread hunger. Mr. Biden "has made clear that we will end our support for the military campaign led by Saudi Arabia in Yemen, and I think we will work on that in very short order," Secretary of State Antony Blinken said at his confirmation hearing last week. Washington will continue to help defend the Saudis against Houthi attacks, Mr. Blinken said. A senior administration official said the weapons sales to Saudi Arabia were being frozen pending the review, but that sales to the Emirates were not frozen while they are being examined. The $23 billion arms package to the UAE includes long-lead items such as jet fighters and drones that wouldn't be delivered in some cases for many years.
"Leahy's hospitalization shows Dems' majority hangs by thread" by Politico's Burgess Everett – Here's how fragile Democrats' Senate majority is: The brief Tuesday hospitalization of Senate pro tem Patrick Leahy prompted nearly everyone in the Capitol to research Vermont's Senate vacancy laws, just in case. Leahy (D-Vt.), who has served in the Senate since 1975, returned to work on Wednesday seemingly unscathed. The most senior Democratic senator said he was given a "clean bill of health" after being briefly hospitalized on Tuesday evening after suffering muscle spasms. The 80-year-old Democrat also indicated he's cleared to perform his normal duties. But just the possibility of Leahy missing a day of work sent a jolt through an evenly divided Senate, which Democrats control with just Vice President Kamala Harris's tiebreaking vote. Senate Majority Whip Dick Durbin (D-Ill.), the party's chief vote-counter, immediately dialed up Senate Majority Leader Chuck Schumer (D-N.Y.) on Tuesday evening when he heard about Leahy's condition. "You consider all the possibilities. And thank goodness none of them you have to worry about today. He's doing just great," Durbin said on Wednesday of Leahy. He acknowledged the health, well-being and simple attendance of his members is about to be a daily headache: "You bet it is. It's not just who's well but who is present." The gruff-voiced Leahy insisted that "of course" he will serve the rest of his term for a state controlled by a GOP governor who has previously vowed to fill a Senate vacancy with another member of the Democratic Caucus. Leahy didn't rule out running again in 2022 for a ninth-term either and said "the latest polls show me winning easily."
"Biden starts staffing a commission on Supreme Court reform" by Politico's Tyler Pager – The Biden administration is moving forward with the creation of a bipartisan commission to study reforms to the Supreme Court and the federal judiciary. The commission will be housed under the purview of the White House Counsel's office and filled out with the behind-the-scenes help of the Biden campaign's lawyer Bob Bauer, who will co-chair the commission. Its specific mandate is still being decided. But, in a signal that the commission is indeed moving ahead, some members have already been selected, according to multiple people familiar with the discussions. Among those who will be on the commission are Cristina Rodríguez, a professor at Yale Law School and a former deputy assistant attorney general in the Obama Department of Justice, who will join Bauer as co-chair. Caroline Fredrickson, the former president of the American Constitution Society, and Jack Goldsmith, a Harvard Law School professor and a former assistant attorney general in the Bush Department of Justice, will also serve on the commission, those familiar with discussions said. Fredrickson has hinted that she is intellectually supportive of ideas like court expansion. In 2019, she said in an interview with Eric Lesh, the executive director of the LGBT Bar Association and Foundation of Greater New York: "I often point out to people who aren't lawyers that the Supreme Court is not defined as 'nine person body' in the Constitution, and it has changed size many times."
"Lawmakers demand answers on Covid outbreak, Guard deployments" by Politico's Lara Seligman and Andrew Desiderio – Frustrated lawmakers on Wednesday demanded a better accounting of the scope of a Covid outbreak among the National Guard members deployed to the Capitol, and answers on why thousands of troops are being forced to remain on duty in Washington, D.C., through March for an unspecified threat. "That is a really dense force packed into just a few blocks — that's more than we have in Iraq and Afghanistan combined," said Rep. Michael Waltz (R-Fla.). "If there is not a very clear threat and a very clear mission then send them home." Waltz told POLITICO in an interview that he is not satisfied with the information the Pentagon has provided on the Covid outbreak. Defense officials told reporters on Monday that nearly 200 out of the 25,000 troops had tested positive for the virus. But the final count will likely be much higher, as recent batches of mass testing have come back 10-15 percent positive, POLITICO reported Tuesday. Congressional leaders say they have been unable to get adequate information on Covid-19 numbers from the Guard, according to two aides. On Wednesday morning, the National Guard responded in writing to a top senator but did not disclose additional information. "Less than 1 percent of the force in attendance has tested positive," the response stated, according to a congressional aide. The Guard also insisted that troops are following federal Covid-19 safety protocols, including mandatory quarantines for troops exposed to the virus. Rep. Anthony Brown (D-Md.) also called on the Guard to provide "timely and accurate information" on Covid infections, testing and countermeasures.
"On his first day, Secretary of State Blinken commits to rebuilding U.S. diplomacy worldwide" by Reuters' Hymeryra Pamuk and Simon Lewis – Antony Blinken began his first full day as U.S. secretary of state on Wednesday promising to repair ties with global partners and show the world that America can lead, while tackling climate change, the erosion of democracies and other complex issues. Greeted in the lobby and outside by a crowd of State Department employees limited by coronavirus measures, Blinken, who served as No. 2 at the State Department under former Democratic President Barack Obama, was greeted with applause. "The world is watching us intently right now. They want to know if we can heal our nation. They want to see whether we will lead with the power of our example… and if we will put a premium on diplomacy with our allies and partners to meet the great challenges of our time," he said. As challenges he cited the coronavirus pandemic, climate change, the global economy, threats to democracies, fights for racial justice, and the dangers to security and global stability posed by rivals and adversaries. He did not answer a reporter's question about where in the world he would place the highest priorities. Past President Donald Trump's "America First" policies frayed Washington's traditional strategic alliances. The Jan. 6 storming of the U.S. Capitol by a pro-Trump mob further marred America's global standing.
"Apple becomes world's biggest smartphone seller with record shipments" by Reuters' Josh Horwitz and Sayantani Ghosh – Apple Inc cornered nearly a quarter of the global smartphone market in the fourth quarter, making it the world's biggest seller, while shipments for Huawei plunged as U.S sanctions against it took effect. Data from research firm IDC showed Apple's shipments surged 22% to a record 90.1 million phones in the quarter, giving it global market share of 23.4%. The shipment data comes after the U.S. tech giant reported record holiday quarter sales on Wednesday, with revenue crossing $100 billion for the first time. Apple shipped its iPhone 12 lineup, its first 5G-enabled devices, several weeks later than usual, but an expanded number of models and new look tapped pent up demand for upgrades, especially in China. Sales in Greater China, which includes Hong Kong and Taiwan, surged 57% over the quarter. "We had two of the top three selling smartphones in urban China," CEO Tim Cook told Reuters in an interview, adding that "upgraders in particular set an all-time record in China." Apple took the top spot from Samsung Electronics which shipped 73.9 million devices over the quarter, a year-on-year increase of 6.2%. Huawei shipments tumbled 42.4% in the quarter to 32.3 million, IDC said. The Chinese tech powerhouse has been battered after the previous U.S. administration blacklisted it on national security grounds, preventing overseas companies from supplying it with key parts including semiconductors.
"Facebook says it will permanently stop recommending political groups to users" by Reuters' Elizabeth Culliford – Facebook Inc's CEO Mark Zuckerberg said on Wednesday the company would no longer recommend civic and political groups to users of the platform. The social media company said in October that it was temporarily halting recommendations of political groups for U.S. users in the run-up to the presidential election. On Wednesday Facebook said it would be making this permanent and would expand the policy globally. On Tuesday, Democratic Senator Ed Markey wrote to Zuckerberg asking for an explanation of reports, including by news site The Markup, that Facebook had failed to stop recommending political groups on its platform after this move. He called Facebook's groups "breeding groups for hate" and noted they had been venues of planning for the Jan. 6 riot at the U.S. Capitol. Speaking on a conference call with analysts about Facebook's earnings, Zuckerberg said on Wednesday that the company was "continuing to fine-tune how this works." Facebook groups are communities that form around shared interests. Public groups can be seen, searched and joined by anyone on Facebook. Several watchdog and advocacy groups have pushed for Facebook to limit algorithmic group recommendations. They have argued that some Facebook Groups have been used as spaces to spread misinformation and organize extremist activity. Zuckerberg also said that Facebook was considering steps to reduce the amount of political content in users' news feeds.