Making the Presidential Campaign Rounds
What a week for Florida Gov. Ron DeSantis.With the launching of his book tour last Tuesday, Gov. DeSantis was making the rounds in Florida, California, and Texas, pushing his "Florida Blueprint" playbook called, "The Courage to be Free." Oh, he is running for President in 2024, make no mistake about it, but first, he must contend with the State of the State in Florida
First Lady Casey DeSantis and the First Kiddos even recorded a campaign video thanking a Houston rodeo for giving them a grand tour of the place, which included a horse ride.
DeSantis will be in Iowa on March 10 and will also visit New Hampshire in the near future.
Even though Gov. DeSantis was only able to garner 20% of the vote in the 2023 CPAC straw poll, and former President Donald Trump having received a whopping 60% DeSantis still has the overall advantage in the hypothetical Republican presidential primary race.
DeSantis is everyone's second choice, so if he loses to President Trump, would he be picked as Vice President?
If not, DeSantis would continue to be "America's Governor" and be all but assured of the Republican nomination in 2028.
In the meantime, DeSantis will be preparing for this State of the State address and tackling the Republican-led legislative agenda, which is focuses on Education reform—banned book removal from K-12 school libraries, the banning of preferred pronouns, targeting school unions, and pushing for tax dollars to be used for private schools.
Much like his Inauguration speech, expect the State of the State to focus largely on national issues.
Protecting Kids From Being Butchered
DeSantis has been laser-focused on protecting children, and Sen. Clay Yarborough's recently introduced "Treatments for Sex Reassignment (SB 254)" will surely pass in the Florida Legislature and land on DeSantis's desk for signing. This bill is a no-brainer. READ MORE

Cleaning up Florida
In addition to his Education reform agenda, DeSantis will also be addressing Florida's most important issue—water.
Florida's water is arguably the most important issue that impacts the state.
Who wants to drink or look at nasty water?
Tourists, who drive the Florida economy, sure as heck would not visit the state if the water quality was not optimum. Why would they want to wade through algae or drink toxic water?
Dirty water is bad for business in Florida, but some environmental groups continue to target farmers in the state, blaming them for water contamination and claiming they have caused Florida's poor air quality.
The problem for the environmentalists is that under DeSantis, air quality hasn't been this clean. This is according to the Florida Department of Environmental Protection. READ MORE


Lauren Book-Your daily reminder that the #1 killer of children in America isn't drag queens — it's gun violence. (Our Republican colleagues seem to have missed the memo.)
Rick Scott-I'm furious that the "ambassador" for Cuba's illegitimate, communist regime was in Tampa last night. The evil she represents will NEVER be welcome in Florida. @JoeBiden needs to wake up & condemn this NOW. It's clear that his failed appeasement policies aren't working.
State Senator Tina Polsky-If only @GovRonDeSantis could focus on the state he is supposed to govern. But Iowa and Texas await….
Rep. Brian Mast-Biden has signed 100+ executive orders, totaling about $1.5 trillion. He's spent your money like it grows on trees. That's why House GOP passed a bill to make sure Americans understand how the decisions in the White House impact their bottom line.
"Florida Republicans Pounce on Biden's Dodge of COVID-19 Origins Question" by The Floridian's Javier Manjarres—"On COVID origin, will you hold China Accountable?" That was the question Reporter Iris Tao posed to President Joe Biden on Friday as he approached White House reporters,
"Will a President Ron DeSantis Play in the D.C. 'Swamp?'" by The Floridian's Javier Manjarres—As the promise (or the threat) of a Ron DeSantis Presidential run seems more likely by the day, questions and hypotheticals have come across the minds of politicians and pundits around the nation concerning the atmosphere that a DeSantis Presidency would entail; Questions such as how the Florida Governor will interact with the Washington elite and big wigs.
"Air Quality Disputed Despite Record Clean Air Under DeSantis" by The Floridian's Javier Manjarres—Progressive environmental groups like the Sierra Club, and Friends of the Everglades, coupled with the so-called "non-profit" newsroom, ProPublica, have continued to claim air polluted from prescribed burning in South Florida, even under Gov. Ron DeSantis's watch.
"Scott Introduces Bill to Teach Students the 'Dangers of Communism' by The Floridian's Jackson Bakich—Debates about how to teach history to children and young adults have raged on across the nation (especially in Florida) recently. Discourse concerning ideals such as American Exceptionalism, Critical Race Theory (CRT), and Marxism has led to legislators on both sides of the aisle taking action.
"Rubio, Scott Urge Biden to Allow Unvaccinated Djokovic to Compete in Miami" by The Floridian's Jackson Bakich—For those who do not keep up with the world of tennis, world number one and Serbian national Novak Djokovic has dominated the sport by holding the top spot internationally for a record 378 weeks.
"Salazar Secures Funding for Environmental Efforts" by The Floridian's Daniel Molina
"Florida Legislature Looks to Safeguard Children From Sex-Reassignment Procedures" by The Floridian's Javier Manjarres—The pro-Transgender sex reassignment lobby, including former Rep. Carlos Guillermo Smith (D), have come out in force to express their disdain against State Senator Clay Yarborough's Treatments for Sex Reassignment (SB 254) measure file last Friday.
"Moskowitz: US Cannot Rely on China, Must 'Diversify' Trade Relationships" by The Floridian's Grayson Bakich—More members of Congress are rethinking the U.S. economic relationship with China. Rep. Jared Moskowitz (D-FL) appeared on Fox Business' Cavuto Coast to Coast, and said that "America can't be 100% reliant on any foreign power, including China."
"Moody: Biden is 'Biggest Benefactor' to Mexican Drug Cartels" by The Floridian's Grayson Bakich—As the border crisis continues, so too will the fentanyl crisis killing thousands of Americans. Florida Attorney General Ashley Moody excoriated the Biden Administration in a ...READ MORE
"Florida Lawmaker Lauren Book Pushes Medically Assisted Suicide Bill in Florida" by The Floridian's Jim McCool—Medically assisted suicide has been a growing issue in the medical field across the United States. Now, Senator Lauren Book (D-FL) is attempting to legalize the practice in the state of Florida...READ MORE
"Brodeur Files DeSantis's 'Prescription Drug Reform' Bill" by The Floridian's Grayson Bakich—Just when lawmakers, lobbyists, and public relations firms thought that the last weekend before the 2023 legislative session would be a quiet and uneventful one—the calm before the storm...READ MORE
"Rubio Urges House to Abolish Daylight Saving Time" by The Floridian's Daniel Molina—This month marks a long-contested seasonal adjustment that has divided Americans and lawmakers alike. As people turn their clocks forward an hour this month, Florida Republicans are calling for the...READ MORE
"DeSantis Reaffirms He Will Sign a Constitutional Carry Bill" by The Floridian's Jackson Bakich—Governor Ron DeSantis (R-FL) has reaffirmed to Floridians that he supports constitutional carry and wishes to sign a bill concerning the issue later this year. READ MORE
Big Brother in Florida is Looking to Watch Over Media Outlets, 'Bloggers'" by The Floridian's Grayson Bakich—State Senator Jason Brodeur (R) has introduced a bill requiring compensated bloggers who write about the Florida government to register with the Florida Office of Legislative Services or Commission on Ethics. READ MORE
"Former Judge Accuses DeSantis of Violating the U.S. Constitution" by The Floridian's Javier Manjarres—Florida Gov. Ron DeSantis is being accused of violating the U.S. Constitution and Florida law by former Judge and Fox News Contributor Andrew Napolitano. READ MORE
"Florida's Aetna Branch Goes Beyond the Call of Duty" by The Floridian's Jackson Bakich—READ MORE
"Florida Senator Blames Republicans for Being Called a 'F-cking Sp-ic Freak' by The Floridian's Javier Manjarres—Florida State Senator Victor Torres (D) was quick to release an audio phone recording he received earlier this week, where he was called a "bald-headed F-cking Sp-c freak," and quick to blame Republicans. READ MORE
"Rep. Diaz Balart Fights for Israel Against UN Abuses" by The Floridian's Jim McCool—With Congress shaking up after the 2022 midterm elections, Republicans have benefitted with new leadership positions. Today, Congressman Mario Diaz-Balart (R-FL) chaired the first hearing of the State, Foreign Operations, and Related Programs (SFOPS) Subcommittee of the House Committee on Appropriations, to hear from Ambassador Linda Thomas-Greenfield, Representative of the U.S. to the United Nations. READ MORE
"Donalds Looks to Provide Tax Relief to those Affected by Hurricane Ian" by The Floridian's Jackson Bakich—Recently, Representative Byron Donalds (R-FL) released a statement concerning tax relief for Floridians that were impacted by Category Five Hurricane Ian. READ MORE
"Experts Agree: Venezuela's Humanitarian Crisis Can't Wait" by The Floridian's Javier Manjarres—During a panel discussion on U.S. Policy for Venezuela hosted by Florida International University (FIU) on Tuesday, Western Hemisphere political and economic experts concluded that U.S. "Maximum Pressure" sanctions against the Nicolas Maduro regime in Venezuela have not worked. READ MORE
"FIU Commemorates Employee, Stephen Fain, With Medal" by The Floridian's Jim McCool—Florida International University is taking significant steps to honor FIU's longest-serving employee, Stephen M. Fain. The school has now instituted the Fain Medal and will recognize faculty who have advanced the university's mission. READ MORE
"Luna: Zelensky 'Gone Too Far' Saying US Troops May Need to Fight for Ukraine" by The Floridian's Grayson Bakich—In a viral video making the rounds on Twitter, Ukrainian President Volodymyr Zelensky said if his country loses, Russia will push further west, and the United States will need to put boots on the ground. Rep. Anna Paulina Luna (R-FL) responded to the video with a tweet of her own, saying, "Zelensky's comments have gone too far." READ MORE
"DeSantis Lands Punch on Buttigieg for Taking Paid Paternity Leave" by The Floridian's Javier Manjarres—Naples— Florida Gov. Ron DeSantis took a shot at Transportation Secretary Pete Buttigieg during his "The Courage to be Free" book tour, questioning how the Secretary could take 3 months of paid leave just because he and his husband welcomed adopted twins. READ MORE
"Ron DeSantis Acknowledges Wife Casey's Beauty, Avoids Sleeping in Dog House or on Couch" by The Floridian's Javier Manjarre Florida Gov. Ron DeSantis seems to always say the right things, and Republican voters are paying very close attention as it appears that he and First Lady Casey DeSantis are close to announcing a presidential run in 2024. READ MORE
"Gimenez: US "Must Decouple from Communist China" by The Floridian's Grayson Bakich—As more evidence of Chinese espionage becomes apparent, House Republicans question our economic relationship with the country. In a Select Committee on the Communist Party of China (CCP) hearing, Rep. Carlos Gimenez (R-FL) said the US must "decouple from Communist China" entirely. READ MORE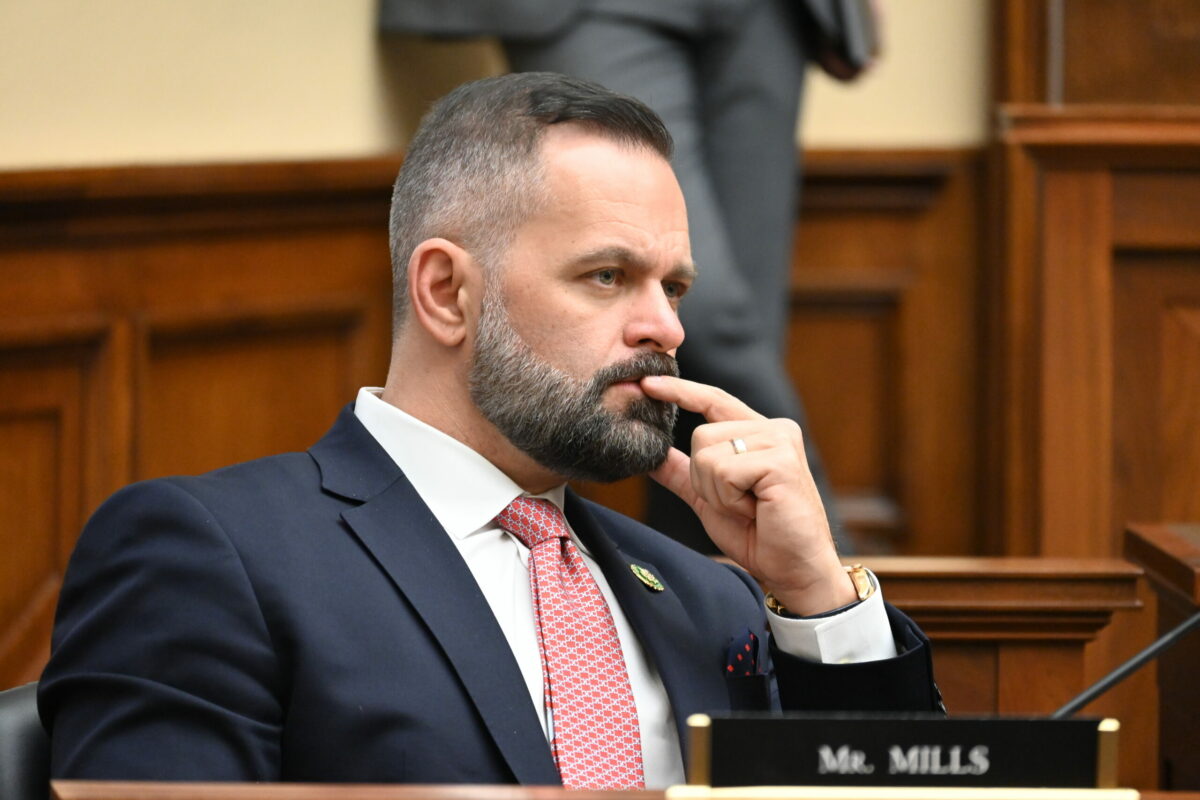 "Mills Calls Discharge of Unvaccinated Military 'Unlawful Purge'" by The Floridian's Grayson Bakich—House Republicans continue dismantling the COVID regime. Rep. Cory Mills (R-FL) grills Under Secretary Gil Cisneros on the dismissal of military service members for refusing the COVID-19 vaccine. Rep. Mills goes so far as to call it an "unlawful purge." READ MORE
"Ingoglia Introduces Bill to "Cancel" Florida Democrat Party" by The Floridian's Grayson Bakich—It looks as though Florida Republicans are turning cancel culture against itself. State Senator Blaise Ingoglia (R) has introduced the "Ultimate Cancel Act" that would effectively rule the Democratic Party in Florida defunct due to its previous support of slavery in the Civil War. READ MORE
"Gaetz, Waltz Question Veracity of Ukraine Funding" by The Floridian's Jackson Bakich—Tensions continue to rise between Florida Republicans and the Department of Defense. During a House Armed Services Committee hearing, Florida Reps. Matt Gaetz (R) and Mike Waltz (R) questioned Inspector General Robert Storch regarding funding for the war in Ukraine. READ MORE
"Frost Calls DeSantis a Fascist: 'I Don't Care What Anyone Says'" by The Floridian's Jackson Bakich—As the first elected U.S. congressman from Gen-Z, freshman Rep. Maxwell Frost (D-FL) leaves no doubt whether the new generation will passively attempt to represent their constituents. Recently, Rep. Frost repeatedly called Governor Ron DeSantis (R-FL) a "fascist" and stated that he "we are actively being oppressed. READ MORE
"Team DeSantis Praises 'Biden's Border Crisis' Bill" by The Floridian's Jim McCool—Florida Governor Ron DeSantis (R) continues to rally support against "Biden's Border Crisis." Last week, the Governor proposed legislation that would address key issues regarding the concern. As he promotes his soon-to-be  released book, Team DeSantis is highlighting why the "Border Crisis" bill is necessary. READ MORE
"MSNBC's Joy Reid: DeSantis wants 'Total Government Control'" by The Floridian's Jackson Bakich—Since 2016, Joy Reid has been a host on MSNBC and despite navigating some controversies during her tenure, she has made a home for herself on the network. In what News Busters journalist Kevin Tober described as a "meltdown," Reid described Governor Ron DeSantis (R-FL) as a someone who will enforce "total government control" should he become President. READ MORE
The JUICE is squeezed by Javier Manjarres, Jim McCool, and Daniel Molina