DeSantis for President?
Gov. Ron DeSantis says he is focused on his job as Governor of Florida but is he also thinking about a possible run for POTUS in 2024, or in 2028?
Florida Democrats are hell-bent in saying that he is focused on running for President, and Gov. DeSantis only fuels that narrative every time he takes a dig at Biden's failed foreign policy and ties foreign adversaries to Florida.
Foreign adversaries will not have access to our school, government, and companies, and like they've had in the past," said DeSantis at a Miami press conference to combat the Chinese government's reach into Florida.
DeSantis's office released a campaign-style video of his anti-CCP Miami bill signing remarks this week, fueling speculation that 2024 could be on DeSantis's mind.
While DeSantis has said he is focused on his reelection this fall, he still has not answered (dodged?) an even bigger, more interesting question—Do you prefer Chick-Fil-A or Popeye's?
We know the answer. Yes, we do.
Buying Votes
Progressive lawmakers are betting the house with their narrative that DeSantis is trying to buy votes by dishing out $450 checks to needed Floridians. Rep. Angie Nixon is leading the charge, reaffirming her position that DeSantis is bribing potential voters by sending them those checks.

Sad American History
VP Kamala Harris has made history this week, and it's not the kind of history most Americans are proud of. In pandering to her Progressive base of support, VP Harris used pronouns to describe herself.
Harris has never used pronouns in the past, not even when she was a sitting U.S. Senator.
Pandering 101 READ MORE
On the Campaign Trail
Rep. Webster Barnaby is stating on his campaign website that he is the president of the SW Volusia Republican Club, but that doesn't appear to be the case. Rep. Webster is running against Rep. Elizabeth Fetterhoff in HD 29.
A congressional candidate in CD 7 , Al Santos is accusing Combat Veteran Cory Mills of "Stolen Valor" because he is campaigning on the family of 4 Americans he saved in Afghanistan during the botched Biden withdrawal.

Congresswoman Kat Cammack-Great conversation this afternoon about the #BidenBorderCrisis and the policies that need to be changed to restore order and end the chaos
Rep. Darren Soto-It's time for @SenateDems
to expand #Obamacare to cover #MedicaidGap in Florida & other states! This would expand health insurance to nearly 1 Million Floridians falling in the gap. It's a critical part of #BuildBackBetter agenda! See our letter
US Rep Kathy Castor-
"Doctors are afraid"
"Women are afraid"
"Families are afraid"
I met with doctors and medical students in #Tampa at @PPFA
- we had an urgent conversation about the dire consequences of Florida's abortion ban and the reversal of Roe v. Wade.-
Debbie Wasserman Schultz-Face it: @GovRonDeSantisand Republicans don't really care about high energy bills.When utilities push their costs and profits on to #FLA customers' backs, GOP 'watchdogs' and judges roll right over. #VoteBlue2022
Rick Scott-The $280B, pro-China "CHIPS" Act will only throw fuel to @JoeBiden's inflation fire that's destroying Americans' hard-earned savings. I urge my colleagues to oppose this bill or join me in demanding my amendment be adopted to better protect the tax $$ being spent here


"Vice President Kamala Harris Makes American History With 'Woke' Declaration," by The Floridian's Javier Manjarres
"Angie Nixon Doubles Down on Buying Voters Accusations," by The Floridian's Jim McCool—Just last week Governor DeSantis (R-FL) was accused of trying to buy votes with his $450 checks for Florida families. Now, State Rep. Angie Nixon (D-14) is doubling down on her accusations, saying he is hitting a, "new freaking low!"
The DeSantis Administration announced the release of the checks that were for, "These one-time payments of $450 per child are part of [Governor DeSantis] new budget," stated Pushaw. The letter reads that the checks are a "one-time payment that can be used for anything from buying diapers to fueling up at the pump," according to DeSantis Spokeswoman Christina Pushaw (R-FL).
"Mike Waltz: No Vaccine Mandate for National Guard," by The Floridian's Grayson Bakich—The debate over COVID-19 vaccine mandates has gained new battleground among America's armed forces. A vaccine mandate intended for the National Guard remains undecided by Secretary of Defense Lloyd Austin. However, Representative Michael Waltz (R-FL) has announced his opposition to the mandate in a letter sent on July 26th.
"The 'Small' me at Lincoln Project Attack Matt Gaetz in Latest Video ad," by The Floridian's Javier Manjarres—The Progressive-minded talking heads over at The Lincoln Project have offered up a hypocrisy-rich attack video against Rep. Matt Gaetz in their latest video, "Matt's Little Secret."
"Rick Scott: CHIPS Act "Reckless Spending Spree," Does Little Against China," by The Floridian's Grayson Bakich—As inflation continues to grow and a recession looms, Congress continues to propose new means and ways to continue spending. Among these proposals is the Creating Helpful Incentives to Produce Semiconductors for America (CHIPS) Act.
"Rick Scott Attends the America First Policy Institute Summit," by The Floridian's Jackson Bakich—Former governor and now Sen. Rick Scott (R-FL) was a headlining speaker at the America First Policy Institute concerning the United States and its approach to foreign and domestic energy. The panel in which Sen. Scott sat on was hosted by Rick Perry (R-TX), the former Secretary of Energy in the Trump administration.
"Waltz Says Vax Mandates are 'Crippling' National Guard," by The Floridian's Daniel Molina
"Reforming the Assignment of Benefits System."— OPINION
"DeSantis Says that Unlike Biden, 'He's Here to lead, not Follow,'" by The Floridian's—Florida Governor Ron DeSantis (R) is once again chiding President Joe Biden (D), saying that he's "here to lead, not follow." As DeSantis' Democratic challengers gear up for a primary in August, the Governor is instead directing criticism at President Biden and Dr. Fauci, who announced that he'd be retiring at the end of President Biden's term.
"Broward Soil & Water Board Promotes Abortions, Democratic Officials," by The Floridian's Javier Manjarres—The Broward Soil and Water Conservation District (BSWCD), was created to "protect" and preserve Florida's natural resources, preserve wildlife, and the "general welfare of the people of the state," including the promotion and preservation of abortions.
"Nikki Fried Says that Mr. Nice Guy Charlie Crist has Become 'Angry Charlie'" by The Floridian's Javier Manjarres—He has been arguably the nicest, most seasoned political operative and consummate candidate in Florida politics for the past 20 years, but Rep. Charlie Crist is human and like everyone else, tends to lose his temper or show a bit of "emotion" whenever the chips, or public opinion polls, are down for him. This past weekend at the LGBTQ Democratic Caucus meeting in Broward County, Agriculture Commissioner Nikki Fried beat Rep. Crist in a poll by a vote margin of 25-13.
"Rubio, Cruz Draft Bill to Reinstate FARC as Foreign Terrorist Organization," by The Floridian's Grayson Bakich—The Biden administration's foreign policy has received considerable criticism from conservatives, with many Republican lawmakers having voiced strong opinions against the White House's decisions abroad, including it's decision to lift the terrorist designation from the FARC paramilitary organization.
"Sophia Lacayao Lies About Endorsement from Maor Cava & Sen. Taddeo," by The Floridian's Jim McCool—Miami's Arroz con pollo politics is never dry, especially during election season. Now, Miami-Dade County Mayor Daniella Levine Cava (D-FL) has fought to get County Commissioner candidate, Sophia Lacayao (D-FL) to stop using the mayor's photo in a recent mailer that implies an endorsement of Lacayao to voters.
"Mast Attacks Biden on Energy, Border Security," by The Floridian's Grayson Bakich—As the cost of living has increased around the nation, many Americans are feeling thinner wallets and are paying for it at the pump. This has caused conservatives around the country to call out the Biden administration on the rising prices caused by "Bidenflation." In a short video released early Monday morning, Rep. Brian Mast (R-FL), responds to President Joe Biden's (D) remarks on these high gas prices, calling on the President to "admit that you're wrong and reverse course."
"Liberal Florida Lawmaker Claims Ron DeSantis 'Condones' Nazism," by The Floridian's Jim McCool—At the recent TPUSA event, controversy broke out when Neo-Nazis began to demonstrate outside of the building. Now, Progressive State Rep. Carlos G. Smith (D-49) is claiming Governor Ron DeSantis (R-FL), who spoke at the event, condones Nazism.
"Waltz Meets With Zelenskyy in Ukraine Meeting," by The Floridian's Daniel Molina—Members of the House Armed Services Committee issued a statement this weekend after meeting with Ukrainian President Volodymyr Zelenskyy and Minister of Defense Oleksiy Reznikov during their visit to Ukraine. Florida Rep. Michael Waltz (R), a member of the delegation, also shared images of the meeting with Zelenskyy on social media, affirming the United States' support.
"Democrats Call on DeSantis to Denounce Tampa Nazis," by The Floridian's Daniel Molina—Florida Governor Ron DeSantis (R) has garnered more criticism after his appearance at the Turning Point USA Student Action Summit in Tampa. Numerous conservative speakers took to the stage, but the event gained controversy because a group of Neo-Nazis waved flags outside of the event. In response, a slew of Democrats have called on Gov. DeSantis to denounce the nazis.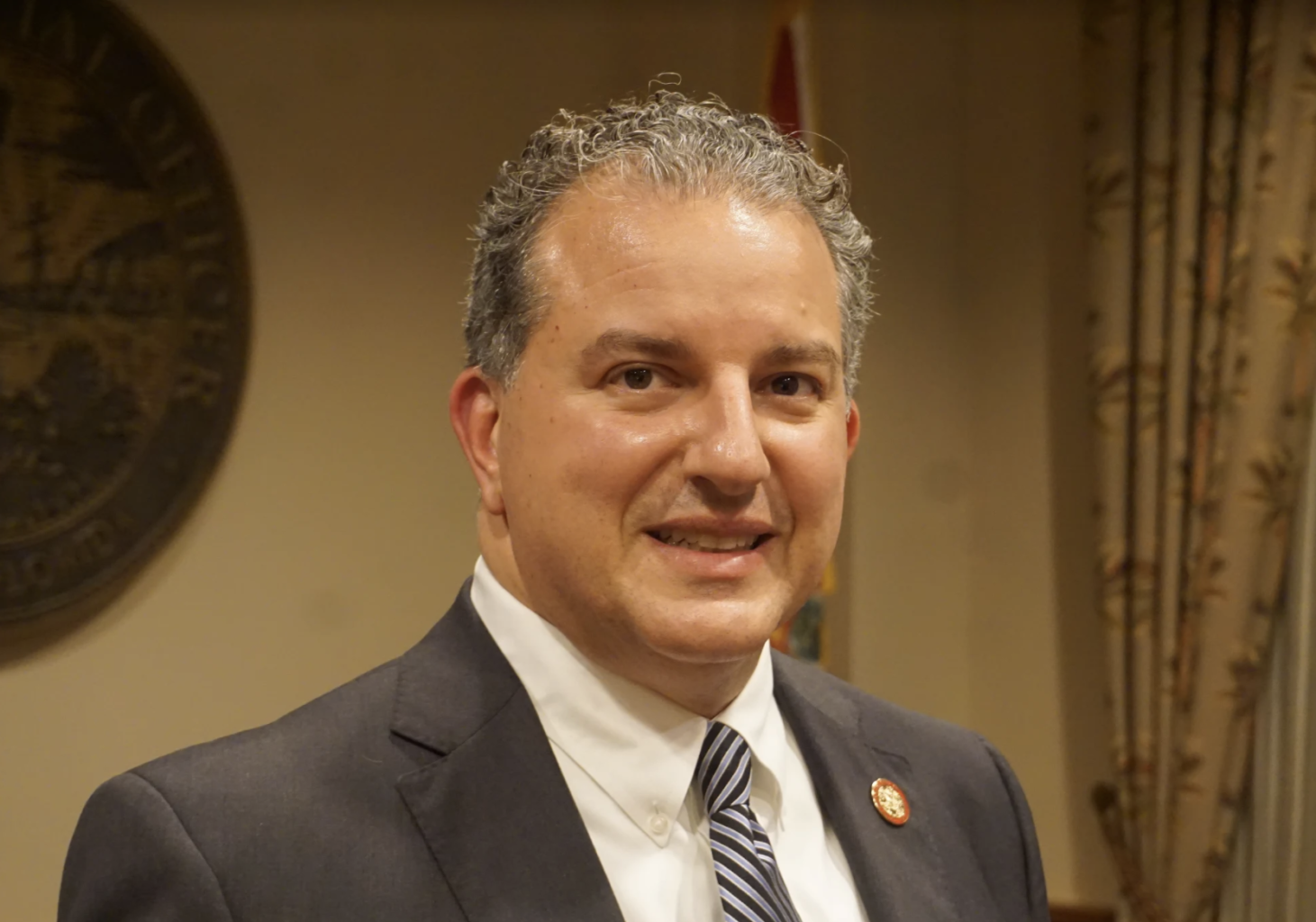 "Jimmy Patronis Praises DeSantis for Economic Success in FL," by The Floridian's Jim McCool—Hollywood, FL - The latest economic numbers have once again set Florida apart from the rest of the country as the state's jobless rates continued to decline. While at the Sunshine Summit CFO Jimmy Patronis (R-FL) praised the leadership of Governor Ron DeSantis (R-FL) and bashed Washington's handling of inflation.
"DeSantis and Mark Levin Moderate CD 7 GOP Congressional Debate," by The Floridian's Javier Manjarres—HOLLYWOOD, FL— The highly anticipated debate in Florida's Republican congressional District 7 race was the first order of business at the Sunshine Summit that was hosted by the Republican Party of Florida (RPOF) Florida Gov. Ron DeSantis called for the debates and even sat in on two of the debates to help Conservative TV Host Mark Levin moderate the events.
"Paul Renner Defends Parental Rights Bill at Sunshine Summit," by The Floridian's Jim McCool—Hollywood, FL - Speaker Designate State Rep. Paul Renner (R-24) took the stage at this year's Sunshine Summit on Saturday where he attacked Democrats on education reform. The soon-to-be Speaker of the Florida House called to stop educating children on "woke garbage" and defended the Parental Rights Bill.
"Sunshine Summit Holds District 13 GOP Primary Race," by The Floridian's Jackson Bakich—At the Sunshine Summit, this Saturday, Republican congressional candidates in District 13 squared off in a debate in hopes to secure their chances of becoming the Republican nomination to replace Rep. Charlie Crist's (D-FL) .
"Aaron Bean Calls Erick Aguilar a 'Crook' and 'Con man,'" by The Floridian's Jim McCool—Hollywood, FL -  The Sunshine Summit this weekend hosted several key congressional debates, but none made the audience's attention perk more than the congressional District 4 debate between State Sen. Aaron Bean (R) and Dr. Erick Aguilar (R) when Bean called Aguilar a crook that stole from seniors.
"Mark Levin Says Sabatini's Foreign Policy 'Most Radical' he's Ever Heard [VIDEO]," by The Floridian's Javier Manjarres
"Ron DeSantis: 'Do you want to be in Brandon's party?' by The Floridian's Jim McCool—Hollywood, FL - At the Sunshine Summit, Governor Ron DeSantis (R-FL) was by far the most anticipated guest to take the stage. Gov. DeSantis kicked off his speech by bashing Democrats and highlighting Republican gains in the state of Florida, asking, "Do you want to be in Brandon's party?"
"DeSantis Warns Floridians About Cuban Investment Scheme," by The Floridian's Jackson Bakic

The JUICE is squeezed by Javier Manjarres, Jim McCool, and Daniel Molina