Big Ron Flexes His Guns
JUICE—Not only does he lift Chick-Fil-A Spicy chicken sandwiches, but Gov. Ron DeSantis also lifts heavyweights on his downtime. When he's doing the heavy lift to help Floridians stay afloat in the Biden economy and keep them safe during the pandemic.
Now Gov. DeSantis is using his political muscle to press the Republican-led Florida Legislature to convene a special session to deal with the over-the-top vaccine mandates handed down by the federal government.
Democrats like AG Commissioner Nikki Fried and State Senator Shevrin Jones think that DeSantis is wasting time and is just trying to "score political points" with Republicans. READ MORE
DeSantis's Disdain for Critical Race Theory Backed by Rice
Rice's rebuke of the education concept falls in line with the mindset that Florida Governor Ron DeSantis holds about the theory, who contends that CRT teaches kids that "America is a rotten place." READ MORE


—Rep. Val Demings-Thousands of people brought to the U.S. legally as children fall outside of the usual legal definition for our #Dreamers. Now they're at risk of deportation.
—Debbie Wasserman Schultz-Tonight we gather as a community to honor Officer Yandy Chirino, who gave his life in the line of duty. My deepest condolences go to his loved ones & the @HollywoodFLPD Family who work to protect our community. We will be forever grateful for his service.
—Rep. Darren Soto-Proud to be an original co-sponsor of this bill by @RepDustyJohnson to ensure transparency in the cattle market. In Florida, we stand firmly with our cattlemen & will keep pushing to create a library for cattle contracts within the @USDA
—Congressman Byron Donalds-CRT or Diversity, Equity, & Inclusion training is the subjective teaching of history through the lens of race. No child should have to submit to this radical curriculum intended on dividing children based on the color of their skin & not the content of their character.
—Rep. Ted Deutch-Last year over 93K Americans died of overdose, including a 50% increase among young people. This year, my nephew Eli died from unintentional fentanyl overdose. I asked AG Garland in @HouseJudiciary how the DEA plans to crack down on the online sales of tainted counterfeit pills.
"House Votes To Hold Bannon In Contempt Of Congress" by The Floridian's Mona Salama
"Condoleeza Rice's Rebuke of Critical Race Theory Supports DeSantis Views" by The Floridian's Javier Manjarres
"Scott: Mayorkas 'Completely Abdicated His Duty' As DHS Boss and 'Should Resign TODAY' by The Floridian's Mona Salama
"Anthony Sabatini Endorsed by Madison Cawthorn" by The Floridian's Jim McCool
"Ron DeSantis Calls Special Session to Address Federal Vaccine Mandates" by The Floridian's Javier Manjarres
"INTERNATIONAL CRISIS AVERTED: Biden's State Department Promotes 'International Pronouns Day" by The Floridian's Javier Manjarres
"President Donald Trump Launches New Media Company to Rival 'Liberal Media Consortium' by The Floridian's Javier Manjarres—When former President Donald Trump was permanently banned from all social media outlets like Facebook and Twitter, there was speculation that he would launch his very own social media platform or company to counter the ban.
"Trump Announces The Launch Of 'Truth Social' A Rival Platform To 'Liberal Media Consortium' by The Floridian's Mona Salama
"Manchin Reported To Consider Dropping Democratic Party, But He Says Rumors Are 'Bullshit' by The Floridian's Mona Salama—Sen. Joe Manchin (D-WV) is thinking about dropping the Democratic Party, apparently a Plan B if he is unable to get his way in negotiations with President Biden and his fellow Democrat colleagues on the massive tax-and-spending social bill, according to a report — but the moderate senator quickly shot down the "rumors," calling it "Bullshit.
"Senate Republicans Block Progressive Freedom to Vote Act" by The Floridian's Jim McCool—Elections have become one of the most polarizing issues in American politics, now U.S. Senate candidate US Rep. Val Demings (D-FL) is pressing Senators to vote in favor of the Freedom to Vote Act, which is the senate version of the House For The People Act.
"Rep. Murphy Says House Will Vote on Criminal Contempt Against Bannon" by The Floridian's Javier Manjarres—Democratic Rep. Stephanie Murphy, who is the figurehead of the January 6th House Select Committee on the Capitol Riot, appeared on CNN's "Cuomo Prime Time" where she asserted that a floor vote to hold Steve Bannon in criminal contempt for ignoring the committee's subpoena to present himself before Congress will occur this week.
Donalds Accuses Biden Administration of 'Violation of due Process'" by The Floridian's Daniel Molina
"Rubio: 'far-Left Lunatics… Failing us Miserably' by The Floridian's Daniel Molina
"Biden Secretly Flying Unaccompanied Minor From Border 'In Dead Of Night' To New York, Florida" by The Floridian's Mona Salama
"Brian Thomas Joins AshBritt Team As VP of Operations" by The Floridian's Javier Manjarres
"JAVIER MANJARRES: Florida's Democratic Gubernatorial Candidates Running as Progressives" by The Floridian's Javier Manjarres
"DeSantis Calls Biden 'Divisive' Over Vaccine Mandates" by The Floridian's Daniel Molina—One point of contention between President Joe Biden (D) and Florida Governor Ron DeSantis (R) has been the President's vaccine mandate. DeSantis has made it clear that Florida will not take part in implementing vaccine passports, mask mandates or vaccine mandates, and the position has angered the President.
"DeSantis: 'Bidenomics are Failing the American People'" by The Floridian's Daniel Molina—Florida Governor Ron DeSantis (R) launched for criticism at President Joe Biden (D) over the weekend just as another gubernatorial candidate positions herself (Annette Taddeo) to challenge DeSantis for the seat in the upcoming 2022 midterm election. The Governor, who has vehemently opposed Biden with every decision the President has made, is sharing his thoughts on why "Bidenomics are failing the American people."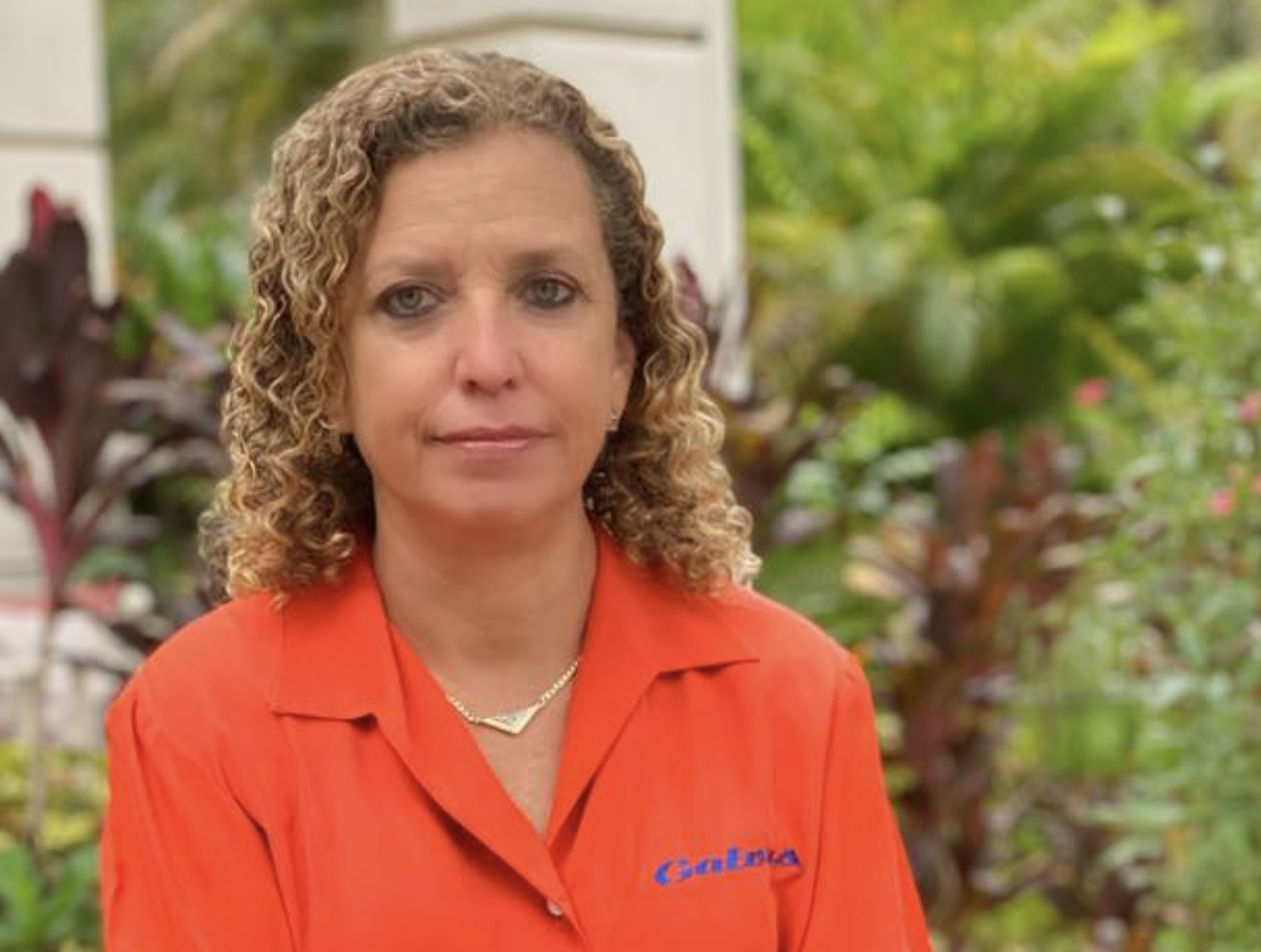 "Wasserman Schultz: Gen. Powell 'Blazed Trails for Others'" by The Floridian's Daniel Molina—The country is mourning the passing of former Secretary of State, General Colin Powell (R), a political figure that the New York Times said "shaped U.S. National Security." Although he became a controversial figure in recent years after endorsing both President Barack Obama (D) and President Joe Biden (D), which garnered criticism from GOP members, members from both parties are now remembering his life and what he contributed to the political arena.
"Trump Sues Jan. 6th House Select Committee, National Archives To Block Release Of White House Records" by The Floridian's Mona Salama—Former President Donald Trump filed a lawsuit to prevent the release of White House documents from the National Archives to the Democrat-led House "unselect" committee that's investigating the Jan.6 Capitol riot attack, calling the probe "a vexatious, illegal fishing expedition."
"Deutch, Crist Push Renamed Carbon Tax Legislation" by The Floridian's Javier Manjarres—When Rep. Ted Deutch (R) filed is Energy Innovation and Carbon Dividend Act of 2019 (HR 763), the veteran legislator thought that the 86 cosponsors of his measure would help the legislation sail through the House of Representatives and make its way onto the floor for a vote.
"Annette Taddeo Runs for Governor (Finally)" by The Floridian's Javier Manjarres
"Casey DeSantis: 'I have only begun to fight'" by The Floridian's Javier Manjarres
"Lawmakers Praise Extradition of Venezuela's Alex Saab" by The Floridian's Daniel Molina—The United States has maintained a hardline stance against the Maduro regime in Venezuela, and one of Maduro regime's closest allies is reportedly being extradited to the U.S. The news comes as Venezuela has announced it would halt negotiations with countries including Mexico in response to the extradition.
"Mast: Even 'Liberal DC Media Won't Defend' Bad Spending" by The Floridian's Jim McCool—It is no secret that congressional Democrats have been spending a lot, but what is unknown is how much the American public approves of it. On top of trillions of dollars Democrats have thrown at "infrastructure," Rep. Brian Mast (R-FL) has even claimed that spending is so bad that, "even the liberal DC media won't defend it."
"Laura Loomer Slams 'Fake News' Video Of Orlando Bar Incident" by The Floridian's Jim McCool—With Florida politics as tense as it is, plenty of theatrics is bound to occur. Congressional candidate Laura Loomer (R-FL) called out State Rep. Anna Eskamani (D-49) for spreading a "fake news" video of Loomer.
"Florida School Teacher Fired Over Mask Mandate"by The Floridian's Javier Manjarres—The embattled Broward Counnasdty Public Schools board has fired one of its teachers over the ongoing mask mandate they continue to impose on school children.
"Dale Holness Opposes Hardy's Support of Anti-Israel BDS Movement"by The Floridian's Javier Manjarres
"Laura Loomer Outraises Rep. Webster in 2022 Primary Race"by The Floridian's Jim McCool
"Bilirakis Says Biden's Inflation Driving Up Price of Apples, Salad Dressing" by The Floridian's Javier Manjarres—Comparing the presidencies of current President Joe Biden and former President Donald Trump is like comparing apples to oranges, especially when talking about inflation.
"Biden Commission Shoots Down Progressive Idea of 'Packing' Supreme Court" by The Floridian's Javier Manjarres—Progressive Democrats around the country and in the U.S. Congress were served a body blow to the stomach when President Joe Biden's Presidential Commission on the Supreme Court found that expanding the high court was a very bad idea, but believed that rotating justices from a lower federal court to the Supreme Court should be considered.
"Nikki Fried Fries 'Republican' Charlie Crist Over New Position on Marijuana Legalization" by The Floridian's Javier Manjarres—Agriculture Commissioner Nikki Fried has taken another well-placed dig at former Republican Governor-turned-Democratic Rep. Charlie Crist over his changing position on the legalization of marijuana.
"Roach Files Bill Requiring Local Candidates to Disclose Finances" by The Floridian's Jim McCool—It is safe to assume that Americans are losing trust in their government and elected officials. However, State Rep. Spencer Roach (R-79) has introduced a bill to require municipal elected officials to publicly disclose their financial assets and interests.
"John Rutherford Seeks to End House Proxy Voting"—by The Floridian's Jim McCool
"Rubio Slams 'Desperation' Biden To Salvage Dead Iran Deal" by The Floridian's Daniel Molina
"Winter is Coming: Rubio Blames Massive Inflation on "Far Left Lunatics" by The Floridian's Javier Manjarres—At 2 am Thursday morning, While most Americans were fast asleep or getting up for a midnight snack, Florida Senator Marco Rubio was already at the refrigerator snacking on leftover croquetas—burning the midnight oil and taking a late-night jab at the Biden Administration and Congressional Democrats by calling them "far left lunatics" for dumping on the U.S. economy and fueling inflation.
"Trump Crushes DeSantis, Pence, GOP Field in new 2024 Poll" by The Floridian's Javier Manjarres—As the Biden Administration continues to falter, and as more Americans continue to question the president's leadership, another popular opinion poll shows that Republicans and Independents would still vote for former President Donald Trump if the 2024 Republican presidential primary election was held today.
"Demings Outraises Rubio's Senate Campaign" by The Floridian's Daniel Molina—The senatorial race between incumbent Senator Marco Rubio (R) and Florida Rep. Val Demings (D) is expected to be one of the most closely watched races across the country, not to mention the most expensive. As it stands, the Rubio campaign has already pointed out that Demings has aggressively fundraised against the South Florida lawmaker, announcing in a message to supporters that "for the past 2 quarters, we lost the fundraising race."
"DeSantis Announces $2 Million Grant for St. Pete" by The Floridian's Daniel Molina—Florida Governor Ron DeSantis (R) announced this week that St. Petersburg Beach would be awarded a $2 million grant that will go towards wastewater infrastructure improvements. With this money, the Governor expects the city to finalize its system.
"Consumer Prices Has Inflation Hotter Than Expected In September" by The Floridian's Jim McCool
"House Committee Will Pursue 'Criminal Contempt' Charges in Capitol Riot Investigation" by The Floridian's Javier Manjarres—After the riot that took place on January 6th at the U.S. Capitol, where elements of ANTIFA, Right-Wing Extremists, and other anti-government factions stormed the building that left several people dead, Speaker Nancy Pelosi convened a House Select Committee lead by Florida Rep. Stephanie Murphy to investigate what, or who caused one of darkest moments in American history.
"Sabatini Pushes for Total Ban of Vaccine Mandates in FL" by The Floridian's Jim McCool
"Waltz Warns of New Terrorist Group 'Worse than Al Qaeda' in Kabul" by The Floridian's Jim McCool
"NRCC Announces Latest Round of "On the Radar" Congressional Candidates" by The Floridian's Javier Manjarres
"House Passes Short-Term Debt Limit Extension, Punts Crisis Into December" by The Floridian's Mona Salama
"Rick Scott: 'Socialist Democrats are the true threat to our Republic' by The Floridian's Jim McCool—This week the US Navy made headlines as a nuclear engineer and his wife were arrested for allegedly selling military secrets to a foreign nation, and appears to have close ties with domestic organizations such as Black Lives Matter.  US Senator Rick Scott (R-FL) reacted by stating that "Socialist Democrats" are the true threat to America.
"Government Buses Potentially Filled With Illegal Immigrants Enter Florida" by The Floridian's Javier Manjarres—The Floridian first reported that illegal immigrants that crossed over the southern border were getting transported to Florida back in March of this year, and now it appears as if more potential busloads of illegals are being sent into Florida.
"Biden Ends All Border Wall Construction Contracts Amid Migrant Surge" by The Floridian's Mona Salama
The JUICE is juiced by Javier Manjarres, Daniel Molina, and Jim McCool