Mazel Tov! DeSantis Launches Inter-Faith COVID-Response Program
The efforts to vaccinate Floridians to prevent the spread of the COVID-19 virus continue with Gov. Ron DeSantis flying into South Florida to announce an "inter-faith" vaccine event" in the heavily-Jewish American city of Aventura.
Gov. DeSantis has been focused on vaccinating seniors first, and Thursday's pilot event was no different as the vaccines were first administered to "homebound" Holocaust survivors and other seniors living in the area.
"The state has identified 750 Holocaust survivors and spouses eligible for the vaccine in Palm Beach, Broward, Miami-Dade, and Martin Counties, and is offering them the COVID-19 vaccine this week," stated DeSantis' Executive Office.
According to DeSantis, some "175 members of the synagogue, 175 members of The Islamic Center of Greater Miami in Miami Gardens, and 175 members of Trinity Church" were going to be vaccinated.
Yesterday's faith-based community vaccine disbursement effort is only the beginning as 26 more similar events are slated to take place around the state.
The Florida Division of Emergency Management, lead by Democrat Jared Moskowitz, has helped administer 1.3 million doses of the vaccine to seniors 65 and older throughout the state.
"My grandmother who survived the Holocaust as part of the Kindertransport but is no longer with us would be proud that her grandson continued to save the lives of the survivors. All my grandparents escaped, their families didn't."- Director Jared Moskowitz
Rick Scott @SenRickScott-As Dems try to pass a $2T spending bill filled w/ liberal priorities, Republicans are working to make things better for Americans. So far, Dems have voted AGAINST protecting life, AGAINST reopening schools, AGAINST border security & FOR tax cuts for the rich! This is crazy
U.S. Rep. Stephanie Murphy @RepStephMurphy-On this #WorldCancerDayJ we honor all families in FL and around the world who have been affected by cancer. Last year we passed a measure to increase NIH research on childhood cancers and we won't stop fighting until we #BeatCancer for good.
Shevrin "Shev" Jones @ShevrinJones-"I've long called for the repeal of Florida's deadly 'Stand Your Ground' law as we've seen it encourage violence and a shoot-first mentality, especially against Black men," said Senator Shevrin Jones.
Ron DeSantis @GovRonDeSantis-Today I announced an inter-faith COVID-19 vaccination site at Aventura Turnberry Jewish Center, an important faith-based vaccination site with representation from multiple faiths.
Rep. Val Demings @RepValDemings- "Doc Sistrunk" served the Black community in Broward County when few others did, and was "known for looking the other way when someone could not afford his services." He delivered 5,000 babies, literally helping give birth to generations of Black Floridians. #BlackHistoryMonth
.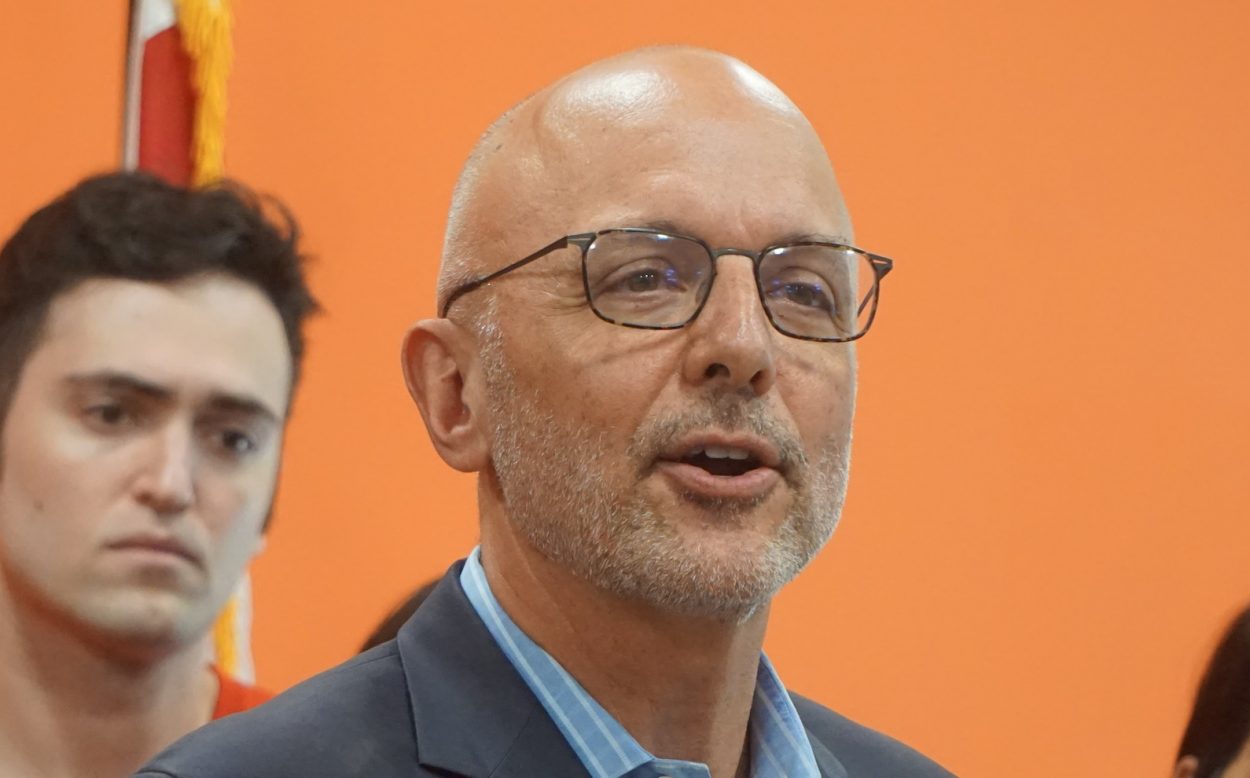 Rubio Slams WH Press Secretary For Lack Of Response Whether Biden Supports Trump's NASA Artemis 

by The Floridian's Mona Salama

House Impeachment Managers Ask Trump To Testify Before Or During Senate Trial" by The Floridian's Mona Salama – Lead House impeachment manager Rep. Jamie Raskin (D-MD) on Thursday sent a letter to former President Trump requesting he testify under oath "before or during" his upcoming Senate impeachment trial. "Two days ago, you filed an Answer in which you denied many factual allegations set forth in the article of impeachment. You have thus attempted to put critical facts at issue notwithstanding the clear and overwhelming evidence of your constitutional offense," Raskin wrote in the letter. "In light of your disputing these factual allegations, I write to invite you to provide testimony under oath, either before or during the Senate impeachment trial, concerning your conduct on January 6, 2021," Raskin added. Trump's lawyers filed a 14-page response to the House's impeachment 80-page pre-trial legal brief on Tuesday, arguing that the Senate "lacks jurisdiction" to impeach Trump or bar him from running for office again since the trial is occurring way after he has already left office. They also pointed out the House skipped hearings and took only a week to impeach him after the attack at the Capitol. "The constitutional provision requires that a person actually hold office to be impeached. Since the 45th President is no longer "President," the clause 'shall be removed from Office on Impeachment for…' is impossible for the Senate to accomplish, and thus the current proceeding before the Senate is void ab initio as a legal nullity that runs patently contrary to the plain language of the Constitution," Trump's defense attorney wrote.

"Rubio Wants To Defund Schools That Don't Offer In-Person Teaching Option" by The Floridian's Daniel Molina – Earlier this week, Texas Senator John Cornyn (R) urged President Joe Biden (D) to listen to scientists and the "fact that evidence shows that schools are able to open safely, again, if proper precautions are taken." Now, Florida Senator Marco Rubio (R) and his colleagues have introduced a bill that would get students back to school. An effort was made in Texas, but it was shortly voted down by House Democrats. In the sunshine state, Republican lawmakers are hoping that the Put Students First Act of 2021 doesn't meet the same opposition. Specifically, the legislation "would prohibit federal funding to schools that do not provide an in-person learning option by April 30, 2021." In an op-ed written by the Florida Senator, Rubio argued that if "a school continues to cave to the unions at the expense of their students, they should not receive funding." Instead, "that funding should be rescinded and directed to school choice and the reopening plans of schools that are prioritizing their students' needs." "If a school refuses to offer students an in-person option by April 30th of 2020, 100 days into the new Biden administration, their federal funding should be rescinded and directed to school choice and the reopening plans of schools that are prioritizing their student's needs," said Rubio. Last month, leading health experts announced that America's schools could reopen with "mask-wearing and social distancing," and they also informed that new scientific research provided "a path forward to maintain or return primarily or fully to in-person instructional delivery." Moreover, Rochelle Walensky, Director of the CDC, commented that "vaccinations of teachers is not a prerequisite for the safe reopening of schools" along with emphasizing "that there is increasing data to suggest that schools can safely reopen."

"Donalds Issues Letter to "Honor" Justice Clarence Thomas" by The Floridian's Daniel Molina – February marks African American History Month. Throughout the month, African American icons are honored for the important contributions they have made for a better world. However, a group of Black Republican lawmakers are noting that one individual isn't receiving the credit they feel he deserves – Justice Clarence Thomas. This week, an effort was launched led by a letter written by freshman Florida Rep. Byron Donalds (R), and the effort urged the National Museum of African American History and Culture to "honor" the Supreme Court Justice because they feel that the current exhibit "falls short" of representing him and his contributions. The effort also called for an update that is "long overdue." The letter directed to the museum's leadership was also signed by Senator Tim Scott (R), Rep. Burgess Owns (R) and Dr. Alveda King among others. "This museum is a national treasure for our nation's fabric – this is especially true for me as a Black American and Republican," Donalds expressed in the letter. Donalds further detailed that "Black History transcends political correctness and partisanship," adding that "overall, the NMAAHC honors its mission, but it is unfortunate to see pitfalls likely driven by irresponsible bias."

"Rep. Donalds Leads Fight To Honor Justice Thomas" by The Floridian's Jim McCool – Yesterday, US Representative Byron Donalds (R-FL), joined by Senator Tim Scott (R-SC) and other prominent black conservatives, in congress fought on behalf of the great Justice Clarence Thomas and his legacy. Justice Thomas is the second African American man to sit on the Supreme Court after Thurgood Marshall. However, because of his conservative roots, it is anticipated that he will likely not get the notoriety he deserves and not be showcased in the National Museum of African American History and Culture. In response, Donalds and Scott composed the following in a letter to the National Museum of African American History and Culture, to ensure his legacy stays intact. "The descendant of American slaves, Justice Thomas persevered to become a stalwart figure in the American judicial system and history. As a Black man who has a profound respect for the contributions Justice Thomas has propitiated for generations to come, this museum must encapsulate his life as it does for hundreds of other monumental Black figures. Respectfully, as it stands today, the NMAAHC falls short of representing Justice Thomas's achievements and life. The American people deserve an unbiased assessment of the trailblazers in the Black community––it is time to honor Justice Thomas with this long-overdue documentation of his whole life and history and not the disingenuous effort displayed today."

"Florida To Get $40 Million In McKinsey Opioid Settlement" by News Service of Florida – Florida will receive $40 million as part of a $573 million settlement between McKinsey & Company and dozens of states because of the global consulting giant's role in the opioid epidemic, according to court documents. Florida Attorney General Ashley Moody said Thursday the agreement will bring "millions of dollars into our communities, fighting the opioid epidemic, at a time when resources in Florida are very stressed, very limited." The settlement between McKinsey and 47 states and five territories says that $558.9 million "will be used, to the extent practicable, to remediate the harms caused to the settling states and their citizens by the opioid epidemic within each state and to recover the costs incurred by the settling state in investigating and pursuing these claims." The agreement came after lawsuits across the nation revealed that McKinsey worked to help boost sales of Purdue Pharma's powerful OxyContin pain medication amid the opioid epidemic. "They strategized ways to push higher-dose, more-lucrative opioid prescriptions, even in the middle of this devastating epidemic," Moody told reporters. In the agreement, McKinsey did not admit to wrongdoing. The company agreed to restrictions on consulting about certain controlled substances and pledged to create a public database with thousands of pages of documents related to opioid sales and distribution.

"FOX 35 INVESTIGATES: Thousands of wasted vaccines reported in Florida" by Fox 35's Robert Guaderrama – More than 3,500 COVID-19 vaccine doses have gone to waste in Florida, according to officials. The state said that includes vials that were broken and vials that were thawed but could not be used in the timeframe before they expired. The Pfizer vaccine is only good for six hours, while Moderna is good for eight hours. Dr. Bruce Rankin who ran COVID-19 vaccine trials explained that the problem arises when there aren't enough patients to use up every dose in a multi-dose vial. "When you have to have six arms, once you thaw it out, then it's important to have those people lined up," said Dr. Bruce Rankin, Medical Director, Accel Clinical Research Deland. Here are the local numbers: Orange, Seminole, Volusia, Lake, and Flager counties all report zero wasted doses. Osceola and Sumter counties had not responded by the time this article was published. Marion County reports 10 to 20 doses have been lost while Brevard County confirms 308 doses have spoiled.

"Central Florida lawmakers react after Rep. Greene voted off committees" by Click Orlando's Jon Jankowski – Rep. Marjorie Taylor Greene was voted off the Education and Labor and Budget committees on Thursday. The Associated Press reports the move to vote her off came after Democrats said she spread conspiracy theories. She was removed from the committees she served on after a 230-199 vote. Central Florida lawmakers voted along party line. Here are their reactions. Rep. Daniel Webster. "Do I approve of the speech I hear – whether it is pro-socialist and anti-American values, or anti-Semitic language or ridiculous and false conspiracy theories? Absolutely not. My record is clear. Our discourse as a nation must be based on truth and facts. I believe everyone should be treated with kindness and respect. I do not engage in personal attacks. I don't even run attack ads on my opponents during election season. "Democrats are choosing to pursue a resolution to strip a Republican member of Congress of her committee memberships for comments made while she was a private citizen. Yet, they have categorically refused to hold accountable Democrat colleagues who are serving on committees, including as Chair of a Committee, despite having engaged in anti-Semitic speech or encouraging violence against other public officials. This double standard illustrates that House Resolution 72 is not about holding members of Congress accountable or to a higher standard, it is an act of partisan politics. At a time when emotions are already high, partisan actions like these throw more fuel on the fire and distract from tackling the issues of greatest concern to hardworking Americans."

"Florida unemployment rises as seasonal jobs end, pandemic impact continues" by WFTV's Christopher Heath and James Tutten – Florida has seen more people apply for unemployment benefits for the second week in a row. At the end of December, there were 650,000 Floridians out of work. Now, there are more than 700,000. Restaurant worker John Kemp is one of them. "My last day of work was March 16," Kemp said. For those like Kemp, the layoffs of last spring have endured. Bills continue to come in, but the jobs are not back. New numbers from the U.S. Bureau of Labor Statics show the trend for Florida. Initial unemployment claims have increased every week this year and are now almost triple what they were at the end of 2020. The most recent data from the state suggests the continued struggles of leisure and hospitality, coupled with seasonal jobs ending, is driving this trend. Central Florida has been hit especially hard, as Orange and Osceola counties continue to have among the highest unemployment in the state. "I've been putting out applications trying to find another job as well as talking to my previous employer and, so far, nothing's come up yet," Kemps said. Complicating matters is uncertainty about the scope of a federal stimulus package.

"'You is so gorgeous': Florida man tries hitting on judge during virtual hearing [WATCH]" by WWJ's Marisa Jenkins – It may not get him out of trouble with the law, but who can blame him for taking his shot? A Florida man is getting some attention on social media, after local news stations posted video of him flirting with a judge during a virtual hearing. "How you doin', how you doin'?" asks defendant Demetrius Lewis, as he walks into frame for an appearance before a Broward County judge. "Alright, I'm good, sir, how are you?" Judge Tabitha Blackmon replies. "Judge, you is so gorgeous," Lewis says. "...I just have to tell you, you're gorgeous." "Thank you, Mr. Lewis; alright, Mr. Lewis," Blackmon responds, cracking a little smile. "Flattery will get you everywhere... but maybe not here." The judge seems a bit flustered for a second, before getting right back down to business. WSVN-TV reports Lewis is charged with one count of attempted burglary of an occupied dwelling, and is being held on a $5,000 bond.

"Only 35% of staff in Florida long-term care facilities are getting vaccinated" by Click Orlando's Nadeen Yanes – According to the Florida Department of Emergency Management, only about 35% of staff in long-term care facilities in Florida has chosen to get their first dose of the COVID-19 vaccine. "The state of Florida is focused on ensuring staff and residents of long-term care facilities have access to the COVID-19 vaccine as soon as possible. Gov. DeSantis understands how important this is and demonstrated his commitment by directing the Division of Emergency Management to accelerate vaccinations of long-term care residents," FDEM press secretary Samantha Bequer said. According to the Florida Department of Emergency management as of Wednesday: "All of Florida's nursing homes have had the opportunity to receive the first dose of the COVID-19 vaccine. Nearly 68% of residents and nearly 36% of staff in Florida's nursing homes chose to receive the vaccine on the first visit." Moreover in the 90% of assisted-living facilities that have had the opportunity to get vaccines in the state, "more than 82% of residents and more than 35% of staff in Florida's assisted living facilities chose to receive the vaccine on the first visit." The data coincides with a report from the Florida Assisted Living Association, which did a study after the Florida Department of Health reported 35% of employees agreed to receive the vaccines in the 3,135 assisted-living facilities in the state, according to agency leaders.

"Smoking Sugar Fields in South Florida" by Nasa – Between October and April each year, NASA satellites routinely observe smoke plumes rising from farmland south of Lake Okeechobee in Florida. Almost all of the plumes appear to come from fires on sugarcane farms. Sugar growers light the hot, fast-moving blazes to burn the leaves and tops off the plant, leaving the sweeter cane material intact—a practice that makes harvesting and transporting sugar cane cheaper. But the smoke has raised health concerns in some nearby communities. On January 5, 2021, the Operational Land Imager (OLI) on Landsat 8 acquired a natural-color image of multiple sugarcane fires burning near Belle Glade, Florida. The second image (right) is false-color, combining shortwave infrared, near-infrared, and blue light (OLI bands 7, 5, 2). This combination makes it easier to distinguish between fields that are unburned (green), recently burned (black), and recently harvested (brown). Atmospheric scientists have been studying the frequency of these fires, where the smoke goes, and how much it might affect human health. Research indicates that satellites likely detect only a portion of the sugarcane fires that burn each year. Yet with the help of data from ground-based sensors and atmospheric dispersion models, scientists are finding ways to explore the possible health impacts of the smoke.

"Bill would get rid of Florida's state pension plan" by News 4 Jax's Mike Vasilinda – Florida's pension plan would be no more under legislation that cleared a Senate Committee at the State Capitol Thursday morning. Some call the plan underfunded, but there are fears that ending the defined benefit plan could make it harder to hire critical workers. The state pension plan isn't just for state workers. Most teachers, sheriff's deputies, and many city and county employees are all members of the Florida retirement system. "The balance stands at $184 billion," said Ash Williams with the State Board of Administration. Since last June, the plan is up $23 billion after paying out $600 million a month. "Investments have been prudently executed with good results," Williams said. The problem is that benefits are outpacing contributions. Starting next year, State Sen. Ray Rodrigues wants to force all new employees into a 401(k)-type investment plan. "We've got to make sure that those we've made promises to are promises the state can keep," Rodrigues said. Retirees were out in force at the bill's first committee hearing to say no. "Pensions allow people like me to live financially independent," Linda Edson, a retired teacher, said. They worry that blocking new members will hurt those who stay in the plan. "To shift and close the plan to new members will be a huge financial burden to the state, employers, and employees, and ultimately puts the long term health of the system at risk," said Yale Olenick with the Florida Education Association.

"Florida Businesswoman Pleads Guilty to Criminal Health Care and Tax Fraud Charges and Agrees to $20.3 Million Civil False Claims Act Settlement" by Department of Justice – A Florida businesswoman has agreed to resolve criminal charges and civil claims arising out of false claims to the United States for braces and other durable medical equipment (DME), the Justice Department announced today. Kelly Wolfe, of Indian Rocks Beach, Florida, has pleaded guilty to conspiracy to commit health care fraud and filing a false tax return. She faces a maximum penalty of 13 years in federal prison. A sentencing date has not yet been set. Wolfe's company, Regency Inc. (Regency), has also agreed to a civil resolution. "The department is committed to ensuring that federal health care program providers do not place their own financial gain over patients' clinical needs," said Acting Assistant Attorney General Brian Boynton of the Department of Justice's Civil Division. "When medical professionals and companies knowingly commit fraud to maximize their profits, we will hold them accountable for their unlawful conduct." "Fraud and deceit in our nation's health care system is not only unacceptable, it is illegal." said U.S. Attorney Maria Chapa Lopez for the Middle District of Florida. "The U.S. Attorney's Office will continue to aggressively work with our investigative partners in rooting out these illicit practices to ensure that patients receive the optimum care they deserve." "This pernicious telefraud scheme's ambitions were cut short by the exceptional partnership of our law enforcement partners," said Special Agent in Charge Omar Pérez Aybar of the U.S. Department of Health and Human Services Office of Inspector General (HHS OIG). "This guilty plea and the forfeiture of tens of millions of dollars back to the U.S. Treasury show our determination to stop such damaging fraud schemes and to bring fraudsters to justice."

"'Donald J. Trump Week' declared in Florida city 1st week of February" by Fox News' Michael Ruiz – The city of Frostproof, Fla., has declared the first week of February "Donald J. Trump Week" in honor of the former president, who remains a popular figure in the area. "Former President Donald J. Trump was overwhelmingly supported, and received 76.43% of the votes in Frostproof, Fla., Precinct 537, won the state of Florida twice and received more votes than any incumbent in United States history," the proclamation from Mayor Jon Albert reads. The proclamation praised Trump for his record on jobs – touting 1.2 million in manufacturing and construction during his term – and his foreign policy, which "engaged in no new wars" and brought some troops home from abroad. Donald J. Trump week runs this year from Feb. 1 to 6. State Rep. Anthony Sabatini, who has proposed renaming U.S. Route 27 as "President Donald J. Trump Highway," spoke in support of the proclamation and called it "a great initiative." "First city in the nation to do this," he noted in a Facebook post. Critics of the move said they disagree with its timing, during the first week of Black History Month, according to the Tampa Bay Times. "I voted for Trump, but I feel this is stirring the pot," White city resident Aimee Ward told the paper. "If they declared Trump Day on his birthday in June, I wouldn't think twice. Doing this on Black History Month is absolutely unacceptable."

"Florida doctor admits to giving out oxycodone for no reason & tax evasion" by NBC 2's Erin O'Brien – A 56-year-old licensed physician has pleaded guilty to one count of distributing oxycodone for no legitimate medical purpose as well as one count of tax evasion, officials said. Alina Pollan faces up to 20 years in prison for illegal drug distribution and 5 years for tax evasion, according to the Department of Justice. Pollan worked at Pain and Wellness Clinic for about three years. During her time there, Pollan prescribed large amounts of controlled substances to nearly all of the patients that came into the clinic. In Feb. 2018, an undercover agent made an appointment with Pollan. The undercover agent told Pollan they had a history of drug abuse and failed drug tests. Regardless of the undercover agent's history, Pollan seemingly turned a blind eye and prescribed them with oxycodone for no legitimate medical purpose. Also, Pollan filed false tax returns with the IRS that understated the true amount of Pollan's actual income for the years 2017 and 2018. The former owner and operator of the pain clinic had previously pleaded guilty to similar criminal charges.

National:

"House ousts Rep. Marjorie Taylor Greene from committees in unprecedented vote" by Fox News' Marisa Schultz – House Democrats took the unprecedented step of removing Rep. Marjorie Taylor Greene, R-Ga., from her two committee assignments for espousing violence and conspiracy theories on social media before she was elected to Congress in November. The 230-199 vote was bipartisan, with 11 Republicans joining with all Democrats to oust Greene from the Committee on Education and Labor and the House Budget Committee. House Republicans appointed Greene to both panels last month after the freshman rep was sworn into Congress. Democrats said they were forced to take action to uphold the standards of decency in Congress because Republicans refused to penalize Greene for her history of incendiary remarks. "Serving on a committee isn't a right. It's a privilege. When someone encourages violence against a member, they should lose that privilege," said Rep. Jim McGovern, D-Mass., the chairman of the House Rules Committee. "The party of Lincoln is becoming the party of violent conspiracy theories," McGovern continued. "And apparently, the leaders of the Republican Party in the House today aren't going to do a damn thing about it." Republicans widely disavowed Greene's past comments -- which included QAnon conspiracies, claims that mass school schoolings were staged, suggesting a plane didn't hit the Pentagon during 9/11, endorsing violence against prominent Democrats and espousing anti-Semitic and anti-Muslim views.

"Hunter Biden likely paid big bucks for deal on soon-to-be-released book" by Fox News' Morgan Phillips – Though the numbers aren't public, Hunter Biden was likely paid big bucks for his new book deal. The tale of Hunter Biden's experience with drug addiction will "likely" earn the president's son a number in the "high six figures," a book industry source told Fox News. Fox News has reached out to Simon & Schuster for confirmation. The memoir "Beautiful Things" will be published through Gallery Books, an imprint of Simon & Schuster, on April 6. In a snippet released by Gallery Books, Hunter writes, "I come from a family forged by tragedies and bound by a remarkable, unbreakable love." Sources tell the Daily Mail Hunter likely received an advance as high as $2 million and could earn millions more if he allows his life story to be filmed. President Trump and Republicans have hit Hunter not only for allegedly attempting to profit off his father's name but also for his struggles with drug addiction. In 2014, Hunter was kicked out of the military after testing positive for cocaine. Biden supporters have been quick to point out that Hunter has suffered greatly through the loss of his mother and sister in a car accident at a very young age and the loss of his brother Beau to brain cancer in 2015. President Biden has defended his son from Trump's attacks last fall. "My son, like a lot of people, like a lot of people you know at home, had a drug problem," the then-Democratic candidate said. "He's overtaken it. He's fixed it. He's worked on it, and I'm proud of him. I'm proud of my son." The title of Hunter's book refers to an expression he and his brother would use with each other after Beau's diagnosis, meant to emphasize what was important in life.

"Gavin Newsom recall 'at the 10 yard line' as campaign clears 1.4 million signatures" by Fox News' Caitlin McFall – The effort to force a recall vote against California Gov. Gavin Newsom is looking increasingly likely as more than 1.4 million signatures have been collected as of Thursday, according to the Recall Gavin Campaign. The proponents of the recall effort hope to hit 2 million signatures by March 17th, but only 1.5 million are needed to trigger a mid-year election. The recall campaign of the Democratic governors was launched by Orrin Heatlie, Chairman of The California Patriot Coalition, but other groups have joined the effort – including Republican Congressional hopeful Joe Collins, who launched a 28-day "Recall Road Trip" earlier this week. Collins will visit 16 cities appealing to Californians frustrated with the Democratic governor's response to the coronavirus pandemic. He will collect signatures. "Gavin has been less than mediocre for California," Collins told Fox News Thursday. The Los Angeles native believes that California became a "hotbed" for the virus "due to a lack of leadership." "Instead of giving money to illegal immigrants, he should have given back to small businesses … he should have been transparent on why he chose to shut down California," Collins said. California has seen the highest number of coronavirus cases throughout the country, though the state's death total still trails that of New York. But a recent spike in cases prompted the governor to enforce a new round of stay-at-home orders at the end of last year, infuriating California Republicans.

"Trump quickly rejects impeachment managers' request for testimony at impeachment trial" by CNN's Jeremy Herb and Manu Raju – The House impeachment managers on Thursday requested Donald Trump testify at his upcoming Senate impeachment trial, in a dramatic move to try to get the former President on the record about his conduct surrounding the January 6 riots at the Capitol. But Trump's legal team quickly responded by rejecting the invitation in a terse response to the House impeachment team, putting the decision back on the Democrats over whether to try to compel Trump's testimony with a subpoena. Lead impeachment manager Rep. Jamie Raskin sent a letter to Trump's attorney Thursday requesting that Trump testify before or during the upcoming impeachment trial, which begins on Tuesday, arguing that his testimony was needed after he disputed the House's allegations that he incited the insurrection at the Capitol. "Two days ago, you filed an Answer in which you denied many factual allegations set forth in the article of impeachment," Raskin, a Maryland Democrat, wrote. "You have thus attempted to put critical facts at issue notwithstanding the clear and overwhelming evidence of your constitutional offense. In light of your disputing these factual allegations, I write to invite you to provide testimony under oath, either before or during the Senate impeachment trial, concerning your conduct on January 6, 2021." Trump's lawyers quickly responded to Raskin's request on Thursday, writing back in a three-paragraph letter, saying the request was a sign the House could not prove its allegations against Trump.

"Biden and top Democrats split on how to cancel student debt" by CNN's Kate Lobosco – Senate Majority Leader Chuck Schumer and Massachusetts Sen. Elizabeth Warren once again called on President Joe Biden to use executive authority to cancel student debt on Thursday -- but the President wants Congress to act first. "The President has and continues to support canceling $10,000 of federal student loan debt per person as a response to the Covid crisis," White House press secretary Jen Psaki said at a briefing. She added that that the President is "calling on Congress to draft the proposal," and "looks forward to signing it." In one of his first acts in office, Biden extended the pause on student loan payments and interest, a Covid relief benefit put in place by Congress last year that had already been renewed by the Trump administration. Federal student loan borrowers won't have to make payments until October 1 at the earliest. But some Democratic lawmakers are hoping for more. Schumer and Warren, along with Massachusetts Rep. Ayanna Pressley, led dozens of other Democrats in reintroducing a bicameral resolution Thursday that calls on Biden to cancel $50,000 per borrower -- something they argue that he has the executive power to do. A similar resolution was introduced last year calling on the Trump administration to forgive student loan debt -- but former Education Secretary Betsy DeVos slammed that proposal as "government gift giving." House Democrats included a provision to cancel $10,000 per borrower in a sweeping Covid relief bill passed in May that was never taken up in the then Republican-led Senate.

"Who Could Receive a Third Stimulus Check? What Biden and the GOP Are Proposing" by WSJ's Richard Rubin and Andrew Duehren – Republicans have called for a more-targeted approach to a third round of stimulus checks, while Democrats have argued that broad distribution is necessary to cover gaps in other federal programs. Here is a look at the proposals, which differ both on the size of the payment and in who is eligible. President Biden has proposed checks of $1,400 per person as part of his $1.9 trillion aid plan, effectively topping up the $600 payments from December to $2,000. Democrats promised that amount during the Senate campaigns in Georgia that gave them the majority, and Mr. Biden has shown no signs of budging on that. The Biden proposal didn't specify the income levels at which the checks would start shrinking, and officials said they were open to discussions on that. In the past rounds, the payments began shrinking once adjusted gross income reached $75,000 for individuals and $150,000 for married couples. But Democrats in recent days have talked about setting those levels at $50,000 and $100,000. A group of 10 Senate Republicans has proposed scaling back the checks to $1,000 per adult and $500 per dependent adult and child. The Republican plan would reduce the size of the checks for individuals making $40,000 a year or more and phase them out entirely when income reaches $50,000. Married couples with a joint annual income above $80,000 would see smaller checks, going to zero when income reaches $100,000. The plan didn't specify the phaseout rules for households with children.

"GOP Puts Minimum Wage, School Reopenings in Covid-19 Aid Spotlight" by WSJ's Andrew Duehren – Senate Republicans unleashed a blitz of amendments to President Biden's $1.9 trillion relief plan, seeking to put Democrats on the spot over raising the minimum wage and the pace of school reopenings, among other issues. Under the special procedure Democrats are using to pass the $1.9 trillion plan, Republicans can offer an unlimited number of amendments to the budget resolution the Senate is now considering. Passing the budget resolution will move Democrats forward with reconciliation, a process that allows the Senate to pass legislation with a simple majority. The House approved the budget resolution Wednesday. Because the budget is nonbinding and never becomes law, the amendment votes are largely symbolic, a factor that can influence how much support they receive. Republicans offered amendments on cutting federal funding to states that have an active investigation into underreported deaths in nursing homes and blocking aid for schools that don't reopen after teachers have had the opportunity to be vaccinated. New York Democratic Gov. Andrew Cuomo is under fire over nursing-home deaths, and several states and cities are grappling with teachers unions, a key Democratic constituency, over when to reopen schools. Both the amendment on reporting nursing-home deaths and the amendment on reopening schools failed in the Democratic-controlled chamber. Another amendment in the mix would prevent Congress from raising the federal minimum wage during a pandemic; Mr. Biden's relief plan calls for gradually raising the minimum wage to $15 an hour. His proposal would also bolster federal unemployment assistance, send $1,400 direct checks to many Americans, provide funds for vaccine distribution and offer aid to schools.

"Border Patrol Releases More Migrants Into U.S. After Mexico Stops Taking Some Back" by WSJ's Alicia A. Caldwell and Jose De Cordoba – U.S. Border Patrol agents are increasingly releasing asylum-seeking families into the U.S. after Mexican authorities began refusing to take some families back in January, U.S. officials said. In recent weeks, an influx of families arriving along parts of the border has filled some holding facilities, where capacity has been reduced in response to the Covid-19 pandemic, Customs and Border Protection said in a statement. "Per longstanding practice, when long-term holding solutions aren't possible, some migrants will be processed for removal, provided a Notice to Appear, and released into the U.S. to await a future immigration hearing," CBP said in a statement Thursday. CBP said the Biden administration will continue using what legal authorities it has to keep migrants out of crowded detention facilities during the pandemic. Mexican immigration and foreign ministry officials said Mexico hasn't ended its practice of accepting all returned migrants, but officials in some stretches of the border have made "adjustments" to accommodate a change in Mexico's immigration law that bars officials from holding migrant children and their families in detention centers run by the immigration service. Those migrants must now be turned over to the DIF, Mexico's social-service agency for children and families. "The law says we can't have minors in immigration centers, they must be taken to shelters run by the DIF, where they wait until their migratory status is defined," said a spokeswoman for Mexico's immigration agency.

"Facebook faces a reckoning in Myanmar after blocked by military" by Reuters' Fanny Potkin – The Myanmar military's shutdown of Facebook access following the ouster of the democratically elected Aung San Suu Kyi caps years of tension between the social media company and the most powerful institution in a nation where Facebook is used by half the population. The junta on Wednesday banned Facebook Inc until at least Sunday after the regime's opponents began using it to organize. A new civil disobedience page had gained nearly 200,000 followers and the support of Burmese celebrities in the days after the coup, while a related hashtag was used millions of times. "The Tatmadaw sees Facebook as their internet nemesis because it's the dominant communication channel in the country, and has been hostile to the military," Human Rights Watch Asia Deputy Director Phil Robertson told Reuters, referring to the country's army. "Since the Burmese people are rapidly moving online to organize a massive civil disobedience campaign, shuttering access becomes a top priority." A company spokeswoman on Thursday urged Myanmar authorities to restore access to Facebook and WhatsApp to the country's 54 million residents. Facebook will have to decide how to play the delicate balance of protecting the democratic politicians and activists versus cooperating with the new regime to get services restored--an especially acute example of the political dilemmas the company faces worldwide.

"Smartmatic sues Fox News, Giuliani over election-rigging claims" by Reuters' Helen Coster – Electronic voting systems maker Smartmatic on Thursday sued Rupert Murdoch's Fox News cable network and Rudolph Giuliani, a lawyer for former President Donald Trump, claiming they falsely accused the company of helping to rig the U.S. presidential election in favor of Joe Biden. The defamation suit, filed in New York County Supreme Court, also names as defendants former Trump lawyer Sidney Powell, Fox Corp and Fox hosts Lou Dobbs, Maria Bartiromo and Jeanine Pirro. Smartmatic alleged Fox and other defendants invented a story that the election was stolen from Trump and made Smartmatic "the villain in their story." "Fox News used the story to preserve its grip on viewers and readers and curry favors with the outgoing administration," the lawsuit said. The suit seeks more than $2.7 billion in compensatory and punitive damages. Smartmatic also asks for defendants to retract false statements. "Fox News Media is committed to providing the full context of every story with in-depth reporting and clear opinion," a Fox News Media spokesperson said in a statement. "We are proud of our 2020 election coverage and will vigorously defend this meritless lawsuit in court." Dobbs referred questions to Fox News for comment, as did a representative for Bartiromo. The other defendants did not immediately respond to a request for comment. Florida-based Smartmatic's technology was only used in one place for the Nov. 3 presidential election - Los Angeles County, which Biden won.

"Wisconsin governor clashes with lawmakers over statewide mask mandate to curb coronavirus" by Reuters' Steve Gorman – Wisconsin Governor Tony Evers renewed his COVID-19 emergency health order and statewide mask mandate on Thursday, shortly after the state's Republican-controlled legislature voted to repeal his earlier order requiring face coverings in public places. The showdown followed months of rancor and legal battles between Evers, a Democrat, and Republican lawmakers over a series of restrictions he has imposed to curb the spread of the coronavirus. Republicans have argued that Evers has repeatedly exceeded his authority as governor by issuing executive orders lasting more than 60 days without seeking approval of the legislature. The governor has countered that he has the power to renew mask-wearing orders and related restrictions under a public health emergency posed by a deadly pandemic. Although medical experts say face coverings are one of the most effective means for breaking the transmission cycle of the respiratory virus, mask-wearing became deeply politicized during the Trump administration. Announcing his latest orders on Thursday, Evers cited an opinion poll showing Wisconsin residents overwhelmingly support mask requirements for public places. It was not immediately clear what additional action the legislature might take to impose its will against the governor. Last year, a stay-at-home order issued by Evers was invalidated by the state Supreme Court in a lawsuit that Republican lawmakers brought against the lockdown.

"Romney proposes child care benefit for families, fueling Democrats' push" by Politico's Rebecca Rainey – Senator Mitt Romney (R-Utah) on Thursday released a plan to provide families with a monthly cash benefit of as much $350 for each child, embracing calls by President Joe Biden and Democrats to increase the child care tax credit to help low-income Americans struggling during the pandemic. Romney's Family Security Act would replace the Child Tax Credit with a $3,000 yearly benefit per child — $4,200 for kids under the age of 5 — spread out in monthly installments that begin four months before a child's due date, according to a summary of the proposal. "American families are facing greater financial strain, worsened by the COVID-19 pandemic, and marriage and birth rates are at an all-time low," Romney said in a statement. "This proposal offers a path toward greater security for America's families by consolidating the many complicated programs to create a monthly cash benefit for them, without adding to the deficit." Romney's proposal — which he predicts would boost nearly 3 million children out of poverty — is likely to get bipartisan backing, with a top White House official signaling support for his framework. "Really looking forward to see what @SenatorRomney will propose here," White House Chief of Staff Ron Klain tweeted on Thursday, "an encouraging sign that bipartisan action to reduce child poverty IS possible."

"New Senate intel chief wants to reimagine "decimated" spy agency" by Politico's Matin Matishak – Some Democrats may be eager to use their newfound power in Washington to investigate the misdeeds of the Trump era. But Mark Warner isn't interested in performing an autopsy of the last four years in the U.S. intelligence community. The Virginia Democrat and newly installed chair of the Senate Intelligence Committee doesn't believe he would best serve the country by launching probes into the political pressure spy agencies faced under former President Donald Trump, who labeled elements within the intelligence community part of the "deep state" and clashed with them over issues like Russian election interference. Instead, Warner would rather focus on depoliticizing and rebuilding the clandestine organizations. "I've thought about it, obviously," Warner said when asked about the possible investigations during a nearly hour-long interview in his Senate office this week. But, he added, "I don't know if that's really the best use of the committee's time." In particular, the government's top spy agency — the Office of the Director of National Intelligence — emerged "decimated" and "in shambles" from the last four years, he said. Trump frequently targeted the office, whose last two chiefs, Richard Grenell and John Ratcliffe, had little experience in intelligence but were close allies of the former president. Weeks before last year's election, Ratcliffe declassified unverified Russian intelligence over the concerns of the CIA and National Security Agency in order to boost Trump's unsubstantiated claims about the federal government's efforts to investigate Russian interference in the 2016 election. But Warner thinks this tense political moment provides an opportunity to realign the office — established after the Sept. 11 terror attacks and responsible for coordinating the 18 agencies that make up the nation's spy community.

"Biden health team hatches new vaccine strategy as variant threat builds" by Politico's Sarah Owermohle and David Lim – The Food and Drug Administration is preparing to release new standards for Covid-19 vaccine booster shots, tests and drugs in the coming weeks — all aimed at preparing the country to beat back fast-spreading virus variants that are less susceptible to existing shots. The agency confirmed Thursday that it plans to release draft guidance. It could come in two to three weeks, according to four people familiar with the discussion. In the meantime, federal and state officials are scrambling to track how widely the coronavirus variants first found in South Africa, Brazil and the United Kingdom are spreading in the United States. The strains' arrival threatens to reverse the country's slow progress in curbing new infections, hospitalizations and deaths after a post-holiday surge — the worst yet in the nearly year-old U.S. outbreak. The variants have raised the stakes for the Biden administration as it strives to deliver on the new president's promises to ramp up the pace of vaccinations and bring the pandemic under control. FDA's new strategy for adapting drugs, tests and vaccines for the variants is a cornerstone of the administration's battle plan, drawn in part from years of experience fighting the fast-mutating flu virus. The work has consumed FDA staff, according to an industry executive. Meanwhile, officials at the National Institutes of Health — the sprawling scientific campus where Anthony Fauci leads infectious-disease research — are working with at least two vaccine manufacturers, including Moderna, to start human trials next month of variant-targeting vaccines.