The Greatest President of All Time?
Florida State Rep. Anthony Sabatini (R) always finds a way to aggravate liberal and progressive Democrats and his recent announcement that he would be filing a bill to rename U.S. 27 after President Donald Trump, who he believes is arguably one of the "greatest presidents," made Florida Democratic heads explode. READ MORE
Rick Scott @SenRickScott- .@POTUS is throwing the U.S. back into the Paris Agreement just to appease his liberal friends. This deal does nothing to hold real polluters like Communist China accountable & unfairly puts U.S. taxpayers on the hook.
Marco Rubio @marcorubio –Our enemies aren't going to wait around for a new administration to staff critical positions. Which is why it was important to clear objections & confirm in an expedited manner @POTUS nominee to be the Director of National Intelligence tonight.
Rep. Ted Deutch @RepTedDeutch-Trump pulling the U.S. out of the Paris Climate Agreement was an abdication of American leadership and an abandonment of our commitments to our allies. Today, President Biden let our allies know: #WeAreStillIn. I'm proud to stand with him in rejoining the Paris Agreement.
US Rep. Darren Soto @RepDarrenSoto-Hundreds of thousands of #Dreamers can finally breathe a sigh of relief. After years of uncertainty, #DACA is safe and here to stay! We look forward to working with the Biden-Harris Administration to put immigrant youth on a pathway to citizenship.
.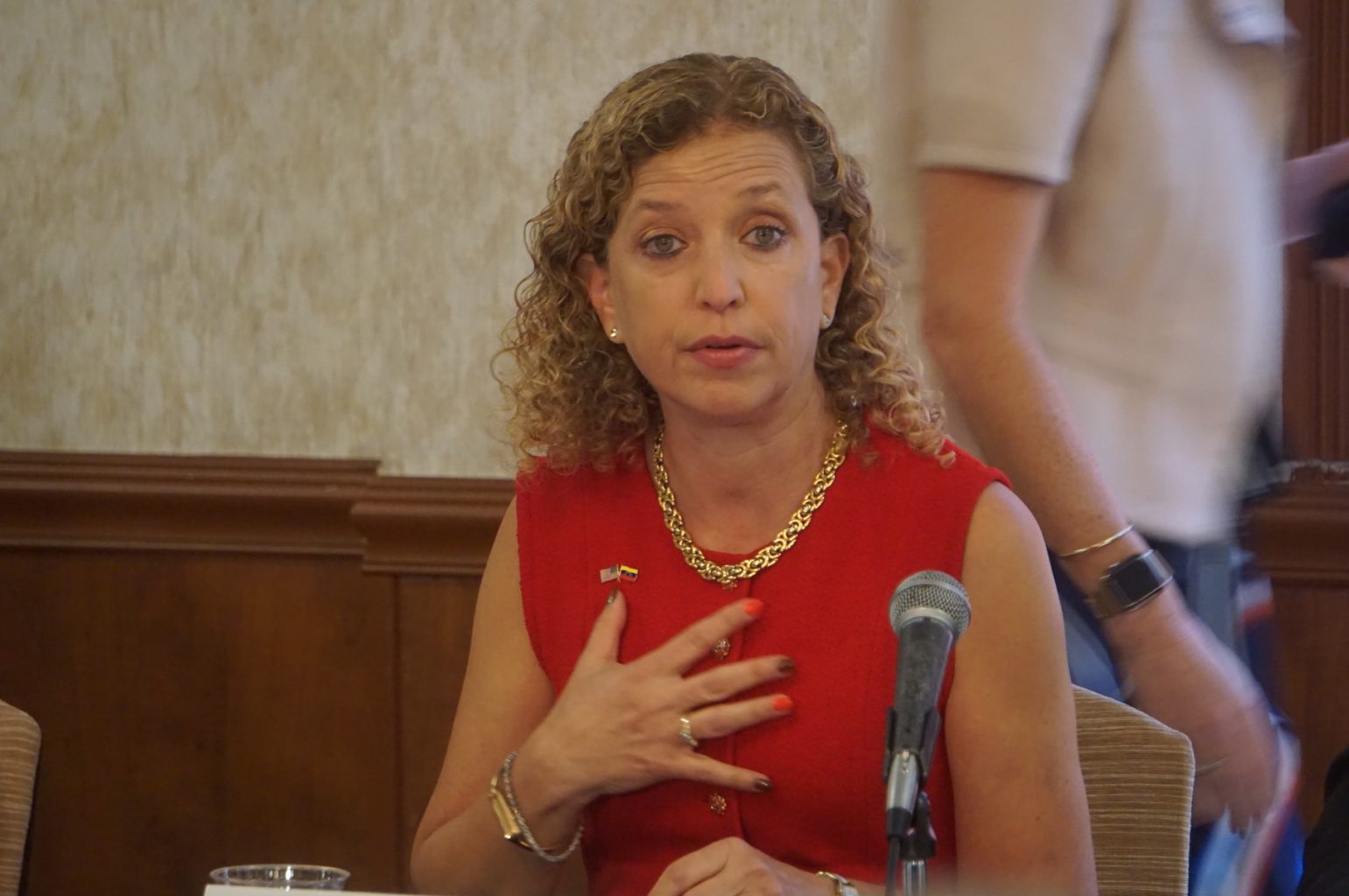 "Congressional Democrats push 'fake' CNN story about Trump's vaccine plan" by The Floridian's Javier Manjarres
"Salazar Champions Protection for Venezuelans" by The Floridian's Daniel Molina – Before leaving office, President Donald Trump (R) announced that he would grant Temporary Protected Status for Venezuelan exiles. In using the Deferred Enforced Departure program, it would provide protection for Venezuelans that evading the humanitarian crisis in the country perpetrated by the Maduro regime. In a memorandum released on Tuesday, Trump commented that "the deteriorative condition within Venezuela, which presents an ongoing national security threat to the safety and well-being of the American people, warrants the deferral of the removal of Venezuelan nationals who are present in the United States." In response to the decision, Florida lawmakers are praising the protection offered. One lawmaker who is championing the decision is freshman Rep. Maria Elvira Salazar (R), who took to social media to comment that "we have a fundamental obligation to provide safe-haven for those fleeing tyranny and oppression." "This act of solidarity provides our Venezuelan exile community with much-needed assurance during these unprecedented times," she added. With the newly inaugurated Biden administration, Republican lawmakers are now questioning where Biden will stand concerning the United States' relationship to Venezuela. The administration has signaled that it does not acknowledge Juan Guaido as the President of Venezuela, and this conflicts with many lawmakers on both sides of the aisle that do recognize him as the President.
"Will Puerto Rico Gain Statehood Under Biden Administration?" by The Floridian's Daniel Molina – On Inauguration Day, a number of mostly Democratic lawmakers celebrated the historic event, including Florida Rep. Darren Soto (D), who celebrated the fact that both Jennifer Lopez and Justice Sonia Sotomayor – two "Puertorriqueñas" – took part in the Inauguration festivities. Expressing his pride on Twitter, Soto is also a voice that has supported Puerto Rico's statehood that gained a level of support last year. Late last year, both Reps. Nydia Velázquez (D) and Alexandria Ocasio-Cortez (D) showed their support for Puerto Rico's statehood by writing an op-ed, outlining why they believe that Puerto Rico should choose whether or not it will gain sovereign status through a convention. In a non-binding referendum, the people of Puerto Rico narrowly voted in favor of statehood with 52% voting for statehood while 47% of voted against statehood. Both Ocasio-Cortez and Velázquez introduced legislation that would create a convention for Puerto Rico to make such a decision, and Rep. Soto was a supporter of said legislation. "If the people of Puerto Rico choose statehood, then the next steps for Congress are pretty clear," expressed Soto. In late 2019, Florida Rep. Stephanie Murphy (D) also showed her support for Puerto Rico gaining statehood by introducing the bipartisan Puerto Rico Statehood Admission Act. Though President Donald Trump (R) did not support statehood for Puerto Rico, Americans and lawmakers are now asking how the Biden administration will move forward on the issue.
"Cruz Slams Biden for Rejoining Paris Climate Accord" by Texas Politics' Isabel Webb Carey – Yesterday on Twitter, Senator Ted Cruz (TX-R) lashed out against Biden's executive decision to rejoin the Paris climate accord. Hours after taking the oath of office, President Joe Biden signed the executive order to have the United States rejoin the Paris Agreement, the largest international effort to curb global warming. The U.S. officially withdrew from the accord to limit climate-warming greenhouse gas emissions late last year after Donald Trump began the process in 2017. The move was consistent with Biden's efforts to roll back the hallmarks of his predecessor's tenure. Having signed more than a dozen executive actions, Biden will mark a significant change in course for the U.S.'s response to multiple international crises. The decision was met with anger from Texas Republicans, who greeted Biden's inauguration with vows to fight his agenda. Among them was Sen. Ted Cruz, who attacked the President on Twitter: "President Biden indicates he's more interested in the views of the citizens of Paris than in the jobs of the citizens of Pittsburgh," he tweeted. "This agreement will do little to affect the climate and will harm the livelihoods of Americans." Cruz's tweet last night echoes Trump's 2017 statement on U.S. withdrawal from the agreement: "I was elected to represent the citizens of Pittsburgh, not Paris." The Texas Senator's comment was met with derision on Twitter as users pointed to the multinational nature of the agreement. Among critics was Swedish climate activist Greta Thunberg who quipped "So happy that the USA has finally rejoined the Pittsburgh Agreement. Welcome back!" Congresswoman Alexandria Ocasio-Cortez (NY-D) also mocked Cruz's comments.
"Florida issues new Covid-19 vaccine residency rules to cut down on 'vaccine tourism'" by CNN's Eric Levenson – Florida issued new health guidelines Thursday in an attempt to cut down on "vaccine tourism," requiring that Covid-19 vaccines be given only to permanent and seasonal residents. State Surgeon General Dr. Scott Rivkees signed a Public Health Advisory prioritizing Florida residents for the vaccines, days after Gov. Ron DeSantis said publicly that the shots should be reserved for part-time or full-time residents of the Sunshine State. "We're only doing (shots) for Florida residents," DeSantis said Tuesday in Cape Coral. "You've got to live here either full-time or at least part-time." At another news conference in Rockledge on Tuesday, DeSantis differentiated between "snowbirds," who live in Florida in winter months, and those just stopping in to try to get vaccinated. As of January 19, Florida has vaccinated more than 39,000 people who reside out-of-state, including over 1,000 who have received the recommended two doses, according to data from the Florida Department of Health. That's about 3.5% of the 1.12 million people who have been vaccinated in Florida. The state's data does not differentiate between tourists and part-time residents. The revelations sparked frustration among Floridians unable to get vaccinated, forced to wait in hours-long lines or stymied by confusing or flailing websites. But the issue is not specific to Florida. Vaccine tourism is the result of a few key factors: the shortage of vaccine compared to demand; the disorganized start to administering the shots; and the lack of consistent federal guidance, which has created different vaccine availability between states and even between counties. Dr. Peter Hotez, a vaccine expert and the dean of the National School of Tropical Medicine at Baylor College of Medicine, said vaccine tourism highlighted the failures of the slow-moving federal vaccine rollout.
"Florida bank added to list of companies ending ties with Trump" by Associated Press via Tampa Bay Times – BankUnited Inc.'s Florida-based lender is the latest financial company that said it has stopped working with former U.S. President Donald Trump. "We never had a lending relationship with Donald Trump and we no longer have any depository relationship with him," a spokesperson wrote Thursday in an email. The Miami Lakes, Florida-based bank was listed in Trump's most recent financial disclosure form as having two of his money-market accounts, holding a total of more than $5.1 million. At least three other banks have cut ties with Trump since the Jan. 6 riot at the U.S. Capitol that the former president is accused of encouraging: Deutsche Bank AG, Signature Bank and Professional Bank. BankUnited didn't give a reason for the end of the relationship.
"Florida Senate proposes school voucher expansion, wants more students to have choice"
By Sun Sentinel's Leslie Postal – Florida should expand its school voucher programs and spend more money on them, giving more parents the "freedom from a one-size-fits-all" education system, Republican leaders in the Florida Senate announced Thursday. The state's existing voucher programs — most of which provide scholarships to private schools — would be streamlined, with five programs combined into two, under a just-filed school choice bill (SB 48). More students would be eligible to receive the scholarships under the revamped programs, Senate leaders said. The voucher programs currently serve more than 160,000 children, both youngsters with disabilities and those from low-income families. "Parents are the best advocates for their children, and now more than ever before parents are seeking freedom from a one-size-fits-all system," said Sen. Manny Diaz, R-Hialeh, the bill's sponsor, in a statement. "Parents of all children, regardless of income, should be empowered to choose the educational environment that is best for their child." But the measure drew immediate fire from the state teachers union, which called it a "massive expansion" of unregulated schools in the state. "How they can steal public tax dollars and give it away to private unaccountable programs?" asked Andrew Spar, president of the Florida Education Association. The bill would change the programs' funding so all of it would come directly from the state budget — and it would cost more. The bill, if it becomes law, also would allow parents to spend the money on both private school tuition and other educational items, from laptops to after-school programs to college savings funds, as long as their child wasn't in public school.
"Florida man accused of being in Capitol riots was arrested at the inauguration, Justice Department says" by CNN's Amir Vera and Katelyn Polantz – A Florida man knew he was wanted by authorities for being at the US Capitol riots but returned to Washington, DC, to attend the inauguration, the Justice Department said in a court filing Thursday. Samuel Camargo, 26, was arrested Wednesday in Washington, prosecutors said. The name of Camargo's attorney wasn't immediately available Thursday. He has not yet formally entered a plea. Camargo faces four charges related to the January 6 riots that include civil disorder; knowingly entering or remaining in any restricted building or grounds without lawful authority; knowingly engaging in disorderly or disruptive conduct in any restricted building or grounds; and violent entry and disorderly conduct on Capitol grounds, according to the criminal complaint. Camargo appeared Thursday in DC District Court, where a judge ordered he stay detained as he awaits trial. The judge agreed with the Justice Department that Camargo was a flight risk. "Frankly this country is very large and there are many different places a defendant could hide within it," US Magistrate Judge Zia Faruqui said at the hearing. Washington prosecutors wrote in a court filing Thursday that Camargo was seen in video at one of the doorways of the Capitol on January 6 "using his mobile phone to video tape his struggle with the U.S. Capitol Police over opening a door to the U.S. Capitol Building." Camargo later apologized on social media for his actions that day "while at the Capitol in D.C.," prosecutors wrote. On January 7, when contacted by an FBI agent about his actions, Camargo admitted he was in Washington the day of the riot and returned to his home in Broward County, Florida.
"Biden's First 100 Days And Central Florida's Fight Against Coronavirus" by WMFE's Matthew Peddie – Joe Biden and Kamala Harris were sworn in at a pared down ceremony at the White House yesterday. The new administration inherits some huge challenges, none more urgent than the ongoing pandemic which has killed more than 400,000 Americans. When it comes to the pandemic- the response to the virus and the vaccine rollout- what changes can we expect, and how will it affect Central Florida's approach to fighting COVID-19? Dr. Amesh Adalja, senior scholar with the Johns Hopkins Center for Health Security; Justin Senior, Chief Executive of the Safety Net Hospital Alliance of Florida and WMFE health reporter Abe Aboraya join Intersection discuss the coronavirus response, including policy and logistics. Can this administration deliver on the goal of 100 million vaccinations in the first 100 days? Adalja says he's concerned about new variants to the virus emerging in Florida. "So we have to get better at hand washing, wearing face coverings avoiding crowded and congregated places. And this really puts a lot of pressure on getting as many vaccines into people's arms as possible. We're basically in a race between these new variants and our vaccinations." Adalja says he's optimistic the new administration can set a different tone in the fight against the pandemic- especially when it comes to vaccinations. "We have data on our side, we have science on our side. And I think when we get out of this kind of immediate atmosphere of misinformation, and outright lying and evasion that was coming from the White House, you're probably going to see more willingness to accept the science based on this vaccine."
"New details on bomb threat at Florida state Capitol emerge" by WCTV's Emma Wheeler – The man arrested for falsely reporting a bomb has since been released from jail on bond. the Capitol remained closed until 9 a.m. Thursday. The Tallahassee Police Department said they did have K-9 units do a full sweep inside and outside the building. No bombs were found. According to arrest documents, police received a call from The Corner Pocket right around midnight. An employee at the bar overheard a man talking about having a bomb that was going to go off at 8 a.m. at the Capitol. They became concerned and reported it to the police, who arrested 61-year-old Mark Clark. Thursday morning, several state and local agencies patrolled the State Capitol, including the joint Terrorism Task Force. Employees who work at the Capitol told WCTV that they received a notification from Capitol Police just before 7 a.m. Thursday. The message came as a shock, but many were just thankful that nothing happened. John Dietz, an employee at the Capitol, said, "You just think it's another day, and then you never know when you wake up and then this. You ain't working, you can't go in to the building, everything is shut down. You can see it's just quiet around here, so…" Both the Florida Department of Law Enforce and TPD are now urging everyone that if you see something, say something.
"Court doc: Florida man messaged newspaper as he stormed Capitol building" by WJLA's Kristen Schneider – A Florida man who was part of the mob that stormed the U.S. Capitol earlier this month messaged a local newspaper as he did so, according to the U.S. Department of Justice. Bradley Weeks, of Bakers County, Florida, was arrested Thursday and is charged with:
·     Knowingly entering or remaining in any restricted building or grounds without lawful authority to do so; and
·     Violent entry and disorderly conduct on Capitol grounds.
According to a statement of facts sheet, the FBI received tips that Weeks posted a Facebook video "detailing his and others invasion of the Capitol building." Investigators got a copy of the video that had since been deleted. The video was filmed by Weeks and showed the upper West Terrace of the Capitol before showing Weeks on camera. "We've reached the steps. We've had to climb scaffolding," Weeks said in the video, adding, "This is our 1776! This is where it's gonna happen!" Investigators received other pictures from an informant that were previously on Weeks's social media. The pictures were from inside the U.S. Capitol. The pictures show Weeks with a ramp behind him, "which leads to the crypt underneath the Capitol Rotunda," which is near the office of Maryland Congressman and House Majority Leader Steny Hoyer.
"Trump administration gives Medicaid gift to Florida" by News Service of Florida – Former President Donald Trump's administration gave Florida's health-care system one last parting gift before he left office Wednesday to return to his adopted home state. The Trump administration last week agreed to extend a "waiver" for Florida's Medicaid program — and $1.5 billion in supplemental funding each year until June 2030, which means the move would outlast newly installed President Joe Biden. "Continuing this essential program means Floridians will have access to quality health care when they need it," Gov. Ron DeSantis, a close political ally of Trump, said in a statement praising the decision by the U.S. Department of Health and Human Services. But the lengthy extension caught many people off guard, as Florida Medicaid officials initially only requested a two-year extension. Joan Alker, executive director and a co-founder of the Center for Children and Families and a professor at the Georgetown University McCourt School of Public Policy, said a 10-year extension is unusual, if not illegal. "Prior to this administration, we have never seen 10 years," she said, adding the Trump administration also extended Texas's Medicaid waiver through September 2030. "It was a pretty blatant attempt, I think, to reward political allies and block Medicaid expansion," Alker told The News Service of Florida. But Safety Net Hospital Alliance of Florida CEO Justin Senior, whose association represents large teaching, public and children's hospitals, argued the opposite. Senior, a former secretary of the Florida Agency for Health Care Administration and Medicaid director, said negotiating and renegotiating what are known as Medicaid 1115 waivers with the federal government is exhaustive and time consuming. Senior was at the helm of Florida's Medicaid program in 2015 when former President Barack Obama's administration announced it would substantially scale back, and ultimately eliminate, the supplemental payment program known as the "Low Income Pool."
"Florida School District proposes plan to help veteran teachers' wages" by WKRG's Aaron Fields – Teachers have been through it all since the pandemic hit and now Florida teachers are fighting for higher wages. Last year, the state of Florida passed a law spending $500 million which required school districts to increase starting teachers salaries. Although the raise in pay sounds good for any upcoming teacher, it didn't benefit all of them.
Escambia County School District employees Darzell Warren and Dr. Kimberly Thomas said they were both thrilled the state had finally recognized the worth of teachers. "Well we are excited because now to teach in Escambia County Florida you will make starting out $43,500," says Dr. Thomas. While this was a huge accomplishment… It wasn't all it played out to be. Warren says, "With the legislation that was put forth by the governor, he wanted teachers to get $47.5 thousand but he did not send enough money to districts to accomplish that." Not only was it not enough money, but more importantly it left out any gain for veteran teachers who had spent years trying to make that amount. "When you look at the state not valuing the experience of our veteran teachers, it was a hard pill to swallow for them," Warren told WKRG. The Escambia County School District has spent months working on a way to address the compression issue and negotiate to use the money in such a way that all their employees get what they deserve. "Custodians, bus drivers, administrative assistants, secretaries and all of our staff because we want you to know all of you are valued," says Dr. Thomas.
"What Florida's DREAMers And Undocumented Immigrants Can Expect From A New Administration" by WMFE's Matthew Peddie – After the roller coaster of the last four years for recipients of the Delayed Action for Childhood Arrivals policy, and for undocumented immigrants, how will they be treated by this new administration? Already President Biden says some deportations will be suspended for 100 days. María Rodriguez, executive director of the Florida Immigrant Coalition, explains what's at stake for immigrant communities in Florida. "We're really hoping [the Biden administration] turns the page on the criminalization, exploitation, marginalization that so many Floridian families have had to face," says Rodriguez. "I think there's a sense of hope, to get things done, and to be able to move forward after four years of real chaos and erosion of democracy and many of the institutions that we thought we could rely on." Rodriguez says she's looking for leadership from the president and from Florida's lawmakers. "We hope our Senator Rubio and Senator Scott see the value of turning the page and starting a new process of supporting immigrant integration and maximizing contributions or whether it's on the House side, there's various proposals, one that ties together TPS and DACA recipients, one that looks at the farmworkers." She says lawmakers need to recognize that immigrants are an essential part of the economy, both in Florida and nationally. "The unfair unjust criminalization of people cost us, like I said earlier, morally, but it also costs us in dollars. And we want to divest from that and invest in human priorities that impact all of us."
"Pandemics won't shut down Florida businesses again, state senator says" by Orlando Sentinel's News Service of Florida's Jim Turner – Businesses will remain open for the economic well-being of the state even as COVID-19 cases continue to surge in Florida, the head of a Senate select committee on the pandemic said Thursday. And if similar pandemics occur in the future, the state intends to have guidelines that would keep businesses from again facing closures, said Sen. Danny Burgess, R-Zephyrhills, who chairs the Select Committee on Pandemic Preparedness and Response. Burgess said a lesson from COVID-19 is the economic carnage created when businesses were closed last year to slow the spread of the virus, which has killed more than 24,700 Floridians since March. "I think everyone is on the same page now that we absolutely in no circumstance should go back to where we were before when we shut down our economy," Burgess said during a webinar held by the Florida Economic Development Council. "Our economy was strong. Our economy is strong. And our economy is bouncing back. But there are so many people who lost jobs and so many businesses who shuttered and who may never open again, and who won't open again, for sure, because of what we've done." Burgess' comments came as President Joe Biden released a national strategy focused on speeding up the manufacturing, testing and distribution of vaccines and other medical supplies. Biden's effort also will require people to wear face masks on such things as trains and airplanes. Burgess' approach echoes the position of Gov. Ron DeSantis, who has said for months he does not think lockdowns and fines for violating mask restrictions are effective.
"Florida Dept. of Health stops releasing data on overdue vaccine doses" by WTSP's Liz Crawford – Earlier this week, the Florida Department of Health issued a vaccine report showing more than 44,000 people were overdue for the vaccine. The report defined "overdue" as those who have received their first dose and have passed the recommended timeframe to receive their second dose. The two vaccines being used in the U.S. right now require two doses to reach the necessary immunity level to defend against COVID-19. According to the Food & Drug Administration, the second dose of the Pfizer-BioNTech COVID-19 vaccine should be given 21 days after the first. For the Moderna COVID-19 vaccine, the interval is 28 days between the first and second dose. On Wednesday, the Department of Health's report no longer listed the overdue data. A spokesperson said the department made the change "in alignment with CDC reporting, and to provide additional details on vaccine administration in Florida." Now the health department will include data on total doses administered and ethnicity. Staff will also post an additional, more detailed report for each county. The spokesperson said, "Reports previously included a number of individuals "overdue" for vaccination. This number is being removed to align with CDC reporting, which only includes information on first dose and series complete (first and second dose). Additionally, this number is being removed as it may cause confusion related to the following CDC guidance." The CDC guidance the FL Department of Health is referring to says: You should get your second shot as close to the recommended 3-week or 1-month interval as possible. However, there is no maximum interval between the first and second doses for either vaccine. You should not get the second dose earlier than the recommended interval.
National:
"ISIS claims responsibility for twin suicide bombings in Baghdad, at least 32 dead" by Associated Press – ISIS has claimed responsibility for twin suicide bombings that ripped through a busy market in Baghdad on Thursday, killing at least 32 people and wounding dozens. Officials said in what was the first massive bombing in years, harkening back to darker days of rampant militant attacks. The terrorist group claimed responsibility for the attack through its Amaq news agency on its Telegram channel, Reuters reported. The rare suicide bombing hit the Bab al-Sharqi commercial area in central Baghdad amid heightened political tensions over planned early elections and a severe economic crisis. Blood was splattered on the pavement of the busy market amid piles of clothes and shoes as survivors took stock of the disarray in the aftermath. By sundown, crowds reappeared at the site of the deadly attack, carrying the coffins of the deceased in a show of defiance. Many questioned the timing of the attack, which occurred a day after President Joe Biden was sworn into office. The U.S.-led coalition recently ceased combat activities and is gradually drawing down its troop presence in Iraq, sparking fears of an IS resurgence. No one immediately claimed responsibility for the attack, but Iraqi military officials said it was the work of the Islamic State group. Iraq's health minister Hassan Mohammed al-Tamimi said at least 32 people were killed and 110 were wounded in the attack. He said some of the wounded were in serious condition. Iraq's military previously put the number of dead at 28. The Health Ministry announced that all of its hospitals in the capital were mobilized to treat the wounded.
"Biden fires back at AP reporter over question about vaccine rollout goal: 'C'mon, gimme a break, man'" by Fox News' Joseph A. Wulfsohn – President Biden was quick Thursday to dismiss an Associated Press reporter who attempted to ask him a question at one of Biden's first events as president. While Biden signed executive orders meant to combat the coronavirus outbreak, AP White House reporter Zeke Miller pressed him about his previously-announced goal of having 100 million Americans vaccinated within the first 100 days in office. Miller asked whether the bar should be set "higher" to encourage even more Americans to get vaccinated. The president appeared to smirk at the question. "When I announced it, you all said it was not possible," Biden told Miller. "C'mon, gimme a break man." "It's a good start, 100 million," the president added before walking away from reporters. During the election, Biden rarely took questions from reporters covering his campaign. When he did hold press conferences, reporters were criticized for asking "softball questions" of the Democratic nominee-turned-president-elect.
"President Biden signs mask mandate via executive order for planes, trains, buses" by Fox News' Cortney Moore – President Joe Biden signed an executive order on Thursday that makes face masks mandatory for air travel and other modes of commercial transportation. "We'll be signing an additional executive action to extend masking requirements on interstate travel, like on trains, planes and buses," Biden said in a televised address, made on his first day in office. Shortly after Biden was sworn in as president on Jan. 20, he signed an executive action that made masks and social distancing mandatory on federal property. Biden's executive orders come nearly one year after the World Health Organization declared the coronavirus a global pandemic. More than 24.5 million Americans have been infected with the novel coronavirus while more than 409,100 Americans have lost their lives to the respiratory illness, according to data from the Johns Hopkins COVID-19 Dashboard. For this reason, Biden urged citizens to "mask up" for the next 100 days as federal and state governments work to make vaccines available. Airlines had already required customers to wear face masks or coverings while boarding a flight or waiting in airport terminals, however, President Donald Trump did not issue an executive mandate for the PPE. On Jan. 13, the Federal Aviation Administration issued a statement about its compliance and enforcement program that issues civil penalties for passengers who refuse to wear masks, follow flight crew instructions or practice disruptive behaviors. Multiple aviation trade organizations have since issued messages of support for the FAA and Biden's stance on mandatory face masks.
"Army changes account of key phone call on response to Capitol riot" by CNN's Oren Liebermann and Barbara Starr – The US Army has changed its account of a key phone call that took place on January 6 as rioters stormed the US Capitol. More than two weeks after the riot, the Army put forward two senior generals to speak with reporters Thursday to explain their roles on that afternoon after conflicting accounts of what took place circulated. They changed their explanation soon after the Department of Defense acknowledged that one of the generals who spoke to reporters, Lt. Gen. Charles Flynn — the brother of President Donald Trump's former national security adviser Michael Flynn — was in the room for one of the key January 6 phone calls. The shifting accounts are only likely to increase scrutiny on the Pentagon, which is already trying to rebut accusations that it denied or delayed the deployment of additional troops as the riot worsened on Capitol Hill, eventually leaving five dead, including a Capitol Police officer. A Washington, DC, official called the process of calling up more guardsmen "long" and "tortured." Pentagon officials have repeatedly denied the accusations, insisting there were no intentional delays, though then-Army Secretary Ryan McCarthy on Monday told CNN the response was hampered by an "archaic system." On Thursday's call Lt. Gen. Walter Piatt, who serves as director of the Army Staff, acknowledged for the first time that he may have expressed concern about the "optics" of deploying more troops on the streets of the nation's capital, despite previously strenuously denying he ever made such a statement. And Flynn, the deputy chief of staff of the Army, said that he was in the room for part of the call that included Piatt, then-Army Secretary Ryan McCarthy, DC Mayor Muriel Bowser, and others, but he was unsure if he spoke.
"Emerging evidence suggests new coronavirus variant could be problematic for vaccines" by CNN's Elizabeth Cohen – As researchers around the world race to see if new coronavirus variants will pose a problem for the vaccines, a second study in two days says a variant from South Africa could possibly do just that. The variant was first spotted in South Africa in October and has now been found in more than a dozen countries. In both studies, the work was done in the lab and not in people, so more research is needed to gauge the true threat of the new variant. In the most recent study, which was small, researchers took antibodies from six people who were hospitalized with Covid-19 before the new variant was discovered. They found to varying degrees, that antibodies for all six of the survivors were unable to fully fight off the virus. "I think the evidence is building that these mutations — and I think other mutations — will emerge across the globe — and are emerging already — that are escaping antibodies from previous infection," Alex Sigal, a virologist at the Africa Health Research Institute and the Max Planck Institute for Infection Biology, told CNN. "It's concerning." It's unclear whether this means someone would be vulnerable to the new variant if they'd already had Covid-19, or what this might mean for people who've been vaccinated. Sigal's findings were very similar to those of a study released Tuesday by the National Institute for Communicable Diseases in South Africa. "When you see two groups independently arriving at same basic answer, that good — there's more consonance that they are correct," said Jesse Bloom, a virologist at the Fred Hutchinson Cancer Research Center.
"Seven Senate Democrats request ethics probe into Cruz and Hawley over Capitol riot" by CNN's Carolina Kelly – Seven Senate Democrats filed an ethics complaint on Thursday against Republican Sens. Josh Hawley of Missouri and Ted Cruz of Texas and called for the Ethics Committee to investigate how their objections to the Electoral College votes on January 6 may have contributed to inciting the violent Capitol insurrection. "The Senate Ethics Committee should open an investigation into the actions of Senators Hawley and Cruz, and perhaps others as investigation may reveal, in order to protect the integrity, safety, and reputation of the Senate," Democratic Sens. Sheldon Whitehouse of Rhode Island, Ron Wyden of Oregon, Tina Smith of Minnesota, Richard Blumenthal of Connecticut, Mazie Hirono of Hawaii, Tim Kaine of Virginia and Sherrod Brown of Ohio wrote in the complaint. "The question the Senate must answer is not whether Senators Hawley and Cruz had the right to the object to the electors, but whether the senators failed to '[p]ut loyalty to the highest moral principles and to country above loyalty to persons, party, or Government department' or engaged in 'improper conduct reflecting on the Senate' in connection with the violence on January 6," the Democrats wrote, citing the Code of Ethics for Government Service and the Senate Ethics Manual. In their letter to the panel's leaders, Democratic Sen. Chris Coons of Delaware and Republican Sen. James Lankford of Oklahoma, the seven senators also asked the committee to offer disciplinary recommendations, "including up to expulsion or censure."
"Biden's Agenda Faces Early Hurdles in a Divided Congress" by WSJ's Lindsay Wise, Kristina Peterson and Andrew Restuccia – Democrats' efforts to quickly confirm President Biden's cabinet nominees and move forward with his legislative agenda collided with the reality of a narrowly divided Congress, with Senate Republicans refusing to agree to a power-sharing agreement unless Democrats promise to preserve a 60-vote threshold to advance most bills. Senate Minority Leader Mitch McConnell (R., Ky.) and Senate Majority Leader Chuck Schumer (D., N.Y.) remain at loggerheads, and it isn't known when they will next meet to continue negotiations over an organizing resolution that would set the guidelines and committee assignments for the new session. The Democratic and Republican caucuses each have 50 members, although Democrats hold the Senate majority because Vice President Kamala Harris can break any ties. The standoff comes as Democrats are trying to confirm Mr. Biden's cabinet picks, courting Republicans to support another Covid-19 relief package and broad immigration legislation, and bracing for a second impeachment trial of former President Donald Trump. In the power-sharing talks, Senate Republicans want Democrats to agree to preserve the legislative filibuster—a longstanding rule that enables the minority party to block most legislation—for at least the next two years. Democrats say such demands don't belong in an organizing deal. But without one, Republicans technically remain in control of most Senate committees, despite now being the minority party.
"U.S. Unemployment Claims Remained Elevated Last Week" by WSJ's Sarah Chaney Cambon and Hannah Lang – About 900,000 workers filed for unemployment benefits last week as the labor market struggles to recover this winter. The number of jobless claims last week was down slightly from the week ended Jan. 9, when applications jumped by more than 100,000 to 926,000. The Labor Department said the increase for the Jan. 9 week—initially estimated as the largest weekly increase since March—was smaller than previously thought. Jobless claims, a proxy for layoffs, remain above the pre-pandemic peak of 695,000 and are higher than in any previous recession for records tracing back to 1967. "Covid hasn't let up, and it's still creating massive amounts of economic havoc," AnnElizabeth Konkel, economist at jobs site Indeed, said. As Covid-19 infections increased into the winter, states and localities imposed new capacity restrictions on businesses such as restaurants. Further, some consumers remain hesitant to eat indoors, travel or go to a movie theater, reducing demand at places that remain open. Delayed filings by workers over the Christmas and New Year holidays, as well as $300 a week in extra jobless benefits included in a coronavirus-relief package signed into law last month, also could have factored into the large claims increase for the week ended Jan. 9. Still, the four-week moving average for claims, which smooths out weekly volatility, rose in the week ended Jan. 9. More broadly, the pandemic's effects are restraining the economic recovery after steep losses last spring. Employers slashed 140,000 jobs in December, the first monthly decline in payrolls since the coronavirus shut down businesses this past spring. Consumers have cut back on purchases this winter after spending steadily for several months.
"Republicans bludgeon Biden's big stimulus plans" by Politico's Burgess Everett – Senate Republicans vowed Thursday that President Joe Biden's coronavirus relief bill will not get 60 votes, daring the White House to either compromise with the GOP or use partisan procedural tactics to evade their filibuster. Put simply, the Senate GOP says Biden's proposal spends too much money and comes too soon on the heels of Congress' $900 billion stimulus package from last month. And that unless the proposal has major changes made to it or Democrats use budget reconciliation to pass it with a simple majority, it is doomed on the Senate floor. "I don't think it can get 60. Because even the people on our side that would be inclined to want to work with the administration on something like that, that price range is going to be out of range for them," said Senate Minority Whip John Thune (R-S.D,) the party's chief vote counter. "Absent some change and economic conditions, etc., I think that would be a very heavy lift." The early opposition from Republicans signals that the next round of coronavirus relief will be at least as painful as the last, which took more than six months to clinch in late December. It also means Biden may have to choose between lowering his ambitions in order to follow through on his bipartisan desires or embracing a partisan bill that he says the country desperately needs. Some House Democrats have mulled a smaller package that links vaccines and larger stimulus checks, although Democratic leaders in both chambers have yet to decide on a path forward. Biden has pushed a massive plan that includes a $15 an hour minimum wage hike, further boosts in unemployment benefits and $1,400 in direct payments. It also pumps more money into vaccines and testing.
"Senate Republicans uniting behind impeachment defense" by Politico's Andrew Desiderio – Senate Republicans are coalescing around a long-shot bid to dismiss the impeachment trial of former President Donald Trump before it even begins, relying on a disputed legal argument that says putting an ex-president on trial is unconstitutional. Interviews with more than a dozen GOP senators revealed broad support for the claim that the Senate has no constitutional authority to put a private citizen on trial, which could translate into a substantial number of votes to scrap the trial altogether. The issue came up several times during a Senate GOP conference call Thursday afternoon, according to multiple senators. Senate Minority Whip John Thune (R-S.D.) said in an interview that concerns about the constitutionality of putting a former officeholder on trial were top of mind among GOP senators — even those who are open to voting to convict Trump on the House's charge that he incited the insurrection at the Capitol on Jan. 6 that left five people dead. "Our members, irrespective of what they might think about the merits, just believe that this is an exercise that really isn't grounded constitutionally and, from a practical standpoint, just makes no sense," Thune said. But critics — including scholars from the conservative Federalist Society and other right-leaning organizations — maintain that the argument is on flimsy legal ground. Moreover, federal courts have consistently deferred to Congress' "sole power" to set its own rules and procedures, including over impeachment proceedings. Still, Republicans' contention is shaping up to be a central theme of the ex-president's defense strategy in the Senate's upcoming trial, with several GOP senators publicly echoing it in recent days even as they signal increased hostility toward Trump over the attack on the Capitol.
"U.S. Senate's Schumer reviewing Republican request for Trump impeachment trial delay" by Reuters' Makini Brice and Richard Cowan – U.S. Senate Majority Leader Chuck Schumer is reviewing a request from Republicans to put off the start of former President Donald Trump's impeachment trial until mid-February, a Schumer spokesman said Thursday. Republicans argued that Trump needed time to prepare a defense against charges of inciting insurrection at the U.S. Capitol on Jan. 6. Senate Republican Leader Mitch McConnell requested the timeline after Democrats earlier in the day said that the House of Representatives could send the impeachment charge – passed last week in response to the deadly storming of the Capitol by Trump supporters – to the Senate as early as Friday. Trump, a Republican, left office on Wednesday and flew to his Florida resort, hours before Democrat Joe Biden was sworn in. McConnell said in a statement that he asked Democrats to hold off on sending the impeachment charge to the Senate until Jan. 28, and then give Trump two weeks from that day to prepare a defense. A spokesman for Schumer said the majority leader had received the proposal late Thursday afternoon. "We will review it and discuss it" with McConnell, the spokesman said. Democrats control the Senate by the narrowest possible margin, relying on Vice President Kamala Harris's tie-breaking vote in a 50-50 chamber, and also need Republican cooperation to advance much of Biden's agenda, as well as confirming Cabinet appointments.
"Trump hires South Carolina lawyer Bowers for impeachment defense" by Reuters' Steve Holland and Karen Freifeld – Former President Donald Trump has hired South Carolina-based lawyer Butch Bowers to represent him in his Senate impeachment trial over a charge that he incited insurrection, a source familiar with the matter said on Thursday. Bowers did not respond to requests for comment. While relatively unknown on the national stage, Bowers has represented former Republican governors in South Carolina and served in the U.S. Justice Department under Republican former President George W. Bush, according to his website. Republican Senator Lindsey Graham of South Carolina, a Trump ally, recommended him, the source said. In 2012, Bowers represented then-Governor Nikki Haley in an ethics hearing over allegations that she engaged in illegal lobbying while she was a state representative. Haley was cleared of wrongdoing. In 2009, Bowers represented then-Governor Mark Sanford in an ethics hearing over his use of a state aircraft for a secret five-day trip to Argentina to see a woman with whom he was having an extramarital affair. Sanford agreed to pay $74,000 to settle charges that his personal travel and campaign spending violated state ethics laws, but he continued to deny wrongdoing.