Impeaching Joe Biden
Several members of Florida's Republican congressional delegation have joined a growing number of other national Republicans who support the impeachment of President-elect Joe Biden.
No one wanted to lend their name, put themselves on record yet, but this could happen within the next several months.
Georgia Rep. Marjorie Taylor Greene (R) has recently said that she will file Articles of Impeachment against Biden for his past shady business dealings, in particular his actions in Ukraine.
As you know, Biden is on record (what an idiot) of admitting that he pressured the Ukrainians by withholding aid if they didn't fire a certain prosecutor. READ MORE
So, who are these Florida Republicans? Stay tuned…
Shot In The Arm
On another note, Progressive State Rep. Carlos Guillermo Smith, aka "Carlitos," wants Florida (namely Gov. Ron DeSantis) to focus the COVID-19 vaccine efforts on seniors and other vulnerable citizens. Rep. Carlitos is also out pushing different health groups to ramp up their vaccinations, and taking credit for them doing so.
The problem for Carlitos is that Gov. DeSantis and his team at SERT have already covered those bases. Nice try Carlitos, but DeSantis' word holds more weight than yours. These groups are vaccinating because of what the state has done or ordered, not because you ask them to do.
Kamala Harris @KamalaHarris-I'm with @JoeBiden. Our first priority has to be to get control of this pandemic, get people back to work, and get our kids back to school. That's our focus.
Wait. isn't that what President Trump was doing?
Rep. Val Demings @RepValDemings- PPP Loans will reopen tomorrow. If you are a small business owner, make sure to take advantage of this important program.
US Rep. Darren Soto @RepDarrenSoto-President-elect Biden's American Rescue Plan is exactly what we need to defeat the virus and build back our economy. We look forward to working with the Biden-Harris Administration to deliver relief to Central Florida's working families!
Wait, this bill is almost exactly what Trump signed months ago
Rep. Stephanie Murphy @RepStephMurphy-Applications for the Paycheck Protection Program are reopening starting tomorrow. If you're a small business owner, learn how to apply for a PPP loan here
Rep. Lois Frankel @RepLoisFrankel-I'm looking forward to working with the Biden-Harris Administration to get the American people the relief they need. This Emergency Relief Package would deliver urgent assistance to address the mounting public health & economic crises we're facing.
.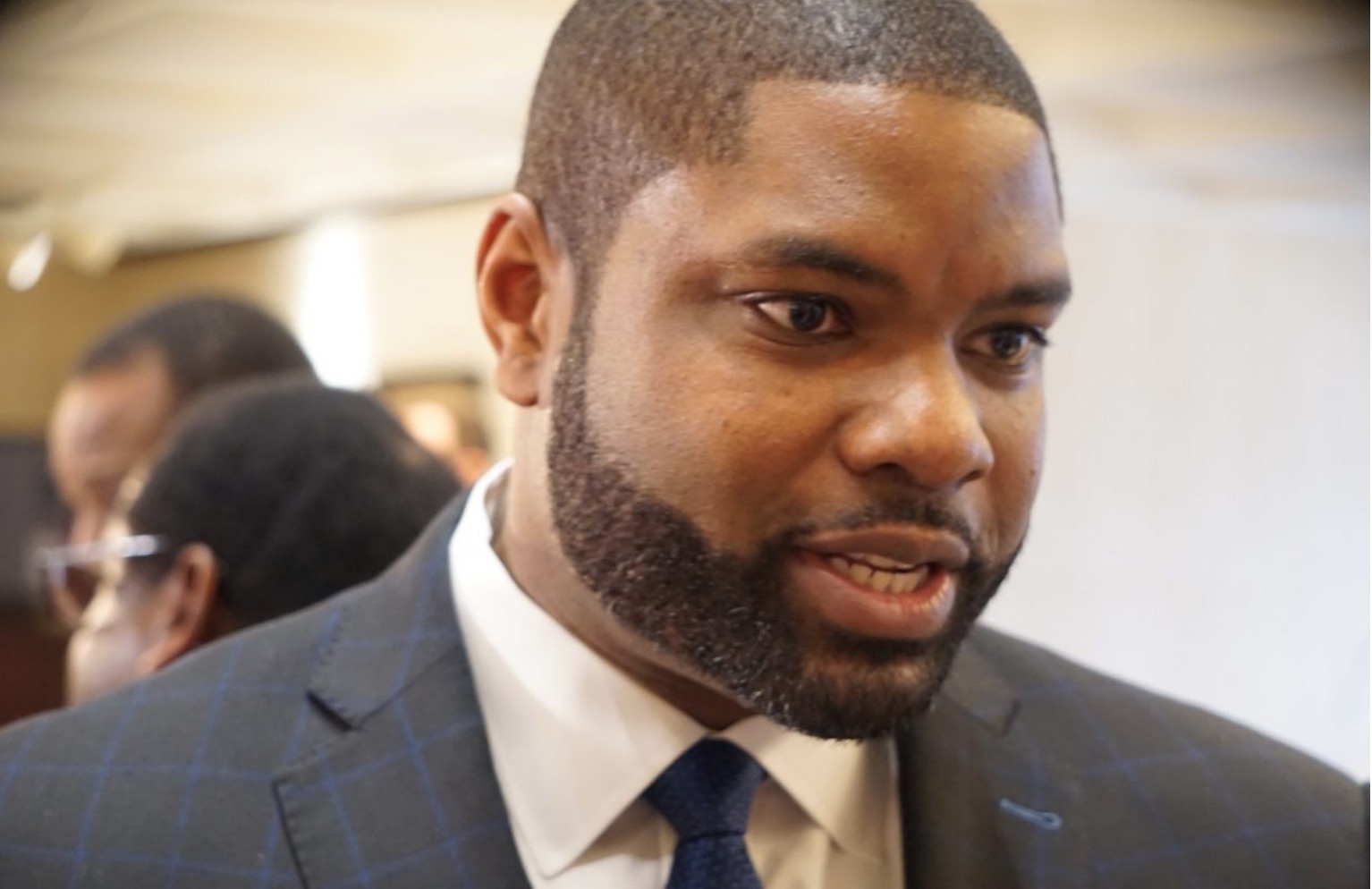 Former Congressional Candidate Karl Miller Arrested for Assault by The Floridian's Javier Manjarres
"GOP momentum grows in House to impeach Joe Biden" by The Floridian's Jim McCool – After witnessing two impeachments in less than two years, the US Congress has run the risk of normalizing this sad process and disenfranchising millions of Americans who have had the utmost respect for the legislative process. Impeachment is something that has only occurred four times in United States history, with half of them being President Donald Trump's (R). Both times that President Trump was impeached, the Democratic-controlled House of Representatives was controlled, let the charge, triggering Republicans into insisting these articles are purely partisan and part of some political vendetta against Trump. However, a new administration is on the horizon, and the two-time impeached president is out the door. Could this current Congress, which Democrats barely hold the majority in, have totally altered the gravity of impeaching a sitting president? The short answer is yes, as one Republican Congresswoman, Rep. Marjorie Taylor Greene (R-GA) has announced her intentions to seek to impeach President-elect Joe Biden (D). While the charges filed against Trump appear flimsy and debatable, the charges Greene intends to press pertain to President-Elect Biden's edgy dealings with Ukraine, on behalf of his son Hunter Biden.
"Progressive Eskamani Standing Firm against the Republican Anti-Abortion Bill" by The Floridian's Jim McCool – Last Summer, Governor Ron DeSantis (R-FL) signed an abortion parental consent bill, which would stop a minor from receiving an abortion if their parent did not give the authorization to do so. Even in June of 2020, officials expected this bill to be challenged by its opponents in rhetoric as well as the courts. Under the new law, a minor that is pregnant by any means, including rape and incest, must have written parental consent to receive an abortion. If there is no consent, yet the abortion still occurs, the doctor would be charged with a third-degree felony. However, in the instance that the parent doesn't offer consent, the only way to still abort the child would be through a judicial waiver. Democrats have chosen to view the bill as another push towards the limitations of reproductive rights. Critics have not hesitated to brand it unconstitutional, and the ACLU claimed it was a 'sham.' Furthermore, Micah Kubic, Executive Director of the American Civil Liberties Union stated,'We know this new law will be devastating to minors and at-risk youth. It's clearly unconstitutional and contrary to the will of Floridians. Our young people deserve better and do not deserve to have their constitutionally protected rights stripped away.'
"Mayor de Blasio Terminates NYC Contracts With Trump Organization" by The Floridian's Mona Salama – New York City is seeking to terminate all public business relationships with the Trump Organization, Mayor Bill de Blasio (D) announced Wednesday morning, while charging that President Trump incited violence during last week's breach of the U.S Capitol. "President of the United States directed a mob against the United States Capitol against the Congress while it was engaging in a constitutional lawful electoral college vote count. In light of this criminal act, the city of New York has determined that it is within our power to terminate all contracts with the Trump Organization. So we will no longer be doing any business at all," de Blasio said in a news conference Wednesday. "So Goodbye to The Trump Organization, we're not doing a business with you," he added. The Trump Organization vowed to fight the city's action, saying the city can't cancel the contracts. "Yet another example of Mayor de Blasio's incompetence and blatant disregard for the facts," Eric Trump, the president's son and executive vice president of the Trump Organization said in a statement. "The City of New York has no legal right to end our contracts and if they elect to proceed they will owe The Trump Organization over $30 million. This is nothing more than political discrimination and we plan to fight it vigorously."
"Rick Scott Expected to Vote Against Impeaching Trump" by The Floridian's Javier Manjarres – With the Articles of Impeachment now being sent over to the U.S. Senate, one thing is for sure, Florida Sen. Rick Scott will not vote in favor of the Democrat move to remove President Donald Trump from office. According to his Washington Senate office, Scott believes that the move to impeach President Trump "does nothing to help American families or bring our country together," saying that the "crazy rhetoric" from both sides needs to stop as President-elect Joe Biden takes office. "Impeachment does nothing to help American families or bring our country together. President-elect Biden will be sworn-in less than a week from now," stated Scott's office. "It's time to prepare for that, take the crazy rhetoric down on both sides and move our nation forward." After the Capitol riot, Scott denounced the actions of the criminal rioters, and when the electoral vote process continued, Scott voted to decertify Biden's electoral votes from Pennsylvania, but then vote against the same electoral measure for Arizona. Senator Marco Rubio, who voted against both Pennsylvania and Arizona efforts to decertify those electoral votes, believes that the impeachment effort by congressional Democrats will only strengthen Trump, even make him a political "martyr."
"Gaetz Looks to Oust Cheney, Says She's Silencing "America First Agenda"" by The Floridian's Daniel Molina – Since the storming of the Capitol last Wednesday, Republicans have faced infighting regarding the future of the GOP and the level of blame that should be placed on President Donald Trump (R) after the riot. Florida Rep. Matt Gaetz (R), a staunch supporter of the President, voted this week against impeaching the President, but some of his Republican colleagues voted in favor of impeachment. One of those who voted in favor of impeaching the President is is Rep. Liz Cheney (R), daughter of former Vice President Dick Cheney (R), a controversial figure in American politics. Cheney led the Republican charge to impeach the President. In an interview with Sean Hannity on FOX News, the Florida lawmaker expressed his disagreement with Cheney, arguing that "if we're going to fight back against those who are trying to silence the America First agenda, it cannot be with Liz Cheney as the Republican conference chair." In her remarks concerning Trump's impeachment, Cheney argued that "there has never been a greater betrayal by a President of the United States of his office and his oath to the Constitution." One of ten Republicans that voted in favor of impeachment, Cheney made it clear that she believes the President incited the storming of the Capitol, saying that he "summoned" those that were present that day and that "everything that followed was his doing."
"Rep. Elvira Salazar's First Bill Targets Communist Castro Regime" by The Floridian's Daniel Molina – After joining Florida Republican lawmakers in voting against the impeachment of President Donald Trump (R), Florida Rep. Maria Elvira Salazar (R) announced this week that she was proud to introduce her very first bill as a member of the House. The bill, named the FORCE Act, targets the Castro regime and was co-sponsored by a number of Florida lawmakers like Reps. Mario Diaz Balart (R), Carlos Gimenez (R), Nicole Malliotakis (R), Alex Mooney (R), Neal Dunn (R), Michael Waltz (R), Stephanie Bice (R) and Kat Cammack (R). With the "Fighting Oppression until the Reign of Castro Ends Act," Rep. Elvira Salazar notes that "the State Department recently redesignated the Castro regime in Cuba as a State Sponsor of Terrorism for granting safe harbor to terrorist fugitives and engaging in international terrorism." Knowing this, the freshman lawmaker argues that "to ensure compliance and stop Cuba from sponsoring terrorism, this bill prevents the brutal Castro dictatorship from being removed from the State Sponsor of Terrorism List until they meet the requirements of Section 205 of the LIBERTAD Act.
"Is Speaker Nancy Pelosi Responsible for Capitol Security Failure?" by The Floridian's Javier Manjarres – It's only been a week since the Capitol riot that left 6 people dead, House Democrats and media outlets are questioning whether House Republicans were involved and responsible for the rioting, but won't entertain the possibility that perhaps some of their colleagues, including Speaker Nancy Pelosi, could have had some involvement. Activist Ali Alexander has admitted to having organized the 'Stop the Steal' rally along with Republican Reps. Andy Biggs, Mo Brooks, and Paul Gosar, and now Democrats want them investigated for instigating the riot, even though it appears that they did not call for violence. But while Democrats look to blame Republicans for the deadly riot, can Republicans put the blame on Speaker Nancy Pelosi (D) and Senate Minority Leader Mitch McConnell (R)? Both Speaker Pelosi and Leader Mitch McConnell asked and accepted the resignations of their respective chamber's Sergeant at Arms after the complete security failure that occurred on January 6th. Capitol Police Chief Steven Sund also resigned, but the Sergeants at Arms, who are responsible for the security of the Capitol and protection of members of Congress, ultimately report to both Pelosi and McConnell.
"CNN Tapper Launches Sick Attack Questioning Double Amputee Veteran Mast Patriotism For Opposing Impeachment" by The Floridian's Mona Salama – CNN anchor Jake Tapper questioned Rep. Brian Mast (R-FL) an Army veteran and double amputee "commitment" to democracy and his patriotism over the Florida lawmaker position in opposing the impeachment of President Trump. "Congressman Brian Mast, a Republican from Florida, who lost his legs, by the way, fighting for democracy abroad, although I don't know what — about his commitment to it here in the United States," Tapper said during a CNN panel discussion as the House was voting the impeaching Trump for the second time Wednesday afternoon. Mast, who represents Florida's 18th Congressional District since 2016, lost both legs in 2010 while deployed in Afghanistan as a bomb disposal expert during Operation Enduring Freedom. He served in the U.S. Army for more than a decade and has received many medals, including the Bronze Star Medal, the Army Commendation Medal for Valor, the Purple Heart Medal, and the Defense Meritorious Service Medal. Tapper made these sick remarks while responding to his colleague, CNN's Dana Bash who was criticizing Republican lawmakers who planned to vote against impeaching the president for his role in inciting last week's attack on the U.S. Capitol.
"Mast Gives National Guard Troops 'Impromptu' Tour of Capitol" by The Floridian's Mona Salama – Rep. Brian Mast (R-FL), an Army war veteran spent Wednesday morning giving hundreds of National Guard an "impromptu" tour of the Capitol complex while the House was debate impeaching President Trump for the second time in his presidency. "We owe the men and women who put their lives on the line to defend our democracy more than we could ever possibly repay!" Mast tweeted. The Florida lawmaker told a reporter that he's "proud to see" the National Guard troops in the Capitol always doing what they're asked to do, but added the fact that we're at this point after last week's siege is "really beyond comprehension." "It's as sad as anything can make me in this world," Mast told a reporter, according to Capitol press pool. "I don't have enough adjectives to describe how disgusted I am with what happened and the point that we're at — it's sad, it's disgusting." Hundreds of National Guard troops will be quartered in the Capitol as part of the sharp escalation in security around the complex ahead in the days leading up to the Jan. 20 inauguration, starting with Wednesday's House votes to impeach Trump.
"Trump Impeached Again, GOP Future At Stake" by The Floridian's Jim McCool – President Donald Trump (R), has officially been impeached today, by 232 Congressmen, 10 of those being Republicans. This is not only historic due to the rarity of impeachment but also in the fact that he has become the first and only president to be impeached twice. The charges brought on by the house consisted of, 'Incitement of insurrection' in response to thousands of Trump supporters storming Capitol Hill on January 6th. Many representatives believe that the President was only promoting violence against the Capitol and politicians. Given that President Trump only has a week left in office, why did Democrats still bring on the charges? Well, this is problematic considering that the trial must be conducted by the Senate, and Speaker Nancy Pelosi (D-CA) has refused to say when the Articles of Impeachment will be delivered to the chamber led by Senator Mitch McConnell (R-KY). McConnell took to Twitter to explain the impeachment process and his respective role. McConnell mentions the length of the previous three impeachment trials of 83, 37, and 21 days, which vastly outnumber the days Trump has left in office.
"State Sen. Shevrin Jones Files Bill To Wave Evictions" by The Floridian's Jim McCool – State Senator Shevrin Jones (D-West Park) has filed SB 576, a bill that is primarily a result of the COVID-19 Pandemic and something the constituents of District-35 have been pushing for. In essence, the bill will not allow a landlord to deny rental negotiations if the potential tenant faced financial hardships due to the pandemic. While most of us can read this and sympathize for not being able to find a residence, getting evicted goes beyond having a roof over your head. Senator Jones has made clear that 'In the United States, an eviction remains on credit reports for seven years, and an eviction judgment in court remains on an individual's record for 10 years.' The senator's intentions appear to be more than just immediate financial forgiveness, but also in efforts to lessen the long-term financial blow of the Pandemic. The Senator acknowledges this when he says, 'The anticipated eviction crisis due to the pandemic is poised to have negative impacts for years to come…' Jones also feels that he has an obligation to serve economic justice through the bill, as the people of color in his district tend to be, 'rent-burdened' and 'at risk of eviction.'
"DeSantis Keeps Florida Economy On Top During COVID Pandemic" by The Floridian's Jim McCool – Over the last 4 years, we have seen unprecedented events that have occurred in the private sector, including seeing the Dow Jones Industrial exceeding 30,000 points in 2020. Small business was more optimistic than ever, even though the pandemic is still upon us. But new numbers show that this reality is soon to come to an end. The NFIB has reported a decline by 5.5 points to 95.9, the lowest since May of 2019. Additionally, business owners with high expectations for the next 6 months declined 24 points. Even with a new presidential administration about to take hold, incumbent officials, such as Governor Ron DeSantis (R-FL), have fought tooth and nail to preserve the economic prosperity Americans have enjoyed as a result of actions by the Trump administration. The Trump tax cuts have often been credited by Republicans like DeSantis for the dwindling unemployment rate, and the mass increase of the national GDP. But with a Trump presidency officially on its way out, COVID-19 cases increasing in Florida, and pessimistic business owners, DeSantis is continuing to fight to keep Florida as one of the most productive states in the Union.
"Democrat Rep. Deutch Believes Abortion is Healthcare" by The Floridian's Daniel Molina – With the addition of Judge Amy Coney Barrett, the Supreme Court of the United States faced scrutiny over the decisions it would be making regarding the abortion rights of women. One controversial discussion was whether or not the SCOTUS would attempt to overturn Roe v. Wade, and a recent decision from SCOTUS is eliciting criticism from Democrats as they worry about the repercussions it might have on the American people during the COVID-19 pandemic. This week, an announcement was made that SCOTUS had granted the Trump administration's request that "reverses nationwide injunction that allowed patient to receive abortion-related drugs via mail during the pandemic." Moving forward, "patients will now have to pick up medication in person." The Judges who dissented were Judges Breyer, Kagan and Sotomayor. In response to the decision, Florida Rep. Ted Deutch (D) condemned the announcement, arguing that "the middle of a pandemic is not the time to make it harder for women to access safe and legal abortion care." He called it "a cynical effort by the Supreme Court to undermine Roe v. Wade and take away women's reproductive rights. Again, Deutch believes that having an abortion is a form of healthcare.
"Rubio Asks Biden Administration for $2,000 COVID Checks" by The Floridian's Daniel Molina – As Republicans face infighting regarding the future of the GOP and regarding repercussions from last week's storming of the Capitol, Florida Senator Marco Rubio (R) has directed a letter to President-elect Joe Biden (D). In the letter, the Florida lawmaker makes it clear that he wants the Biden administration to support stand-alone legislation that would provide $2,000 stimulus checks to Americans that are facing financial struggles as a result of the COVID-19 pandemic. "It would send a powerful message to the American people if, on the first day of your presidency, you called on the House and Senate to send you legislation to increase the direct economic impact payments to Americans struggling due to the pandemic from $600 to $2,000," Rubio wrote. He did note that "although I share many of my colleagues' concerns about the long-term effects of this additional spending, we simply cannot ignore the fact that millions of working-class families across the nation are still in desperate need of relief." So, "at a time when they need it most, we must recognize the positive message it would send to the American people and the entire world if Republicans and Democrats came together on January 20, 2021 to put the American people first." The call comes at a time when the nation finds itself the most divided it's ever been, and lawmakers have been at odds regarding the final days of President Donald Trumps' (R) tenure.
"New rollout rules stir worry about second doses in Florida and Tampa Bay" by Tampa Bay Times' Allison Ross, Megan Reeves and Kirby Wilson – Colleen Herlihy felt like she won the lottery when she got her first dose of coronavirus vaccine. But now the 69-year-old Hillsborough County resident worries about whether she will have access to her second shot. President Donald Trump's administration this week announced a number of changes to the nation's vaccine rollout. That included making all vaccine supply immediately available to states, instead of holding back second doses to be sent later — a move President-elect Joe Biden had previously said he would make upon taking office. Florida officials have said they are committed to getting the boosters to Floridians. But they've also criticized the federal government for poor communication about how many doses the state will receive and when. State director of emergency management Jared Moskowitz pointed to those issues Thursday, suggesting they've contributed to the chaos surrounding Florida's rollout. He said that so far, second doses have been arriving as expected, but the new process creates even more uncertainty. "I don't have any information to guarantee whether production will then keep up for second shots," Moskowitz told state legislators. "That's information the federal government will have to provide."
"CNN's Jake Tapper won't take back criticism of congressional vet from Florida" by The Associated Press – CNN's Jake Tapper, under fire for a comment questioning a Republican congressman and combat veteran's commitment to democracy, said Thursday the criticism is an attempt to change the subject from the attack on the U.S. Capitol. During coverage of Wednesday's House vote to impeach President Donald Trump, Tapper referenced U.S. Rep. Brian Mast of Florida, who was among Republicans who voted last week against the certification of President-elect Joe Biden's victory. Mast lost both legs in an explosion while serving in the U.S. Army in Afghanistan in 2010. Tapper noted Mast's sacrifice "fighting for democracy abroad, although I don't know … about his commitment to it here in the United States." That made Tapper an immediate target online and elsewhere. Fox News Channel's Pete Hegseth, a former U.S. Army National Guard member, called Tapper "an emotional bowl of soup with a serious inferiority complex for veterans and the military." Tapper's comment was "a cheap shot you would expect from a partisan posing as a journalist," Hegseth said on Fox Thursday. Tapper, who has been active on veterans issues including organizing a Home For Our Troops celebrity auction last fall, wasn't backing down Thursday. He said that while he honors Mast's service, all of those who backed Trump's effort to overturn the election need to answer for what happened at the Capitol.
"FLORIDA TEACHER Fired For Telling Students CAPITOL RIOT WAS THE WORK OF ANTIFA" by TMZ – A Florida substitute teacher who was caught on video telling students Antifa was responsible for the Capitol riot has been fired ... TMZ has learned. Dr. Damien Moses, principal at Bok Academy in Lake Wales, FL., tells TMZ ... the teacher's conduct was immediately dealt with following the incident from earlier this week. Moses said, "We met with her and she has been dismissed not only from our school, but also from the Lake Wales Charter School System." A student at the academy started recording the substitute teacher's rant during a middle school language arts class in which she falsely claimed 3 Antifa members were paid to storm the Capitol in last week's failed coup, and were solely responsible for the violence. Remember ... the FBI has said there is no indication Antifa played a role in the mob that stormed the Capitol. The substitute teacher was referencing a Washington Times story from last week with the headline "Facial Recognition Claims Antifa Infiltrated Trump Protesters who Stormed Capitol." The story has since been retracted ... after the Singapore-based XRVision tech company refuted the report, adding the company was never in contact with the outlet.
"FBI preps Florida for possible pro-Trump rallies on Sunday" by Fox News' Louis Casiano – The FBI spoke with Florida law enforcement on a conference call Wednesday to prepare for possible unrest and protests throughout the state Sunday, days before President Trump departs the White House. The agency said it has not received specific intelligence about demonstrations in Tallahassee, the Miami Herald reported, but still shared security information to help brace for protests. "As we do in the normal course of business, we are gathering information to identify any potential threats and are sharing that information with our partners," the FBI said in a statement to the newspaper. "The FBI respects the rights of individuals to peacefully exercise their First Amendment rights. Our focus is not on peaceful protesters, but on those threatening their safety and the safety of other citizens with violence and destruction of property." Messages to the FBI were not returned. Trump supporters stormed the U.S. Capitol in Washington on Jan. 6 as lawmakers were certifying President-elect Joe Biden's Electoral College win. The chaos ended with five people dead and dozens of arrests. An internal FBI memo recently warned of plans for armed protests in all 50 state capitals ahead of Biden's Jan. 20 inauguration.
"NYC's mass exodus to Florida, Texas driven by economic incentives: Ex-NYSE CEO" by Fox Business' Caleb Parke – Former New York Stock Exchange Chairman Dick Grasso told "Mornings with Maria" the mass exodus from New York City to Florida and Texas is due to financial incentives amid the coronavirus pandemic. "It's heartbreaking to see what's happened to New York City in particular," Grasso, who resides in Florida, told host Maria Bartiromo. "Business is driven by economic incentives, and whether it's Florida or Texas, these two states certainly have demonstrated to companies that they want their business... and they'll do everything they can to incentivize their relocations," Grasso added. He praised Gov. Ron DeSantis for "balancing a safe reopening with the need of the people to be protected" compared to New York's lockdowns. New Jersey and New York were the top two states that saw the largest outflow of residents during 2020, according to data from United Van Lines, the nation's largest household goods mover. Grasso, a lifelong New Yorker, said he moved out of the state two years ago. "I look at the people who are suffering and I say, 'You gotta help them government,' and this government in New York City and New York state has not helped them," Grasso concluded.
"'Something we've never done': Florida schools drain reserves to feed kids at home" by Politico's Andrew Atterbery – A pandemic-driven budget shortfall across Florida school districts is threatening local meals programs, a core function whose funding is fanning a bitter political feud over how to direct precious money. Students are eating significantly fewer school meals across the 2020-21 academic year amid the monthslong public health crisis but districts are collectively seeing a financial hole as deep as $370 million, according to Florida Agriculture Commissioner Nikki Fried. Food service costs are higher this year in part because schools are sending thousands of meals home with students who are learning remotely. Schools changed how they serve meals so they could reach more students, especially with scores yet to return to their campuses and unemployment rates still soaring high above pre-pandemic levels. To make that happen, districts switched to buying more expensive pre-packaged or shelf-stable food items that can last students longer. That includes giving students frozen food in some cases, something that was unheard of before the pandemic. "The challenge is how to reach kids at home," Allison Monbleau, director of food service for Palm Beach County School District, said in an interview. "It's something we've never done." But the multimillion-dollar loss in nutrition funding has put incredible pressure on education leaders who are already having to dip into their reserves to avoid laying off critical employees. The issue is set to play out in front of the state Board of Education on Wednesday as increasingly desperate districts attempt to raise the alarm just as all levels of government scramble for funds.
"Florida lawmakers propose legislation to overhaul state's unemployment system" by Fox 13's Matthew McClellan – Modernizing and improving Florida's broken unemployment benefit system-- that's the goal of new legislation introduced Wednesday. The bill would expand benefits, set guidelines for the office, and establish an oversight branch for the Department of Economic Opportunity. Amid ongoing layoffs and job loss from coronavirus closures, tens of thousands of Floridians went online over the past ten months to file unemployment claims only to find that they couldn't get through, or that benefits were not enough-- if they came at all. The state's current unemployment system allows for a maximum weekly payment of $275 for 12 weeks. Under the proposed legislation-- the weekly payment would go to $500, lasting up to 26 weeks, which is the national average. The state bill is sponsored by Rep. Anna Eskamani and Sen. Ben Diamond, both Democrats. It would also give the state no more than three weeks to decide whether a filer qualifies for benefits. Under the proposed legislation, the DEO would become more accessible as the office would have to take claim submissions by mail and online, plus two other methods like by phone or by email. "It's so important that not only do we address the needs immediately, but that we look back at these last ten months and realize that the system was designed to fail and did so epically," Eskamani told lawmakers as she introduced the legislation during a virtual meeting on Wednesday. "We are here to fix it."
"Florida lawmaker: Trump guilty of 'treasonous betrayal of our nation'" by Sun Sentinel's Anthony Man – As the House debated impeaching President Donald Trump for inciting the deadly riot a week ago at the Capitol, the Florida delegation showed deep division, completely along party lines, agreeing about nothing concerning the riot and Trump's culpability. Florida Democrats described him Wednesday as a traitor to American ideals who is such a threat to democracy he must immediately be removed from office. Republicans, unwilling to cross Trump — and their constituents who voted for him — insisted the president is the victim and that Democrats are persecuting him. The contrast couldn't have been more clear in the debate that culminated in the 232-197 House vote for impeachment. The Florida delegation vote was 11 for impeachment and 15 opposed, with one Central Florida representative not voting. "To overturn the 2020 presidential election, Trump incited a violent assault on Congress, a treasonous betrayal of our nation. This criminal incitement left us with five dead, including a police officer, a desecrated Capitol, and a second constitutional crisis. His acts so show contempt for the rule of law, the Constitution and the foundation of any democracy, a peaceful transition of power," the Broward/Miami-Dade County Democrat said. "President Trump is a clear and present danger to American lives and democracy and he leaves us no choice but to immediately remove him from office." U.S. Rep. Greg Steube, R-Sarasota, said Trump was the victim.

"Twitter 'whistleblower' leaks video of Dorsey telling staff actions will be 'much bigger' than Trump ban" by Fox News' Joseph A. Wulfsohn – A leaked recording of Twitter CEO Jack Dorsey suggests that the company's policy enforcement actions will go far beyond banning President Trump. The right-wing guerilla news outlet Project Veritas released a clip on Thursday given to them by a purported Twitter "insider whistleblower" who secretly recorded remarks by Dorsey to staff. "You should always feel free to express yourself in whatever format manifestation feels right," Dorsey said in the clip. Dorsey, who recently addressed the controversy over his company's decision to permanently suspend the president, told staff in a virtual meeting that Twitter will do a "full retro" that will "take some time," but drew focus to the platform's former most high-profile account. "We know we are focused on one account right now, but this is going to be much bigger than just one account, and it's going to go on for much longer than just this day, this week, and the next few weeks, and go on beyond the inauguration," Dorsey said. "So, the focus is certainly on this account and how it ties to real-world violence. But also, we need to think much longer-term around how these dynamics play out over time. I don't believe this is going away anytime soon."
"More 'Russiagate' documents set for release, Senate source says" by Fox News' Thomas Barrabi – A trove of documents related to the origins of the "Russiagate" probe, the U.S. intelligence community's widely scrutinized investigation of alleged collusion between members of the Trump administration and Russia, will be declassified on Friday, a Senate source with knowledge of the situation told Fox News. The declassified documents will include depositions, transcripts and interviews, the Senate source told Fox News Chief White House Correspondent John Roberts. The release is expected to include hundreds of documents.  Last October, then-Attorney General William Barr appointed U.S. Attorney for the District of Connecticut John Durham as special counsel to continue investigating the origins of the Russia probe. The investigation is focused on the conduct of FBI agents who investigated Trump's Russia ties in an operation called "Crossfire Hurricane." Durham first began his probe shortly after special counsel Robert Mueller completed his year-long investigation into whether the Trump campaign colluded with Russia to influence the 2016 presidential election. Trump and prominent allies have long referred to the Russia investigation as a "hoax" meant to undermine his presidency. In October, the president tweeted that he had "fully authorized the total Declassification of any & all documents pertaining to the single greatest political CRIME in American History, the Russia Hoax."
"AOC's suggestion of commission to 'rein in' media slammed as 'wholly un-American'" by Fox News' Brian Flood – Media watchdogs are shocked and appalled that Rep. Alexandria Ocasio-Cortez said that Congress is looking into media literacy initiatives, including a commission to help "rein in" misinformation in the wake of last week's deadly breach of the U.S. Capitol – and one critic slammed AOC's suggestion as "wholly un-American." During a lengthy live stream on Instagram on Tuesday night, the leader of the so-called "Squad" discussed the aftermath of the Capitol riot, how she feared for her life during the chaos and what needs to be done going forward. At one point, Ocasio-Cortez read a question from a viewer who asked if there is discussion in Congress on "truth and reconciliation or media literacy initiatives" to help with healing. "I can say, there is absolutely a commission being discussed but it seems to be more investigatory, in style rather than truth and reconciliation, so I think that's an interesting concept for us to explore, and I do think that several members of Congress, in some of my discussions, have brought up media literacy because that is a part of what happened here and we're going to have to figure out how we rein in our media environment so that you can't just spew disinformation and misinformation," Ocasio-Cortez said. "Fox & Friends" anchor Steve Doocy said he was "a little troubled" by Ocasio-Cortez's suggestion and enlisted The Hill media columnist Joe Concha to help figure out who would decide what media gets reined in under the progressive lawmaker's plan.
"Biden puts $2,000 stimulus payments back in play" by CNN's Katie Lobosco – A $2,000 stimulus check will be at the heart of a $2 trillion Covid relief plan that President-elect Joe Biden is set to unveil Thursday evening. An economic package passed by Congress in December provided for fresh $600 stimulus payments despite calls from politicians on both sides of the aisle for bigger checks. Biden's plan calls for adding up to $1,400 to the payments -- totaling $2,000 for those eligible, according to a fact sheet provided by the administration on Thursday.
Congress included payments of $1,200 in its initial stimulus when shutdowns because of the coronavirus began last spring. Vermont Independent Sen. Bernie Sanders and Missouri Republican Sen. Josh Hawley both pushed to increase the amount of the new payments, and President Donald Trump also came out in support of $2,000 checks -- though he adopted that stance after leaving negotiations up to lawmakers and his Treasury Secretary Steven Mnuchin. Trump stalled signing the bill over the issue but ultimately signed it into law. Current Senate Majority Leader Mitch McConnell rejected a standalone bill on increasing the value of the checks, but with Democrats about to take control of the chamber -- and of Congress -- following victories in two Georgia Senate runoff elections, Biden will likely have the votes to approve increased relief spending. Senate Democratic leader Chuck Schumer of New York has said that one of the first bills he'd like to pass once he becomes Senate majority leader would raise stimulus payments to $2,000.
"Pence commits to 'an orderly transition and to a safe inauguration'" by CNN's Allie Malloy – Vice President Mike Pence said Thursday that he is committed to "an orderly transition and to a safe inauguration," kicking off the start of a Federal Emergency Management Agency briefing. "We all lived through that day of January the 6th, and -- as the President made clear yesterday -- we are committed to an orderly transition and to a safe inauguration. The American people deserve nothing less," Pence said at the beginning of the briefing. Last week, a pro-Trump mob incited by the President breached the US Capitol, and five people died as a result. President Donald Trump was impeached for the second time on Wednesday following his role in the insurrection, with 10 House Republicans joining their Democratic colleagues in the vote to impeach. He issued a highly scripted video message following the vote that did not mention impeachment but denounced violence in his name. Sources tell CNN he was pressured into taping the video and initially resisted doing so. Law enforcement has cautioned there could be more violence ahead of next week's inauguration. "We're going to ensure that we have a safe inauguration. That President-elect Joe Biden and Vice President-elect Kamala Harris are sworn in as the new president and vice president of the United States. In a manner consistent with our history, with our traditions, in a way that gives honor to the American people and the United States," Pence added. Pence will attend the inauguration, according to a source familiar with the plans.
"Man carrying Confederate flag inside the US Capitol during riot arrested, identified as Kevin Seefried" by CNN's Evan Perez, Katelyn Polantz and Paul P. Murphy – The FBI has arrested Kevin Seefried, seen carrying a Confederate flag inside Capitol Hill, according to a federal criminal complaint. Seefried had been a focus of the FBI's efforts to get the public to help them identify riot participants. The complaint identifies him as the man seen in the photos, widely circulated online, carrying a large Confederate flag inside the US Capitol during the January 6 siege. Kevin Seefried told the FBI he had brought the Confederate flag with him to Washington from his home in Delaware, where he normally displays it outside. Seefried was charged with knowingly entering or remaining in any restricted building or grounds without lawful authority, and violent entry and disorderly conduct on Capitol grounds. Seefried's son, Hunter, was also arrested and charged with the same offenses, according to the complaint. The FBI learned of the men's names after a coworker of Hunter Seefried reported he had bragged about being inside the Capitol building with his father on January 6. It was not immediately clear if the two men had an attorney. The New York Times was the first to identify Kevin Seefried as the individual carrying the flag. Some people who stormed the Capitol have already come forward or have been identified by CNN and other news organizations. Many face criminal charges, and some have lost or left their jobs because of their participation.
"U.S. Unemployment Claims Rise as Coronavirus Weighs on Economy" by WSJ's Gwynn Guilford and Hannah Lang – The number of workers filing for jobless benefits posted its biggest weekly gain since the pandemic hit last March and the head of the Federal Reserve warned the job market had a long way to go before it is strong again. Applications for unemployment claims, a proxy for layoffs, rose by 181,000 to 965,000 last week, the Labor Department said Thursday, reflecting rising layoffs amid a winter surge in coronavirus cases. The total for the week ended Jan. 9 also was the highest in nearly five months and put claims well above the roughly 800,000 a week they had averaged in recent months. "We are a long way from maximum employment," Fed Chairman Jerome Powell said in a webcast hosted by Princeton University, his undergraduate alma mater, an indication that the central bank's easy-money policies will remain in place for the foreseeable future. The U.S. labor-market recovery stalled last month with the December jobs report showing the U.S. lost 140,000 payroll positions. The economic recovery's slowdown has included weakness in household spending, though economists expect the economy to rebound later this year as a Covid-19 vaccine is distributed through the population.
"Fannie, Freddie Taxpayer Stake Won't Be Restructured Under Trump" by WSJ's Andrew Ackerman – The Treasury Department has decided not to restructure the taxpayers' stake in Fannie Mae and Freddie Mac, effectively ending the Trump administration's push to ensure that the mortgage giants are eventually returned to private hands. The announcement by the Treasury Department and the companies' federal regulator leaves it to the incoming Biden administration to decide the future of the firms, which were put under government control during the 2008-09 financial crisis through a process known as conservatorship. Advisers close to President-elect Joe Biden have said he would be in no hurry to privatize the companies, which guarantee roughly half of the $11 trillion U.S. mortgage market. Instead, Mr. Biden would focus on ways to use the companies to boost housing affordability and promote homeownership, the advisers said. Under a more modest agreement announced Thursday by the Treasury Department and the Federal Housing Finance Agency, the mortgage companies will be allowed to retain more of their earnings, boosting their ability to absorb potential losses. FHFA is the companies' independent federal regulator. Thursday's changes to the companies' bailout agreements allow the firms to retain roughly $280 billion, or the equivalent of what they are required to maintain as part of new, banklike capital rules set by the FHFA in November.
"Trump Orders Military Shift to Spur Israeli-Arab Cooperation Against Iran" by WSJ's Michael R. Gordon and Gordon Lubold – President Trump has ordered that the major U.S. military command for the Middle East be expanded to include Israel, in a last-minute reorganization of the American defense structure that pro-Israel groups have long advocated to encourage cooperation against Iran, U.S. officials said Thursday. The move means that the U.S. Central Command would oversee American military policy involving both Israel and Arab nations, a departure from decades of U.S. military command structure put in place because of acrimony between Israel and some of the Pentagon's Arab allies. It is the latest in a series of Trump administration policy moves to shape the national security agenda President-elect Joe Biden will inherit. The change was recently ordered by Mr. Trump but hasn't yet been made public. A Biden transition official declined to comment on the move. U.S. military responsibility for Israel had long been allocated to its European command. That arrangement enabled U.S. generals in the Middle East to interact with Arab states without having a close association with Israel, which at the time was seen as an adversary in the Arab world. Following the Abraham Accords that led to the normalization of Israel's relations with the United Arab Emirates and Bahrain, pro-Israel groups have stepped up their push to have the Central Command take on responsibility for military operations and planning involving Israel to foster greater cooperation between Israel and its Arab neighbors.
"Parler argues Amazon shut it down to block Trump from joining" by Politico's Leah Nylen – Parler expected President Donald Trump would join its service after his Twitter account was suspended last week — a possibility that Amazon was trying to block by forcing it offline, the company told a federal judge. In a Thursday hearing at a federal court in Washington state, Parler attorney David Groesbeck said that the site, which saw a surge of new users after mainstream social media sites blocked Trump and others who had posted incendiary content around the Jan. 6 riots, would have been a logical destination for the president. Executives thought "he would move over to Parler," Groesbeck said. In the company's court filing, Parler's chief executive argued that possibility was behind Amazon Web Services decision to stop hosting its content. "I believe AWS's decision to terminate service to Parler was based, not on expressed concerns about Parler's compliance with the AWS Agreement, but in part on a desire to deny President Trump a platform on any large social-media service," John Matze said. Parler stresses that it does little to limit what its users can post and has become popular among conservatives. Key context: After his Twitter suspension, Trump was considering other options and other conservatives either angry at Twitter or that have been booted from the site have pushed Parler as the new destination. If the company had succeeded on getting Trump to sign up it would have been a major boon for a site which has long been a niche platform.
"Online extremists are ignoring Trump's call for calm" by Politico's Tina Nguyen and Mark Scott – President Donald Trump has instructed his followers to not engage in political violence following the deadly riots on the Capitol on Jan 6. But the video in which he made the plea has barely made a dent in the groundswell of extremism that was seen last week and has proliferated online since. A vast swath of the president's diehard base in MAGA Nation — the conspiracy theorists, the militia members, and the followers of the QAnon conspiracy theory — has disregarded Trump's Wednesday remarks. Instead, they are dissecting his phrases and using those cues as rallying cries, doubling down on their plans to keep the MAGA movement going after Trump leaves the White House. The absence of a formal Trump concession to President-elect Joe Biden has emboldened their chatter and bolstered their ideology. So, too, has the clamp-down by social media platforms on MAGA extremist content — Trump's own posts included — which has given white nationalist and unapologetically fascist groups openings to recruit Trump fans to their cause. They've claimed that elite forces have started purging conservatives from the internet. They've argued that the riots were actually false flag operations. Within the QAnon community, they've gone so far as to suggest that the upcoming inauguration will be a cover for Trump to announce the long-elusive mass arrests of government bureaucrat pedophiles.
"Harrison selected as Biden's DNC chair" by Politico's Holly Otterbein, Christopher Cadelago and Natasha Korecki – President-elect Joe Biden is tapping former South Carolina Democratic Party chair Jaime Harrison to lead the Democratic National Committee, according to three people familiar with the decision, a major victory for state party heads and the powerful House Majority Whip Jim Clyburn. Harrison, a current associate chair and senior counselor at the DNC, will be charged with leading the Democrats through the tumultuous 2022 midterms and keeping the party's warring factions together if party members formally elect him as expected this month. Biden is also throwing his weight behind an all-star slate of vice chairs: He wants Michigan Gov. Gretchen Whitmer, Illinois Sen. Tammy Duckworth and Texas Rep. Filemón Vela for the roles, according to multiple sources. For state party officials, many of whom continue to harbor resentment over the DNC's diminishment during the Barack Obama administration, the selection of Harrison came as a relief. About 70 state party chairs and vice chairs sent a letter to Biden's transition team in November that, while not naming him, listed a series of qualities that all "matched Jaime's resume and experience," as one of them put it. Those party chiefs view Harrison as one of their own, a former state committee chair who will lead a decentralized DNC and advocate for plowing money into organizing at the state level — a departure, they hope, from how the party was managed under Obama.
"Nikki Haley to Newsmax TV: Hold Onto Your Wallet, Biden WH Will Be Left of Obama" by Newsmax – If you were expecting a center-left Joe Biden administration, think again, former Ambassador to the U.N. Nikki Haley tells Newsmax TV. "I'm not gonna lie, I'm extremely concerned about what's going on," Haley, who was appointed by President Donald Trump, told Thursday's "Spicer & Co." Haley pointed to Iran, where Biden is in the process of reentering the nuclear agreement forged by former President Barack Obama, but ended under Trump over accusations the Iranian government continued to enrich uranium past levels allowed under the accords. She also noted Trump's actions in China, telling host Sean Spicer he was the first president "to really hold them to account on stealing our trade secrets," and calling them out on human rights violations. "And you have Biden, who said he didn't think China was that much of a threat," she said. Even on the Paris Climate Agreement, "China basically had their way, and it put all of the onus on the United States, yet Biden wants to get back into the Paris Climate Agreement," Haley added. Biden's staff picks are retreads from the Obama years, she noted, from former Secretary of State John Kerry to ex-National Security Adviser Susan Rice. "You you don't have to be that much of a historian to know where this is going," she said. "I think this is gonna be to the left of Obama. I think we need to hold on to your wallet."
"Trump's Children, Aides Could Be Suspended if They Try to Circumvent Twitter Ban" by Newsmax – President Donald Trump's family and aides reportedly could potentially face suspension from Twitter if they use their accounts to get around a ban on Trump from the social media platform. In booting the president off Twitter after the deadly Jan. 6 Capitol siege by Trump supporters, officials said his posts could pose "the risk of further incitement of violence." Trump has since communicated through official White House communications and speeches. But Newsweek reported Thursday the president's adult children and aides, who still have active Twitter accounts, also will need to be cautious. "If we have a reason to believe he's using other accounts for the purposes of evading the suspension, the accounts could face permanent suspension under our ban evasion policy," a Twitter spokesperson told Newsweek. The policy is publicly available and was last updated in October 2020, according to Twitter. It is clear about attempts by other account holders to get around a suspension. "If an account has been permanently suspended for severe violations of the Twitter Rules, Twitter reserves the right to also permanently suspend any other account we believe the same account holder or entity may be operating in violation of our earlier suspension, regardless of when the other account was created," the policy says. "You can't circumvent a Twitter suspension by operating, or having someone else operate on your behalf, an account which represents your identity, persona, brand or business persona for a different purpose." After Trump was suspended, he began tweeting from the official @POTUS account, but those posts were deleted.
"Sen. Cotton Calls Impeachment Trial After Jan. 20 Unconstitutional" by Newsmax's Brian Trusdell – Sen. Tom Cotton of Arkansas says the U.S. Senate will have no constitutional authority to conduct an impeachment trial of President Donald Trump once he leaves office. In a statement issued Wednesday by Cotton's office, the 43-year-old Republican echoed the sentiments of fellow Republican Sen. Lindsey Graham of South Carolina who pointed out that impeachment is a process to remove someone from office and Trump will have left the White House before the Senate can take up the matter. ''Under these circumstances, the Senate lacks constitutional authority to conduct impeachment proceedings against a former president,'' Cotton wrote. ''The Founders designed the impeachment process as a way to remove officeholders from public office — not an inquest against private citizens. ''The Constitution presupposes an office from which an impeached officeholder can be removed.'' Cotton also endorsed the comments of other congressional Republicans, such as Rep. Lisa McClain of Michigan, who on Newsmax TV on Wednesday decried that ''I've been here (in Washington) for two weeks now. We haven't talked about one issue other than the perceived hatred and personalization of President Trump." Cotton said there were other priorities than pursuing an unnecessary and unconstitutional process. ''After Jan. 20, Congress should get on with the people's business: improving our vaccination efforts, getting kids back to school, and getting workers back on the job,'' he wrote.
"Arrested Capitol rioters had guns and bombs, everyday careers and Olympic medals" by Reuters' Brad Heath and Sarah N. Lynch – United by political grievances, they came in costumes, snapping selfies, calling themselves patriots. Some came armed for battle and planning for "war." As authorities begin to charge the rioters in the Jan. 6 siege of the U.S. Capitol, court documents paint a picture of a diverse mob that included both citizens with mainstream careers - police officers, a flower shop owner, a state lawmaker, military veterans, even an Olympic medalist - as well as Americans on the fringe. One was a member of the Proud Boys, a far-right extremist group. Another had a caveman costume beneath a police bulletproof vest. One served time in prison for attempted murder. They traveled from as far as Hawaii to join the protest of Congress certifying Democrat Joe Biden's election win, which Republican President Donald Trump has falsely claimed resulted from widespread election fraud. Some brought all manner of weapons or explosives, underscoring the grave threat from an insurrection that resulted in five deaths, including a police officer, and dozens of injuries. Federal prosecutors have said they expect to bring charges against hundreds of people involving the riot and related threats and violence. They had charged about 80 as of Thursday, a Justice Department spokeswoman said. Their task was made much harder by that fact that overwhelmed police initially made few arrests of the hundreds of people who stormed the building - just 14 were detained that day by the U.S. Capitol Police, which guards the building. And yet many suspects made investigators' and prosecutors' jobs easy by mugging for news cameras and posting what authorities described as real-time confessions - including videos of themselves - in postings on social media as they pushed their way inside the Capitol, home to the U.S. Congress, according to a Reuters review of court records.
"Airbnb CEO says travel never going back to the way it was before pandemic" by Reuters' Subrat Patnaik – Airbnb Chief Executive Officer Brian Chesky on Thursday predicted travel would permanently change due to the pandemic with people seeking out thousands of smaller cities and spending more time visiting friends and family. Traditional tourism and sightseeing at top global destinations would be significantly reduced by travelers who will drive to smaller communities and fly less for business meetings. Travelers are "yearning for what was taken away from them," Chesky said at the Reuters Next conference in an interview with Jonathan Weber, Reuters global technology editor. "They're not yearning to see Times Square. What they are yearning to do is to see their friends and their families they have not seen in a long time." The startup was hit by the COVID-19 pandemic in early 2020 and its business dropped by 80% in a little over eight weeks. However, as lockdowns eased, more travelers opted to book homes instead of hotels, helping Airbnb post a surprise profit for the third quarter. The San Francisco-based firm gained from increased interest in renting homes away from major cities. The home rental firm went public in a blockbuster initial public offering in December, its shares more than doubling in their stock market debut. Shares of Airbnb rose as much as 10% to record high of $187.42 on Thursday. The rental platform has been canceling home-sharing reservations in the Washington D.C. area for President-elect Joe Biden's inauguration's next Wednesday after law enforcement warned of a threat from armed militias.