Like millions of Florida voters, I'll have the opportunity to consider several constitutional amendments during the upcoming election.
As a public health advocate, I am most interested in Amendment 9 because its passage would require our elected officials to update the Florida Clean Indoor Act by including protection from e-cigarette aerosol.
While it's true that this issue could be handled legislatively, Big Tobacco's influence in Tallahassee makes this unrealistic. That's why I'm standing with the public health community, including the American Cancer Society Cancer Action Network (ACS CAN), in advocating for a "yes" vote on Amendment 9.
Trending: Rep. Amash Calls for Trump's Impeachment
If passed by at least 60 percent of voters, Amendment 9 would prohibit the use of e-cigarettes in most Florida workplaces where smoking is already prohibited.
take our poll - story continues below
Completing this poll grants you access to Floridian Press updates free of charge. You may opt out at anytime. You also agree to this site's Privacy Policy and Terms of Use.
 In November 2002, 71 percent of Florida voters approved a constitutional amendment prohibiting smoking in most indoor workplaces because they felt protecting public health is an essential right for the people of this state.
The amendment is one of the most popular in state history and it passed in every one of Florida's 67 counties. Florida's current Clean Indoor Air Act protects our right to breathe clean, smoke-free air — free of the thousands of chemicals in secondhand smoke — and creates an environment that discourages smoking among kids and encourages people who smoke to quit. But, allowing the use of electronic cigarettes in our workplaces threatens to undermine the effectiveness of the existing law by exposing workers and patrons to nicotine and other chemicals.
 Allowing the use of e-cigarettes in workplaces and public places also complicates the enforcement of the existing smoke-free law.
According to the Centers for Disease Control (CDC), e-cigarette aerosol is not harmless. The aerosol can contain nicotine, ultrafine particles that can be inhaled deep into the lungs, flavoring such as diacetyl, a chemical linked to a serious lung disease, volatile organic compounds such as benzene, which is found in car exhaust, and heavy metals, such as nickel, tin and lead.
All of these can be inhaled by users and bystanders. In a poll conducted by ACS CAN earlier this year, nearly 9 in 10 (88%) Florida voters say that exposure to secondhand smoke is a health hazard.
And, 80 percent of Florida voters favor local and state efforts to reduce the number of adults and teens who smoke cigarettes and e-cigarettes. Updating the state's Clean Indoor Air Act to include e-cigarettes is essential to protecting workers and the public from the potentially harmful chemicals present in the aerosol generated by these devices.
 Nobody should have to put his or her life at risk just to earn a paycheck. So, you have a clear choice this November — stand with public health experts or with Big Tobacco, an industry that has had a well-documented history of lying to protect its profits.
 That's why I am voting "yes" on Amendment 9. We need to modernize the state's Clean Indoor Air Act to include new tobacco products that weren't widely available when the original amendment was passed.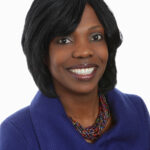 Valencia Robinson is a Daytona Beach Volunteer with the American Cancer Society Cancer Action Network.